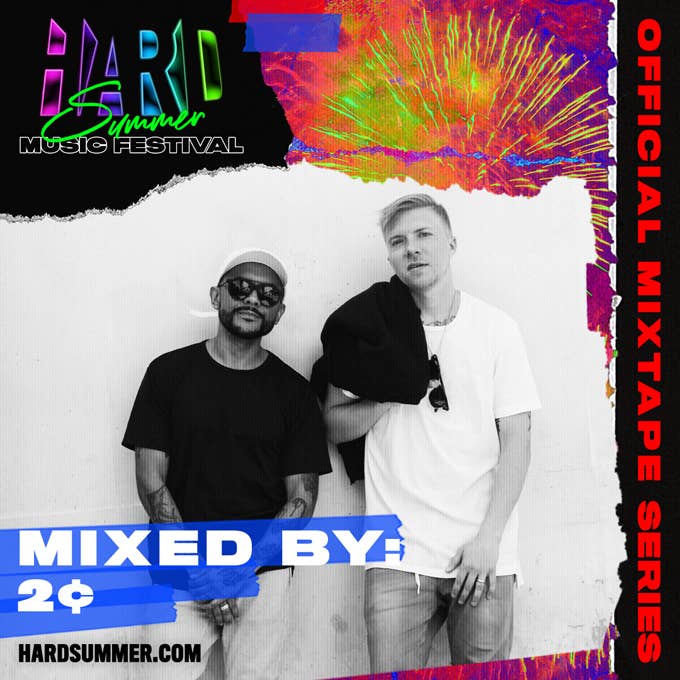 It's been four(!) years since we first put you on to 2¢, a.k.a. what happens when DJs Craze and Four Color Zack lock horns for true DJ insanity. With their vast song catalogs and supreme skills on the decks, you never know what you're going to get when either of them step up to throw down. Their latest mix, which is brought to you by HARD Summer (which goes down on Aug. 3 and 4, and will feature a special 2¢ performance on the first day), does all of that... and more. 
The set truly goes all over the place, which is perfect to turn up to for the Fourth of July extended weekend. We're talking new-er material from the likes of DJ Snake, Billie Eilish, Bruno Mars and Cardi B, and plenty of others being thrown alongside classics from Three 6 Mafia and Nipsey Hussle, remixes and edits from Salva, Tapecut, and Zack himself, as well as a dope trek through the drum 'n' bass horizon towards the end. Loads of cuts, deep selection, and some twists and turns you definitely won't be expecting.
Press play and turn this mix up LOUD below, where you can also peep the full tracklist. And if you like what you hear, and plan on taking that trip to Fontana Speedway in SoCal this August, grab your tickets ASAP.
Tracklist:
Bro Safari & Tank Parade - Blitz
Duke & Jones - Rust
Billie Eilish - You Should See Me In A Crown
Alison Wonderland - Good Enough
UZ - Rebirth (Eliminate Remix)
Joyryde - Yuck
Big Tuck - Aint A Stain On Me
Boombox Cartel - New WIP
Shark Wes - Moo Bamba
2¢ - UPBQ
Three 6 Mafia - Poppin My Collar
Troyboi - Papi Chulo
RL Grime - UCLA (Oriental Cravings Flip)
Salva - Num Num Juice
Nonsens & K-Phax - Fuk Dat
Sleepy Tom & Diplo - Don't Walk Away (Gent & Jawns Remix)
Rawtek - Villain
Gucci Mane - Wasted
Jack U x Ekali x Gravesz - Mind (Karol Tip Edit)
Grandtheft - No Man Curse
Bruno Mars & Cardi B - Please Me
Carmack - Dimepiece
Childish Gambino - This Is America (Tapecut Remix)
Hairitage - GunGunGunGunGunGun
Dj Snake - Enzo
2¢ - ID
Herobust - Move Mint
Project Paradis - Give In
Tapecut - Pandi
Singularis x Omar Duro - Hi Bitch
Jael - Toca Baile
Mura Masa - Lotus Eater (Pluko Flip)
Matt Ox - $$$
Shai - If I Ever Fall In Love (Franchise)
Omar Duro - Coño Flacko
M3B8 - Badda'
Mista FAB - New Oakland
E-40, P-Lo & B-Legit - Boy
Nipsey Hussle - Last Time I Checc'd
JOYRYDE — I'm Gone
Qlank — Dimensions
HEDEGAARD & Matt Hawk — SA-MY-D (Matroda Remix)
Shdws — Drop N' Dip
Tony Romera — Oldskool
Valentino Khan — Pony
Jay Rock — Win
Schoolboy Q, 2 Chainz & Saudi — X
Habstrakt — Control
Corrupt (UK) — Shook VIP
NuBass & Hot Goods — Dead Prez
2¢ — Hostile
ATLiens — Exile // Billie Eillish — Bad Guy *mashup*
Dog Blood — 4 MIND with josh pan and X&G
Posij — The Fun
InsideInfo — Airwaves feat. Rhymestar
Urbandawn — Come Together
Annix — Freak On
Annix & Kanine — Jackpot 8
Ski Mask the Slump God — Foot Fungus
Chee — Whipper Snappers
Lordel — Vulf
Baauer — Sow (Msft Edit) 
Receptor vs. Gydra — Keep On (Teddy Killerz edit)
Dimensions — UK (Skrillex edit)
S.P.Y. — Dub Safari
DJ Limited — The Elephant
Skantia — Cluster
Hyroglifics — Cash Out
Rush — Tom Sawyer (FCZ Valhalla Rush Hour Edit)
Mutated Form — Wastegash (Shield Remix)
What So Not & Skrillex — Goh ft. KLP (Signal Remix)