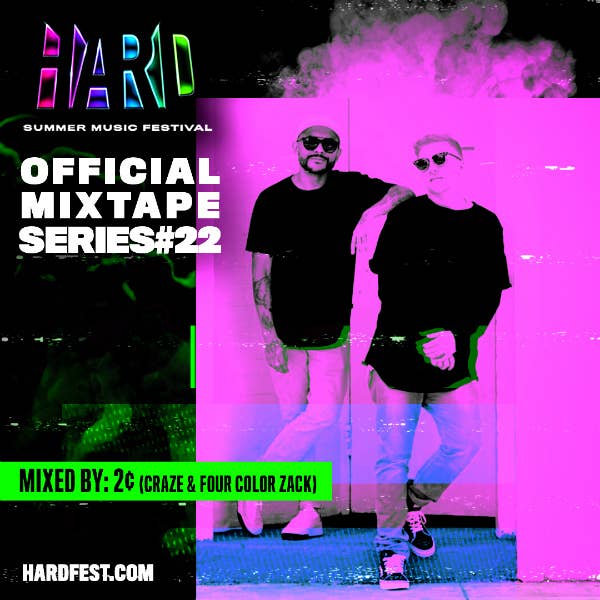 We've been on this 2¢ wave for four mixes now; it's been truly dope to see how Craze and Four Color Zack have been able utilize their skills as DJs to properly comment not just on the music game, but on the world of politics and social issues as well. That said, they also know how to cold rock a party, and with their contribution to the HARD Summer Mixtape Series, the duo get down to business.
In what's definitely a preview to this weekend's HARD Summer set, FCZ and Craze go for theirs, dropping a monstrously-packed 33+ minute set. Featured artists include Tay-K, Rae Sremmurd, Baauer, Diplo, Post Malone, Drake, and many more. They even throw in some of their own original production. And because they are world-famous and battle tested, you already know their cuts and transitions are pristine. This tape is NOT to be slept-on, and is the perfect teaser for their live performance.
That's all you truly need to know. The dynamic duo is back at it again; stream and download the full mix below.
Tracklist:
Salva Intro
Post Malone - Jonestown
Xxxtentacion - Sad
Blaise - Dua (Vincent Remix)
YeahMe2 & Ricky Remedy - Hard in the Paint
What So Not & San Holo - If You Only Knew
Kid Cudi - Day N Nite (ID Remix)
D4L - Laffy Taffy
Diplo & Valentino Khan - Welcome to The Party
RL Grime & Djemba Djemba - Valhalla (Vide Remi)
Kendrick - King's Dead x Get it Right (Myrne)
Seng - Hardcore Vibes (Ball Em Up Edit) x Yo Gotti
Tay-K - Hard
Timbaland - Indian Flute (Ivy Lab Bootleg)
Migos - BBO
Rae Sremmurd - Powerglide
GTA & Baauer - Step It Up 
Flosstradamus & Rawtek - Guava
Lil Uzi Vert - Sauce It Up
Tabz & Proche - Aurora x This Is America edit 
Kendrick Lamar - Alright 
Bad Bunny - Estamos Bien 
Beyonce' & Jay-Z - Nice 
Redlight - So Nice ft. Asabe 
Wuki - The Hustle 
Fake Blood - I Think I Like It 
Cardi B - I Like It 
DJ Funk - Booty Bounce (Ookay Remix) 
Valentino Khan - Lick It (Dyro Remix) 
Fight Clvb & D-John - Goza 
Flosstradamus & Dillon Francis - Tern It Up 
2¢ - UPBQ 
Kompany - Override 
Chinoldinho - Prophet 10 
Drake - Nonstop 
Kid Capri Interlude 
Drake - In My Feelings edit 
Kanye - Lift Me Uptown (Sango Bounced It) 
K Theory - Say Something 
ETC!ETC! & Jay Silva - Candela ft. Godwonder 
4b & DJ Teez - Whistle (JSTJR Remix) 
DJ Snake & Alesia - Bird Machine