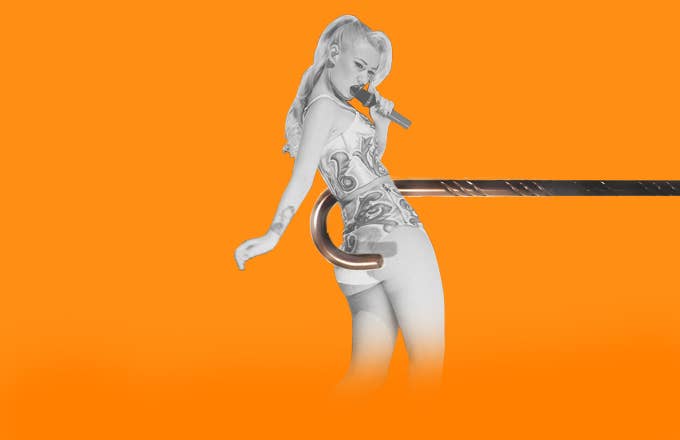 IF I HEAR ANOTHER FUCKING DJ MUSTARD BEAT, I'm turning this website over to the Syrian Electronic Army, I swear. That's not to say that I don't love me some 808s and Chinese water-torturous piano, shouts-out to YG, 2 Chainz, and all the other such hook hypnotists outchea thriving. Whatever Ty Dolla $ign wants to do, man, I'm here for it. But once you subtract Mustard's imitators, and then Mustard himself, what has this summer done for us, really? It's been one long, bored, 40 degree day.
Mustard's ubiquitous bass has bolstered a few artist resurgences, e.g., Trey Songz, Jeremih, 2 Chainz. Wale's got a Mustard track dropping in the next week or so. "Fight Night" still knocks, and Migos is the Mighty Ducks come-up of the decade so far. On the album count, however, summer 2014 is a whiff compared to this time last year, when we'd just gotten Drake's Nothing Was the Same and were still sitting with Kanye's Yeezus, Cole's Born Sinner, Wale's The Gifted, and Jay Z's Magna Carta. By the time Pusha T dropped My Name Is My Name in October, "album of the year" and "artist of the year" were crowded discussions. (We should know; we hosted one.)
That we got those aforementioned albums last year means now all those artists are on tour, unlikely to release their latest, official projects by year's end. Between spring and now, the biggest rap album releases were Ross and (soon) Jeezy, with T.I.'s Paperwork due out in October following the success of its Young Thug-heavy lead single, "About the Money." Rap-wise, Thug's a contender for summer 2014 champion, by the way. Our news crew in Ferguson, Mo., last month reported back that the soundtrack of the nighttime curfew protests was Thug's "Lifestyle' and Rae Sremmurd's "No Flex Zone" on concussive repeat. I'm not hating, I'm just wondering: Weren't TDE and YMCMB finna fight it out this summer?
ScHoolboy Q's Oxymoron is summer on wax, vibe-wise, yet TDE dropped it way back in February, leaving Q to get trumped by YG's push for My Krazy Life just a couple weeks later. Meanwhile, Nicki Minaj and Lil Wayne owe us a doctor's note and detention quiz if they delay any longer; Carter V was due last month, and all Wayne's got to say for himself is "Believe Me," which isn't quite topping Drake's own solo "0-100" single. Nicki's Pinkprint is still in draft, I guess. 
If I must Mention Honorably, shouts-out to Travi$ Scott, whose Days Before Rodeo is a late-stage favorite mixtape among the Complex music staff, preceded by Jeremih's No More EP, succeeded by Ty Dolla $ign's Sign Language EP, both previews of their new studio projects due to drop with the autumn leaves. The prospect of new Kanye West and Kendrick Lamar projects is looking mad futuristic right now.
Given no new classics for the time being (sorry, Iggy), I will crawl into a hole, curl into a cocoon, pinch my eyes and pray that Travi$ Scott delivers that Yeezus II, whether you like it or not. Otherwise, Nicki's "Anaconda" is low-key the most exciting, divisive song and dance out as of this very moment. And however you spin it, a Sir Mix-A-Lot flip in 2014 is a meh conclusion to a cruel summer.