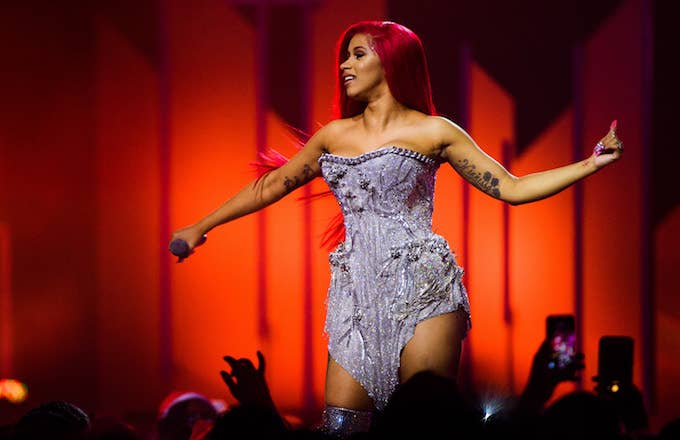 You can always count on Cardi B to keep things real AF. In case you missed it, the hip hop artist dropped a relatively extra lesson on Twitter last night. In a couple of video clips, Cardi recounts how when she was 20 years-old, some guy she was dating got back together with his ex-girlfriend, and she tried to set Cardi up to humiliate her in some real petty you-used-to-date-my-man kind of way.
As the story goes, the woman, five years Cardi's senior, had a habit of talking all kinds of smack about Cardi, who admittedly didn't have much at the time. The two crossed paths in person one day, and the woman feigned a truce. Shortly after that, Cardi's ex came at her saying that his girl said Cardi stole her purse. Flash forward to 2017, and Cardi's sister runs into the girl in question at Saks doing what else but stealing a purse.
Bruh.
In the second clip, Cardi goes on to explain the karmic dangers of kicking someone when they're down or criticizing them for superficial reasons. Such was the case for Cardi, as many of the women she knew would knock her for how she looked, where she lived, and her then-profession as a stripper. "Well look at a bitch now, she says.  
My favorite part? At 0:46 in the second clip Cardi goes, "I know you bitches are sick. I know you bitches are *coughs* take that Theraflu." Moral of the story: Don't be a theraflu bitch.