Pharrell Taps Travis Scott for New Song "Down in Atlanta"
Travis began teasing the Pharrell collab over two months ago, when he played an early demo version during his "Road to Utopia" Las Vegas residency.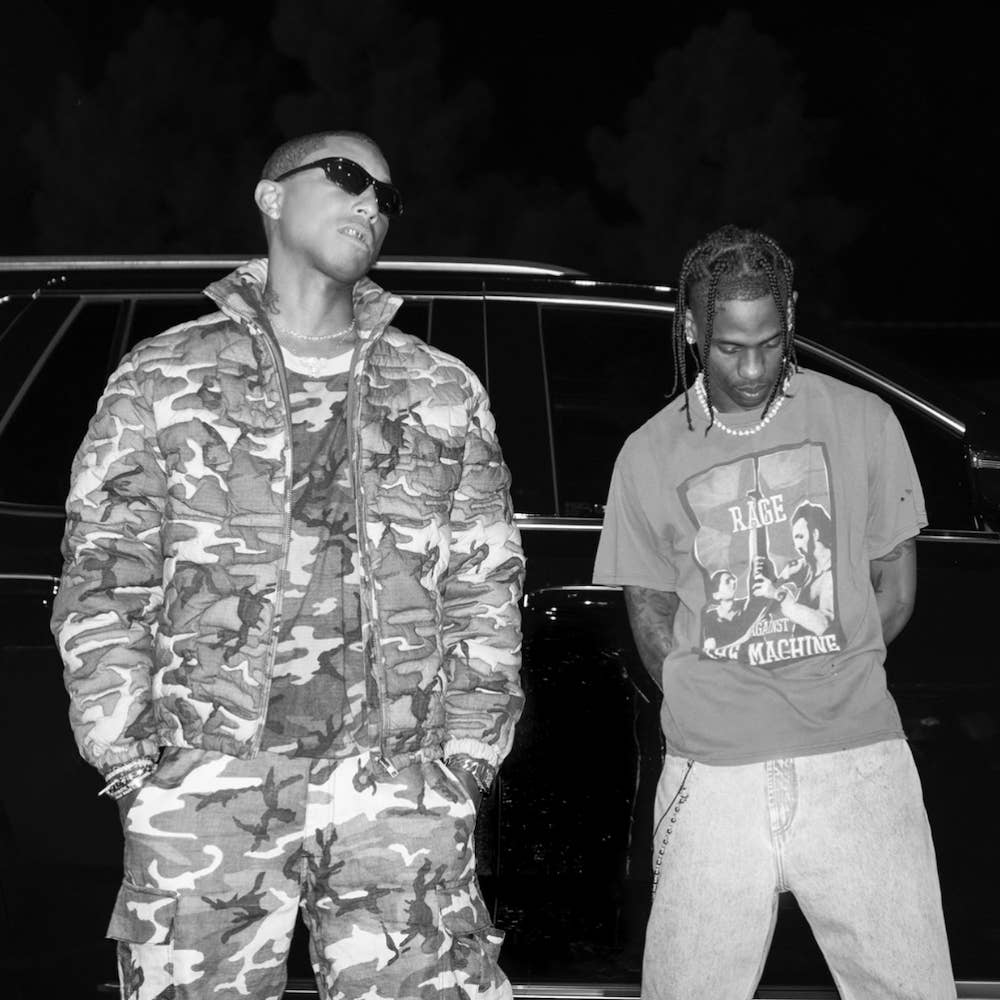 Publicist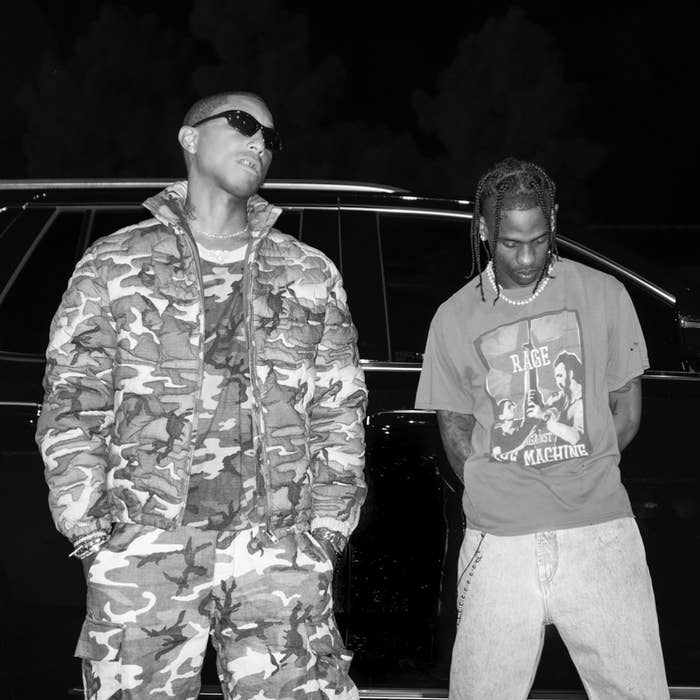 Pharrell reconnects with Travis Scott on "Down in Atlanta."
The artists dropped the collaborative record at midnight Friday, two months after Scott previewed it during his "Road to Utopia" residency in Las Vegas. Since then, the two have continued to tease the joint on social media, where they shared song snippets, photos from studio sessions, and behind-the-scenes looks at the "Down in Atlanta" video shoot.
This isn't the first time La Flame and P have connected. Pharrell co-produced Scott's 2015 Rodeo track "Flying High" featuring Toro y Moi, and they reunited on "Skeletons" alongside Tame Impala for 2018's Astroworld. 
It's unclear if "Down In Atlanta" is a standalone track or part of Skateboard P's upcoming album Phriends. He spoke about the project in Rolling Stone's "Musicians on Musicians" series, confirming it will feature K-pop group BTS.
"Well, my project, it's called...it's [under] my name, and the title of the album is Phriends," he told BTS member RM. "It's the volume one. You guys are on there, obviously. And I'm actually talking about this way more than I'm supposed to, but it's a song from my album that [BTS] sang and it's amazing, and I'm super grateful."
Pharrell hasn't released a solo effort since 2014's Girl, although he dropped the banger "Cash In Cash Out" featuring 21 Savage and Tyler, the Creator in June. It appeared at No. 6 on Complex's Best Songs of 2022 (So Far) list the same month.
Scott is preparing to release Utopia—the much-anticipated follow-up to Astroworld. The Houston rapper discussed the album during a CR Men interview with artist Tom Sachs. "Medicine, nursing, being a better person, talking, language, communication—you know, a utopian state. That's what my album is about," he said. "You think utopia is a society where everything is good: health, buildings, architecture—nah. It's just about proper lines of communication. Because that's the dystopian shit we're in right now. It's all hate, hate, hate, and all of that is drawn from what? Miscommunication, non-communication, non-understandable communication, ignorance to communication. 'I don't like this person.' Why? Because somebody told me something to not like this person? Because in history I read to not like this person? Why?"
You can stream "Down in Atlanta" on Apple Music and Spotify below.