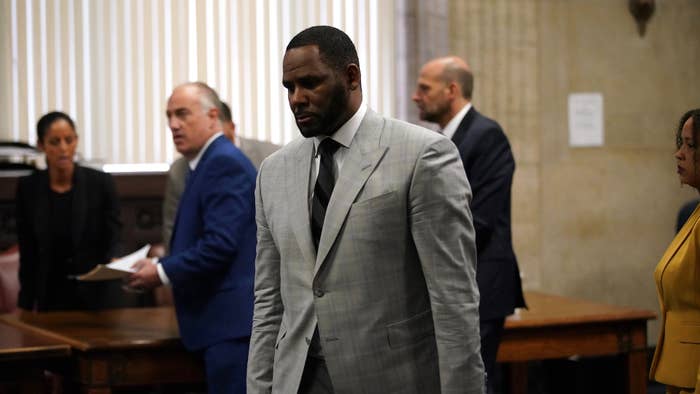 UPDATED: 2/23/23, 1:10 p.m. ET: R. Kelly, who is 56, has been sentenced to 20 years in prison for child sex crimes, the New York Timesreports. A federal judge handed down the sentence on Thursday. 
He'll serve the majority of his time behind bars in federal prison concurrently with his 30-year sentence for racketeering and sex trafficking.
See original story below. 
Kelly may spend the rest of his life behind bars.
According to the Associated Press, federal prosecutors are seeking an additional 25-year prison sentence for the disgraced singer. The request stems from a Chicago case in which Kelly was convicted on three counts of producing child pornography and three counts of enticement of minors for sex. The 56-year-old is currently serving a 30-year sentence for similar sex crime charges out of New York. Government officials say they want Kelly to serve the Chicago sentence only after the NY sentence is fully served.
If the feds get their way, Kelly wouldn't be eligible for parole until around his 100th birthday. His attorney Jennifer Bonjean noted that the average life expectancy of inmates is 64, meaning her client "would have to defy all statistical odds to make it out of prison alive." The lawyer argued that Kelly was being targeted because he was Black, saying white artists—including Elvis Presley, Jerry Lee Lewis, Mick Jagger, and Marilyn Manson—have also been accused of sexual abuse, and never faced such harsh punishments.
"A 30-year sentence of imprisonment for an African American man with diabetes is a life sentence statistically speaking," Bonjean wrote in a memorandum filed last week. "The federal government's obsession with ensuring that Kelly dies in prison is particularly troubling where it seems to have no appetite for investigating or initiating prosecutions of numerous other famous (White) musicians with credible histories of sexually abusing underage women."
Bonjean suggested a sentence of about 10 years, and asked that it be served concurrently with the NY sentence.
Prosecutors acknowledged that their request exceeded the term limits recommended in sentencing guidelines, but said a longer term was necessary to ensure public safety.
"Kelly committed horrific crimes against children," prosecutors wrote. "He not only refuses to accept any responsibility for his conduct, but he repeatedly deflects any blame for his crimes, and instead advocates that he is being treated unfairly because, for example, 'other artists and musicians' should be prosecuted for these crimes. Plain and simple, Kelly does not comprehend that what he did was wrong. The Court should impose a consecutive sentence in order to protect the community from Kelly, as he has shown no signs of rehabilitation."
Kelly's sentencing is scheduled for next Thursday.
This story was originally published on 2/17/23.