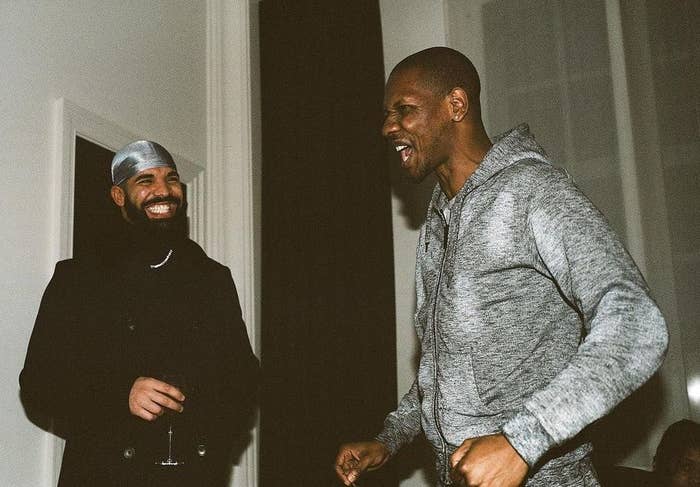 Now, let's be honest here: we've all been guilty of poking fun at Aubrey Drake Graham for wanting to be a "roadman" at some point (he's seen all the jokes, too), but it's safe to say the Canadian rap star has since silenced the critics that thought his penchant for UK music and culture was merely a passing phase. However, they were right to show concern; having previously had flash-in-the-pan interest from some of the biggest players in hip-hop, questioning Drake's motives would be the natural thing to do.
In 2011, during a sit-down interview with UK radio presenter Max, an enthused Drizzy explained how he discovered the London rappers Johnny Gunz, Ard Adz and Sneakbo (the latter of whom he said inspired him on his now-classic album Take Care) after watching a YouTube documentary on London gangs. Despite how random that may have sounded—at the time, these artists were still trying to build foundations so they could make that leap from side- and street-hustling to a full-time career in music. It was a big deal for all of the mentioned artists and, having worked behind the scenes for many years, I can tell you: certain music industry cats who wouldn't have batted an eyelid prior to Drake's co-signs began to pay attention to what was happening on home ground.
Back in 2010, Sean "Diddy" Combs—as part of his R&B-rap collective Dirty Money—released a "grime remix" with Skepta of the song "Hello (Good Morning)". It was a huge moment for grime and up until that point, there hadn't been anyone as big as Diddy shining a light on this proudly British sound. Following this collab, UK music fans were hopeful said link-up would grow into something much bigger—with maybe even a signing to Bad Boy Entertainment—but, of course, that never transpired.
No one—especially at his level—has shown a genuine interest in UK lyricism like Drake has shown over the years.
Shade 45's DJ Whoo Kid also tapped into the culture early on, dropping now-classic projects with the likes of Giggs (Take Your Hats Off) and Skepta (Community Payback). But no one—especially at his level—has shown a genuine interest in UK lyricism like Drake has shown over the years. American rap fans have always had a strained relationship with British rap, and you'd only have to go back to 2017, when More Life dropped, to see how weird it's actually been. The memes ran wild (some were pretty LOL) with a large amount of U.S. fans not understanding the connection Drake had with UK legends Giggs and Skepta, arguably two of our biggest exports. But go to most clubs today and their collabs, "No Long Talk" and "KMT", are guaranteed to pop off.
He sampled a UK funky song and got his first No. 1; he's helped to bring back Top Boy, one of the most authentic depictions of UK street culture ever; and, from Lord Of The Mics to Link Up TV, has shown genuine respect to the culture. So to call Drake a UK "beg", at this point, is downright disrespectful. The man wears Stone Island like us, talks in slang like us, because he's a fan of who we are and the greatness on our shores. And you don't honestly think that Kanye would've called on half the grime scene for that Brits moment had he not seen Drake constantly big-up the UK, do you?
We don't owe anyone anything. No one forced Drizzy to show all this love—and acts like Giggs, Skepta, Dave and Little Simz (the latter two are new additions to the Top Boy cast) have put the work in to get these global looks, regardless—but we should be grateful for the fact that he's used his platform to uplift British talent the right way.
On Friday 5th April—four days after bringing out DigDat and Unknown T, and debuting the new Netflix trailer for Top Boy 2019 on stage—the British music scene exploded as J Hus stepped into London's O2 for Drake's Assassination Vacation tour. There had been whispers online earlier that day that The Hustla was released from prison after serving his eight-month sentence for carrying a knife (the Common Sense star went through a random stop and search), and that he would be hitting the stage to perform that night.
With the help of Drake's tour DJ, Tiffany Calver, this became a reality: J Hus, dripping in Dolce & Gabbana, entered the arena to deafening screams and cheers and performed the hit-songs "Spirit" and "Did You See". Drizzy said of the event: "These are the type of things in my career that I'm just blessed to even be a part of. This is something I've wanted to make happen for the whole week—and I'm just glad I could make it happen with this group of people in this building because y'all been going crazy all night... If anyone's sitting down right now, I need you to stand up 'cos we're about to celebrate one of our brothers tonight." Now, which other platinum-selling rap superstar do you know, that would care enough about a 22-year-old kid from East London (with culture-shifting hits, mind you) to let him stand next to him and take all the glory?
All rappers think they're the best at what they do and, to be honest, so they should. But with that train of thought, being selfish is something that comes with the job. Aubrey, however, has proven countless times that not even serious rap beef can stop him from sharing his stage and seeing the next black man win... Must be a Canadian thing.