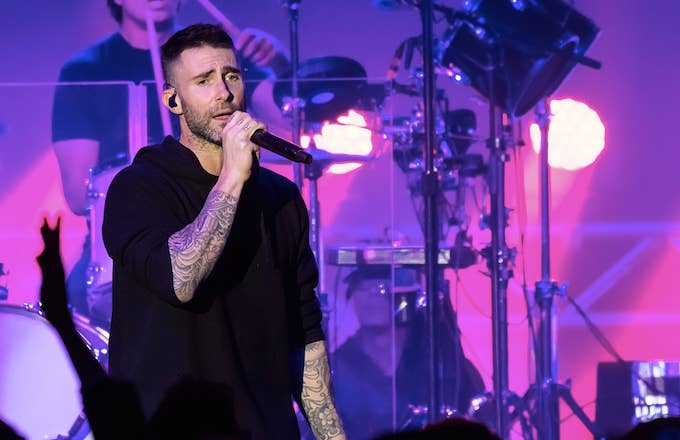 Us WeeklyreportsMaroon 5 is "having a lot of trouble finding guests" to share the stage with them for the Super Bowl LIII halftime show. The group's difficulties stem from the belief that musical acts do not want to "associate themselves with the NFL" in light of the league's response to the silent protest conducted by Colin Kaepernick throughout the 2016 season when he took a knee during the playing of the national anthem.
According to Us Weekly, the NFL reportedly saw the repercussions of their treatment of Kaepernick earlier this year when Rihannadeclined an offer to perform at Super Bowl LIII, citing "the kneeling controversy," and her opposition to "the NFL's stance" as the reasons behind her decision.
Even though the league hasn't officially announced Maroon 5 as this year's halftime performers, the reports have drawn negative responses. A Change.org petition calling for the band to drop out has received a little over 72,000 signatures, inching closer to its goal of 75,000. Bruno Mars, who already performed at two Super Bowls, called for a halftime show celebrating the rise of hip-hop in Atlanta—where the game is taking place—with an artist(s) who hails from the city. It's quite possible that even if a rapper was presented with the opportunity, they would turn down the offer because of the Kaepernick situation. 
Despite early rumors that Cardi B would be performing with Maroon 5, Us Weekly says nothing has been set in stone. "As of today, she's not," a source said. "She's been going back and forth, but it's a no right now." If all else fails, the NFL could always take up the petition that wants the league to honor the late SpongeBob SquarePants creator Stephen Hillenburg and play "Sweet Victory" during halftime.