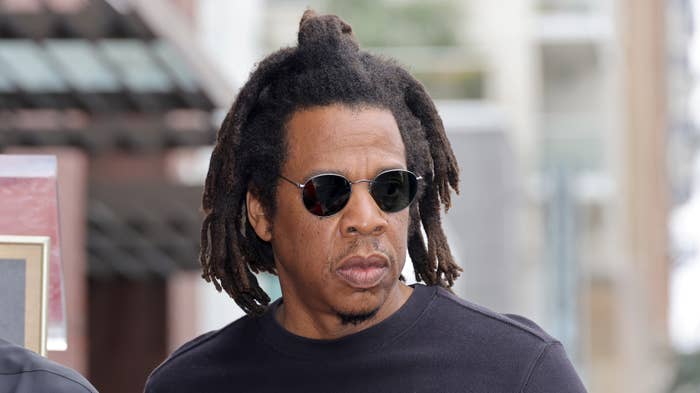 Jay-Z released his year-end playlist for Tidal, featuring 40 songs from artists such as Drake, Kendrick Lamar, and, of course, Beyoncé.
Jay's Year End Picks 2022 playlist includes a photo of a plastic-covered sofa, a likely homage to Bey's "Plastic Off the Sofa," which is included in the set. According to Genius, the standout Renaissance track details "the longevity of Beyoncé and Jay-Z's relationship," and "provides an updated and mature perspective on the reasons why she 'likes' her husband throughout their relationship." 
Jay-Z put two songs he was featured on: "Neck & Wrist" by Pusha-T and Pharrell, and DJ Khaled's much-discussed "God Did," with Fridayy, Lil Wayne, Rick Ross, and John Legend. His longtime friend and producer Young Guru revealed Hov recorded his four-minute verse on "God Did" in one take, while Khaled hyped up Jay's verse during his Drink Champs appearance. 
"I pinch myself every time I hear it. … Really, like this is a gift to the world," Khaled said, adding, "If he put a greatest hits out, he gonna put this on there. Like it's gonna be one of them. It feels like that. I'ma let y'all say it." 
Jay-Z's Year End Picks 2022 also features Kendrick Lamar's "N95" and "Savior," as well as Drake and 21 Savage's "Rich Flex," "Jimmy Cooks," and "Major Distribution." Albums spawning multiple Hov faves include Metro Boomin's Heroes & Villains, SZA's SOS, Future's I Never Liked You, and Vince Staples' Ramona Park Broke My Heart. Listeners will also hear cuts by Nas, Lil Baby, Quavo and Takeoff, Lil Uzi Vert, Burna Boy, Ab-Soul, Gunna, Rosalía, Benny the Butcher and J. Cole, Kodak Black, and more.