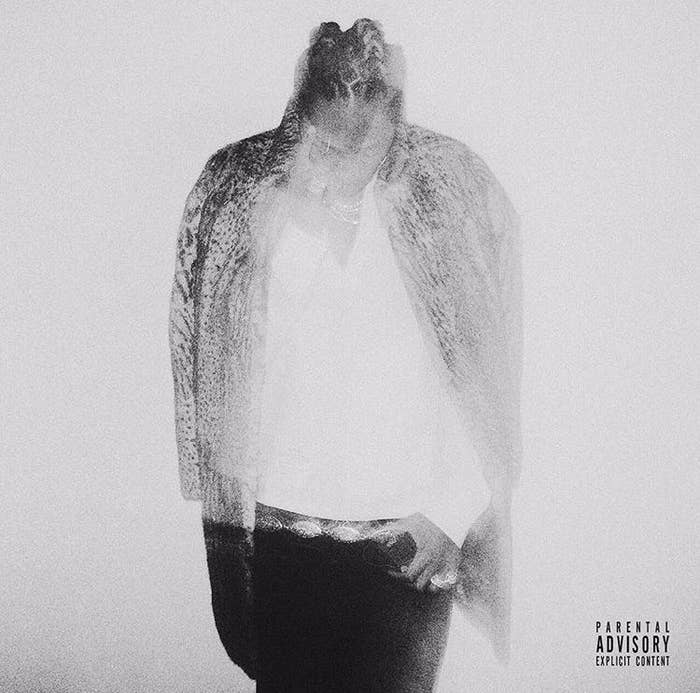 Long before the lawsuits and the line of cowboy hats, the mixtape run, mainstream worship, and enough codeine, perkys, and molly to throttle every glowsticked bro at the Electric Daisy Carnival, Future planned to follow up his debut Pluto with an album called Hendrix.
In the interest of originality and delineating himself from one of the first music legends to take acid and feel good, Future eventually switched the title to Honest. Better than its reputation, his sophomore LP nonetheless suffered from tonal inconsistencies, awkward pop crossover attempts, and a song with Kanye West comparing their greatest loves to lifeless golden statuettes. Sales bricked, Ciara and Future split, and the industry briefly exiled him to the no service purgatory where they stash Yelawolf.
You know what happened next. Atlanta's Nayvadius Wilburn transformed into the monster, embarking on the greatest mixtape streak since Lil Wayne in the aughts to become the hottest rapper who doesn't speak Canadian. He redefined "March Madness" and boosted Sprite's value by several million. Ciara and his old business partner Rocko sued him. Russell Wilson got hexed by the curse of Big Rube. And no one will ever look at a Gucci flip-flop the same way again.
Then it looked like history might repeat itself. Last year's Purple Reign andEvol lacked carbonation—as though Future had mastered the art of making #trapbangers about drugs and fucking your girlfriend, but refused to tap into the vulnerability and emotional complexities that made him so unique. Had he peaked creatively? Would he become the new Juicy J, just with better hair and immaculate cheekbones?
But this is Future, and the first rule of FutureHive is that you can't doubt Future. Just one week after dropping a one-note self-titled album, Future fucked around and dropped what may prove to be his masterpiece. HNDRXX is the highest incarnation of Future: that alchemy of joy, drugs, and pain that makes you unsure whether you want to cry or celebrate—probably both. It's as if Future realized that the best records he ever wrote were "Codeine Crazy," "You Deserve It,""Body Party," and the first draft of "Drunk in Love." This album is crystallized and purposeful.
These are arguably the most musically accomplished songs of his career—extending the ideas of Pluto into an unfamiliar solar system. Yet it's very much an Atlanta record, built from the DNA of So So Def, bass music, and OutKast (especially The Love Below), TLC, Usher, and Toni Braxton. It's no accident that Future is signed to the label of L.A. Reid, who along with Babyface defined Atlanta's first wave of hip-hop and R&B hybridization.  
Kill Bill sirens pierce through like warning bells. They're side-by-side with interpolations of 2Pac and Jodeci. There's the dazzlingly bright, future #1 single, "Incredible," which sounds like it should play in the end credits of a John Hughes '80s movie (Weird Science starring Future and Esco—R.I.P. Bill Paxton). Rihanna and the Weeknd pop up to offer superstar clout and support. The production credits prominently feature Dre Moon and Detail, who composed and produced, "Drunk in Love."
Lyrically speaking, the temptation to read for autobiography in HNDRXX is strong. But it ultimately doesn't matter whether you believe this is Blood on the Tracks over the singer of "Goodies" or if this is just 17 loosely connected celebratory dirges swirling in a double cup of rap, R&B, pop, and the Ghost Town DJs. Either way, it's a gorgeous, deeply felt articulation of romantic love and psychic ruin—a full circle healing of the spurned and wounded savage last seen clearly on "Hardly" and "Throw Away." It's the Future who once told me that "the angels of the earth brought him and Ciara together," but also the haunted villain apologizing for selling crack to pregnant ladies.
He's still savvy, too, and attuned to the capitalistic machine that runs on gossip, mystique, and self-mythology. The record starts with "My Collection," where he warbles, "She told me she was an angel, she fucked two rappers and three singers." On "Turn on Me," he laments, "After I gave you this game, you never should've let a lame hit." He does everything but cackle about the Falcons victory and tell Russell Wilson that he's no longer an elite quarterback.
But if HNDRXX was just another round of petty recriminations directed at a semi-anonymous ex, it wouldn't be half as impressive. Instead, Future invites the listener into the pinstriped Bugatti, the shopping sprees, Paris trips, and seven star restaurants (because when you are Future Hendrix, Michelin gives you an extra four stars just for dining there). He's doing hot yoga and seducing women with Aston Martins, but he's also anxious from the forced seclusion of fame and the lustful tortures of monogamy. Like an Auto-Tune Bob Dylan, he's repeatedly imploring his paramours to shut out the negativity of their friends, don't tell anyone a damn thing, and let their relationship be a private world of their own.
For the first time, Future refuses to only dwell on his own hurt and betrayal, and also chronicles his stress over fame and geography separating him from family. He admires the view of the Pacific Ocean, but hates the nosiness of the Bel Air neighbors. He pleads with his woman to be shown "everything I need to see on my blind side," but also "wants to be there for my dawgs…they need me." 
The album is a gorgeous, deeply felt articulation of romantic love and psychic ruin.
There's a raw, sublimated power in the way that HNDRXX confronts the question of whether people can really change. Can the Wizard, Future Hendrix, Super Future, the trapper with the draco in his book bag really settle down as a celebrity in Beverly Hills? Could he stay faithful, balance the streets and his roots without letting them consume him? Can the "good girl" accept him for who he is without forcing him into changes that will destroy his ability to make the music he believes in? Can he really be with someone serving him vegetarian food?
The little details are all here: the $80,000 left in the dresser after he hastily moved out; the 20-ounce steak that doesn't fit on his plate (no answer to why he just doesn't have bigger plates); his wariness at doing hard drugs in a new city, lest the cops raid the tour bus and ruin his life; the pain at seeing them take away Morris Brown. It's all too real—delivered in kaleidoscopic disarray of pain and pride, buoyed by sizzling triplicate drums, underwater warbling, and shimmering top line melodies.
You can be a real one and occasionally lie. You can be an angel, but still flash a fake streak for self-preservation. HNDRXX shows that everyone has the potential to be both hero and villain. Even staggeringly powerful love can be fleeting.
By the time the album concludes with "Sorry," we've seen every carnal pose and romantic infatuation and fissure—the courtship, the fights, the rebound debauchery, and, ultimately a melancholic acceptance. The five stages of grief in musical form.
Over sepulchral pianos, Future croaks about Bobby Brown and barely talking proper, foreign women, and ferocious hurt at destroying what once seemed so pure. He's "paid for his mistakes like a drug dealer." It feels like the final and best chapter in a long saga. For Nayvadius and the unnamed Ciara-like love, there were too many drugs and superfluous distractions. They lost themselves, recovered their bearings, but the wounds haven't fully healed. Shining might be therapy, but it's still a consolation prize.