YOUNG & RESTLESS
---
Young Thug started from the bottom, now he's up under Birdman's wing. Where he goes next is anybody's guess. Andale!

WRITTEN BY Jacob Moore
PHOTOGRAPHY BY Justin Hogan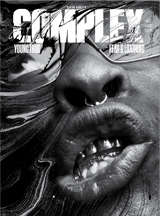 This feature appears
in the June/July 2014
issue of COMPLEX.
"He might not get on the plane. He might shoot a video in Atlanta." The text message, from one of Young Thug's many associates, arrives less than an hour before the rapper's supposed to board a flight at Hartsfield-Jackson to New York City for his cover shoot, at 8:30 a.m. on April 1. And no, it's not a prank. At that moment there are a dozen people awaiting his arrival in a Brooklyn photo studio, all hoping against hope that Young Thug will show.
This isn't the first time. Thug had already missed a shoot date at the same studio four days earlier. After dozens of back-and-forths among several different people trying to coordinate the shoot, it turned out that he had a stomach ache. Nobody was able to pass along this information until his flight had already taken off. Fifteen minutes before the shoot was scheduled to start, word arrived that he was still in Atlanta.
Now it's becoming clear that, once again, Young Thug will be staying in the A instead of coming to NYC. The flight to get him to this second cover attempt is taking off in less than an hour and ambiguous text messages like "shit crazy" keep arriving. His Instagram later confirms that he ended up shooting the "Stoner" video in Atlanta rather than his Complex cover. Happy April Fools Day!
Two weeks before, on Saturday, March 15, the final weekend of SXSW 2014, Thug arrived at the Complex Complex, a small house on 3rd Street in downtown Austin, a few minutes before he was set to perform on the stage in the backyard. He stepped into the house with seven other people—two girls who sat on a couch and five guys who quickly formed a perimeter, posting up around the edges of the room. Standing six-foot-three and wearing skinny plaid pants that accentuate his lanky frame, with a bow-tie belt buckle and tight black T-shirt, Thug cut a distinctive figure to say the least. "He's always been an eccentric character," said producer Dun Deal, who's been working with Thug since 2009. "He was the first person I knew who was wearing skinny jeans and peacoats and stuff. He's never been your typical Atlanta guy."
"Everybody stoned, weed, lean, molly, E," Thug raps on his smash hit "Stoner." And sure enough, within minutes of arriving he began sprinkling weed from a tall orange pill bottle into a sliced-open cigar wrapper. When it was time to hit the stage, he brought the blunt with him.
Thug performed a three-song set that lasted maybe 15 minutes. He brought a few of his boys with him and rapped every other line, pausing at times to smoke and relight. Though the show was far from polished or rehearsed, Thug's natural charisma and energy were unmistakable. Stepping off the stage to give a short video interview, he had a coughing fit, spilled his lean, and shifted restlessly in his seat, avoiding extended eye contact and giving brief, cryptic answers.
"Are you going to be on Wayne's album?" asked Complex TV's Brandon "Jinx" Jenkins.
"Yes, no, yes," Thug answered, forgetting to hold the microphone to his face.
"So, we'll take that as a maybe?"
"Yes, no, yes. That's my answer."
Thug wasn't confrontational or visibly agitated, he just didn't seem to care much about this—or any—interview. It was almost funny, but his boys, leaning cross-armed against the wall of the small room, weren't smiling.
Asked about "Thugger Thugger Thursdays," a new music campaign announced on his own Instagram, he seemed genuinely surprised.
"What's that?" Thug asked.
"It was on your Instagram," Jinx said. "You're putting out music every Thursday."
Thug looked around the room. "Am I? I don't know. I don't do my own Instagram. "
After enduring a few more questions, Thug strolled straight out the front door and into a black SUV. Later that night, he popped up during Lil Wayne's show at The Illmore. Towering over his idols on a packed stage at four in the morning, he seemed much more comfortable than on the Complex TV hot seat.
With a towel flung over his shoulder and a bottle of champagne in his hand, Lil Wayne grinned as Thug stood beside him performing "Danny Glover," a track off Thug's Black Portland mixtape with Bloody Jay, who's currently in an ATL jail cell on weapons charges. "I knew I was gonna run my money up and everybody didn't," Thug rapped as Birdman gripped the bill of his fitted cap and stared at his shoes, bouncing in time to the beat—his mind, no doubt, on his money.