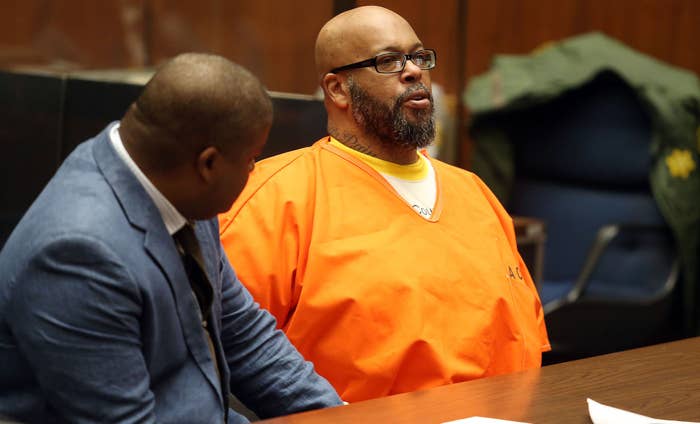 Suge Knight is serving 28 years in prison after he was found guilty of voluntary manslaughter after he ran over Terry Carter Jr with his truck. Now, the attorney for Carter's family is arguing that Knight should pay them $81 million in a wrongful death suit. 
The family's lawyer, Lance Behringer, believes that Carter being crushed by Knight's Ford Raptor truck does not qualify as a "natural death," and that Carter's widow and two daughters deserve $27 million each to reflect the likely 27 years of life that he would have lived if he were not killed.
"Dying on the concrete floor alone at Tam's Burgers was not a natural death. He was taken from these three women," Behringer told a Los Angeles courtroom on Tuesday, according toRolling Stone. "Nobody's comfortable talking about money, But that's what we have to do," he added.
In previous testimony, Knight admitted to being aware that Carter was in his line of vision when he crushed him with his truck in 2015.
"I was going straight. I seen the guy in the front of my truck," Knight said at the time. "I seen the guy in my mirror. I wanted to make sure to get this guy, and I did."
Just last week, Knight testified that he believed that Dr. Dre had ordered a hit on him in 2014, and that he believed Carter was going to kill him.
"Dr. Dre—we've been really good friends for years. Matter of fact, I know his kids, he knows my kids. And I was told that he had paid some guys to harm me," Knight said. "I didn't believe it because authorities do lie. So I went up there. …I was going to talk to him and say, 'Hey man, I'm not going to react to what authorities say about you having something to do with me getting shot. I just want to make you aware they are saying this, putting it out there.'" 
Behringer argued that there was no clear evidence of Knight believing that Carter and another man, Cle "Bone" Sloan, had weapons at the time of him running them over.
"At the moment in time when defendant Knight reversed and pulled out of Tam's—at this moment in time, Bone is on the ground. Whether you believe there was a gun there or not, there was no gun being pointed at [Knight] at that time," Behringer later said. "The gun doesn't matter. At this point in time, there's no threat."
Deliberation on the wrongful death suit will begin on Tuesday.