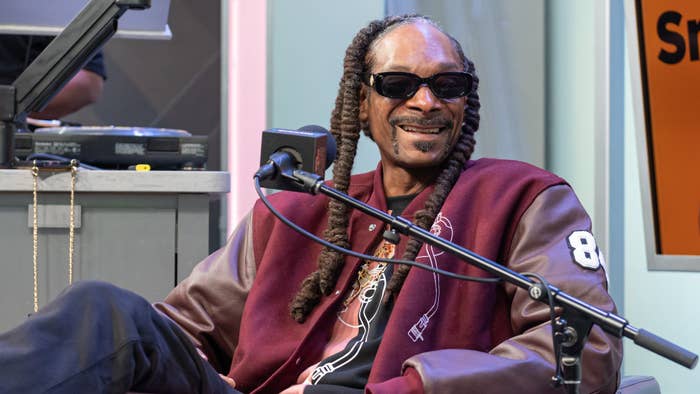 Snoop Dogg has been on a press run to promote his upcoming album, The Algorithm, and during an upcoming interview with the Rolling Stone Music Now podcast, the rapper revealed that fellow west coast legend Dr. Dre is cooking up new music that's set to be attached to the Grand Theft Auto video franchise.
According to Rolling Stone, Snoop said that Dre is making some "great fucking music" for GTA.
"I do know he's in the studio," Snoop said during the chat. "I do know he's making great fucking music. And some of his music is connected to the GTA game that's coming out. So I think that that will be the way that his music will be released, through the GTA video game."
Dre hasn't dropped any new solo music projects since 2015, and with it recently being announced that he is set to headline the Super Bowl alongside Snoop, Kendrick, Eminem, and Mary J. Blige, this is some exciting news. Snoop also talked about what it's like headlining with Dre on The Breakfast Club this week, saying that the idea to bring them all together was a no-brainer by the NFL. 
"Dr. Dre is one of my closest associates. So when I knew he got the call, I was figuring that I was gonna get a call soon. But to add Eminem, Kendrick and Mary J. Blige is like, special," he said. "Because it's like, this is his super friends, and this is his Super Bowl moment to actually show people why he is who he is." 
Snoop added that the halftime show will be a special moment for the west coast and hip-hop.
"So the Super Bowl performance should be something special because I know he really wants to give the people what they want. This is an L.A. moment, and Dr. Dre is a West Coast guy."
You can catch the Rolling Stone Music Now interview in full when it airs on Oct. 29 over on SiriusXM's Volume channel (106). The interview will then be be available as a podcast next month on November 3.
In the meantime you can check out Snoop's visit to The Breakfast Club below.