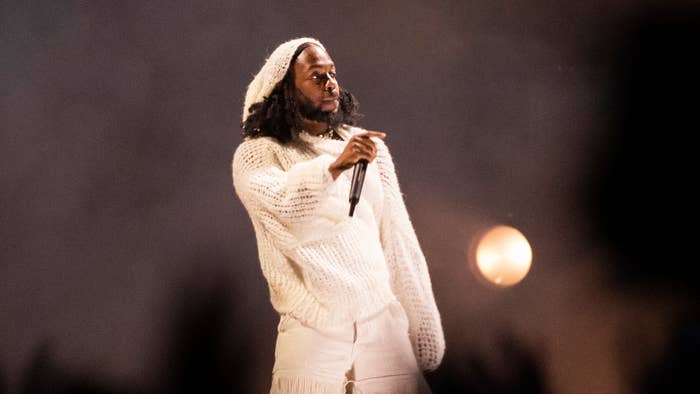 After five long years, Kendrick Lamar is finally about to return with a new album. 
On Monday afternoon, he updated his website oklama.com with a statement that revealed he is, in fact, not retiring. "Appreciate your patience," the end of his Michael Jordan-esque press release read, after revealing his album's impending arrival.
Keeping track of Kendrick's very subtle, very quiet moves has always been difficult. He barely makes appearances outside of his musical performances, and outside of occasional rap verses (like his features on Baby Keem's The Melodic Blue) we rarely hear his voice. Despite moving in silence, though, Kendrick has still been leaving subtle bread crumbs along the way, cluing us in on what the new music might sound like, and how his "love, loss, and grief" have impacted his musical process.
Kendrick's long-awaited album is only a month away, there are plenty of clues to over-analyze and dissect, so we put together a list outlining everything we know about his fifth solo studio.
Not even a week after the five-year anniversary of his last solo studio album, DAMN, Kendrick revealed the title and release date of his forthcoming project, Mr. Morale & The Big Steppers, which is due to arrive on May 13. On Monday afternoon, Kendrick took to his Twitter account, which he hasn't actively used since December 2021, and quote-tweeted a February 2022 message from a music fan account that said, "Kendrick Lamar is officially retired." Dot used this opportunity to make the announcement of his return and dropped a link to his website, revealing an "I'm back"-style press release that delivered the album title and release date.
Back in August, Kendrick broke his silence and shared a letter on his website, giving fans an update about where he was in life, while also revealing that his next album will be his last with Top Dawg Entertainment. "As I produce my final TDE album, I feel joy to have been a part of such a cultural imprint after 17 years," Kendrick said. "The Struggles. The Success. And most importantly, the Brotherhood. May the Most High continue to use Top Dawg as a vessel for candid creators. As I continue to pursue my life's calling." 
Kendrick signed to TDE back in 2005 and his entire discography has been released under the label. The only artist that predates Kendrick on TDE is Jay Rock, who was signed the year before. After Kendrick revealed that this will be his last album with the label, Top Dawg shared an open letter expressing how much of an "honor and privilege" it had been working with Kendrick for nearly two decades. 
Interestingly, the announcement was made on a document with a large pgLang logo in the corner. pgLang is a company founded by Kendrick Lamar and Dave Free, which encompasses a record label, production house, publishing services, and other multimedia offerings. Many people assume that Kendrick will release his own albums on pgLang after his TDE contract is over, so it's somewhat surprising that the announcement for Mr. Morale & The Big Steppers has a pgLang stamp on it, rather than the logo of the label that it's actually being released under. The statement concluded with a declaration that "all factual information for this release will come directly from this source only," which hints that Kendrick himself will be at the center of this rollout.

Kendrick has been focusing heavily on developing pgLang over the last few years. The label and creative house have signed Baby Keem and Tanna Leone under its artist ranks, and have also worked with figures like Yara Shahidi, Brent Faiyaz, and Jorja Smith on partnerships with Calvin Klein. Given the fact that Kendrick and company are putting a lot of time and energy into pgLang, it will be interesting to see how involved they are in the Mr. Morale & The Big Steppers-experience, despite the album being Dot's farewell tour on his original label.
In Kendrick's August letter, he revealed what he's been up to over the last few years. "I spend most of my days with fleeting thoughts," he wrote. "Writing. Listening. And collecting old Beach cruisers. The morning rides keep me on a hill of silence. I go months without a phone." 
It's not shocking news that Kendrick has been reclusive over the past few years since dropping DAMN, but to learn that he's fully detached himself in a way in which he doesn't even need to use his phone may indicate how focused he's been on new music (and his family life). Kendrick continues, "Love, loss, and grief have disturbed my comfort zone, but the glimmers of God speak through my music and family. While the world around me evolves, I reflect on what matters the most. The life in which my words will land next."
The "love, loss, and grief" he's referring to may have influenced his musical approach over these past few years and might be reflected in the album's tone. Similar themes of trauma, love, and grief can be found in other classics of his, like good kid, m.A.A.d city, and even his early project Section.80. Kendrick's letter could be hinting at an album full of deeply personal stories from his own life, since he's been crafting Mr. Morale & The Big Steppers away from the rest of the world. He's also a new father and could use the album as a chance to reflect on his new phase in life. Although, as Complex's Andre Gee pointed out, there's a lot of source material from the outside world that he could draw from, as well.
Back in late 2020, there were rumors circulating that Kendrick's upcoming album was inspired by rock-n-roll. More specifically, former Billboard editorial director Bill Werde tweeted that Kendrick was "pulling in more rock sounds" on his fifth album. As it stands, those rumors have yet to be completely debunked, because we haven't heard any solo offerings from Kendrick since then, but there's also a good chance that he scrapped that idea as the album continued to develop for two more years. Even if Mr. Morale & The Big Steppers doesn't end up as rock-leaning as we once thought, though, we wouldn't be surprised if some of those early influences ended up informing the final. Kendrick hasn't shied away from tapping into rock sounds in the past, collaborating with bands ranging from U2 to Imagine Dragons.
Near the end of summer 2020, images began to surface online, appearing to show Kendrick Lamar on the set of music videos. Photos of the rapper using a payphone and videos of him hovering above the ocean on a beach in Los Angeles made the rounds on social media, and the footage has yet to be tied to anything.
It might not be long before we hear Kendrick perform songs from the new album, because he is slated to perform at three major music festivals this summer. He will be headlining Milano Summer Festival in Italy, Glastonbury Festival in the UK, and Rolling Loud in Miami, all within a few weeks of each other. Milano and Glastonbury will both be taking place at the end of June, and a press release for the Italian summer festival revealed that Kendrick will be performing new music during the event. The official Twitter account for Rolling Loud, which will take place in July, hinted at the same thing.
Even though it's been five years since he released any solo music, Kendrick hasn't missed a beat when it comes to his lyrical ability and flow. His features on Baby Keem's The Melodic Blue not only helped his cousin win his first Grammy with "Family Ties," but also showed us where his head is at, creatively, right now. He's been away, but he's still "smoking on your top five," and laying claim to the rap throne. These are the same confident bars and boasts that Kendrick was delivering before he disappeared from the public eye, and if his guest features prove anything it's that he's still in rare competitive form. He's experimenting, too, trying out new flows and unafraid to deliver unorthodox bars, like the "top of the morning" chant that went viral from "Range Brothers."
Usually, when massive artists like Kendrick Lamar get ready to release new albums, we have at least an inkling of who the guest features might be. There are normally countless snippets and soundbites that reveal which artists have been working together during the creation process. But this time around, there is no information about anyone who could potentially be working with Kendrick right now. If we were to make a guess, we would predict he might collaborate with someone on the pgLang roster, like Baby Keem. But we could also see him going it alone, or bringing in surprise guests. We'll all find out together when Mr. Morale & The Big Steppers drops.