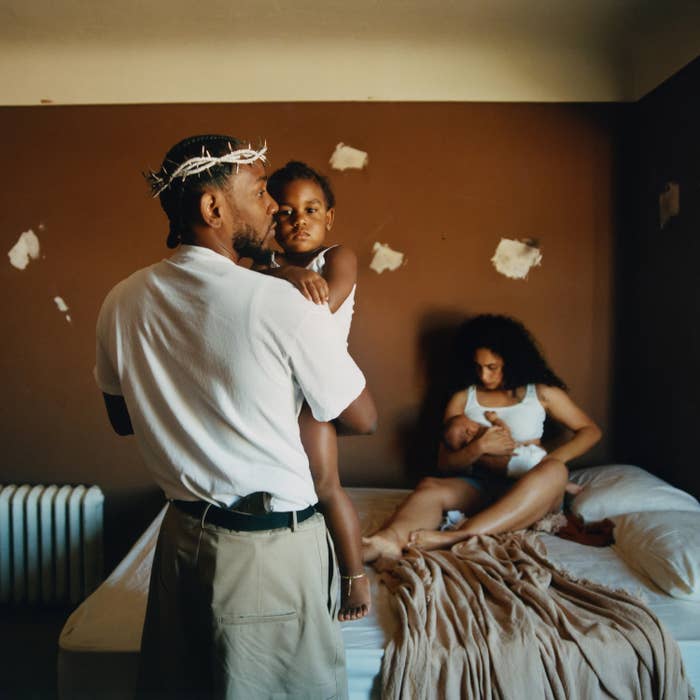 Let's start by stating the obvious: It's far too soon to have a fully-formed, rock solid opinion about an album as complex as Kendrick Lamar's Mr. Morale & The Big Steppers.
Kendrick fills his songs with so much symbolism and nuance that it takes a long time to fully absorb the music, so we will wait to publish an in-depth review of the album at a later date. With that being said, first-listen thoughts are an integral part of the listening experience. Over time, opinions change and evolve, but there's something special about the first time that new music hits your ears. With that in mind, the Complex Music team wrote down some of our first-listen thoughts about the album. We'll be publishing more analysis in the days and weeks to come (and you can read a breakdown of the album's major themes here) but for now, here's how the music hit us within the first 24 hours.
Andre: There's no way I can choose a singular favorite right now, but I'll say "Count Me Out" because it's my favorite mesh of production, melody, and lyrical substance. It's deeply self-reflective. Also, "I care too much, wanna share too much, in my head too much"? Relatable.
Jordan: "Father Time" is really important to me. I don't know if it's the "best song" per se, or even my favorite, but the subject matter is weighing heavy on my mind. As someone who comes from a place where therapy was not normalized because of the stigmas he's talking about, this track really hit home. From Kendrick's fiancée urging him to try therapy, to the way he explains how his upbringing influenced the way he viewed vulnerability, everything about the song blindsided me. I can't stop thinking about it.
Jessica: "N95" is one of the more hype tracks on the album and easily the most digestible. Kendrick is masterful at evoking different personas and vocals in order to capture a full story. Plus he's just really spitting here.
Eric: "Father Time" on disc one and "Savior" on disc two. "Father Time" is gorgeous (those Sampha vocals are perfect) and Kendrick delivers two brutally honest, soul-baring verses. On disc two, "Savior" holds one of the keys to understanding this whole album, as Kendrick pushes against the idea that he (and other celebrities) are saviors, while he works through his own flaws. He points out that other artists "bite their tongues in rap lyrics" and are "scared to be crucified about a song," but he's committed to be honest in his music, unafraid of how the public will receive it.
Andre: "We Cry Together." It might have my favorite beat on the album, and it's not a bad song in a vacuum, but it's such an intense listen that I'm not going to be able to do it during every play-through. 
Jordan: I'm not listening to "We Cry Together" again. It's not a bad song, and Taylour Paige really killed it with her performance, but I don't need to be teleported to that very real and very destructive space a second time.
Jessica: I can't bear to listen to "We Cry Together" again. The contrast of Kendrick and Taylour Paige's voice was unbalanced and the argument gave me flashbacks to Malcolm and Marie. 
Eric: I don't want to skip any of these songs yet. When it comes to pure replay value, obviously "We Cry Together" isn't a song I'll want to play every day, so I'm sure it'll be getting skips in the future, but it's one of the most emotionally-charged, affecting songs of the year so far and I'm glad it's on the album.
Andre: Music critic Charles Holmes recently made an astute point about how he felt some of the year's recent albums represent an archaic "here's the radio record, this one is for the ladies, and this is for the streets" formula in which artists and labels attempt to pander to every demographic, but ultimately don't keep anyone engaged for the length of a project. 
I think the genius of Mr. Morale, like many Kendrick albums, is that instead of trying to cover every demographic base, he covers a lot of thematic bases. He has songs, or at least verses, about fatherhood, domestic abuse, substance abuse, therapy, infidelity, spirituality, homophobia, not wanting to be a role model, and so many others. Almost everyone who listens to this is going to have something they deeply resonate with. The whole project reads as a diary entry, and so many of the themes intersect as he tells his story. He's clearly been doing a lot of reflection over the past five years. 
Jordan: It takes a lot of bravery to be as honest as Kendrick is on this album. He's always been great at stringing together personal stories and balancing them with well-crafted bars and production, but this album reveals a new emotional maturity that can only be reached by looking at the ugliest parts of yourself and your upbringing. I don't think we give artists enough credit for baring their souls for millions of people to scrutinize. I understand that it's a part of their job, but when someone shares art that's as deeply personal as this is, it deserves to be treated with a different level of care. As someone who knows how challenging it is to take that first step toward therapy, I commend him for sharing so much on such a big stage. I also love the intentional easter eggs layered throughout this project, like the tap dancing that reflects him "dancing around the subject" on certain songs (which his wife thankfully spells out for us at the end of "We Cry Together") and the way it slowly fades away as we enter the Mr. Morale side of the album, because by that point he has shed self-doubt and is being more direct. 
Jessica: I like the way the album pairs experimental and funk sounds. The texture of Kendrick's voice works really well with funky, soul instrumentals, and he's at his best when he's embodying the characters or personas in his songs, which happens throughout the album. It's an exciting one-man show that you can't look away from.
Eric: The fearlessness. When an artist becomes as successful as Kendrick is, there's a lot to lose. Any misstep could hurt their career and impact the livelihoods of the people around them. Because of this, many artists start playing it safe when they make it big. Kendrick addresses this head-on, pointing out that other artists "bite their tongues in rap lyrics/ Scared to be crucified about a song, but they won't admit it." On this album, though, it's very clear that Kendrick has no interest in biting his tongue. He's very aware that there will be backlash to some of the issues he explores on the album (and how he explores them) but he's committed to the idea of honesty.
Andre: The production. The soundscape is well-crafted and has a lot of movement, but the sounds and melodies themselves aren't all that compelling for me. Kendrick and his features' vocals dominate the album. I can't think of any beat that's been stuck in my head as much as vocals and cadences. 
Jordan: Kodak Black did not need to be on this album. For all the deeply personal moments in Mr. Morale about abuse and trauma, heavily featuring an artist who has several allegations of sexual violence feels like an insult to the people he's harmed. I understand that one of the core themes of this album is understanding and embodying different perspectives, but I don't think Kodak needed to be featured as prevalently as he was on interludes and tracks. 
Jessica: This is an unpopular opinion, but I picked up on an air of preachiness to this album. I'm not sure if it was the samples or Kendrick's delivery, but there were times where I felt like I was listening to a sermon or a testimonial. Some of the subject matter, while moving, seemed more calculated than organic, and I didn't agree with all the messages he's relaying.
Eric: I'm going to cheat and mention an initial disappointment that turned into something I liked about this album. Mr. Morale & the Big Steppers is an uncomfortable listen, by design. The subject matter in songs like "Auntie Diaries" and "We Cry Together" is challenging and will (understandably) turn some people away. Kendrick's approach will alienate some people, but it's been a long time since I've been this compelled by an album, and I think a big reason for that is because it's so challenging. This is music that will provoke people to think (and have debates) for years, which is important. Like a lot of people, I was thrown off by Kendrick's perspective on some issues, but the fact that he's being this brutally honest about his thought process (without fear of how critics will respond) is refreshing.
Andre: Baby Keem on the "Savior" interlude. The way he's able to mix his animated delivery with substantive lyrics is always impressive. It's hard to deny that he had the biggest impact on the album after Kendrick. 
Jordan: Taylour Paige on "We Cry Together." It's a deeply uncomfortable and, unfortunately, realistic song, but Taylour Paige is the perfect dance partner for Kendrick's toxic argument. It was really clever for him to bring in an actress to deliver a convincing performance, but even the way she's rapping sounds natural. She spits her lines in a way that maintains the narrative integrity of the track, but she also adopts an impressive flow, and her cadence is flawless. Baby Keem is a close second, but for someone who's not even a rapper, Taylour Paige stole the show.
Jessica: Baby Keem on "Savoir" was poetic. His screechy vocals, paired with the urgency of the violins, is harmonious. The song sounds like it belongs on a modern-day ball dance floor. And he still fits in on the second half of the track, as he asks, "Are you happy for me?"
Eric: Sampha on "Father Time" is a beautiful moment. Although, I'll also admit that Kodak Black's appearances were effective. At first, I thought his participation on this album might just be Kendrick's way of making a larger point about cancel culture or flawed celebrities, but his involvement is more than a gimmick. He fits into the fold of the album and pushes the narrative forward. The "Rich" interlude contextualizes him in a way that most people have never seen before, and his verse on "Silent Hill" is strong.
Andre: There's no major surprise for me, besides maybe the way that Kendrick routinely references people judging him and critiquing him, which indicates that cancel culture is a real thorn in his side. He even imbued songs about romance, such as "Purple Heart," with lines about people judging him, which indicates that he likely pays attention to social media more than most people would think.
Jordan: I was not ready for how heavy this album was. For the last four weeks, we've received a steady diet of New York rap, coke rap, toxic rap, and commercial rap, in that order. I knew Kendrick was going to drop something that would sound drastically different from anything else he's released recently, but I was not prepared for him to be so profoundly personal and take us on his mental health journey. I'm a strong advocate for therapy, so to hear one of the biggest rappers in the world talk about the toxic masculinity and generational trauma that hindered him from going for so long was so important to me. Everyone thought this album would be "too deep" from a conceptual standpoint, but it actually ended up being way too deep for me on a personal level (in a good way).
Jessica: Would I be wrong to say that I'm shocked Kendrick put himself in the Drake and Kanye situation? I wasn't expecting that to come up. I don't really see him concerning himself with the rap scene unless it's to declare his dominance. I was intrigued by his perspective, though. 
Eric: I never expected to hear a Kendrick Lamar album narrated by Eckhart Tolle and Kodak Black.
Andre: My first impression is that I'm going to need many more listens to concoct a full impression of this album. I'm always going to salute the lyricist who drops dense albums that need multiple listens to parse through. It's no necessity, but I appreciate it, especially after a five-year wait. 
Kendrick is expressing so much here, emotionally and thematically, that it's worth numerous listens. He sounds locked-in as an MC, exploring different flows, cadences, and voices. Though he referenced feeling uninspired on "Worldwide Stepper," it doesn't appear to have lasted long, or that he's lost his passion for rap. 
Kendrick seems as rankled as anyone else is by the past several years. He's clinging to family and spirituality, but he's doing the latter because he feels people are phony, wearing masks, and being hypocritically judgmental—plus he has a lot of residual trauma he's mending. That's relatable to anyone. But then, as a music superstar, he has to contend with people expecting him to be something he's admitting he's simply too flawed to attempt to be. 
I hope songs like "Savior" and "Mirror" once and for all kill the expectation for rappers to "speak for the people." Nowadays, as he rhymed on "Savior," anyone who avidly claims to speak for the people needs a side-eye and healthy scrutiny anyway. Artists like Tupac or Noname are exceptions that prove the rule. Rappers are people like us, with their own life path that informs their own worldview. And as junctures of this album show, even if they do speak up, you might not agree with what they have to say. 
I do feel like "meditating in silence made you wanna tell on me" on "Savior" was a weak copout for the 2020 backlash, "Tupac's dead you gotta think for yourself" was reductive in a cringey way, and him claiming "cancel culture" is destroying the industry that he's about to make more millions off of was classic victimhood, but those moments hammer home why he doesn't want to be in a leading role in the first place. He's not up for it, and he doesn't want to be. Like it or not, entertainers don't exist to amplify our individual opinions, and artists are only going to be but so radical as million-dollar assets of billion-dollar corporations. Kendrick has no qualms about not trying to save the world, and I respect him for admitting it, instead of positing himself as a rap freedom fighter.
Jordan: It's physically challenging for me to play this album from top to bottom more than once. It's not because I hate it or think the music is bad (the production, chord progressions, and storytelling meet my expectations for a Kendrick Lamar album) but I feel far too attached to the subject matter. I don't think I've ever felt this way after a first listen. Many people were expecting Kendrick to deliver an external examination of the current socio-political landscape that has changed drastically since his last album. But instead, he dives inwards and puts his counseling diary pages to wax on an album that is so personal, it almost feels evasive to listen to. He still has commentary on current events (like why he thinks "cancel culture" has stopped rappers from being honest) but those moments feel secondary to Kendrick's own revelations. Although, there were a few questionable creative choices he made (i.e taking the liberty of using a homophobic slur several times on "Auntie Diaries") that need and deserve to be analyzed in a detailed way.
Many of the stories Kendrick tells on Mr. Morale & The Big Steppers are personal, they're not unique to him. Family sits at the heart of this story, from the cover art to his wife narrating many of its scenes. The album tells us where Kendrick has been and outlines the hurdles he had to conquer to start his path towards therapy, where he faced his childhood trauma and destructive behavior. It takes bravery to talk about that with a therapist, let alone for millions of people on an album. Throughout Mr. Morale, Kendrick refutes being the "savior" that many tote him to be, and he's also not the infallible and forgiving hero that some wish he were. He still feels the same anger, guilt, grief, joy, and pain as anybody else. Mr. Morale & The Big Steppers highlights one thing that we already knew: Kendrick is a mortal man, reborn, who is no better than the rest of us.
Jessica: Sonically, the album sounds great, and there are songs that I'll revisit. The experimental, soul fusion is the soundtrack of a good time on some songs, and there are also pensive tracks that leave you staring ahead. The beats are refreshing and tasteful, and Kendrick's delivery is exciting, which makes it more accessible than some of his earlier projects. Some things will admittedly go over listeners' heads if they're not paying attention, due to how intensely personal the lyrical content is. It could cause some to have a defensive reaction. I think the discourse is welcomed, but I'm not sure it pays off all the way. 
Eric: As soon as I finished listening to this album for the first time, I immediately went back to the first song and pressed play again. There is so much going on here, and he lays it all out in a way that's really compelling. This isn't a lyrical-miracle album that's complicated for the sake of being complicated. Kendrick just has a lot to say, and he lays it all out there. He says he had writer's block for two years on "Worldwide Steppers," explaining that nothing moved him for a long period of time, but once he broke through, it all spilled out. In an era where some artists are afraid to speak their minds, Kendrick bravely reveals exactly what's going on in his head right now. It's an exceptionally honest, fearless album. Some projects are immediately accessible and easy to understand (which I'm also a fan of) but Mr. Morale is challenging in a really intriguing way. I'm excited to keep listening to this and pick up on more nuances from Kendrick's perspective.