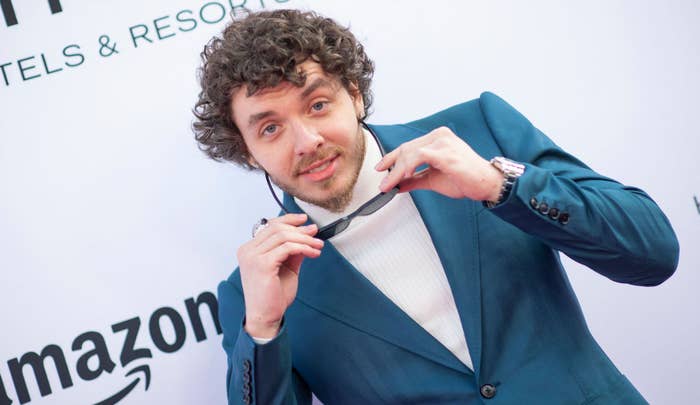 Jack Harlow has blossomed from a hometown Kentucky rap hero to a full-fledged star, and he's navigating his newfound fame with care.
In a Rolling Stonecover story, the 24-year-old spoke about leaving Tory Lanez on the "Whats Poppin" remix and how the choice doesn't reflect his stance on Lanez's situation with Megan Thee Stallion.
"I know I'm a good person. My character, my integrity are very important to me," Harlow said. "And I think I've done such a good job that now I'm being forced to answer for other people's actions. It doesn't feel right as a grown man to speak for other grown men all the time. … One thing's for sure, is that Megan got shot. And I wish her nothing but love and respect."
The RS feature reveals Harlow's sophomore album is titled Come Home the Kids Miss You and will drop May 6.
Elsewhere in the cover story, Harlow recounted visiting Drake's house after his Toronto stop on his last tour. He said he asked Drake a specific question, but didn't share what the answer was. "Towards the end of our time, I just wanted to keep it real," Jack recalled. "Like, you're familiar with what I do, you came to my show. Like, you're up to speed. He knows what's going on. So: How can I be better?"
The craft of rapping is important to Harlow, and he explained how Lil Nas X's team wanted to leave Jack's verse on their collab "Industry Baby" the way it is instead of shortening it for algorithmic purposes.
"I don't want to be the eight-bar novelty hip-hop feature on this," he said. "Fuck the algorithm."
And since he cares so much about rapping, Harlow also makes maintaining his authenticity a top priority. He told RS  it was difficult for him to shed his nerdy aesthetics early on because he didn't want to act like he was from the streets.
"It took me a while to take my glasses off," he explained. "I felt literally tethered to them, because I felt like, 'You're the rapper with glasses that can spit really well.' But when I started to blossom is when I let go of anything gimmicky. I'm as goofy as I am. I'm as smooth as I am. I'm as funny as I am. I'm as serious as I am. I'm all those things. The totality of myself that I'm honoring is why I'm being embraced by hip-hop."
He's also thankful to have created a fanbase led by women. "I fuck with it! . . . To be able to make a song that women like is what it's all about for me. There's a lot of things it's all about, but that's a huge one. That's really what you want, to make something that your crush wants to hear," he said.
Read the full Rolling Stone piece here.