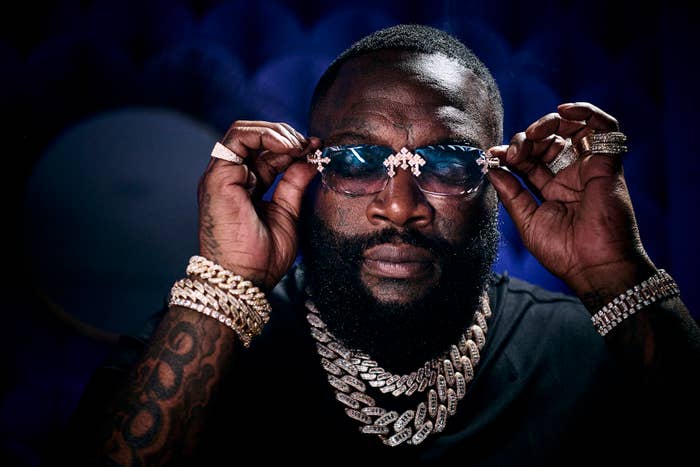 The Atlanta Symphony Hall is not a natural breeding ground for hip-hop heads and hypebeasts. In fact, it's just the opposite. It's the kind of establishment that you'd expect to host conservative suits and wealthy business types for fundraisers and stuffy mixers. That's probably why on Friday, Nov. 4, at the orchestral venue felt so special. 
In the heart of Atlanta's midtown area, a diverse group of rap fans, influencers, entrepreneurs and more flocked to the lobby of the symphony hall on Peachtree Street for the Red Bull Symphonic starring Rick Ross. Debuting for the first time in the United States, the Red Bull Symphonic marked a joyous celebration merging classic and contemporary rap music. Backed by the award-winning all-Black symphony, Orchestra Noir, Rick Ross delivered a stunning performance that helped change the narrative surrounding rap and uplifted a community that has experienced so many highs and lows this year. 
The guests were decked in extravagant dresses and suave suits, but with a twist. On their feet were the latest sneaker drops from Travis Scott's Cactus Jack collaboration with Jordan to Air Forces and vibrant colorways of the Jordan 1s. It might not have been the typical dress code for the events that usually occur at this venue, but it was definitely the appropriate choice for an occasion as unprecedented as this one. 
Since its inception, rap has received a lot of negative press. It's often been looked at as a fad or used as a scapegoat during election cycles. Though rap has been the most dominant genre in the U.S. since 2018, amongst the music community, it is still viewed as the inferior genre. The Grammys is a big indicator. In 2022, rap was noticeably left out of the top categories nominations for Song of the Year and Record of the Year.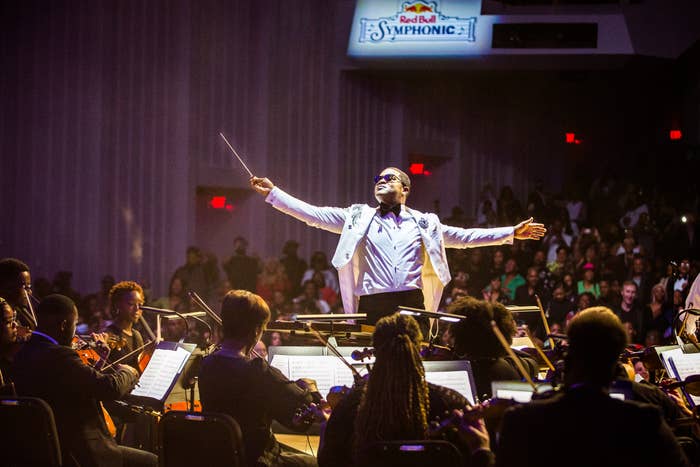 Maestro Jason Ikeem Rodgers told Complex during a rehearsal ahead of the show that the Symphonic intends to change the conversation and put the genre on a bigger and brighter platform. "Hip-hop is so versatile and so much could be done with it and now people are starting to see that," he says. "I love the effect of us putting rap and hip-hop on a grand stage. It shows us in a different light. We think that we have to go to nightclubs and hookah lounges to hear hip-hop, but you can also come to a concert hall like this with musicians who are classically-trained." 
As the last few guests hustled into their seats, the house lights dimmed and the stage lights illuminated in hues of crimson and white. The players of Orchestra Noir filed into their seats on stage followed by Maestro Rodgers. It's show time. 
The show began with a performance by Mapy, the self-proclaimed "Violin Queen" from Paris who performed a series of radio hits such as Wizkid's "Essence." Mapy was then followed by the Sainted Trap Choir, a 15-person ensemble who delivered a stellar performance of gospel and trap songs. Then, after a 10-minute intermission, horns, strings, and drums let out a harmonious sound as Rick Ross entered the stage, wearing a pink leather shirt, white pants, and a stack of diamond chained dangling from his neck. 
"The devil is a lie," Rick Ross declared before a buzzing crowd. The line is a reference to Ross' 2014 collaboration with Jay-Z of the same name. Though the crowd's screams and cheers were relentless, Rick Ross wasted no time jumping into his set.
For over an hour, Rozay took fans on a journey through his catalog, playing his biggest hits from 2006's "Hustlin" to 2010's "B.M.F." and 2012's "Stay Schemin'." Particularly moving moments included Ross' rendition of "Devil in a Red Dress," his legendary 2010 collaboration with Kanye West. The performance of "Aston Martin Music" was also memorable. On stage, Ross and the orchestra were joined by the all-black choir, Sainted Trap Choir, who provided soul background vocals. During "Here I Am," Ross two-stepped while DJ Sam Sneak encouraged him on the mic.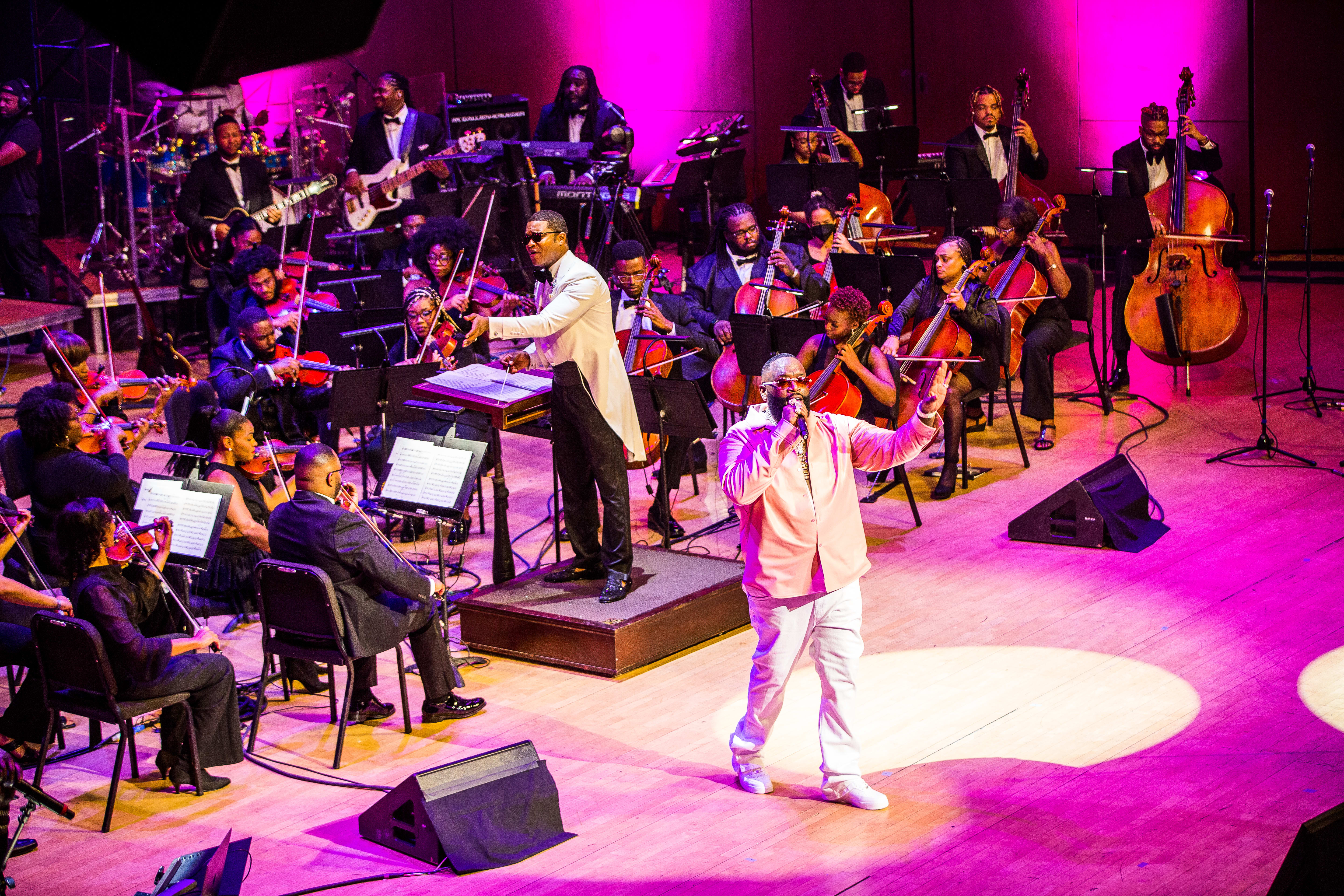 The live show was particularly refreshing since many contemporary artists perform behind their own recorded vocals and electronic production. Any artist would have been incredible when backed by Orchestra Noir, but Rick Ross was the ideal fit for a show of this magnitude. The rapper's husky voice against regal and luxe production makes him an obvious choice to be translated on the orchestral stage.  
Maestro Jason Rodgers worked alongside assistant music director Larry J. Smith to dissect and transcribe Rick Ross' music for the symphonic stage. "That was an awesome process," Rodgers said. "I wanted to try this new method where we worked separately. I concentrated on the strings, and he concentrated on the winds and rhythm section. Seeing Rick Ross' music that is already in my opinion so orchestral, was great." 
The Atlanta Symphonic was undoubtedly a historic moment for the self-proclaimed Boss of rap whose elegant and luxe music has touched rap fans for more than a decade. But it was also a monumental Saturday night for rap as a whole. Classical music has been accused of classism and elitism, catering to high-class white audiences. Orchestra Noir is proving that Black people are not only striving to be the rappers on the mics but the musicians behind the cellos, violins, and trumpets. "Seeing black people on that stage is amazing. It shows our diverse talent as a people," Rodgers adds. 'That's really important for young Black boys and girls to see and say, 'Hey, I can see myself in that symphony up there because I see people that look like me too.'"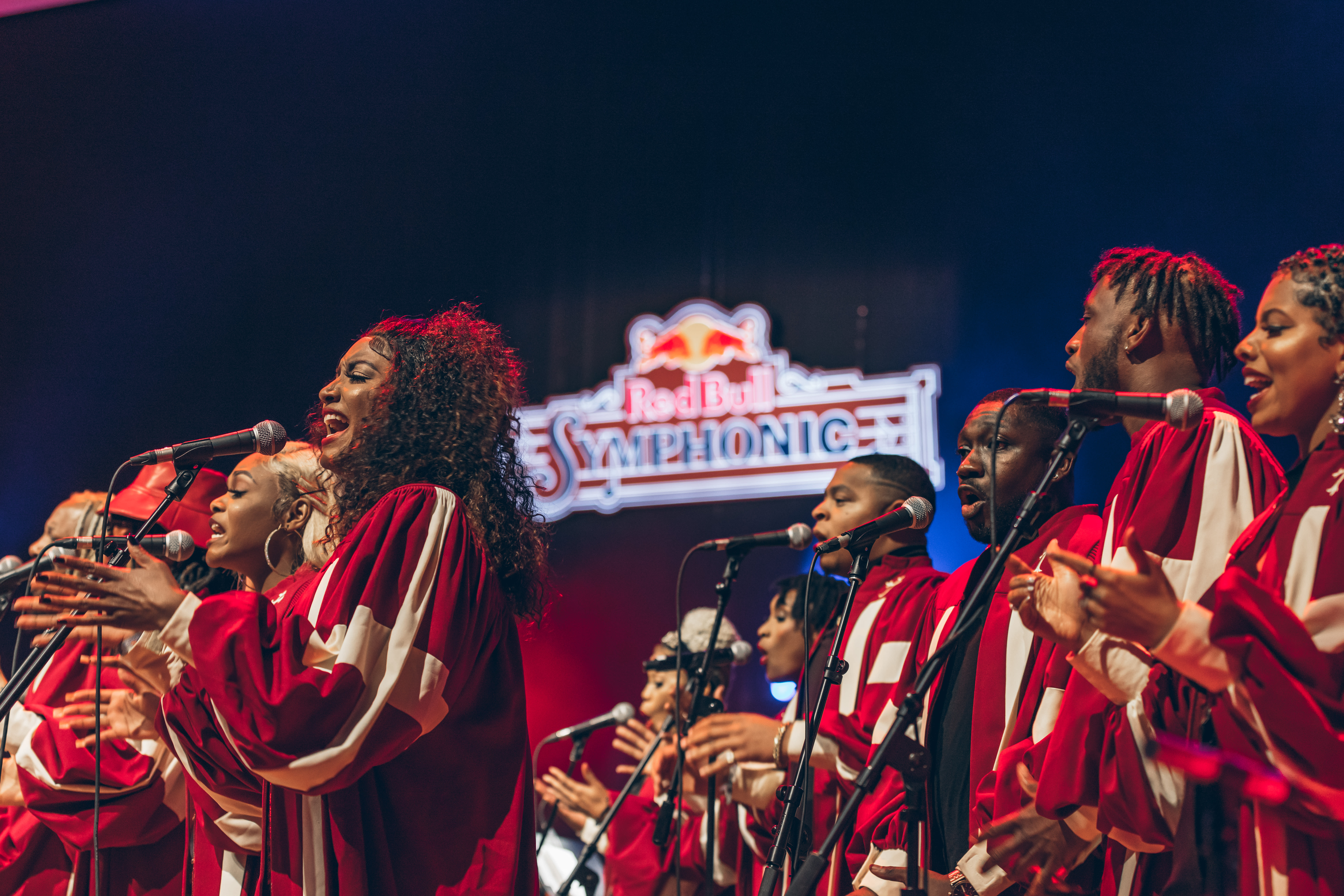 In the middle of Rick Ross' performance, he took a brief pause to address an important topic. "As brothers and sisters, we can't keep tearing ourselves down. We got to initiate the change. Rest in peace, Takeoff," Ross said before asking everyone to take of silence for the late rapper. 
Takeoff, one-third of Atlanta rap trio Migos, was fatally shot on November 1, outside of a bowling alley in Houston, Texas. Alongside his family and fellow band members, Quavo and Offset, Migos shot to stardom in the early 2010s and quickly became one of the most influential rap groups in music. Takeoff was often considered the reticent member of the group but his hypnotic flows and adlibs were very incomparable and shaped the current sound of trap music. 
Takeoff's death marks another tragedy that the rap community has experienced this year. Rappers PnB Rock, Trouble, and Young Dolph also died as a result of gun violence in 2022. The air has especially been thick in Atlanta where the city is grappling with gun violence and the government's targeting of rappers. Young Thug and Gunna were arrested in May 2022 on RICO charges at the height of their careers. 
Of course the pain cannot be erased in one night, but Rodgers suggests the Red Bull Symphonic will restore some hope and joy to a broken community. "It's so tragic how we lose some of our younger rappers and young hip-hop stars and it's just a shame that it's so prevalent in the culture," he begins. "With a project like this showing that hip-hop music can be viewed and listened to in different ways, I think that's important for people to see because it puts us in a different setting. We need to continue to take hip-hop and put hip-hop in different lights. Right now, I don't think people have the right idea of hip-hop. It has many different elements." 
The performance closed with a powerful rendition of "God Did" where Rick Ross and Orchestra Noir were once again joined by the choir and Mapy and the Sainted Trap Choir. The Red Bull Symphonic showed the city of Atlanta and the music industry what the artists in rap and the fans who championed the genre have known all along: rap is an exquisite art form that deserves to be seen on the most regal of stages.