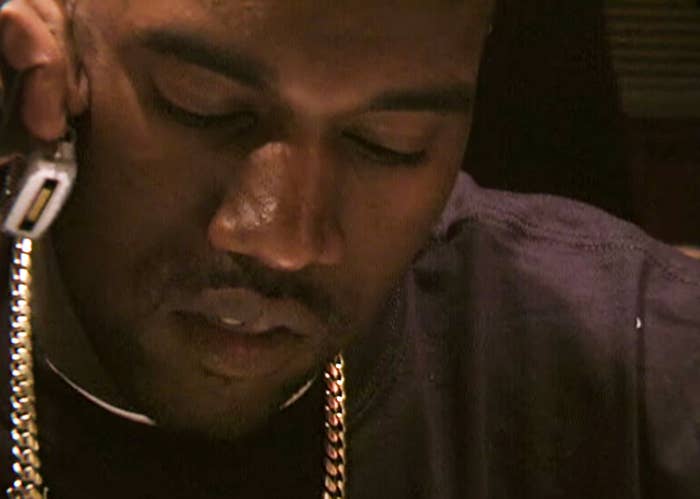 The second film in the Jeen-Yuhs: A Kanye Trilogy is now streaming on Netflix. The second episode, titled "Act II: Promise," picks up where the first act left off. Kanye is still on a journey of transitioning from a producer to a rapper, and working on releasing his debut album The College Dropout. With filmmaker Coodie behind the camera, we follow Kanye as he experiences setbacks in his journey, including his near-fatal car accident, disagreements with his label, and much more. This is yet another inspiring glimpse into the making of a music legend. After sharing ten revelations we had about the first film and speaking with Kanye's former manager about the iconic "All Falls Down" scene, we're back with seven more for part three, which you can dive into below.
After Kanye signed to Roc-A-Fella, he felt executives at the label were still trying to "box him in" as a producer, and he needed to make a good impression. So, one day he ran up on Jay-Z in the studio and asked if he could spit a verse for him, with the hopes of being featured on Jay's upcoming album, The Blueprint 2. During the session, Kanye delivers his verse, while Jay-Z gives him pointers on emphasizing certain words and improving his delivery. After a few takes, Kanye got in the booth and performed, and that's how he made it on the single "The Bounce." After finishing the session, Jay-Z gave him a co-sign, saying, "Ye West, hot, fire. Put my money on it."
On Oct. 23, 2002, Kanye was involved in a serious car accident while driving through Los Angeles in the early morning and falling asleep at the wheel. He crashed into oncoming traffic, and at first, it wasn't certain that he was going to make it. Thankfully, he survived, but suffered serious injuries. His jaw was shattered in three places and had to be wired shut. After the accident, Roc-A-Fella decided to delay the release of his debut album The College Dropout indefinitely. Kanye was determined to succeed, though. There is a scene in the documentary where he consults with his dentist about surgeries he will need to undergo after the wires are completely removed. After some thinking, Kanye decides to skip one of his dental surgeries because it would have pushed back the timeline of his album even further.
Kanye's breakout single "Through the Wire" was inspired by Kanye's car accident and samples Chaka Khan's 1984 single "Through the Fire." During his visit to the dentist, we see Kanye trying to rap a portion of the song before getting the wires taken out of his mouth. There's also a great scene where Kanye is seen working with a choir, which acts as a precursor to the work he's doing with his Sunday Service Choir now. And making the music video for "Through the Wire" was a whole other obstacle. Kanye couldn't afford equipment for the video editing on his own, so he made a deal with MTV. In exchange for him appearing on MTV After Hours, he was able to use MTV's equipment after the show to finish his video. "This video cost me $33,000 that I paid for out of my pocket," Kanye reveals in the documentary. The track, of course, was a big success. It peaked at No. 15 on the Billboard Hot 100 and earned Kanye a 2005 Grammy nomination for Best Rap Solo Performance. Even more importantly, due to the song's success, Kanye proved himself to his label and was finally given a release date for his album, as well as a bigger budget. It also allowed Kanye to prove himself to important people in the game, including Pharrell, who completely lost it when he first heard the song and made the connection that Kanye was literally rapping through his wired-shut jaw while first recording it.
"Jesus Walks" was another groundbreaking song in Kanye's early career. At the time, not many mainstream artists were mixing rap and gospel, and the music video was even more provocative than the song itself, depicting imagery of slavery, burning crosses, and churches. Kanye also rides through a desert with Jesus in the passenger seat. Kanye originally wanted Dave Chappelle to play the role of Jesus, but ultimately decided to go with a guy who was biracial because Kanye didn't want to have viewers debating whether Jesus was Black or white, instead of focusing on the video as a whole.
Long before Kanye created his billion-dollar brand Yeezy, he always had an interest in fashion. Throughout the second part of Jeen-Yuhs, we get to see Kanye's style evolve from baggy clothes and cornrows to close cuts, Polos, and backpacks. During his recovery in the hospital, Kanye made the decision to not only be a successful rapper, but also be the "best dressed rapper in the game." It looks like he made good on that promise.
In the documentary, Kanye talks about what his debut album means to him, sharing that it changed his life both professionally and spiritually. "I used this entire album as my rehabilitation," he explains. "Instead of staying at the hotel, I snuck in and made songs that inspired me, songs that gave me life. I feel like this album was kind of like my angel that helped build me. It revived my spirits."
Releasing The College Dropout was an accomplishment all on its own, but Kanye was determined to achieve more. He really wanted a Grammy Award, and he was most excited to speak onstage. "I just want to have the opportunity to speak. Just give me a chance to speak," he said ahead of the awards ceremony. "That's all I want. I want to go up and thank people, because I'm working on my speech. And you know, if I'm not able to say it, I'm just going to have to say it in every interview all the way completely through." Well, Kanye got his wish. He was the most-nominated artist at the 2005 Grammy Awards and took home two trophies for Best Rap Album and Best Rap Song ("Jesus Walks").