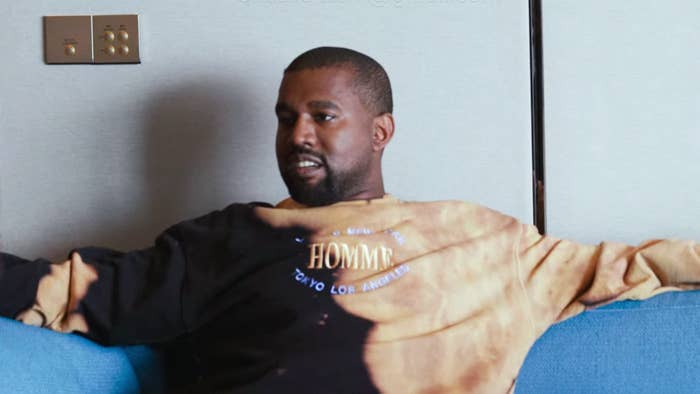 The final film in the three-part documentary Jeen-Yuhs: A Kanye Trilogy is now streaming on Netflix. The film, titled "act iii: Awakening," begins after the success of Kanye's debut album and concludes in present-day, shortly after he released Donda. "Awakening" makes use of some archival footage to fast-forward through times when Coodie stopped filming, as Kanye's career skyrocketed. Nevertheless, the film takes viewers behind the scenes of Kanye's mother Donda West's tragic death and touches on his mental health and more. By the end of the film, Coodie has reconnected with Kanye, and starts filming him again during some of his most intimate and challenging moments. All together, it's a fascinating portrait of a man who wished for fame—and got it. Here are the biggest revelations we had while watching the third and final part of Jeen-Yuhs.
After the success of his debut album, The College Dropout, Kanye's star kept growing brighter. And by this point, Coodie wasn't the only one with his camera following the superstar. As Kanye attracted more and more attention, he started to give the people what they wanted. In one revealing scene, Coodie says that Kanye told him he wasn't ready for the general public to see what he's really like, so he started playing a character. "Kanye said he wasn't ready for the world to see the real him," Coodie recalled of their conversation. "He told me he was acting now, playing a role. And now that the media wanted to put their cameras on him, I sat back and watched the show like everybody else."
In the middle of a speech he made during the launch of his non-profit organization, Kanye told a crowd of young people about a lesson his mother gave him. "My mom always taught me you have to believe it first," he said. "So I had to believe that I could make it into the game first. I believed it and I willed it." Then Kanye addressed criticisms he'd received about being "overconfident," explaining, "They say 'overconfident' like it's a bad thing. How can you be overconfident? You should be overconfident. You should have more confidence in yourself. But they want people to fade into the gray." Kanye added to erupting applause, "I'm going to tell you how I feel about myself. I am the greatest. And you should feel that way about you."
After The College Dropout and Late Registration, Kanye was a platinum-selling and Grammy Award-winning artist, but he was still a mama's boy. Even as he continued to achieve so much in music, he still wanted his mother around—and Coodie made a point to explain that he started wanting her around even more than he had in the past. Throughout the documentary, Donda West appears right by Kanye's side as he attends awards ceremonies, charity organizations, studio sessions, and more. Donda always said positive things about Kanye in the press and gave him positive feedback about his music and career. During a red carpet interview, Donda mentioned that while her job of parenting Kanye was over, she still stood by him as a friend and a confidant, and she was there if he ever needed her. Watching these scenes, it becomes more clear than ever just how much her death must have devastated him.
On Nov. 10, 2007 Donda West passed away at the age of 58 due to coronary artery disease and "multiple post-operative factors" after having cosmetic surgery. Her tragic and untimely passing had a huge impact on everyone who knew her, especially Kanye. Following her death, Kanye's energy changed. Old footage caught the rapper ranting on stage during a concert, saying things like "fuck the media." Onstage, he acknowledged that people suggested that he should take a break and stop performing, but he kept going. During this time, he also barely spoke to Coodie It wasn't until the Glow in the Dark Tour started in April 2008 that Coodie reunited with Ye. He was understandably still grieving during most of the tour and did not invite Coodie on the road. Contrary to his days of working on The College Dropout, Kanye also declined to be filmed in the studio (or anywhere else). Eventually, Coodie and Kanye grew apart and filming stopped for the next six years.
In 2018, Kanye invited Coodie to come out to Wyoming as he and Kid Cudi began working on their joint project Kids See Ghosts. The album was a therapeutic body of work, which addressed themes of mental health and more. "I like the fact that [Kanye] wants it to be positive and about all these things that we're touching on like suicide, death, and ghosts," Kid Cudi told the cameras. "Those are topics that I can get into. When he starts getting all the braggadocious shit, I can't hang. I can do it, but I can't hang. Can't nobody do it as good as you." Kanye echoed Cudi's feelings, explaining how mental health issues followed him even after he got all the fame and fortune he desired. "I already had the house and wife and the kids and the plaques and all this type of shit, but still had moments where I felt like suicidal, still have moments where I'm addicted to Percocets and don't even realize it." So he put those feelings into the album, which was a therapeutic experience.
Kanye's mental health is a main theme throughout the third part of the documentary, first mentioned after the death of his mother and continuing as the years go by. "I was confused. I hit a breaking point," Kanye said at one point, following his hospitalization in 2016. There's also a moment when Kanye heads out on a vacation to the Dominican Republic, in which he seems to be experiencing a manic episode. During a conversation with some investors, Kanye speaks about taking "bipolar medication last night to have a normal conversation and turn alien to English." He continued, "I do not communicate in a way that people understand in public because it's just the truth and we're in a world of lies." Sensing that Kanye was in an erratic state, Coodie cut the cameras. He didn't start filming again until the aftermath of Kanye's presidential campaign rally in 2020, when Coodie went to visit Ye in Wyoming and check on his well-being. Coodie, who is known for filming Kanye's every move, only ever stopped filming when he could tell Ye wasn't in a good place mentally.
During some of Kanye's most controversial moments—like the tumultuous campaign speech during his presidential run—many wondered whether he was surrounded by a bunch of "yes men" or if he had people around him who he could trust. While it does seem that his circle included many newcomers, we see that he was in touch with close loved ones when he needed them most. In one revealing scene, the day after his presidential rally, we see him in the car with Coodie (who flew across the country to see him). Kanye then gets on the phone with his father, who tells him, "I'm just concerned about you." Then his father suggests that Kanye should write his speeches in the future, which Ye is receptive to. During the car ride, other old friends from Chicago are also present, giving Kanye words of encouragement and guidance.