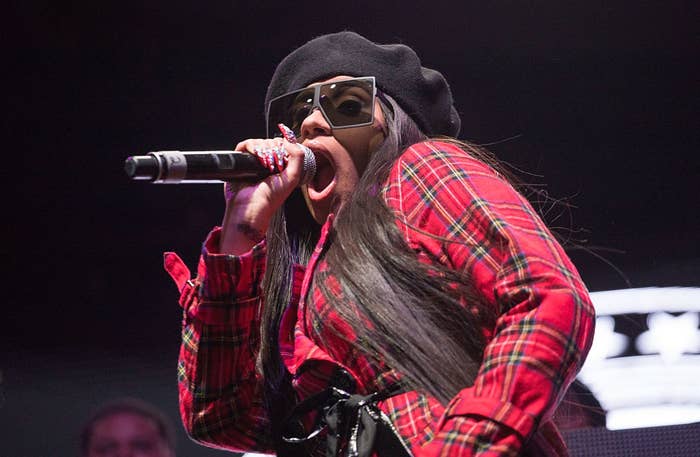 Cardi B's highly anticipated follow-up to "Bodak Yellow," "Bartier Cardi," officially dropped​ Thursday night. But even though she proved herself musically with her potential hit, fans still came at her for constantly mentioning her fiancé Offset. 
Having collaborated on several songs including "MotorSport" and "Um Yeah" Cardi has made it clear that she can show love for Offset in and out of the studio.
If you've ever watched her Instagram stories, you know that Offset's stoned smile can be found in the background of almost every frame. But Cardi doesn't care what we think, which is why we fell in love with her in the first place. 
In an Instagram story pic directed at fans Friday night, Cardi wrote "If I wanna put my man name on all my songs soooooo fuuuuuckkiiiiinnnng what! I loooovveeee the Nikka. Im his biggest fan. Like the nikka put a half milli ring on my finger and that good vitamin D. Imma mention his name even in my prayers bitch! Shit when Im about to die last word out my mouth is Offset."
She continued addressing fans on Twitter, even responding to one user who accused Offset of writing the initial post on her behalf. The user eventually deleted the tweet.
Offset then wasted no time showing love for his girl right back, posting a video of him dancing to Cardi while driving. 
​For future reference, don't tell Cardi when and what to do in regards to just about anything, because she'll do exactly what she wants.