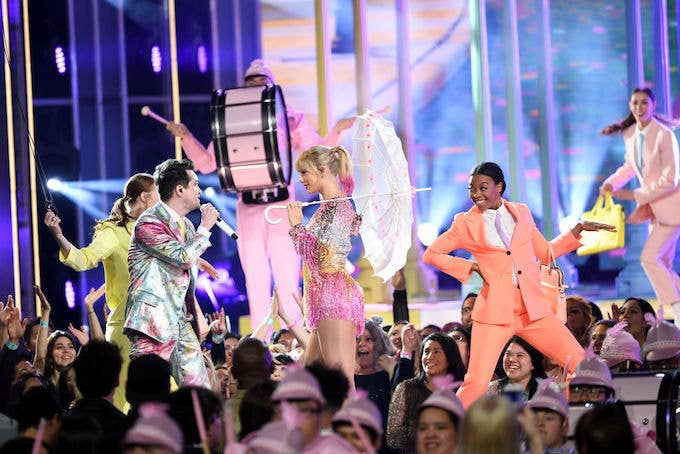 According to the Beyhive, Taylor Swift has copied Beyoncé's act once again.
During her 2019 Billboard Music Awards opening spot on Wednesday, Taylor Swift and Panic at the Disco lead singer Brendon Urie performed the pop-star's latest single "ME!" A head-to-toe pink marching band opened the performance, with a commanding whistle and all, before Taylor took the stage. The stunt prompted many fans to compare the spectacle to Beyoncé's historic Coachella performance in which a marching band provided the intro. 
In addition to simply ripping off Beyoncé, the queen's fans are calling out Swift for co-opting iconography that Beyoncé included to honor Historically Black Colleges and Universities, hence the "Homecoming" title of her Netflix concert film. "I always dreamed of going to an HBCU," Beyoncé says in the documentary. "My college was Destiny's Child. My college was traveling around the world, and life was my teacher."
In 2017, Swift was called out for copying Queen B after she released the music video for her song "Look What You Made Me Do," which as many people pointed out resembled Beyoncé's "Formation" visuals.
As loyal fans often do, the Beyhive took to Twitter to express their discontent with Swift's performance, circulating the hashtag #Mayochella in reference to her whitewashed version of Beychella. However, Tey fans were quick to defend the pop-star's performance.