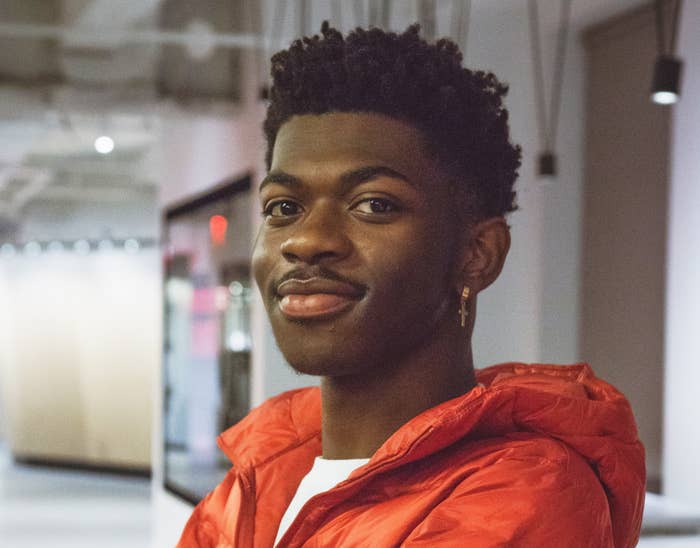 In the few short months since Lil Nas X's country trap single "Old Town Road" exploded online and forced a generation of aging music editors to learn what TikTok is, he's been the subject of more internet discussion and dissection than many artists see throughout full careers.
The song catapulted from meme success to rack up over one hundred million streams, all the way to No. 15 on the Billboard Hot 100. "Old Town Road" became a legitimate country radio hit, debuting at No. 19 on the Hot Country chart, before Billboard controversially removed it on the grounds that the song "does not embrace enough elements of today's country music to chart in its current version."
The 19-year-old artist, born Montero Lamar Hill, is taking things in stride. He comes across as a charming, self-aware, internet savvy teen who, despite having a penchant for going viral, is still figuring out in real time the exact nature of his fame. He's optimistic about his long-term future, but also keenly points out that not everyone who loves "Old Town Road" is going to be a Lil Nas X fan down the road.
"They'll find out that I'm just not going to stick to that, and they're like, 'You need to stick to one thing,'" he explains. "It's not going to happen, I've got my fans, and then these people that like certain songs." As for his long-term plans, he says, "I want to build to that mogul, legendary level."
For now, he's making another play at country success with a surprising guest on the "Old Town Road" remix, working on new music with ascendant production duo Take A Daytrip, and adjusting to the size of his new platform.
It seems that Hill was always destined to become famous somehow, whether that happened because of his skills as an Auto-Tune cowboy on a woozy trap beat, or through his self-deprecating tweets and humorous internet personas (he used to run the Nas Maraj Twitter account). Though his discography is short, he's shown enough talent as a clever and intuitive songwriter that music may be the most fitting path to inevitable fame that he could have found.
Complex spoke with Lil Nas X about the stunning success of "Old Town Road," dealing with anxiety, and how he plans to follow his viral hit.
Billy Ray Cyrus is on the "Old Town Road" remix. How did that come together?
Actually, some days after I put the song out, I was like, "Everybody help me get Billy Ray Cyrus on this." I kind of knew that it probably wasn't going to happen, but once I got with Columbia, I had more of an ability to make it happen. And yeah, it's coming soon, and it's great. Everybody going to love it.
You've now performed the song in some pretty major settings (like an NBA game). What is it like for you to take this song that spread online and perform it in the real world?
It made it feel way more realistic that we actually made something. Seeing people in person, dancing to your song, asking for pictures and shit, it makes it feel way more real. It's kind of a dream. I mean, it's insane, it does feel really unreal to me. Like I'm going to wake up or something and maybe it won't be the same, but just keep going.
People come in because they like 'Old Town Road.' They'll find out that I'm just not going to stick to that.
Do you plan to make more country trap or do you want to go in a different direction musically?
I'm always going to be experimenting musically, trying new things. But it's not like I'm not going to have another country trap song. I know it's going to happen again. It's just that I'm not going to try to force it.
Your first project, NASARATI, is pretty diverse sonically, and nothing on it really foreshadows "Old Town Road."
Yeah, with NASARATI, that was my first project. I really worked literally three days on it, writing on the beats and putting it together. I'm not saying that I don't love the mixtape, but it was really my first, first move in rap. I tried to make sure everything sound different, so you hear no two songs and think they sound alike.
How have fans who found you through "Old Town Road" reacted to your earlier music?
A lot of my fans were like, "Wow, everything sounds different, but I'm liking everything." So it's like, a lot of things, a lot of people. But a lot of them weren't real fans before. People come in because they like "Old Town Road." They'll find out that I'm just not going to stick to that. And they're like, "You need to stick to one thing." It's not going to happen. I've got my fans, and then these people that like certain songs.
Early in your career, you've already shown a knack for songwriting. What's your process like?
Honestly, I think it's just because I listen to so much music and I have so many stories already built in my head to like, rap on the song. But my actual writing process? I have to just love the beat before I even write on it. I can't force myself to write to a beat that I'm not immediately loving.
You've referenced video games like Red Dead Redemption and Sonic the Hedgehog in your career thus far. Are you a gamer?
Definitely, but I'm more of a casual gamer. I'm not like the people around me, like my brothers and my friends and people on the internet who really like to game. So I can't escape it even if I wanted to.
You're not Twitch streaming at 4 a.m?
If I'm up at 4 a.m. I'm trying to make a song nowadays.
Is there a meaningful difference between the person you are online and the person you are as a musician?
I believe there really isn't a difference. I guess you could say I'm goofier, but I'm just the same person. It's going to be you know, intertwined, in my head.
I want to build to that mogul, legendary level.
You're very candid about dealing with anxiety in your posts. Is that something you plan on addressing in your music eventually?
Yeah, I'm going to talk about everything in my music. [In the past] I was making music more that I thought people would want to hear. There may be something, it may be about something else. There would be symbolism, or something. But it's definitely going to be in that direction.
The meaning behind the X in your name shows that you're clearly thinking about the long term. Where do you see yourself in a decade?
I want to build to that mogul, legendary level. I believe that my head isn't even big enough to wrap myself around how big I will be at that time. So I wouldn't be able to tell you.
You've been championed by a lot of artists, from Justin Bieber to Florida Georgia Line to Wale. Which interaction has been the most surreal?.
Ski Mask [the Slump God] was the most supportive, you could say that. He was talking about the Billboard stuff. We're probably going to make some music together. This is like early on, too, before most celebrities started to [support me]. I mean even before Justin Bieber posted it on his [Instagram] Story, stuff like that. [Ski] did it before anyone.
You're from Atlanta, but you're doing something fairly left-field with your music. Do you consider yourself an Atlanta rapper?
The thing is that when I'm making music, I'm not really chasing that sound—the Atlanta sound that we hear a lot. I'm from Atlanta, but I don't really consider myself an "Atlanta rapper." I don't really know how to say it, but musically I'm not just in that lane.
I would say my identity is more wrapped up in growing up in the internet age.