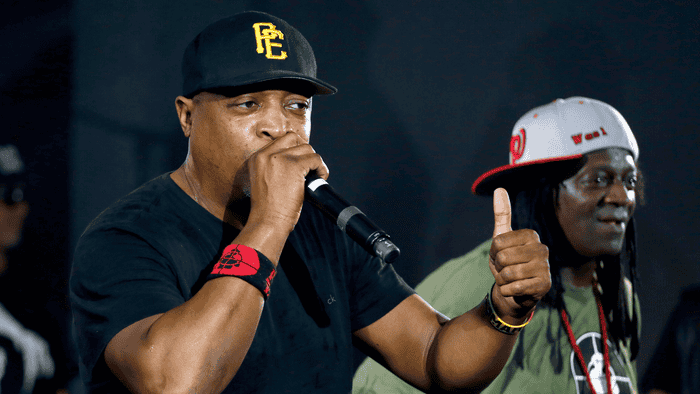 UPDATED 03/1/19 10:25 p.m. ET: As it turns out, Chuck D wasn't bluffing when he issued a threat to boot Flavor Flav out of Public Enemy (which you can read about at the bottom of this write-up). We say that because, according to Rolling Stone, the group has announced that they are permanently "moving forward" without Flav, putting a wrap on the 37 years he spent as their hypeman. 
"Public Enemy and Public Enemy Radio will be moving forward without Flavor Flav," the group said in a brief statement on Sunday. "We thank him for his years of service and wish him well."
This swift firing comes after Flav sent a cease-and-desist letter to the Bernie Sanders campaign that was preceded by Chuck D saying the group would be performing at a livestreamed Sanders rally on Sunday evening. In a tweet (embedded below,) Chuck made it clear that the Sanders issue wasn't the only issue that led to the split.
As he began a longer overall message: "My last straw was long ago." 
Public Enemy's statement also added that Public Enemy Radio would be putting out a new album in April.
See original story below.
This lede is going to sound like freaking Mad Libs but it will make sense if you read it all the way through. I think.
On Sunday, Chuck D tweeted out his two cents about Flavor Flav's objection to Public Enemy endorsing Bernie Sanders. The objection came after it was announced that the hip-hop group was going to perform during a Los Angeles Sanders rally on March 1. In fact, Chuck sent out these tweets prior to taking the stage at that very rally. 
Prior to addressing Flavor Flav, D's tweets hit on the topic of why he's backing Sanders. From there, he issued his brief response to Flavor Flav's grievance. For the uninitiated, Flav sent out an open cease and desist letter on Friday, in which he made it clear that the Sanders endorsement was not from all Public Enemy members, past and present, and instead was just Chuck D's opinion. 
"While Chuck is certainly free to express his political views as he sees fit -- his voice alone does not speak for Public Enemy," that letter read, which was written by lawyer Matthew H. Friedman. "The planned performance will only be Chuck D of Public Enemy, it will not be a performance by Public Enemy. Those who truly know what Public Enemy stands for know what time it is, there is no Public Enemy without Flavor Flav."
The letter also went after Sanders himself. "Sanders claims to represent everyman not the man yet his grossly irresponsible handling of Chuck's endorsement threatens to divide Public Enemy and, in so doing, forever silence one of our nation's loudest and most enduring voices for social change," it added.
"If Bernie allows this deceptive marketing to continue without clearly correcting the messaging … Senator Sanders will himself have played a part in whitewashing a key chapter in American History."
In response to that, Chuck made it clear that getting involved with politics is just not something Flavor Flav does. As an example, he cited an instance in which Flav declined to support the nonprofit organization Sankofa. He also said Flav doesn't know the difference between Bernie and Barry Sanders, which is either a great coincidence or a reference to an uproar from earlier this week. That was also his way of stating that Flav's objections had nothing to do with Sanders himself. Read below and confirm what you actually probably could've just guessed anyway:
He also appeared to threaten Flavor Flav's status in the group in an interview with HipHopDx. "He has a year to get his act together and get himself straight or he's out," he said. Chuck's lawyer also chimed in, saying, "From a legal standpoint, Chuck could perform as Public Enemy if he ever wanted to; he is the sole owner of the Public Enemy trademark. He originally drew the logo himself in the mid-'80s, is also the creative visionary and the group's primary songwriter, having written Flavor's most memorable lines."