His name is Marshall Mathers. He's just a regular guy who happens to have a few alter egos, some skeletons in his closet, and a way with words.
OK, maybe he's not so regular, seeing how the man also known as Eminem has rhymed himself into Greatest Of All Time contention—not to mention that his every move has been publicized and scrutinized since 1999, when The Slim Shady LP donkey-punched the game silly, making it unsafe for pop stars, moms, and anybody else who pissed off the Detroit representer. Ever since, the Dre-signed rap superstar has attempted to keep his private life private, a task he himself makes difficult by always being so brutally honest in his songs. It's his compulsive willingness to share his raw feelings in inspired lyrics and wide-ranging flows that has struck a chord with fans.
But even before his breakthrough, Em was a promising MC looking for his chance to blow. Controversy aside, at the essence of all his music there has always existed an artist's deep-rooted respect for hip-hop. Every lyrical war he waged, whether it was against kin, rap rivals, or the media, every confrontational and/or funny remark he made on record—it could all be traced back to his humble beginnings as a battle rapper from the wrong side of the tracks.
His rise to fame is a real-life drama full of protests, court cases, and a duel with drugs, all echoed in his songs, videos, and albums. But, above all else, it's the passion that burns within his competitive nature that has set him apart from many of his peers. How the Great White Hope became possibly the G.O.A.T. is a story best told in verses, so with Slim Shady's next album soon upon us, Complex felt it was the perfect time to compile 100 of Eminem's best sonic scriptures to tell the tale of this rapper/producer, shit-starter, loving father, and survivor. Take a listen and you'll see Eminem's saga is as much about where he's from, where he's been and where he's at—back on top. These are the best Eminem songs.  
Related: Complex Cover Story - Dec 2017 : Eminem On How Jay Z Inspires Him and the Making of 'Revival'
#100. Outsidaz f/ Eminem "Hard Act To Follow" (1998)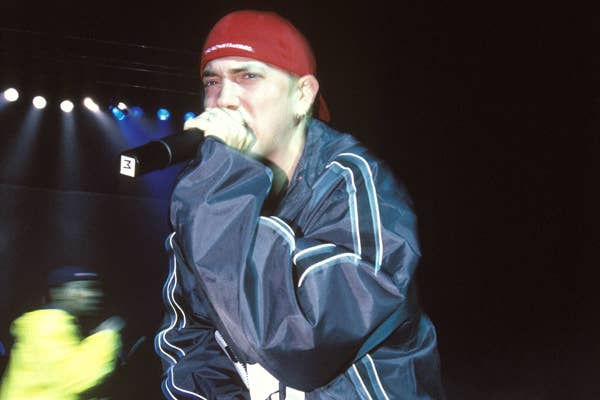 Producer: N/A

Album: N/A

Label: N/A

Damn, this begs for a proper release. Even on a lo-fi, fifth-generation copy that sounds like it was recorded in the Hudson River, there is no mistaking quality when you hear it. New Jerusalem's Outsidaz click were some of the first artists outside Michigan to give Eminem props (he obviously appreciated the recognition, having shouted them out on various records). No slouches themselves on the microphone, the extra-large crew, led by Pace Won and Young Zee, should have blown up themselves. On this turtle-paced, Wu-ish-flavored adventure, the gang brings odd deliveries and treasure trunks full of jewelz. Pre-famous Eminem's guest spot blends in without a hitch, signs of his trademark provocative vocab already in effect, talkin' about puttin' foots up lesbians' crotches and "spitting blood like Kiss' lead guitarist." Even after all these years, a second act from Slim and the Outsidaz would be more than welcome.
#99. D12 "My Band" (2004)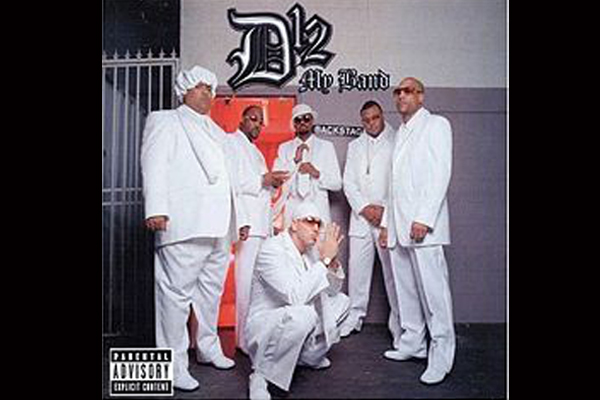 Producer: Eminem, Luis Resto

Album: D12 World

Label: Shady/Interscope

Eminem's celebrity status got so HUGE that it often overshadowed the talents of the Dirty Dozen. In what proved to be their biggest hit as a unit, the buddies decided to g'head and have fun with the Marshall Mania. Eminem has a jolly time pretending to be an arrogant lil' prick who lords over the other members in his "band," the term itself a swipe at not only hated boy bands, but the type of clueless fans who call rappers "singers." The D12 fellas try to get some shine—like when Bizarre says, "Fuck the media, I got some suggestions/Fuck Marshall, ask us the questions"—on this parody upon parody upon parody, but the truth is the clique is having genuine fun spewing endless verses and messing with the choruses.
#98. Eminem f/ Swifty, Bizarre & Fuzz Scoota "No One's Iller" (1998)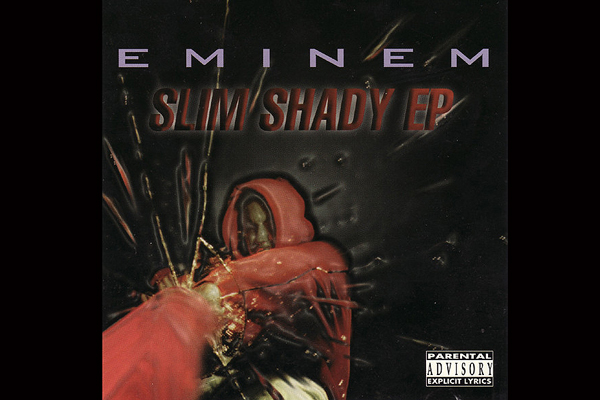 Producer: DJ Head

Album: Slim Shady EP

Label: Web Entertainment

This early incarnation of D12 was already ready for the big time. Oozing confidence, Bizarre rides the Pharcyde-ish trizz-ack talking that crazy: "My girl beat my ass and shot me in the back with a two-piece/'Cause she found out I was havin' an affair with her 10-year-old niece." Even then Eminem never lacked for fresh rhymes, coming in with, "Down a fifth, crack open a six/I'm on my seventh 8-ball, now I gotta take a piss/I'm hollerin' at these hoes that got boyfriends/Who gives a fuck who they was/I'm always takin' someone else's girl like Cool J does." Sounds like a man coming for the crown.
#97. DJ Spinna f/ Eminem &Thirstin Howl III "Watch Dees" (1999)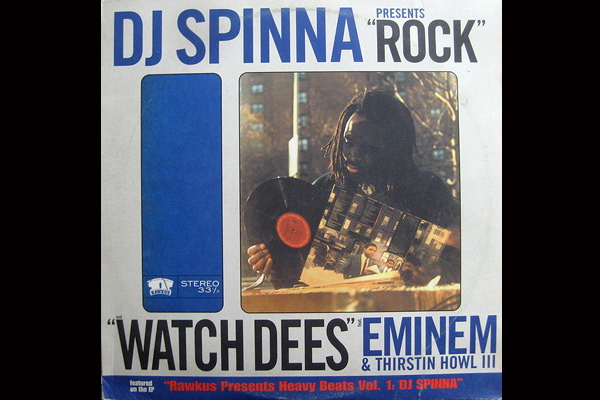 #96. Eminem "Rock Bottom" (1999)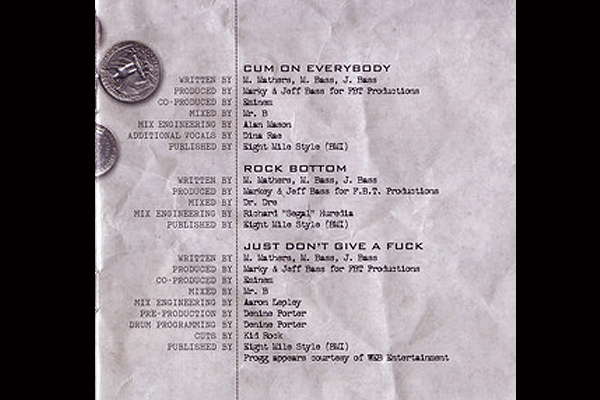 Producer: Bass Brothers

Album: The Slim Shady LP

Label: Aftermath/Interscope

"Rock Bottom," a gritty look at the lifestyles of the poor and dangerous, is more relevant now than when it was written. The recession ain't no joke, and Eminem ain't crackin' any either on this grim first-person account of a minimum-wage worker who is "'bout to burst this tec at somebody to reverse this debt." A dozen years later, Eminem lives in a mansion with an elevator in it, but the hurt is so alive in his voice on "Rock Bottom" that you can bet he has not forgotten the days when he felt "discouraged, hungry, and malnourished / living in this house with no furnace, unfurnished."
#95. Masta Ace f/ Eminem & J-Black "Hellbound" (2000)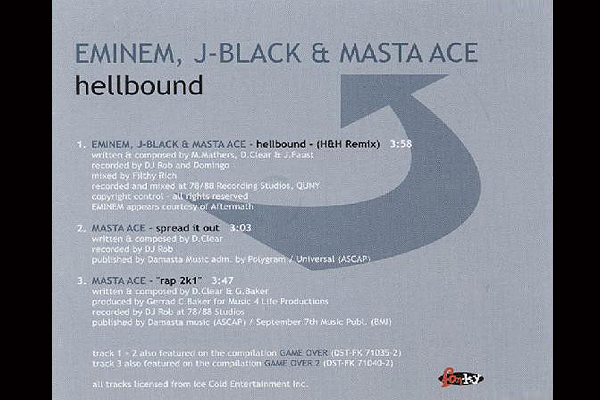 Producer: DJ Rob, Domingo

Album: Game Over

Label: Yosumi Records

In 2008, Eminem remixed Masta Ace's underappreciated "Slaughtahouse" single (not to be confused with recent Shady signees Slaughterhouse). During a Shade 45 interview with Em and Ace that same year to promote the remix, Em, who has on numerous times cited MA as a key influence on him, was asked by Tony Touch when the duo would collaborate on a track together. Ace spoke up and said that the collabo had already happened—sort of—eight years earlier when an old Eminem verse was slapped onto "Hellbound." Eminem confessed back then that he had yet to hear the song. What he was missing out on was an uplifting underground joint that heavily samples theme music and sound effects from the SoulCalibur video game for Dreamcast. The zooming, ethereal melody conjures up sword and sorcery adventures, which contrast with Eminem's raw rap, but it still works. Plus, the chance to hear Em and Ace on the same record is heavenly.
#94. Eminem f/ Obie Trice "Emulate" (2005)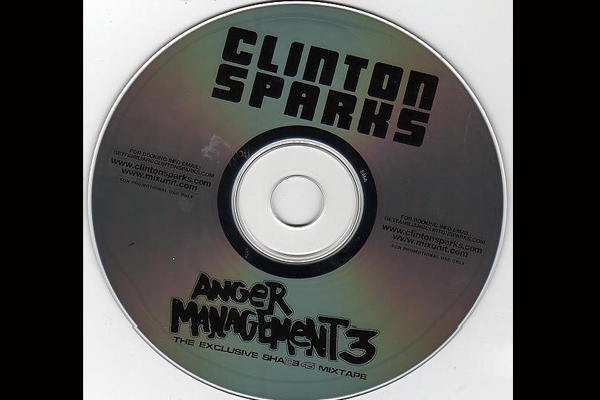 #93. Eminem "Business" (2002)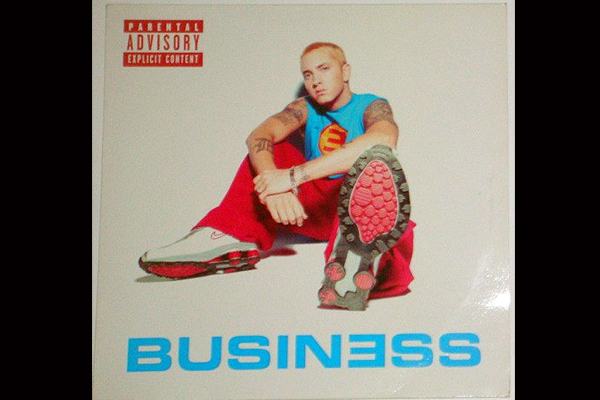 Producer: Dr. Dre

Album: The Eminem Show

Label: Shady/Aftermath/Interscope

All the Batman and Robin references are a little off since Dre doesn't even rhyme on this one, but Doc does provide superpowerful production—with its driving rhythms and celebratory horns that cruise along like a flashy, souped-up vehicle. The celebratory feel is infectious, as an at-ease Em hops in the driver's seat and lets rhymes fly at you like a Dark Knight boomerang. "You ain't even impressed no more, you used to it," he half-jokes, knowing damn well his fans still think this duo is dynamic.
#92. Eminem "On Fire" (2010)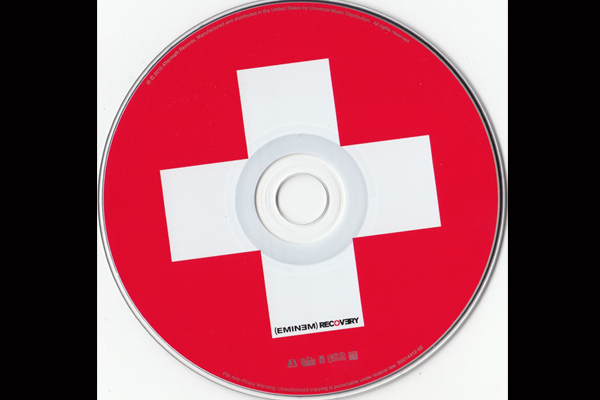 Producer: Denaun Porter

Album: Recovery

Label: Shady/Aftermath/Interscope

Upon first listen, "On Fire" sounds like Em effing around in the studio (hell, he even goes so far as saying, "I just wrote a bullshit hook in between two long-ass verses"). And maybe he is just goofin' off, but Eminem's B-game is still enough to take out most of the league. In fact, the looseness brings out plenty of fun stuff like "Flows tighter/Hot-headed as Ghost Rider/Cold-hearted as Spider-Man throwin' a spider in the snow," as well as smarmy ad-libs like, "I'm so fuckin' sick I got ambulances pullin' me over and shit." The only thing fully serious here is the production, which resembles an operatic exorcism.
#91. Eminem "Can-I-Bitch" (2003)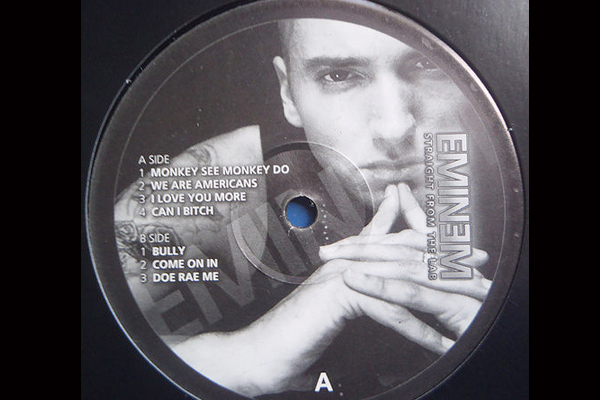 #90. Eminem "Stay Wide Awake" (2009)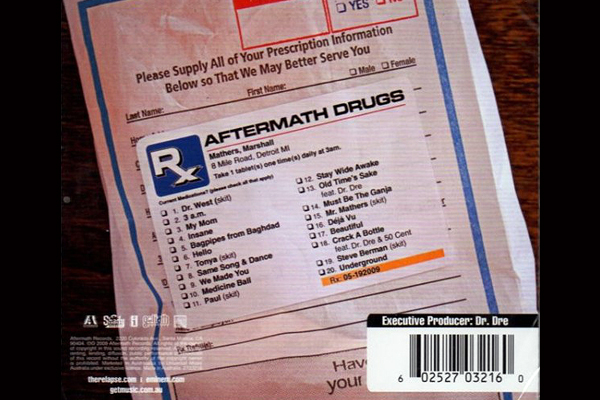 Producer: Dr. Dre

Album: Relapse

Label: Aftermath/Interscope

Psycho killer Slim Shady is back on the prowl with more NC-17 horrorcore in this unofficial continuation of "3 a.m." Cringe with anguish as he stalks helpless female victims Ted Bundy style (you will shiver when you hear what that SOB intends to do with an umbrella to that poor woman), and try not to cry as you listen to that demented accent and haunting track that will have you seeing damned souls being sucked into hell. One of Eminem's coldest cuts.
#89. Old World Disorder f/ Eminem "3hree6ix5ive" (1998)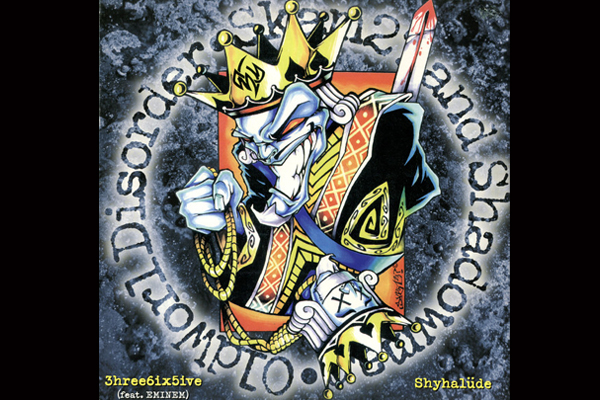 #88. Eminem "Hailie's Song" (2002)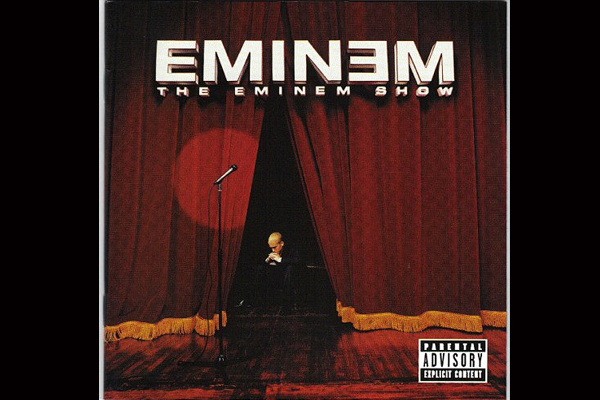 Producer: Eminem

Album: The Eminem Show

Label: Shady/Aftermath/Interscope

After all the aches and pains he's rapped about, "Hailie's Song" was a refreshing chance to hear Marshall Mathers in a good mood. Leave it to his beloved daughter to turn his frown upside-down. Happy as heck to have custody of his baby girl, Em belts out a tune even though he acknowledges he can't hold a note. (Hey, it didn't stop Biz Markie from doing "Just a Friend.") He does rag on Kim a bit when he finally does rap, but the negativity is no match for the heartfelt inspiration. In a moment of candidness, he confesses, "I act like shit don't faze me/Inside it drives me crazy/My insecurities could eat me alive/But then I see my baby/Suddenly I'm not crazy/It all makes sense when I look into her eyes." Grown Man Talk like this resonates louder than any shit-talking he's ever done.
#87. The High & Mighty f/ Eminem "The Last Hit" (1999)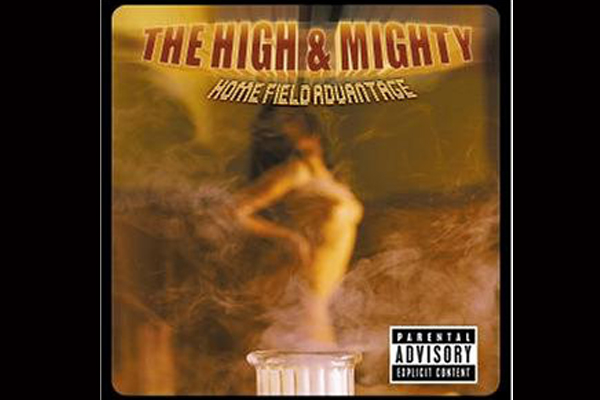 #86. Eminem "The Kids" (2000)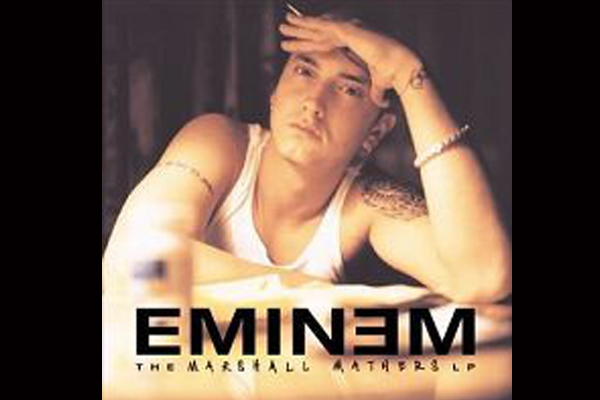 #85. Eminem "Elevator" (2009)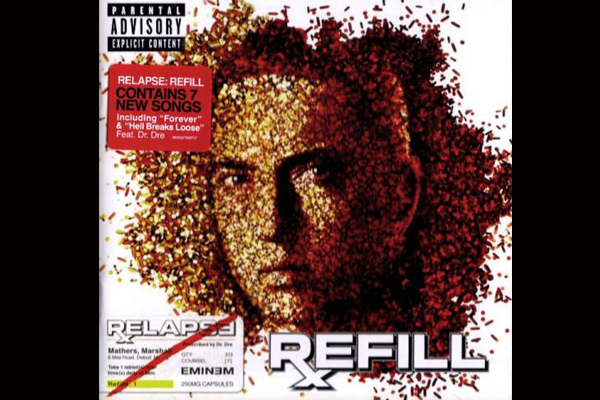 Producer: Eminem

Album: Relapse: Refill

Label: Shady/Aftermath/Interscope

Yo, shouting out your crib, especially if it's got an elevator in it, is some hip-hop shit. Eminem's place, you'll be happy to know, has a bidet (for your stankin' ass) and a huge-ass dishwasher ("This shit's awesome," he reassures us). But what's even more awesome is the infectious sing-songy chorus of "Elevator," which reminisces about the days before he blew up. It's so damn good it floors you, as does the tightly structured production, which throws everything but the kitchen sink at you. The build-up of light chamber strings, some electronic, kinda-ragtime-y piano, and punchy horns is top-notch, homes—that's why we had to make room for this ditty on our list.
#84. Eminem "Murder Murder" (1997)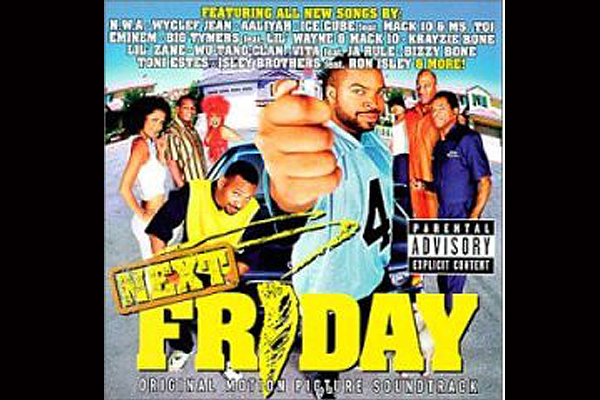 Producer: DeShaun Holton

Album: The Slim Shady EP

Label: Web Entertainment

Eminem "Murder Murder"

Eminem "Murder Murder (Remix)"

Man, music really does set the mood. Both the original and the Next Friday soundtrack remix of "Murder Murder" bang, but it's the OG version produced by Proof—which has scratching and 2Pac and Masta Ace samples on top of a pensive composition—that humanizes the mayhem in Eminem's descriptive stick-up story. The mellower music helps us to see a guy who is struggling to feed his family as opposed to only witnessing a dude pullin' a lick. The close-your-eyes-and-see-it caper is another episode in which Em gets witty ("I'm thirsty for this green so bad I'm dehydratin'") and visual with the pen (for the sake of scenery, he adds in a flying box of Post Toasties, a stolen Nintendo, and a lost Beanie Baby—the little details add a lot).
#83. Eminem "My Darling" (2009)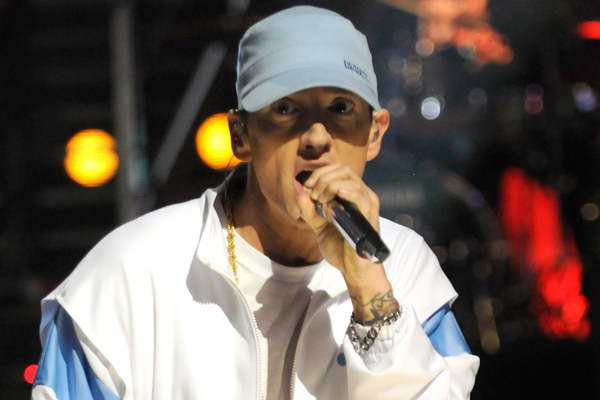 Producer: Eminem

Album: Relapse Deluxe Edition

Label: Aftermath/Interscope

Mirrors have always been an essential motif in Eminem's music. Think back to the house of mirrors in the "Not Afraid" video, the references he makes to them on songs like "Renegade" and "When I'm Gone," or even the cover of The Slim Shady EP, where Em is smashing through the glass. Mirrors are the physical manifestation of Eminem's longstanding exploration of duality—which allows the coexistence of Slim Shady and Eminem and rhymes about both real-life struggles and outlandishly violent fantasies. That's why "My Darling" makes perfect sense in context, as Em confronts his demons (literally) of addiction and tries to punch out the mirror once again.
#82. Eminem "Evil Deeds" (2004)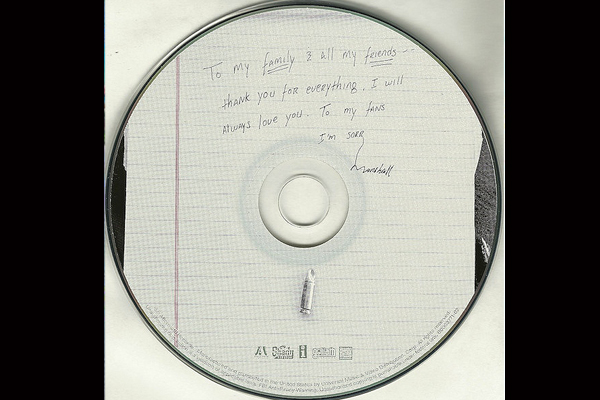 Producer: Dr. Dre

Album: Encore

Label: Aftermath/Interscope

Just when it appeared that Eminem couldn't possibly keep addressing his various personal issues of the past (what more could he say? That he really really really hated his mom?), he opened his fifth studio album with "Evil Deeds." With an unholy cross between a midnight prayer and a twisted nursery rhyme that immediately starts boiling hot with speedy raps that taper off into an echo...echo...echo, Eminem breathed new life into reminiscing about his troubled yesteryear. Quite self-aware, he turned the scope on himself, seeing the continued exploration of his problems through the eyes of the public: "There goes poor Marshall again/Whining about his millions and his fortune and his sorrow he's always drowning in..." Most intriguing, however, is when he goes, "I never had any of this shit planned, Mom, please believe... Never got the chance to say I'm sorry, now look at all the pain I caused." The Mathers family matters continued to keep the public fascinated.
#81. Lil Wayne f/ Eminem "Drop The World" (2009)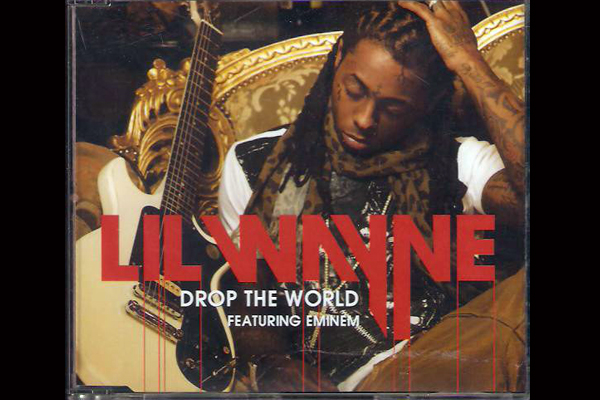 Producer: Hit-Boy, Chase N. Chase

Album: Rebirth

Label: Young Money/Cash Money/Universal

The second this fantastic voyage blasts off you're thrust into another stratosphere, an out-of-this-world, molecular-changing soundscape that discovers Weezy and Em's milky ways of rhyme-slanging gettin' nastier than black holes, asteroids, and Uranus. (Em reminds you: "I took the time and I came up from behind and pretty much snuck up and butt-fucked this game up.") Lyrically, Wayne truly gets metaphysical on that ass, while Eminem lets everyone know where he's been ("It hurts but I never show/It's pain you'll never know/If only you could see just how lonely and how cold/And frostbit I've become...") and where he's at ("My head is swoll, my confidence is up/This stage is my pedestal, I'm unstoppable"). It's Wayne's album, but it's Eminem's rebirth. He was officially back, ready to live, plus he wanted to leave some important thoughts in your dome: "The game ain't gonna be the same on the day that I leave it/I swear one way or another I'ma make these fuckin' haters believe it." Mission accomplished.
#80. Obie Trice f/ Eminem "Lady" (2003)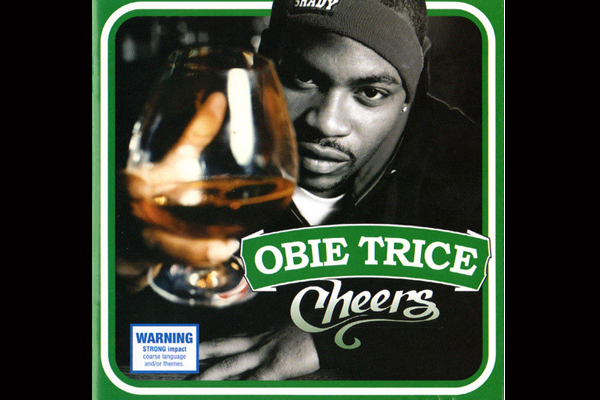 Producer: Eminem, Luis Resto

Album: Cheers

Label: Shady/Interscope

This one is strictly for the ladies. Every couple in a relationship needs good communication, and Obie Trice and Eminem have been kind enough to provide women interested in dating them a few rules ("Poke ya nose in and outta Obie's own/No, I'm in and out your home") and things to expect ("You don't think you're leavin' this house in that, do you?/Not till I brand my name on your ass and tattoo you/And have you walkin' out this bitch in turtleneck sweaters/Scarves and full leathers in 90-degree weather"). The happy-go-lucky beat and friendly soul claps are irresistible. But the way that Eminem seems to be only half-joking about his jealousy makes this one of his more revealing efforts. Don't say we didn't warn you, girl.
#79. Eminem "Underground" (2009)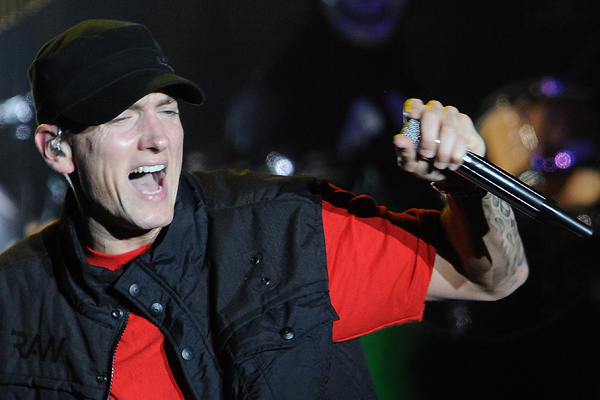 Producer: Dr. Dre

Album: Relapse

Label: Aftermath/Interscope

"Underground" is a free-association frenzy swirling in an operatic whirlwind. Its title has multiple meanings, as do some of the rhymes: 1. At the start, Eminem is literally underground. He tells Dre to dig him up. 2. Em asking Dre to dig him up can also mean asking Dre to bring him back musically. 3. Eminem has been gone from the public eye for many years. He's been in rehab. He's been "underground." 4. This kinetic type of flow has no commericial intentions—it's a sick display of various skills across a murderized time signature. Eminem is rhyming in an "underground" style. 5. Eminem has been through many trials and tribulations. He has been in hell...which is "underground." 6. Eminem feels trapped by fame. He lives a life that is "underground." 7. The song "Underground" is an enigma wrapped in a puzzle, yo.
#78. Xzibit f/ Eminem & Nate Dogg "My Name" (2002)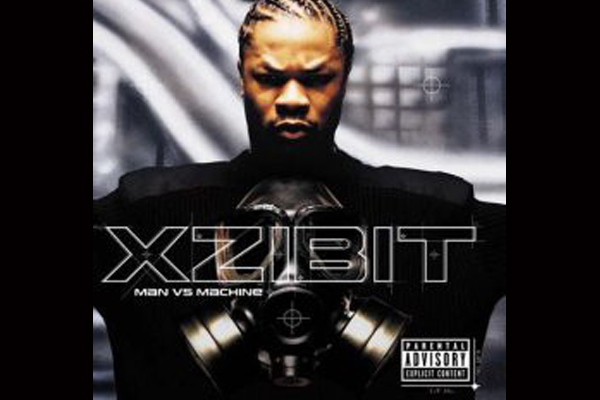 Producer: Eminem

Album: Man vs. Machine

Label: Loud/Columbia/Open Bar Entertainment

Remember when KRS-One and Nelly had beef? That was weird. Not as weird, but still sort of, was Dr. Dre, Eminem, and Xzibit vs. Jermaine Dupri. Not only for the randomness factor, but because it would take about three Dupris standing on each other's shoulders to make one X to tha Z. Anyways, this feud happened after JD insulted Dr. Dre in an interview with XXL. It seemed silly that it was happening (even Em said in the intro, "This ain't beef, man. I don't know what the fuck to call it"), but looking on the bright side, at least the drama made this hot record happen.
#77. D12 "These Drugs" (2001)
#76. Eminem "Bully" (2003) Producer: Eminem

Album: Straight From The Lab EP

Label: N/A

This tough, old-school sailor fight anthem goes hard at Benzino and Murder Inc., not just with unmerciful mockery and cold heartless threats, but with logic. Eminem knows bullies and what makes them tick. The manner in which he psychoanalyzes Ray Benzino in verse one goes beyond average "fuck you" taunts: "And he just can't see that he's manically depressed... He doesn't exist in this world... It's destroying him slowly... So he just tortures himself..." After Dr. Phil–ing Zino, he lays into Ja and Irv, gettin' a lil' Freudian with it: "But [Ja's] ass is such a puppet/Irv could shove his whole hand up it," and later, "Plus, the stylist you fucked/When you was Ecstasied up/Was just a man who's dressed up as a white bitch." The laughter stops, however, for the powerful third verse, in which Eminem accepts some blame ("Everybody's gotta be so fucking hard/I'm not excluding myself/'Cause I been stupid as well/I been known to lose it when someone says something smart") and strongly warns, "If the situation escalates any worse/We're gonna lose another soldier to this game/And if I get killed for this rap/I got a million in cash/That says I will get you back in Hailie's name." Damn.
#75. Eminem f/ Dina Rae "Superman" (2002)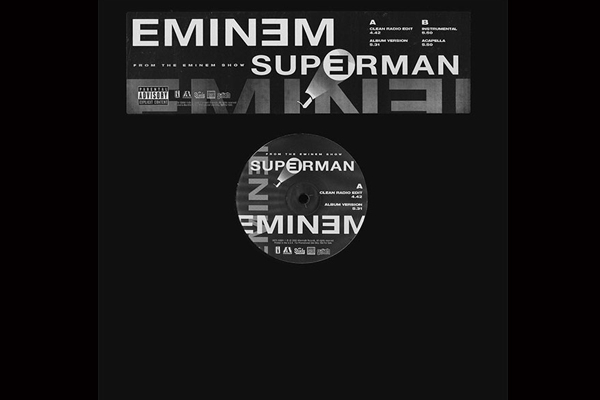 Producer: Eminem, Jeff Bass

Album: The Eminem Show

Label: Shady/Aftermath/Interscope

Normally, a filthy-rich celebrity complaining about his love life is something all we average Joes would be quick to roll our eyes at. Not that Mathers is outright bitching on the melancholy "Superman"—he's actually not. But what he is doing, through his usual emotional-driven raps that pull us into his life, is letting us know that finding genuine intimate relationships after his 2001 divorce is gonna be rather difficult for him due to his fame. And when you think about it, that's kinda sad, bro. Anyone mistaking this bittersweet ballad for a love song most likely believes they can find true love in a strip club at 3 a.m. Em gives detailed backstage glimpses of meeting conniving groupies who think they can outsmart him ("Oh yeah, girl, run that game," he tells them), but as the title suggests, Em isn't gonna save 'em. So if hoes are your kryptonite, Em feels bad for you son, because he's got 99 problems, but a ho ain't one.
#74. Eminem "Ricky Ticky Toc" (2004)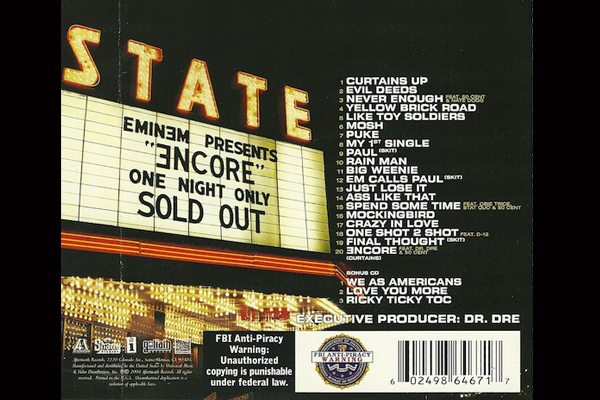 Producer: Eminem, Luis Resto

Album: Encore BONUS

Label: Aftermath/Interscope

Eminem gets nice and loose on the boom-bap tip on "Ricky Ticky Toc," taking it back to the banging-on-the-lunchroom-table days. "I been rompin' since Tim Dogg was hollerin' 'Fuck Compton'/I was whylin', freestylin' back when they was still makin' Maxell cassettes/I wasn't even rap's Elvis yet." Say what you want about him (we advise you think twice about it, though), but you can't question Eminem's past—he paid dues for real.
#73. Eminem "Girls" (2001)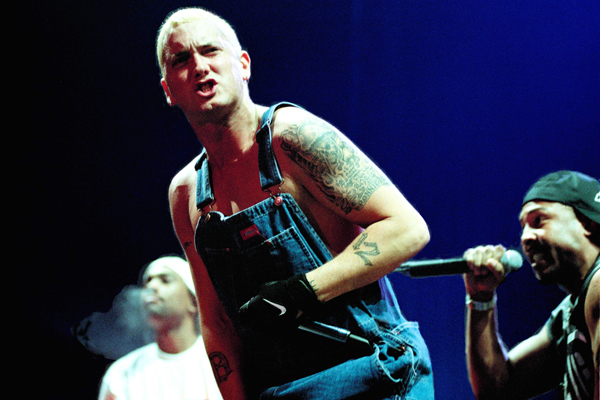 #72. Eminem "3 a.m." (2009)
Producer: Dr. Dre

Album: Relapse

Label: Aftermath/Interscope

It's no secret that Eminem has long had a fascination with serial killers; he's name-dropped Jeffrey Dahmer, Norman Bates, and others on different songs through the years. For the blacked-out carnage that is "3 a.m.," he tips his hat to Silence of the Lambs' Buffalo Bill (the crazy babble about lotion and hoses in the bridge is based on dialog from the movie). We follow Slim's horny madman as he does gross stuff like jerk off to Hannah Montana and "kiss the naked mannequin man again" before going totally 7:30 towards the end of the second stanza when he starts rhyming the first, middle, and last words of various lines. The inspired perversity doesn't stop there: "Last night was a blast/I can't quite remember when I had/That much fun off a half-pint of the Jack/My last Vic and a half/A Fleshlight of Kim Kardashian's ass." But it's not all fun, drugs, and masturbatory toys, as the lunatic wakes up totally nude in McDonald's—covered in blood. If that isn't creepy enough for you, the evil whispering towards the end should do the trick.
#71. D12 "How Come" (2004)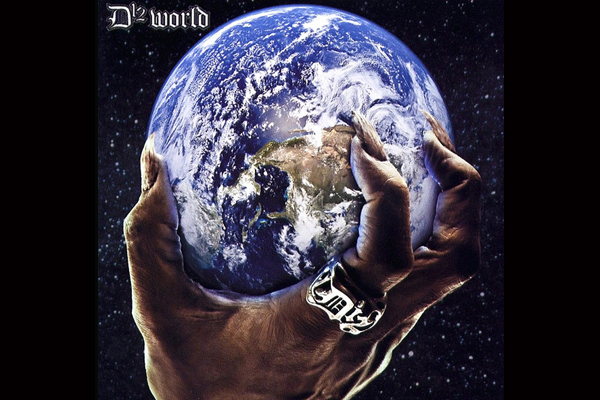 Producer: Witt & Pep

Album: D12 World

Label: Shady/Interscope

Friendships falling apart is the theme of "How Come," an introspective look at strained relationships the members of D12 experience due to fame. Throughout the song no one being talked about is specifically named, but Eminem's opening verse might possibly be talking about Kim and not, as some claim, Royce da 5' 9", who had a falling out with D12 around this time, since Em says, "So close, almost on some Bonnie and Clyde shit." Kon Artis kicks a story about how he caught his man's girl two-timing him, only for his boy to flip on him when he told the cat. (How real is that shit, huh?) Again, it ain't clear who he's talking about, but peep the video and come to your own conclusions, homie. Big Proof (R.I.P.) shines brightly discussing the folks he's known for years who suddenly can't even look him in his face out of bitterness or spite. Just goes to show that there is something worse than a motherfuckin' hater—a motherfuckin' frenemy.
#70. Eminem "Fubba You Cubba Cubba" (2005)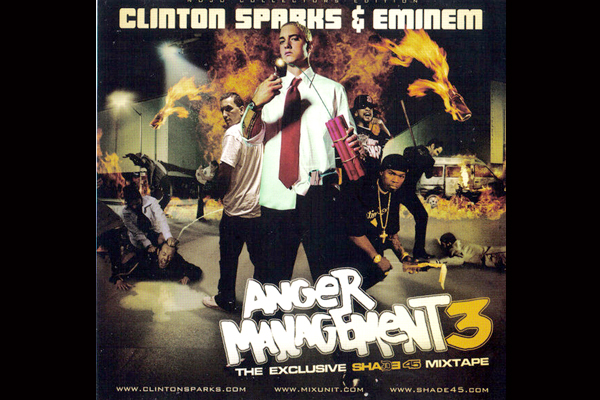 Producer: Eminem

Album: Anger Management 3: The Exclusive SHADE 45 Mixtape

Label: N/A

Actually, this is a really hot mixtape verse over a driving beat rather than a complete song, but it makes this list because of its significance: 1) Eminem states the verbal wars are over and declares himself the winner of all his various battles; 2) he offers criticism about the state of the rap nation ("Now it's just gangstas sayin' the same shit"), something he doesn't do that often; and 3) people really responded to the "new language" he spits (funny gibberish that basically finds a different way to say fuck you, suck his dick). But the real show-stopper (literally) is the closing line: "Hip-hop ain't been the same since Tupac moved to Cuba on us." That's no conspiracy, that's just some of the realest shit Eminem ever wrote.
#69. Eminem f/ Lil Wayne "No Love" (2010)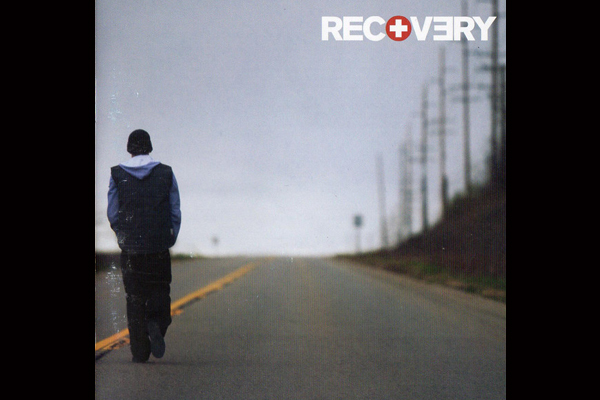 Producer: Just Blaze

Album: Recovery

Label: Shady/Aftermath/Interscope

Maybe it's just the cultural times we live in (cough, cough—soft) that allows two major rap stars to rhyme over a sample of Haddaway's super-sensuous "What Is Love," which was immortalized by a recurring '90s SNL skit, "The Roxbury Guys." But we'll give Eminem, Lil Wayne, and Just Blaze the benefit of the doubt—their stellar résumés speak for themselves, and it takes talent (not to mention balls) to flip something so un-hip-hop. A collabo between Wayne and Em is a big deal, and the track's larger-than-life sound suits their meeting. Thankfully neither disappoints, as each MC takes their sweet time on their respective 16 before exploding—Weezy with "OK, you want me up in a cage, then I'll come out in beast mode!" and Em showing he got that swag back: "They call me a freak 'cause I like to spit on these pussies 'fore I eat 'em/Man, get these wack cocksuckers off stage/Where the fuck is Kanye when you need him?/Snatch the mic from 'em, bitch I'ma let you finish in a minute/Yeah, the rap was tight, but I'm bout to spit the greatest verse of all time." That right there let you know Em was fully recovered.
#68. Shabaam Sahdeeq f/ Eminem, Skam, A.L., & Kwest "5 Star Generals" (1998)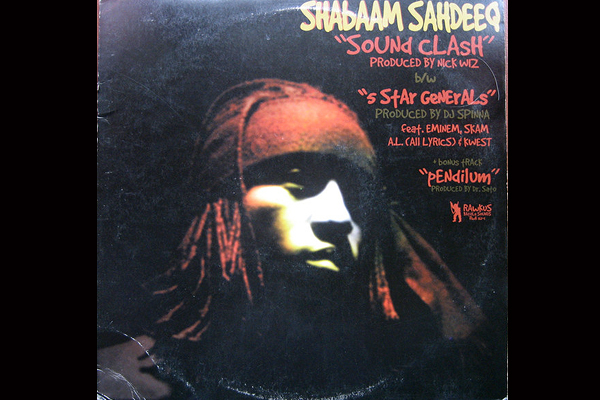 #67. Eminem "Mosh" (2004)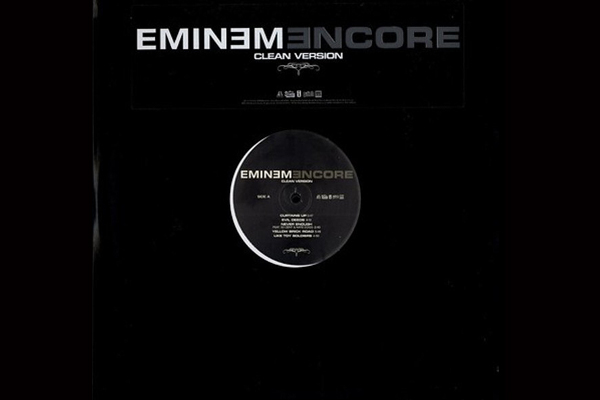 Producer: Dr. Dre, Mark Batson

Album: Encore

Label: Aftermath/Interscope

The most important Eminem song. Yeah, it's obvious to say that since "Mosh" is a blatant political statement that was purposely aimed at encouraging the youth to vote Bush out of office. But, shit, the American public needed a kick in the ass. The beat, with its backdrop of incessant droning, the doomed voice of a multitude of zombies, was the right choice for Em to rhyme over because that's what we as American citizens have become—zombies. Eminem enters the minefield cautiously, waiting a bit to be aggressive ("Stomp, push, shove, mush/Fuck Bush, until they bring our troops home"), then releases the bombs: "Let the president answer a higher anarchy/Strap him with an AK-47, let him go fight his own war/Let him impress Daddy that way/No more blood for oil, we got our own battles to fight on our own soil." We hadn't had that spirit in hip-hop since Public Enemy at their height, and haven't had it since "Mosh."
#66. Eminem "Til Hell Freezes Over" (1998/1999)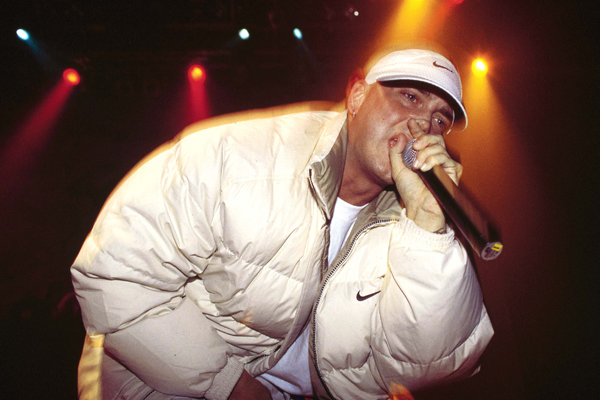 Producer: Dr. Dre

Album: N/A

Label: N/A

On one of the first tracks Dr. Dre produced for Eminem after he signed him to his Aftermath label, the young prospect loosens up on what sounds like a beat left over from The Chronic (track-wise, it has a "Puffin' On Blunts And Drankin' Tanqueray" kind of feel). They will soon make history together (Detroit and Compton together, now you know you in trouble), but for now it's a late-night weed-smoke-filled studio session with hard-hitting loops and Em vowing at the top of his lungs that he's gonna be a hip-hop fiend for life. He is definitely on-point on this musical shootaround, but it's just a dope warm-up, a precursor of the greatness to come.
#65. Eminem, 50 Cent, Lloyd Banks, & Cashis "You Don't Know" (2006)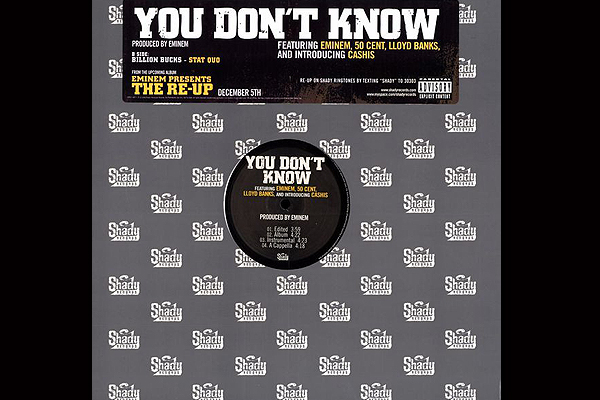 Producer: Eminem

Album: Eminem Presents: The Re-Up

Label: Shady/Interscope

What most people don't know about "You Don't Know" is that it's a party record. But this ain't no ordinary party, this is a G-Unit event, so maybe that explains all the thuggin' and no dancing. Eminem and his homies are the guests of honor, but before the fiesta starts, he's making it known—through a savage flow—that when it comes to him and his crew, it's "no pretend shit, it's friendship/Mi nemesis is su nemesis, same for him/It's just media, see to them it's just images/But the shit is no gimmicks/This is blood in and blood out/When there's beef you just gotta know when to butt in and butt out." If you didn't know, now you know, busters.
#64. Eminem "Any Man" (1999)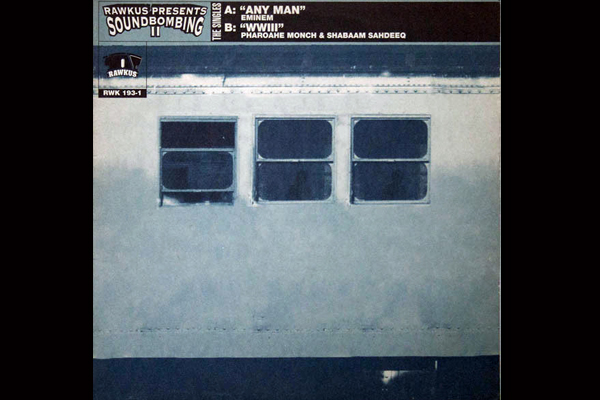 #63. Eminem "Legacy" (2013)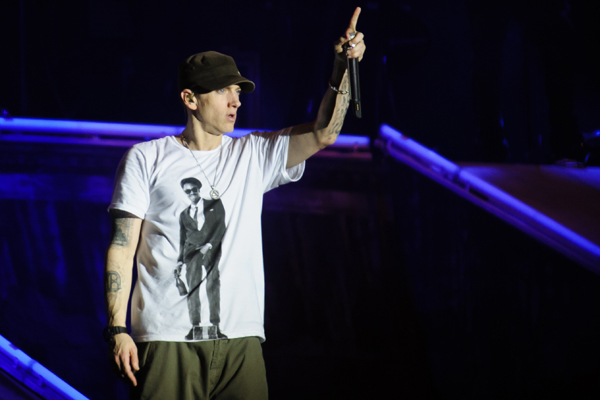 Producer: Emile

Album: The Marshall Mathers LP 2

Label: Aftermath, Shady, Interscope
The opening seconds of "Legacy" will have you thinking Dido teamed up with Eminem again (she didn't, that's actually Paulina singing) but the actual rapping clearly sounds like a new Eminem. "Legacy" is a unique entry in Eminem's catalog because it shows an emotional growth that Eminem didn't always seem capable of. He shoveled shit his entire life and often seemed unable to forgive his mother, his detractors, and ultimately himself for everything he had been through. Yet on "Legacy" he finally finds Eminem able to appreciate his great gift, even if it came at a great expense, "I used to be the type of kid that would always think the sky is falling/Now I think the fact that I'm differently wired's awesome/Cause if I wasn't I wouldn't be able to work/Words like this and connect lines like crosswords." Like Kanye said, it's cliche to say that great art comes from great pain. But great art definitely comes from great artists.
#62. Eminem f/ Dr. Dre & 50 Cent "Encore" (2004)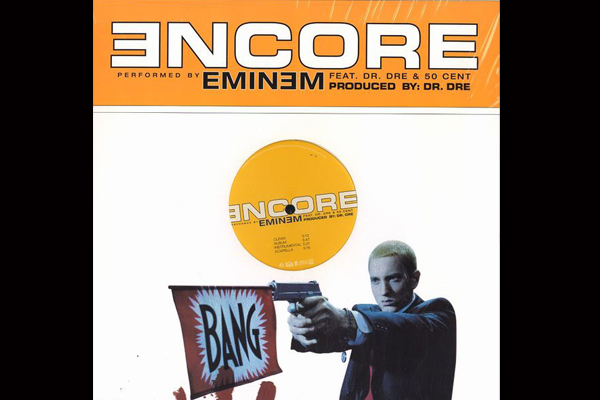 Producer: Dr. Dre, Mark Batson

Album: Encore

Label: Aftermath/Interscope

If "Encore" really were Eminem's swan song, it would have been a worthy ending. The curtain closer is a guaranteed arm-waver, custom made for sold-out crowds to follow along to, with yet another classic chorus to scream back at the stage. The animated routine between Em and Dre is fitting; after all, they really entertained in early efforts with their effortless back and forth. Add 50 and the rolling beat that commands you to jump and it all clicks, a finale tinged with excitement and a distant sadness. Of course, the end credits didn't roll on Em's career, but at the time "Encore" succeeded as a nice "farewell." Shooting the audience at the end was an appropriate conclusion considering the shock value his often controversial music has mustered and his borderline antagonistic feeling towards pushy fans.
#61. D12 "Shit On You" (2000)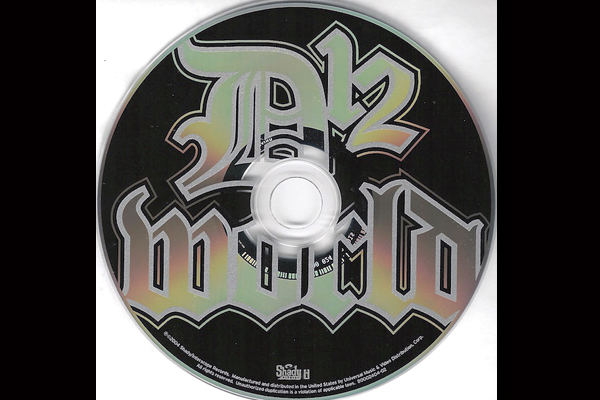 Producer: DJ Head, Eminem

Album: Devil's Night BONUS

Label: Shady/Interscope

Those still thinking D12 is just Eminem and friends (i.e., pill carriers) don't know the half and are sleeping like Ambien. Rhymes that melt your mind, freaky, freaky, freaky, freaky, freaky flows, and JDGAF attitudes? When done right, that's the shit right there. And the shit is flying at a crazy rate (that's a chorus you don't hear every day—we'd quote a piece of it, but it's so damn gutter). The clique takes turns wrecking the mic, jumpin' on, jumpin' off, then jumpin' back on. In an almost impossible feat, Bizarre says possibly the meanest thing ever on a rap record: "I'm responsible for killing John Candy." Meanwhile, Slim spits some of the truest stuff he's ever said about himself: "Overreaction is my only reaction, which only sets off a chain reaction." "Shit On You" is quintessential Dirty Dozen.
#60. Eminem f/ Dr. Dre "Say What You Say" (2002)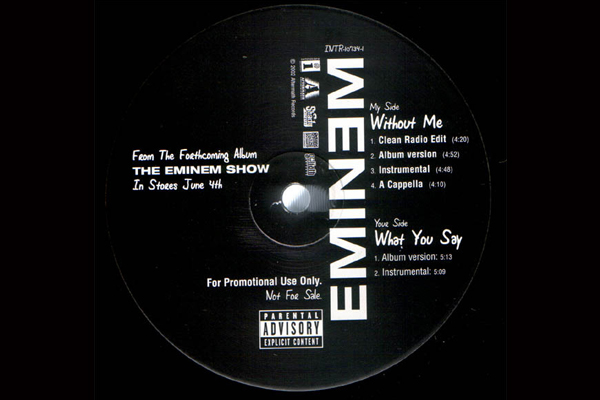 Producer: Dr. Dre

Album: The Eminem Show

Label: Shady/Aftermath/Interscope

Poor Jermaine Dupri. His big-headed comments to XXL about his producing talents provoked the wrong dudes to fuck with; they opened up a can of whoop-ass that he is still recovering from. But here's the thing—as Em would later admit on Xzibit's "Say My Name," despite being a vicious battle rapper, Slim Shady mostly flexes his muscles while Dre takes the real jabs at JD. But Em still takes time to remind everyone of his stature in the rap world: "I joke when I say I'm best in the booth, but a lot of truth is said in jest/And if I ever do live to be a legend, I'ma die a sudden death/Five mics in The Source? Ain't holdin my fuckin' breath/But I'll suffocate for the respect 'fore I'll breathe to collect a fuckin' check." That's Em's way of saying he ain't never selling out.
#59. Eminem "8 Mile" (2002)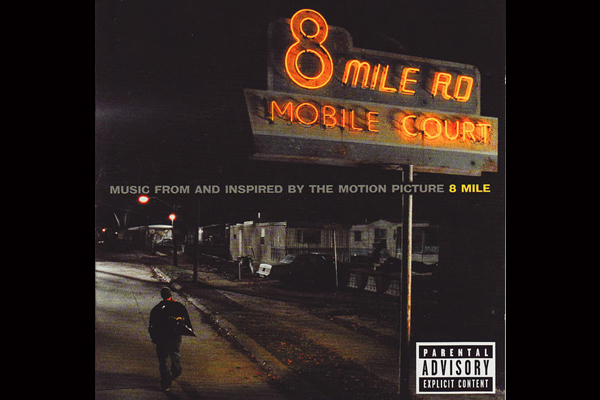 Producer: Eminem

Album: Music from and Inspired by the Motion Picture 8 Mile

Label: Shady/Interscope

It's the titular track to the Oscar-winning film loosely based on his life, but it's also the soundtrack to the hard-knock life nearly all unsigned MCs experience while they struggle to get put on. "8 Mile" contains no throwaway lines and addresses the forbidden subject of stage fright, which broke new ground the same way Marvel did when they humanized superheroes. MCs always tell you how great they are; rarely do they admit self-doubt in their skill set. "And I clam up/I just slam shut/I just can't do it/My whole manhood's just been stripped/I have just been vicked." He may be rhyming as the fictional character Rabbit, but that fear comes from a real place. The song zeroes in on the pressure of trying to make it in the rap game, where losing is not an option. (Listen closely to the very beginning to hear Em, barely audible, going: "It's OK, it's OK, I'm gonna make it anyway.") The use of the looming train blaring in the background not only symbolizes the desire to get out of the 'hood or trailer park but reminds us that most rappers do indeed come from the wrong side of the tracks.
#58. Eminem "Yellow Brick Road" (2004)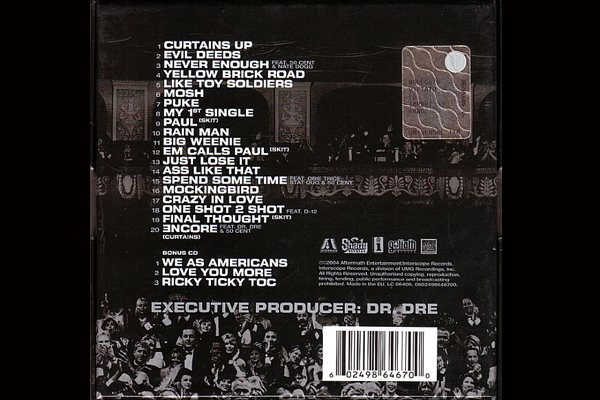 Producer: Eminem & Luis Resto

Album: Encore

Label: Aftermath/Interscope

An apology for the crude rant ("Foolish Pride") he made in high school when a black girl he dated dumped him, "Yellow Brick Road" starts by putting everything in perspective, neatly describing the hectic life led by a young Marshall Mathers, a white kid in love with hip-hop. He explains how he'd get his ass handed to him daily and tells of the day he met Proof. He then remembers how, like a lot of rap supporters, he dumped Troops for Pumas just because MC Shan said so, how he got jacked for wearing African medallions and Flavor Flav clocks, and how he and his Caucasian buddy commiserated by "sayin' how we hate this/How racist but dope the X-Clan's tape is." It's such an intimate picture of the perils faced by white rap fans during a time when racial matters mattered in the rap movement. It all develops like a prequel to the 8 Mile movie. The determination to stick with a music he admires is evident. Yes, the teenage Marshall Mathers made a mistake dissing all black females just because one played him (and he did the right thing years later by apologizing). He is, at least, convincing enough in portraying how overwhelming and impressionable this period in his life was for him, caught growing up in a world that wasn't black and white, but gray.
#57. Eminem "Rap God" (2013)
Producer: DVLP, Filthy

Album: The Marshall Mathers LP 2

Label: Aftermath, Shady, Interscope
This is Eminem proving that even in his 40s he is still the most technically skilled rapper around. If the arrogant title wasn't enough, Eminem switches up flows and rhyme patterns with such ease that it's just not fair for any other rapper. Kendrick Lamar called out all the new rappers out in 2013 to step their game up, but then Marshall dropped this track and put every rapper on notice to elevate their rhymes. This is one of those rare songs that has so much depth and layers to it that you will still be picking up rhymes and metaphors that you didn't hear on your first 100 listens.
#56. Eminem "I'm Back" (2000)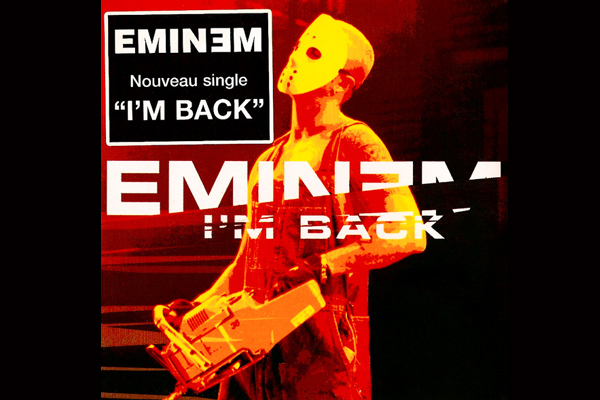 Producer: Dr. Dre, Mel-Man

Album: The Marshall Mathers LP

Label: Aftermath/Interscope

His origins are in battling, yet Eminem's talents as a superb songwriter have been equally responsible for his rise. He makes it look easy, too, pumping out a steady stream of melodic mayhem, like "I'm Back," for instance, which has "lead-off single" written all over it, but ended up just another excellent album cut. The song is so well-structured and engaging it doesn't have to rely on pumping up the volume of the kids chanting "Slim Shady!" in the hook. Then there are the ambient sounds (nearly all his work is littered with humorous noises) that up the entertainment value even more. Last but not least, he unleashes that fearless comedy one has come to expect from him, in this case confessing his uncontrollable desire to stab J.Lo (in a good way): "I'm sorry Puff, but I don't give a fuck if this chick was my own mother/I'd still fuck her with no rubber and cum inside her/And have a son and a new brother at the same time/And just say that it ain't mine." Incredible. (And speaking of mothers, Em's shit-eating grin of a "Hi, Mom!" at the end is beyond mean, but undeniably funny.)
#55. Eminem "Cleanin' Out My Closet" (2002)
Producer: Eminem, Jeff Bass

Album: The Eminem Show

Label: Shady/Aftermath/Interscope

"Cleaning Out My Closet" was more introspection with a more serious approach. After the emotional rollercoaster that he had been on—going from poverty to newfound wealth, catching cases, and having his own mother file a lawsuit against him—it seemed like he was ready to finally purge the demons and let it all go. But we'd soon find out that wasn't the case. In this hypnotic therapy session, with its rock-fueled chorus of "I'm sorry, Mama," Marshall Mathers manages to get more off his chest in five minutes than Tony Soprano did sitting with his shrink for six seasons on HBO. He touches on his absentee dad and problems with his girl, but it isn't until the third verse that the rapper sheds light on his past family torment: "But put yourself in my position/Just try to envision/Witnessing your mama poppin' prescription pills in the kitchen/Bitchin' that someone's always goin' through her purse, shit is missin'/Goin' through public housing systems/Victim of Munchausen Syndrome." Em's claim that as a kid his mother made him believe he was sick when he wasn't was a major revelation. Unfortunately, the time wasn't right to heal old wounds. In what has to be one of the most devastating lines on a rap record, Eminem spits: "Remember when Ronnie died and you said you wished it was me?/Well, guess what? I am dead/Dead to you as can be." Eminem's words really are weapons, and that moment slices like a knife.
#54. Eminem "Rabbit Run" (2002)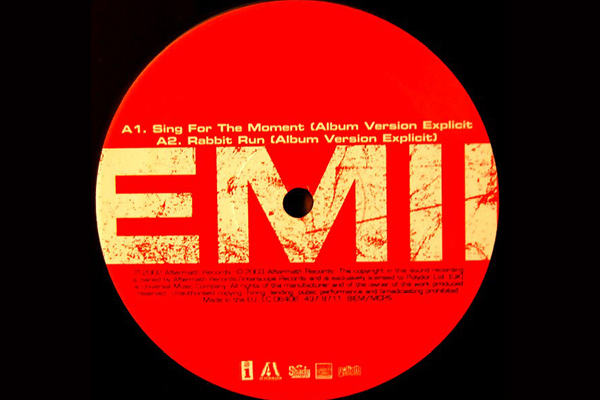 Producer: Eminem, Luis Resto

Album: Music from and Inspired by the Motion Picture 8 Mile

Label: Shady/Interscope

No hooks—just intense bars after bars after bars over a pressure cooker of track as Eminem embodies Jimmy "B-Rabbit" Smith, the lead character of 8 Mile, who struggles with writer's block. The creative short circuit that everyone who puts pen to paper (or fingers to keyboards) eventually faces is explored here, with relentless attention paid to detail. Rabbit tries to psyche himself up ("Goosebumps, yeah, I'ma make your hair sit up," he says to an imaginary audience in his head), but then cold reality sets in as he tries to write: "Can't think of nothing, fuck I'm stumped/But wait! Here comes something/Nope! It's not good enough." Frustrated beyond belief, he angrily tears the paper from his notebook, that ripping sound jumping out of speakers like a wild tiger. Rabbit is so mad he can Hulk-smash the desk, but he's also desperate to break out of the slump. Leave it to the man who has reached the heights of writing to bring you the lowest depths as well.
#53. Eminem "Sing For The Moment" (2002)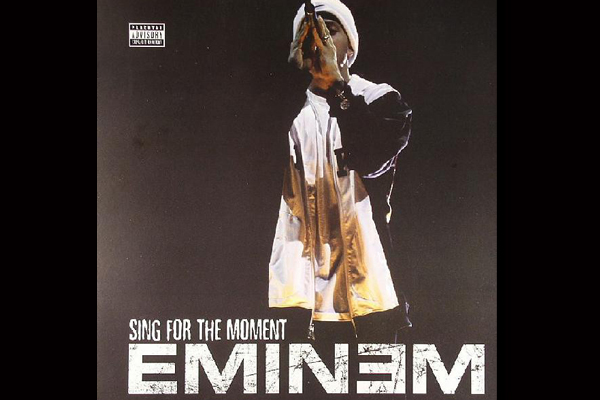 Producer: Eminem, Jeff Bass

Album: The Eminem Show

Label: Shady/Aftermath/Interscope

Looking back, "Sing For The Moment" marked a key moment in Eminem's career. It might not have been the exact moment, but here we saw him take a turn that had him attempting to communicate with his critics without the Slim Shady antics. He seemed to pay closer attention to the parents who he had lambasted in the past, only this time he attempted to be more civil about it (at least on this song). His choice of sampling Aerosmith's "Dream On" was unexpected, but maybe he was trying to appeal just a tiny bit to the old fuddy duddies. His third verse, about what rap stars mean to their loyal fans, also demonstrated that Marshall Mathers had possibly been thinking a little differently about his fame than he had before.
#52. D12 "Fight Music" (2001)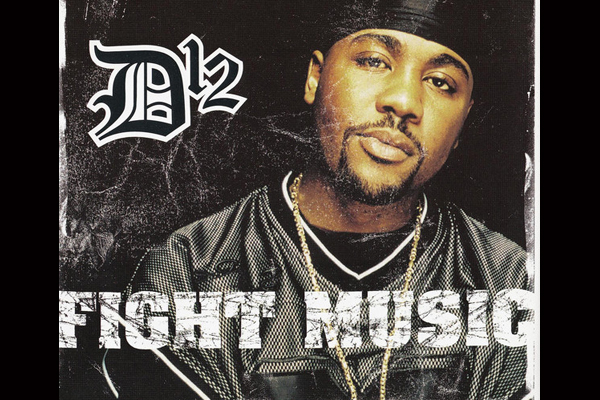 Producer: Dr. Dre

Album: Devil's Night

Label: Shady/Interscope

The average kid today is probably too busy doing his or her Tumblr or Twitter 24/7 to be bothered, but a decade ago D12 saw the need to create this rambunctious anthem "for any kid who gets picked on, a sick song to retaliate to." (Not a new idea, BTW: "I don't do black music, I don't do white music/I make fight music," Em said a year earlier on "Who Knew.")
Essentially Twisted Sister's "We're Not Gonna Take It" in spirit (Google that), "Fight Music" is a call for youths to revolt...or, at the very least, thrash their bedrooms. Dr. Dre, out of his comfort zone, chopped up Led Zep (i.e., he actually put in work, as opposed to Puff just rhyming over the same "Kashmir" for his Godzilla remake, "Come With Me) to create a hard-rockin' march that dares young folks to wild out. The only thing harder than the beat is Bizarre's crazy talk. It must be difficult to be shocking when you are in a group with Slim Shady, but somehow dude manages just fine. Rock, rock on.
#51. Eminem f/ D12 "Quitter / Hit Em Up (Kill Whitey)" (2000)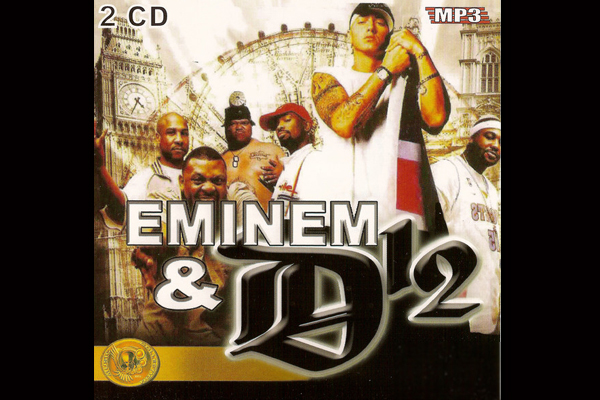 Producer: Eminem

Album: N/A

Label: N/A

The Slim Shady vs. Whitey Ford match-up was intriguing because it pitted two white rappers with respect in the hip-hop community against each other. Erik Schrody was no Rob Van Winkle. This was gonna be a scrap for as long as it lasted.
The story supposedly begins backstage at some concert, or on Sway and Tech's The Wake Up Show—allegedly the two didn't acknowledge each other and some animosity built up. Everlast then appeared on Dilated Peoples' "Ear Drums Pop" remix in 2000 and shot off an obvious diss: "I buck a .380 on ones that act shady." Em heard it and responded with "I Remember" ("How could you diss me, bitch?/I liked you, thought you was alright for a white dude"). Next came "Whitey's Revenge," and Everlast unloaded with, "And you can't keep your woman from goin' astray/Better run and check your kid for your DNA." Eminem then went ballistic, unveiling a musical double-pump shotty. "Quitter" was just a warm-up ("So this is what we ask of our fans: If you ever see Everlast, whoop his ass!"). The remake of 2Pac's "Hit 'Em Up" was Armageddon. Just like he did with "Hail Mary," Em let off some of the most ferocious insults he has committed to tape. "White devil, washed-up honky, mixed-up cracker who crossed over to country" is just the tip of the iceberg. And true to the original, D12 joined in on the musical massacre, just like the Outlawz did for Pac.
#50. Obie Trice f/ Eminem, 50 Cent, & Lloyd Banks "We All Die One Day" (2003)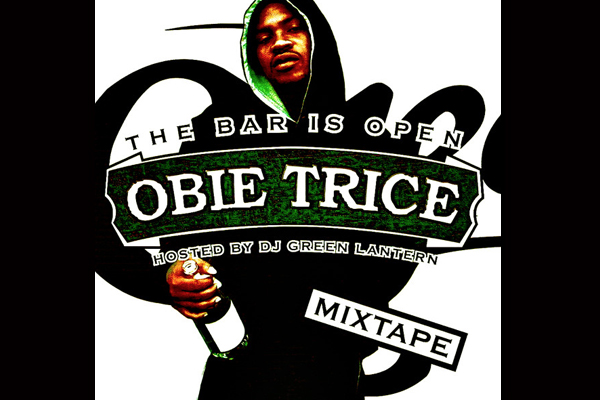 Producer: Eminem

Album: Cheers

Label: Shady/Interscope

Although there are some some shots fired at The Source, this is more a warning than a diss record. Shady and G-Unit are on top of their game here. 50: "I watch gangsta flicks and root for the bad guy/And turn it off before the end 'cause the bad guy die/If you tryin' to buy guns, I'm the nigga to look to/So what they got bodies on them?/They still look new." Em: "Slice your ear clear off, Smirnoff and Hen-dog/I'll show you how to kill a fucking man like Sen Dog/Nobody told you that I'm loco, ese?/I lack every sane chemical in my membrane." Hardcore hip-hop from kings of the hill.
#49. Eminem f/ Dina Rae "Drug Ballad" (2000)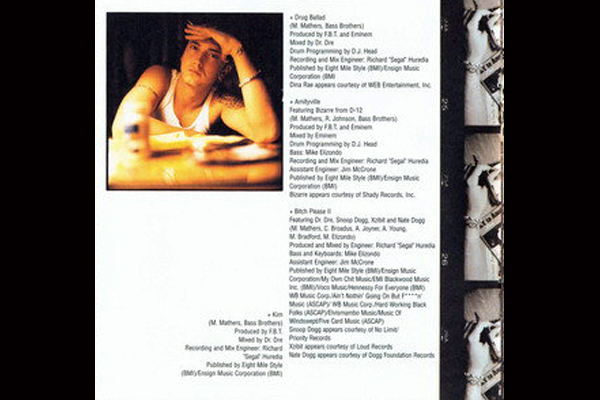 Producer: Bass Brothers, Eminem

Album: The Marshall Mathers LP

Label: Aftermath/Interscope

Leave it to Marshall Mathers to make a "love song" and it's all about his lust for pill-poppin' partyin'. "Drug Ballad" is a (shattered) window into the life of a rapper with a rock 'n' roll lifestyle; it's a trip to go back over a decade and hear the debauchery now that the man has cleaned up. While not exactly a cautionary tale ("If I could take it all back now, I wouldn't/I would have did more shit that people said that I shouldn't"), all the basic ingredients of excessive "good times"—drunk driving, fist fights, one-night stands, hangovers, puke, spinal-cord damage, just to a name a few—show up here, warts and all. The deep, groovy bass mixed with the sexy sanging is a lot of fun, but one wonders if he really believed in the cycle of life he rapped about in the closing: "But when it's all said and done I'll be 40/Before I know it with a 40 on the porch tellin' stories/With a bottle of Jack, two grandkids in my lap/Babysitting for Hailie while Hailie's out gettin' smashed."
"Drug Ballad" showed there really was substance—and not just substance abuse—to Eminem's work.
#48. Eminem f/ 50 Cent & Nate Dogg "Never Enough" (2004)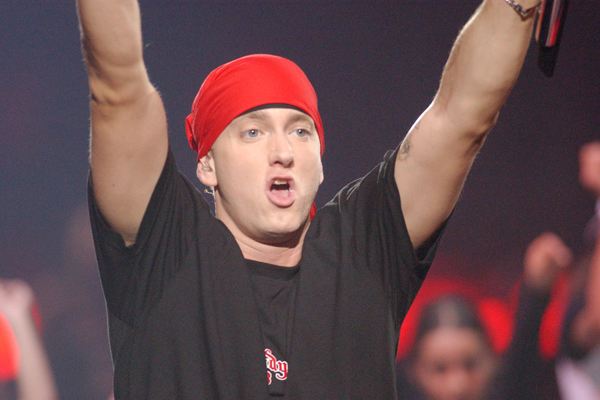 Producer: Dr. Dre, Mike Elizondo

Album: Encore

Label: Aftermath/Interscope

Whew! They should have called this sure shot "Not Enough." At only 2:39 of dopeness, it leaves you fiendin' for more. Gratefully, Nate Dogg (R.I.P.) laces yet another hook with his heavenly harmonics (like D.O.C., no one could do it better). Everything about the song is tight. This one deserves an encore.
#47. D12 "Purple Pills" (2001)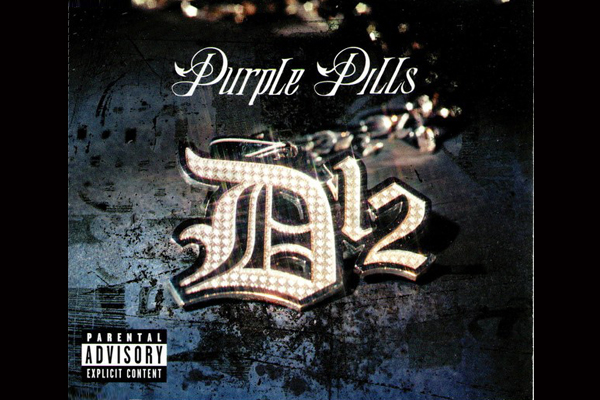 Producer: Eminem

Album: Devil's Night

Label: Shady/Interscope

The D in D12 doesn't stand for "drugs," but it might as well, especially if we're talkin' about "Purple Pills," which thrills and chills as it spills all kinds of ill talk about illegal party favors. Come to think of it, the way they rhyme on this song sounds as if they're actually on drugs. We said sounds like—pretty sure they're not. But, if they really were, that would be crazy. Hmmm...wonder what it would be like to finish this blurb on the same amount of pills they claim to take in this song? *BRB*
OK, back. Those horn-y beats.... or is that a freakin' kazoo....?

Annnyyywwwaaaays, thhhossseee Chipmuuuuuuuuuunks are—HOLY JESUS! M U S T

RUN NOW!!!!!!!! D12 are great, aren't they, Darth Vader?

"Purple Pills" Some-something, something, something

Something, something, something, something.
#46. Eminem "Rhyme or Reason" (2013)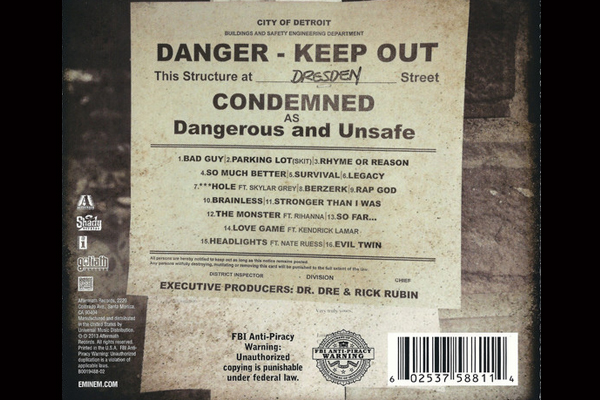 Producer: Rick Rubin, Eminem

Album: The Marshall Mathers LP 2

Label: Aftermath, Shady, InterscopePossibly inspired by Black Hippy's "Rolling Stoned," which similarly flipped the same classic Zombies sample back in 2011, Em's "Rhyme or Reason" is a more revelatory entry in his catalog than it might first appear. Like the bulk of The Marshall Mathers LP II, it features some of the rapper's most dense, intricate writing to date. It's one of the album's most fascinating moments, a destructive whirlwind that is somehow both wide-ranging in its destructiveness, yet laser-focused on a relationship that he rarely touches on.
For all the attention his early work got—focusing on his relationship with his mother and his girlfriend, the women in his lives who bore the brunt of his rage—"Rhyme or Reason" aims the lyrical weapons at his relationship with his absent father. But first, he seems intently focused on annihilating falsehoods, at demolishing his own ego as a defense mechanism to even begin to attack his old man. Give or take a strangely timed rap-like-Yoda moment, he spends most of his time explaining his talent as a kind of reckless, out-of-control paroxysm of rage: "It's like handing a psycho a loaded handgun/Michaelangelo with a paintgun in a tantrum." He orients his anger at his father, but not before aiming it at himself. He seems to see the only truth in hip-hop, and even then he's lacerated by self-doubt. His father he now sees as a catalyst, but this realization still seems to have brought him little piece: "Cause there's no rhyme or reason for nothing."
#45. Eminem & Royce Da 5'9" "Bad Meets Evil" (1999)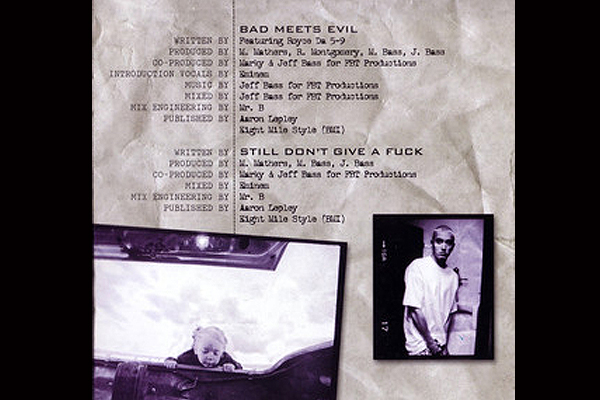 Producer: Bass Brothers, Eminem

Album: The Slim Shady LP

Label: Aftermath/Interscope

Detroit amigos Eminem and Royce Da 5'9" reunite on this psychedelic spaghetti Western in which they portray slick-mouthed gunslingers who can't decide whether to take out sucker MCs or battle each other. Bookended by a crusty old cowboy narrative and accompanied by South of the Border guitar twangs and a dirty fuzzbox groove underneath, the two desperados take turns illin' out. Eminem: "Releasing rage on anybody in squeezing range/Cold enough to make the seasons change into freezing rain/(Royce: He's insane)/No I'm not, I just want to shoot up and I'm pissed off 'cause I can't find a decent vein." Royce: "The disaster with dreads/I'm bad enough to commit suicide/And survive long enough to kill my soul after I'm dead." They trade back-and-forths with the utmost of ease, daring anybody with the audacity to take on the rap Sundance Kid and Butch Cassidy.
#44. Eminem "Say Goodbye Hollywood" (2002)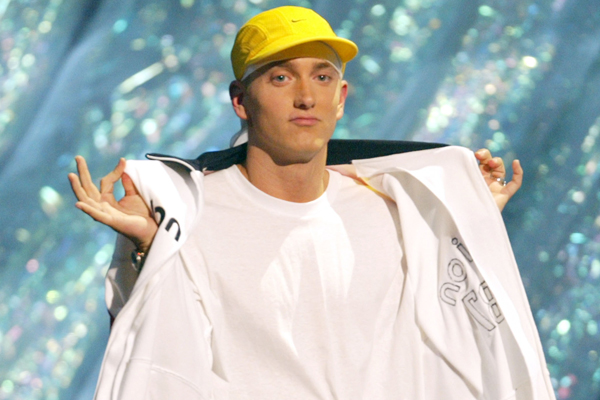 Producer: Eminem

Album: The Eminem Show

Label: Shady/Aftermath/Interscope

The term "Say Goodbye Hollywood" is Eminem's way of saying, in the wake of being arrested for a run-in with a bouncer at a club, that he's ready to push aside the drama in his life. The song expresses his wish to be able to say adios to fame and all its trappings. He'd take himself out, but he has a little girl to raise and he never wants to end up like his dad, who wasn't there for him when he needed him most.
This was Eminem's mindset around the time he slid into a gloomy haze of drug abuse that would take him years to get out of: "I'm trapped, If I could go back, I never woulda rapped/I sold my soul to the devil, I'll never get it back/I just wanna leave this game, with level head intact/Imagine goin' from being a no one to seein'/Everything blow up and all you did was just grow up MCing/It's fucking crazy, 'cause all I wanted was to/Give Hailie the life that I never had/But instead I forced us to live alienated..."
Sometimes saying goodbye isn't easy.
#43. Eminem "As The World Turns" (1999)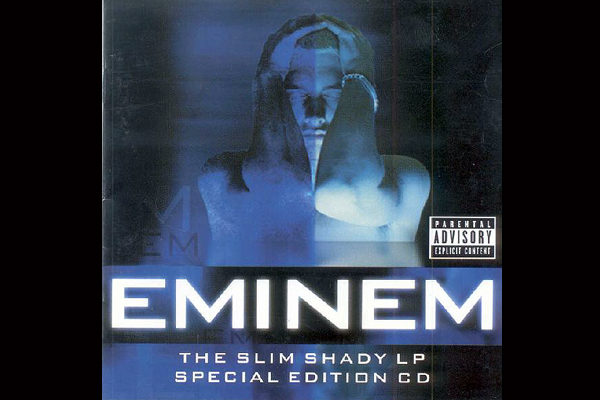 Producer: Bass Brothers, Eminem

Album: The Slim Shady LP

Label: Aftermath/Interscope

Written by Slim Shady while in Slick Rick storytelling mode, "As The World Turns" is a rib-tickling, teenaged misadventure of a dangerous juvenile deliquent with a blond mop on top who spends his spare time torturing BBWs. (If anyone remembers the lesser-known "Fat Girl" by Eazy-E & Ron-De-Vu off the N.W.A & The Posse album, this right here is sorta similar.) Non-PC as can be, this ultimate revenge-of-the-nerd fantasy, complete with Outsidaz shout outs, cannibalism, and belly flops, is told with the guys-only rawness most females hate. Sharp and wicked as ever, Slim endorses the infrequently reported benefits of copious drug use ("Jumped up with a broken back/Thank God I was smokin' crack all day/And doped up off coke and smack"— otherwise that broken back would have hurt). The laugh-out-loud moments are plenty; just be careful who is around when the song is playing.
#42. 50 Cent f/ Eminem & Lloyd Banks "Don't Push Me" (2003)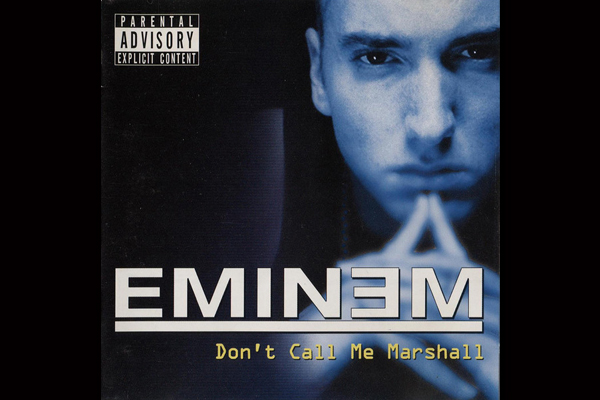 Producer: Eminem

Album: Get Rich Or Die Tryin'

Label: Shady/Aftermath/Interscope

If there ever was a question of how Eminem (who also produced the thumping track) would mesh with 50 Cent and his co-D's upon signing him to Shady Records, it was no longer relevant after this. Although it didn't seem like his verse was specifically directed at anyone, Em may have been shooting some stealth darts at some characters: "I try to show you heart, but you just pick it apart/So I see I have to start, showing you fuckin' old farts/A whole other side, I wanted to not show you/So you know you're not dealing with some fuckin' marshmallow/Little, soft, yellow punk pussy who's heart's Jello." Marshall killin' 'em softly with this song.
#41. Eminem, Obie Trice, & 50 Cent "Love Me" (2002)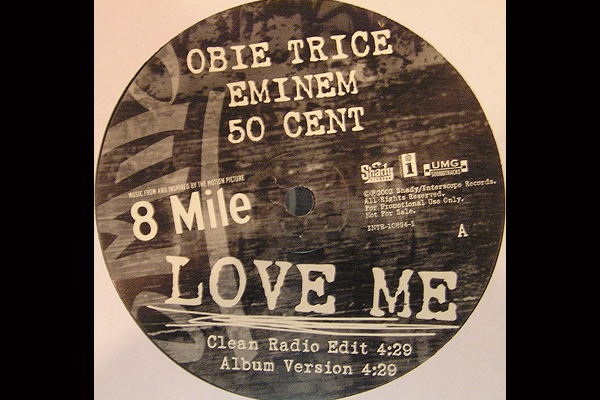 Producer: Eminem

Album: Music from and Inspired by the Motion Picture 8 Mile

Label: Shady/Interscope

Don't let the title fool you. "Love Me" is not exactly a Valentine's Day recommendation. This is a song about the bitches who get played, the fake rappers who get slayed. The sleek, seductive, and nonsentimental production with the lusty female sung chorus makes this just the right thing to listen to during the drive to that next booty call. The macho men all have their say: the underrated Obie with his get-paid philosophy and Eminem boasting of a stillmatic flow, while a prime 50 closes the show with volcanic, slow-burning heat, taking a poke at a who's who of early '00s R&B and rap stars: "I ain't gonna front, I thought R. Kelly was tha shit/Let me find out he fucking 'round with Bow Wow bitch... I'm convinced, man, something really wrong with these hoes/I thought Lil' Kim was hot then she start fucking with her nose/Used to listen to Lauryn Hill and tap my feet/Then the bitch put out a CD that didn't have no beats." Hot damn. Fuck a rap blog, hip-hop music used to have the best opinions.
#40. Eminem "Not Afraid" (2010)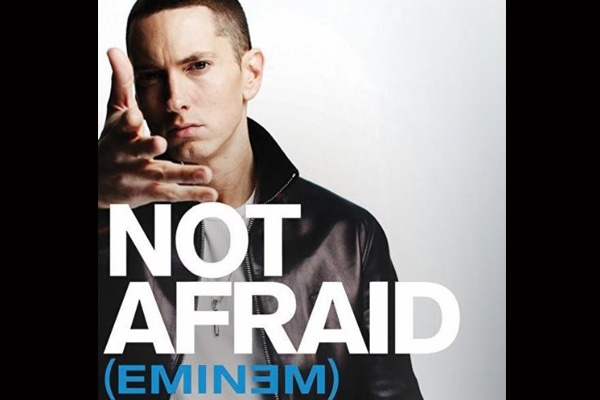 Producer: Boi-1da

Album: Recovery

Label: Shady/Aftermath/Interscope

Marshall Mathers suffered a serious drug overdose in December of '07. That he was able to get through rehab and put the pieces back together is a reason to rejoice, and that's what Eminem does on "Not Afraid," the triumphant lead single from Recovery that quickly became a sporting-event anthem. Full of wordplay ("Okay, quit playin' with the scissors and shit and cut the crap") and no-bullshit opinions (he admits that Relapse was so-so, that "perhaps I ran them accents into the ground"), the stirring 12-step singalong with a gospel feel to it speaks loudest to fellow addicts trying to get their life back together. He admits that sobriety won't be easy ("This fucking black cloud still follows me around") and, in a classy move, thanks the fans: "It was my decision to get clean, I did it for me/Admittedly, I probably did it subliminally for you/So I could come back a brand-new me, you helped see me through." For someone who has lived his adult life like an open book, this was the next chapter many wanted to see.
#39. Eminem "Like Toy Soldiers" (2004)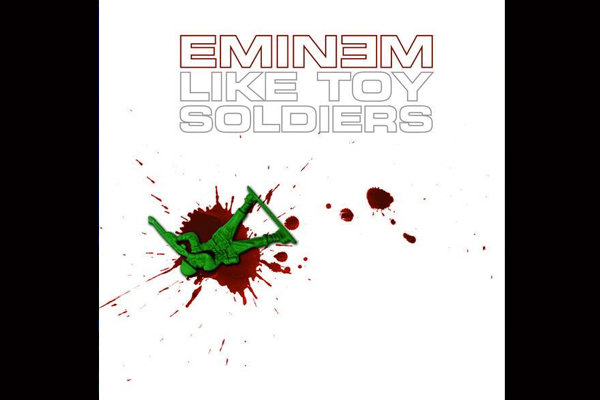 Producer: Eminem, Luis Resto

Album: Encore

Label: Aftermath/Interscope

This song will go down as another achievement in his explosive arsenal of rap poems, yet listening to him recite it, he probably wishes he never had to write it. The earnest and eloquent call for a ceasefire among the warring factions in hip-hop makes effective use of pop singer Martika's evocative '80s flashback sample, but all this poignant statement needs is the dirty military drums you can feel in your soul. An "exhausted" Eminem laments days gone by, "a time when you could just say a rhyme and wouldn't have to worry about one of your people dyin'." As the leader of his crew, he vows to approach antagonistic scenarios with adult responsibility, though you can sense it's not necessarily easy for him—pride is a motherfucker. The last thing he wants is to appear weak, but something has to be done: "I'll walk away from it all before I let it go any further/But don't get it twisted, it's not a plea that I'm coppin'/I'm just willin' to be the bigger man/If y'all can quit poppin' off at your jaws with the knockin'/'Cause frankly I'm sick of talkin'/I'm not gonna let someone else's coffin rest on my conscience." The message is clear: It takes more bravery to man up than it does to pick up a gun.
#38. Xzibit f/ Eminem "Don't Approach Me" (2000)
Producer: Eminem

Album: Restless

Label: Loud

"Don't Approach Me" is a get-off-me rant against the media and Stans. It also just happens to be a demonstration of extremely tight delivery and lyricism. "If I can hold on to my private life for five minutes longer/I might get my wife to let go of this knife and just calm her/Without these cameras in our faces like animals," Eminem barks, opening up about his (ex) wife's suicide attempts. Later, he closes things with some heated words for the people who bug the hell out of him and his fam when he's trying to chill at his crib: "Sometimes I feel like loadin' this rifle/And climbin' the roof at night and hidin' outside to snipe you/It's not that I don't like you/It's just that when I'm not behind the mic/I'm a person who's just like you." As far as it's-tough-to-be-a-celebrity diatribes go, you'd be hard-pressed to find a better one than "Don't Approach Me." (Special shout-out to Xzibit for the snappy dig at evil music industry practices: "Millionaires snatchin' crumbs off my little son plate.")
#37. Eminem "Role Model" (1999)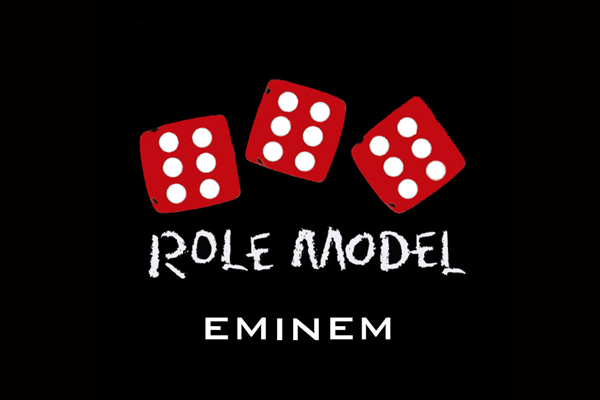 Producer: Dr. Dre, Mel-Man

Album: The Slim Shady LP

Label: Aftermath/Interscope

Back in the '50s, the powers that be wanted to protect teenagers from the "suggestive" dancing of Elvis Presley. Fifty years later, Eminem was being heavily criticized for making music that could potentially "harm" children. This is not brought up to make some connection between Elvis and Eminem, but to demonstrate that there are certain social concerns that haven't changed much throughout the decades. In response to the controversy, Em recorded "Role Model," an early Dr. Dre collaboration that utilizes scathing sarcasm to make its point: "I've been with 10 women who got HIV/Now don't you wanna grow up to be just like me?/I got genital warts and it burns when I pee/Don't you wanna grow up to be just like me?/I tie a rope around my penis and jump from a tree/You probably wanna grow up to be just like me!" (Answers: No, no... been there, done that.)
#36. The Notorious B.I.G. f/ Eminem "Dead Wrong" (1999)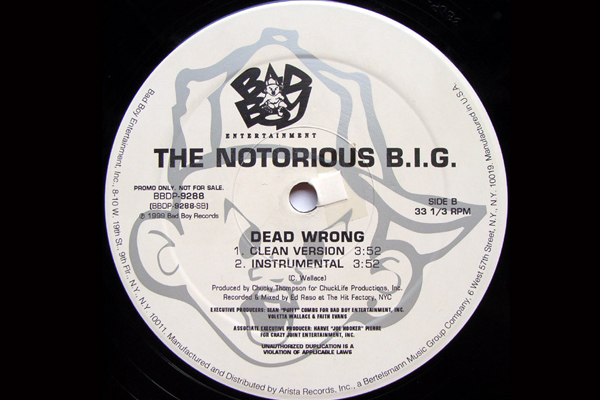 Producer: Chucky Thompson, Mario Winans

Album: Born Again

Label: Bad Boy

If you can separate Marshall Mathers from Slim Shady, then the case can be made that the late, great Notorious B.I.G. was a different entity than the monster Biggie Smalls, who, lest we forget, beasted on the scene early on with jaw-dropping threats and snaps. Some of his most shocking words are on full display on this posthumous track, a remix of the original Easy Mo Bee version, that surfaced on Mister Cee's 10th anniversary edition of his amazing The Best Of Notorious B.I.G. mixtape. In case you needed any convincing, this is a perfect example that early Big and Em had quite a lot in common when it came to out-there, in-your-grill lyrical content (not to mention this is also an extremely rare instance where somebody out-grosses Em on the same cut). The brothers from another mother tear shit up amidst the urgent hi-hat rhythm and symphonic bursts and can give two shits about anyone they offend. Em's verse begins with devil worship and ends with murder—sounds about right for a collabo between two of the illest to ever do it.
#35. Eminem f/ Royce Da 5'9" "Scary Movies" (1998)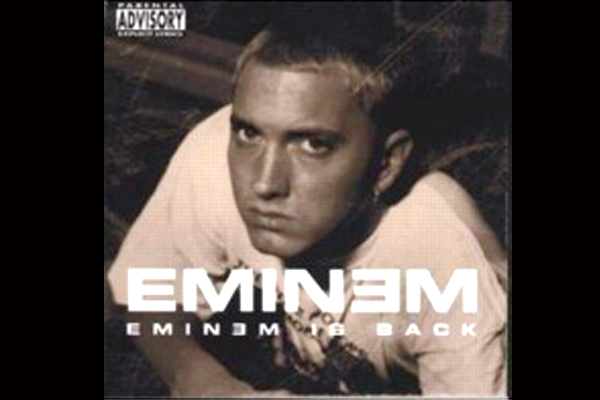 Producer: Reef

Album: Bad Meets Evil 12" Single

Label: Game Recordings

Dubbing themselves Bad Meets Evil, Detroit brethren Eminem and Royce Da 5'9" joined forces with monstrous results, roaring on a harrowing, scare-the-bejesus-out-of-you beat on some Mobb Deep Hell On Earth type shit. Royce and D12 went through a rough spell some years back, but any misunderstandings were, thankfully, squashed. Late last year, Em and Royce started hangin' out again, and rumors started heating up: Could there be—after all these years—a Bad Meets Evil reunion/album coming this year? Based on how good "Scary Movie" sounded, you better pray like MC Hammer that it happens.
#34. Eminem "Who Knew" (2000)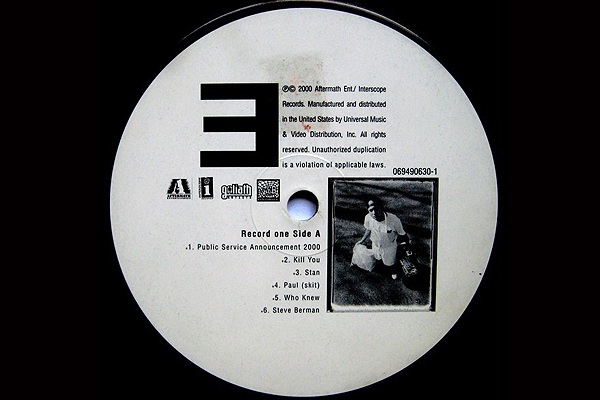 Producer: Dr. Dre, Mel-Man

Album: The Marshall Mathers LP

Label: Aftermath/Interscope

Eminem contemplating the power of his words is the basis of "Who Knew." This is Em while the fame is still relatively new—as is the nationwide criticism against him. He weaves from smart-ass ("Oh, you want me to watch my mouth, how?/Take my fuckin' eyeballs out and turn 'em around?") to smart ("Ain't they got the same moms and dads who got mad when I asked if they liked violence?/And told me that my tape taught 'em to swear/What about the makeup you allow your 12-year-old daughter to wear?") Touché. Eminem was far from the first rapper to be targeted for explicit content. But he might be the MC who has spent the most time responding to critics. On "Who Knew," he's still able to tone down his annoyance with plenty of humor.
#33. Eminem "Soldier" (2002)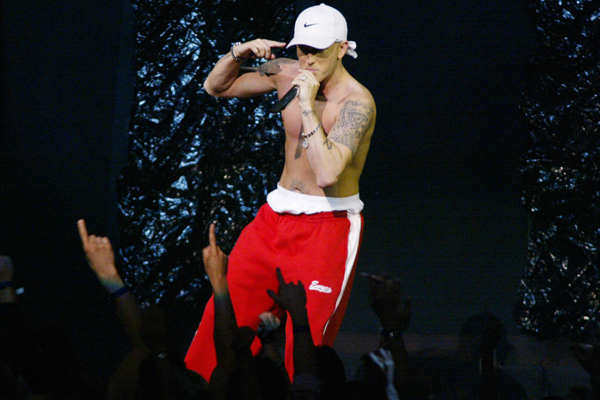 Producer: Eminem

Album: The Eminem Show

Label: Shady/Aftermath/Interscope

This right here is a rah-rah moment for the diehard fans. Channeling his inner Tupac ("I'm like a thug with a lil' bit of Pac influence"), Eminem goes to war against critics, bouncers, and the other dumbasses who piss him off, all crumbling underneath the bone-crunching verbal onslaught. It's impossible to listen to the frenetic beat and amped-up flow and not feel a spike in adrenaline. Eminem keeps the jokes to a minimum ("I love pissing you off, it gets me off/Like my lawyers when the fucking judge lets me off"). Instead, he keeps the intensity levels high ("Willin' to stick out my neck for respect if it meant life or death/Never live to regret what I said"), the assault only briefly letting up during the chorus. With the fire that burns in the hearts of young men, the chest-pounding rapper declares, "Full of controversy until I retire my jersey/Till the fire inside dies and expires at 30." By the time the "go left, go left, go left, right, left" orders kick in, it's obvious that Eminem is inside his own personal Hurt Locker, and the battlefield is the place he most wants to be at.
#32. Eminem "We As Americans" (2003)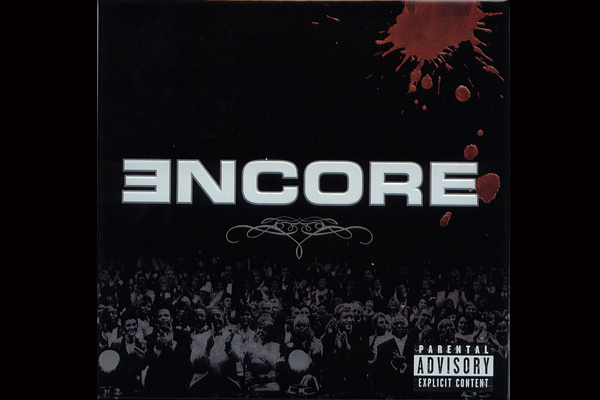 Producer: Eminem, Luis Resto

Album: Straight From The Lab EP / Encore BONUS

Label: Aftermath/Interscope

This is America, and we are Americans...
Famous for the lines (sampled by Immortal Technique for "Bin Ladin") "Fuck money/I don't rap for dead presidents/I'd rather see the president dead/It's never been said, but I set precedents," this song caused the Secret Service to investigate Eminem. "We As Americans" questions the loss of personal freedoms in this country. Probably Eminem's most underrated song, in terms of songwriting, production and meaning.
#31. Eminem "Square Dance" (2002)
Producer: Eminem

Album: The Eminem Show

Label: Shady/Aftermath/Interscope

When Em wants to, he can go in—like all the way in—on an opponent. On "Square Dance," a head-nodder that grows on you the more you listen to it, he addresses the long-simmering beef with Canibus by stirring the pot just a lil' bit, with a pinch of saltiness here and there. It's clearly just a warning composed of a couple of small-time disses (although the military talk in the second verse may or may not be subliminally aimed at 'Bis, who joined the Army in '02), as Em spends most of his time on this practice drill flexing skills. And flex he does, riding the futuristic carnival beat as if it were a rowdy mechanical bull and he was a bad-ass cowboy played by a young Clint Eastwood. Speaking of bull, the Bush administration's bullshit catches a few lumps as Em uses some of his influence to get the young generation to rethink senseless wars. And speaking of wars, Slim reminds 'Bis one mo' time that he's not worried about him at all by finishing off with a derogatory imitation of him. (Oh, and the super-quick rap impressions of Dr. Dre, Nas, Xzibit, and Busta Rhymes are on-point, yo.)
#30. Eminem "Brain Damage" (1999)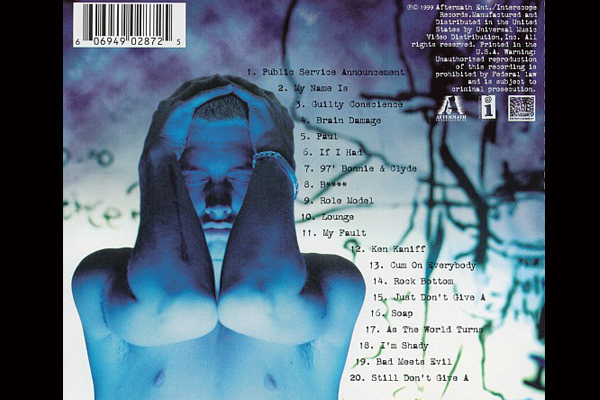 Producer: Bass Brothers, Eminem

Album: The Slim Shady LP

Label: Aftermath/Interscope

As a kid, Marshall Mathers suffered some serious injuries to the dome thanks to some mean-ass bullies. "Brain Damage" is born out of those tramautic experiences—hey, like the advice goes, "Write what you know." Once again, Mathers utilizes humor to deal with painful memories, describing himself as a "corny lookin' white boy, scrawny and always ornery/'cause I was always sick of brawny bullies pickin' on me." So, he gets revenge—by letting the air out of every tire on the bike rack. In the world he recreates, adults show him no love: A teacher tells him, "That bully wants to beat your ass and I'ma let him," and the principal even helps the bully kick Marshall's ass. The situation doesn't get any better at home when he starts bleeding from the ears and his mom yells at him, "Look at you, you're gettin blood all over my rug!" Of course, this is exactly the type of engrossing dark humor that Em excels at—even if it is based on a lot of truth he would probably rather forget.
#29. Eminem "Insane" (2009)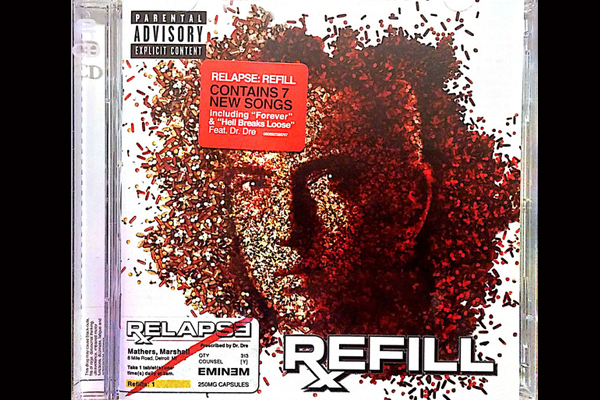 Producer: Dr. Dre

Album: Relapse

Label: Aftermath/Interscope

In '09 Eminem did the impossible—he released what is probably his most shocking song ever. That's saying a lot, considering all the material he's recorded. The fictionalized account of child molestation and physical abuse was over-the-top ridiculous, but it still had people wondering if it was true or not. It's safe to say that no real-life predator is gonna bite the blades off a chainsaw, like the wicked stepfather  in this sad, sick story of bad-touch horrors does. These deplorable actions didn't happen to a young Marshall Mathers, but do certainly happen to thousands of unfortunate kids out there today. Disturbing with a capital D, "Insane" will stay with you for a while, the cartoon imagery full of ass-rape, felching, and tragic references to Teddy Ruxpin scorched in your brain along with a shrieking track that is the musical equivalent of the shower scene in Psycho. To paraphrase the hook, is this song nuts? No, it's insane.
#28. Drake f/ Eminem, Kanye West, & Lil Wayne "Forever" (2009)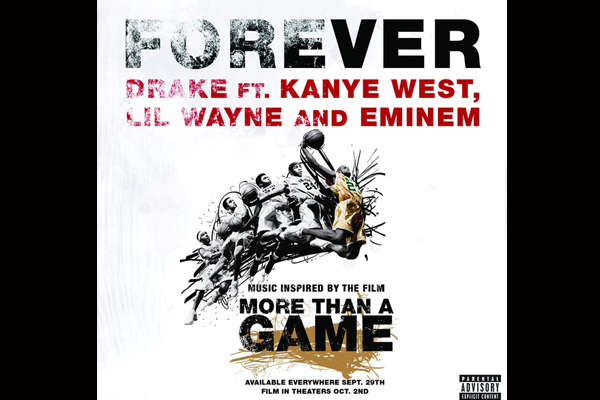 Producer: Boi-1da

Album: Music Inspired by the Film More Than a Game

Label: Zone 4/Interscope

After his long, troubled absence, the question remained: How would Eminem fare against the current crop of elite rappers? He was thrown into the ring with Wayne and 'Ye, and you better believe that the thought of friendly competition entered his mind (as well as the minds of the other proud participants—this is hip-hop, after all), especially in light of the leaked "Talkin' 2 Myself" and the subsequent 2010 Spin interview in which Em admitted he came this close to releasing a diss record against his cohorts. The fired-up delivery Detroit's Tiger unleashes over the slithering synth track with heavy drums and air-horn blasts is that of an MC with something to prove. Em let people know there was still life in one of the game's best. In the end, everyone shines brightly, so call it a draw, but don't call it a comeback (LL reference).
#27. Eminem "Love You More" (2003)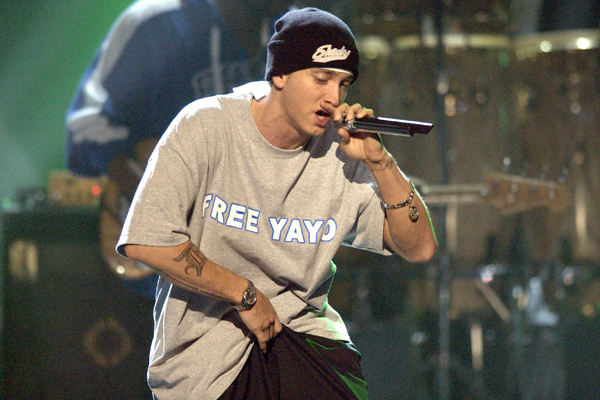 Producer: Dr. Dre, Eminem, Luis Resto

Album: Straight From The Lab EP / Encore BONUS

Label: Aftermath/Interscope

They are the type of relationships we'd like to believe exist only on Jerry Springer, but they are more common than most will admit: The sex is off-the-charts good, but when not bumpin' uglies, things are, well, ugly. That's exactly the kind of emotional turmoil that's tackled on "Love You More," an ode to marital distress in which Eminem struggles to come to terms with the woman he can't live with or without. He reveals the cold, hard facts: "I throw you on the couch/Punch you in the mouth/Fist fight 'til we turn this mother out/And apologize after/Laughter, pain, it's insane/We're back in the same chapter again." A modern-day "Thin Line Between Love and Hate," the compelling "Love You More" is dedicated to lovers caught in the hate-to-love-you/love-to-hate-you web.
#26. Dr. Dre f/ Eminem & Xzibit "What's The Difference" (1999)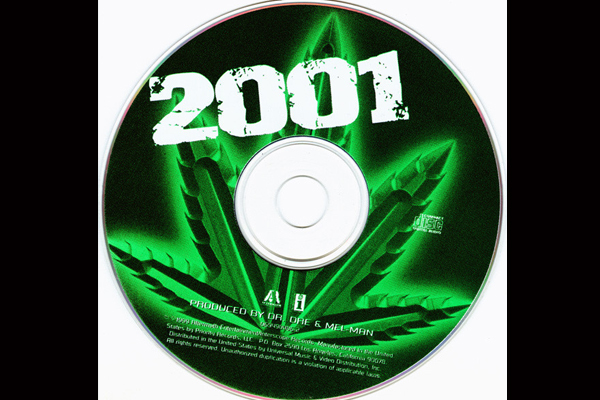 Producer: Dr. Dre, Mel-Man

Album: 2001

Label: Aftermath/Interscope

Sounding like the bestest high school marching band in the universe leading a procession of three-wheel-motion lowriders down Crenshaw Blvd. on the national holiday known as "Dre Day," "What's The Difference" hasn't lost a damn step. It still bangs, it's still certified classic—and probably still the only time Dre calls Slim "nigga" on a song. It's understandable, though, since the emotions are runnin' sky high as the Doc recalls days gone by ("Eazy I'm still wit' you/Fuck the beef, nigga, I miss you/And that's just being real wit' you"), Xzibit tears the track a new one ("I pop bottles and hot hollow points at each and all of you"), and Marshall can't help but stop the song momentarily to express himself: "I don't know if I ever told you this, but I love you, dog," he tells his mentor in a moment of weeded gratitude. But in case you think something's sweet, never that, as Em promises to dish out pain to whoever want it: "Raw dog, get your arm gnawed off/Drop the sawed-off and beat you with the piece it was sawed off of." With each rapper answering the proposed question in the song title, Slim's explanation is the funniest: "So what's the difference between us?/We can start at the penis/Or we can scream, 'I just don't give a fuck!' and see who means it."
#25. Eminem f/ Dr. Dre, Snoop Dogg, Xzibit, & Nate Dogg "Bitch Please II" (2000)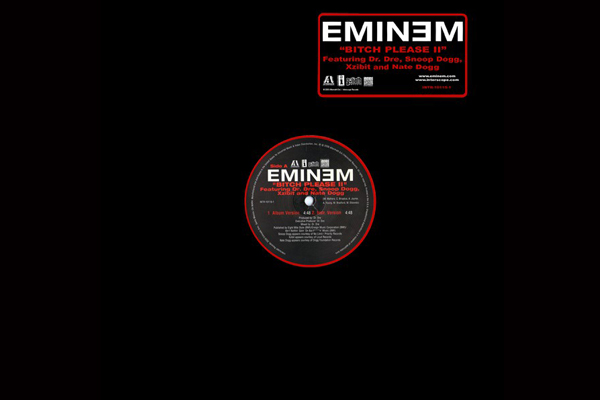 Producer: Dr. Dre, Mel-Man

Album: The Marshall Mathers LP

Label: Aftermath/Interscope

The good Doctor performed some minor cosmetic surgery on one of his most slamming beats of the '00s and gave Eminem another classic in the process. Bringing back the original cast of Snoop Dogg's powerhouse smash, the sequel saw everyone in top form again—X to tha Z rugged as usual, Snoop droppin' it like it's hot, Nate Dogg pounding out the eternally excellent crooning—and they let the nephew Em bring up the rear on the final off-the-wall verse that starts off with "The Great White American Hope" paying homage to Snoop's OG flow on Part I. Addressing the media stir caused by an angry write-up in Billboard, Em starts nice but ends mean: "Here, want me to tone it down?/Suck my fuckin' dick, you [bleep]/You happy now?" After all the heat that came down on him for the last album, Em decided he was gonna "I'm Rick James, bitch!" his way past the criticism.
#24. Eminem "My Fault" (1999)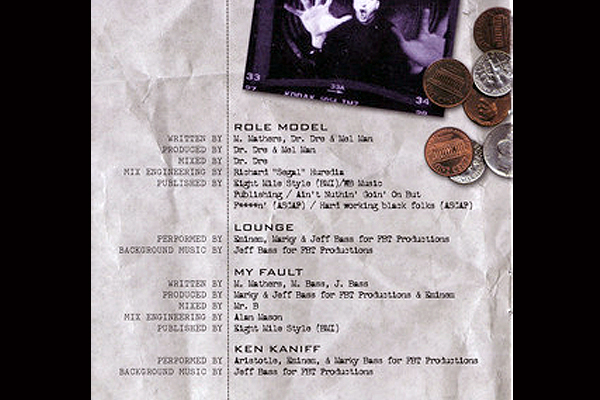 Producer: Bass Brothers, Eminem

Album: The Slim Shady LP

Label: Aftermath/Interscope

Eminem's talent for storytelling and doing funny voices elevates this skit disguised as a song. Things begin with Em trying to get some ass at a house party, so he slides Susan some mushrooms, except she ends up eating the whole bag. What ensues plays out like the most radical Skinemax teen sex comedy about recreational drug users that you've never seen. Eminem's ability to bring out the personalities (and sometimes even background info) in all his characters pays off. In this case, Susan has "daddy issues," which the overdose has brought to the surface. We shouldn't laugh, but we do. The song fades to black with Em bawling his eyes out, fearing what might happen to the girl. What do you know, he has a "guilty conscience" after all.
#23. Eminem, Obie Trice, & DMX "Go To Sleep" (2003)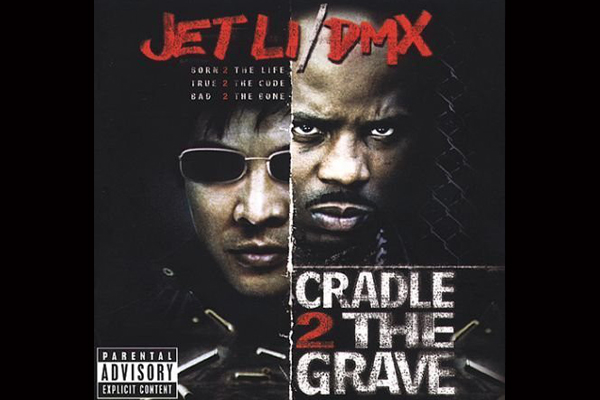 #22. Eminem "Déjà Vu" (2009)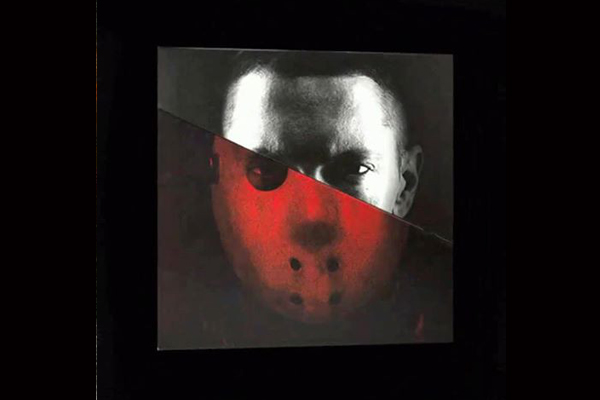 Producer: Dr. Dre

Album: Relapse

Label: Aftermath/Interscope

"Déjà Vu" is a revealing look at Marshall Mathers' debilitating dependence on sleep medications and some of the cloudy rationale behind it. Back to vintage form over a jangling beat and moody bass, he explains how his demons still beckon him; he even confesses that his publicized 2007 hospitalization for an illness was a smokescreen: "See me and you we almost had the same outcome, Heath/'Cause that Christmas, you know the whole pneumonia thing?/It was bologna, was it the methadone, ya think?" He admits, too, the difficulty in coping with the death of his best friend: "Wouldn't even be takin' this shit if DeShaun didn't die/Oh yeah, there's an excuse, you lose Proof, so you use." True to form, he doesn't hold back. Rather, as you would expect him to, he uses his music to help him cope.
#21. Funkmaster Flex & Big Kap f/ Eminem & Dr. Dre "If I Get Locked Up" (1999)
Producer: Rockwilder

Album: The Tunnel

Label: Def Jam

It used to be rap artists needed to keep their credibility intact in order to be successful. Being exposed as a former CO would have been a tough one to get out of 10, 15, 20 years ago—as was having a big MTV hit, which could only mean you were a sellout, right? Eminem had to prove to the hip-hop nation (or at least remind them) that he was still S.L.I.M. If "My Name Is" had some under the mistaken impression that Em would soon go soft, he was hitting the mixtape circuit to slap them in the face and set the record straight—and not to mention get them amped for the Marshall Mathers LP. This Latin-based rhythm produced by Rockwilder finds Eminem pulling no punches, callin' out wanksters with "a fake-ass Tupac image" who ain't tough—they "just get drunk and become talkative"—years before becoming buddies with 50 and beefing with Ja Rule. You could say "If I Get Locked Up Tonight" was a bit too prophetic, as Em would be arrested six months later on gun charges.
#20. Eminem "Bad Guy" (2013)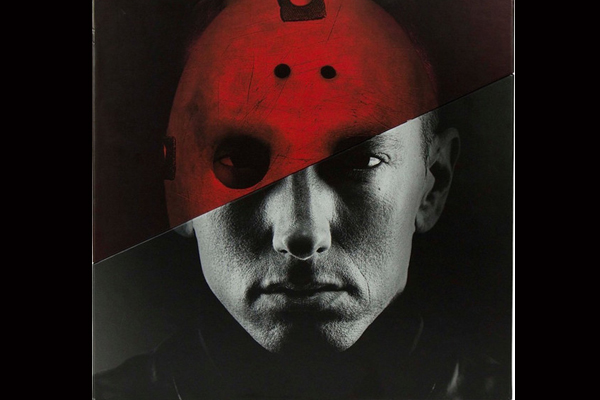 Producer: Part 1 produced by S1, M-Phazes/Part 2 produced by StreetRunner, Vinny Venditt

Album: The Marshall Mathers LP 2

Label: Aftermath, Shady, Interscope
"So one last time, I'm back," says Eminem on "Bad Guy." There's good reason to, after he returned from hiatus in 2009 it felt like all of his music was this big "I'm back!" moment. Although he returned to the scene, it never felt like he returned as his old self, more like Eminem 2.0. But "Bad Guy" actually has the vigor and imagination of old Eminem. The minimal beat for the first part of the song sounds like sneakers squeaking in an empty Michigan mansion or the ropes at a theater squeaking as the curtains being pulled up. Em assumes the character of Matthew Mitchell, the brother of Stan, and plots his revenge on Em. But when that car hits the water, Em swims his way back to life with a great sense of triumph as if he's finally able to leave the drugs, the accents, and all his baggage behind for the first time ever. Make way for the bad guy.
#19. Eminem "Marshall Mathers" (2000)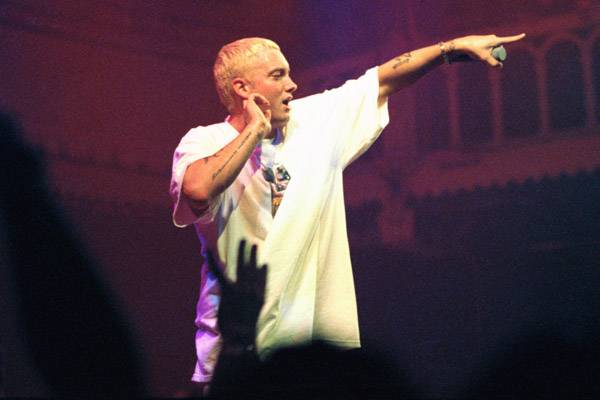 Producer: Bass Brothers, Eminem

Album: The Marshall Mathers LP

Label: Aftermath/Interscope

Back in the day, there were some people who felt Marshall Mathers would never be shit. Well, when Mr. Mathers became The Shit, he decided to write a little song for them, and as an added bonus, the whole world would listen. Backed by amplified acoustic guitar strumming and some catchy "singing" by guess who on the hook, the title track to the album some argue is his best long player unloads his dirty laundry for all to peep (The line "Now everybody's so happy and proud/I'm finally allowed to step foot in my girlfriend's house" is instantly recognized by anyone whose been in one of those relationships where the family doesn't like the significant other). On a roll, getting payback, M. Mathers takes time to roast pop and rival rap groups as well, making you LOL at his mockery of LFO and ICP. Revenge never sounded so good.
#18. Eminem "Nail In The Coffin/The Sauce" (2003)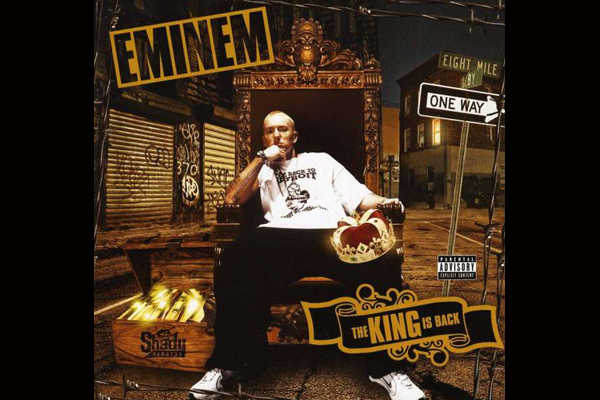 Producer: Eminem

Album: Invasion: Shady Records Mixtape

Label: Shady
The most famous issue of The Source was the "issue" co-owner/veteran rapper Ray Benzino and Eminem had with each other. It didn't start out bad. Eminem was featured in the magazine's coveted Unsigned Hype column in March of 1998. (Yay!) Two years later, The Marshall Mathers LP received two measly mics. (Booo!) You'll have to read between the lines (or ask Yahoo! Answers) to figure out what went wrong. Zino then released the mixtape diss "Pull Ya Skirt Up," and Em fired back with "The Sauce" and "Nail In The Coffin." "The Sauce" clowned the biased editorial practices of the publication and referred to the rumors of Benzino extorting his business partner ("Ray's got AKs to Dave Mays' head"). "Nail In The Coffin" turned out to be worthy of a Hip-Hop Quotable, with Em calling Benzino "an 83-year-old fake Pacino" and stating that the only way he'd get his wish of being all over the street like 50 Cent would be if he fell off a balcony. But the biggest Zino zinger was, "What you know about bein' bullied over half your life?/Oh, that's right, you should know what that's like, you're half-white." A white rapper calling out another rapper for being half-white is a WTF? moment you never forget.
#17. Eminem "My Name Is" (1999)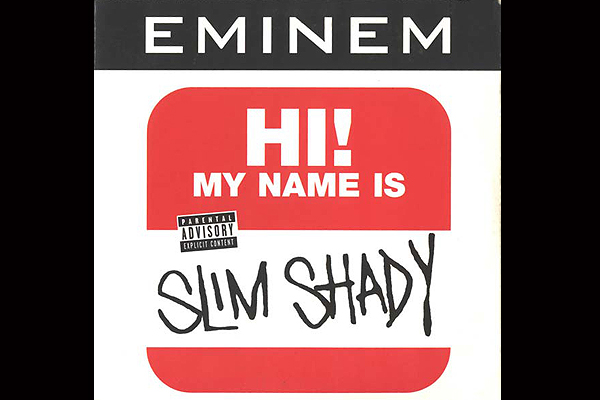 Producer: Dr. Dre

Album: The Slim Shady LP

Label: Aftermath/Interscope

The most impressive thing about the Grammy-winning single that put Eminem in the mainstream consciousness was not what it did, but what it didn't do. All the MTV love was expected to a degree—a Dr. Dre protege with hype and a funny video to match made it a no-brainer that the up-and-coming rapper would get exposure. The thing is, however, the highly addictive tune (and it does stick in your mind like Krazy Glue) had all the makings of a one-hit wonder—that is, in the hands of lesser artists. One can easily see a hokey act luck out with the same track and forever be remembered just as another novelty. Eminem set out to make his name known, but made extra sure to push the envelope with edgy, disguised-as-goofy lyrics (not many clean-version Top 20 numbers can get away with talk about ripping Pam Anderson's lips off or impregnating Spice Girls.) The duo knew what they were doing: making a pop record that wouldn't alienate hardcore hip-hop fans.
#16. Eminem "Criminal" (2000)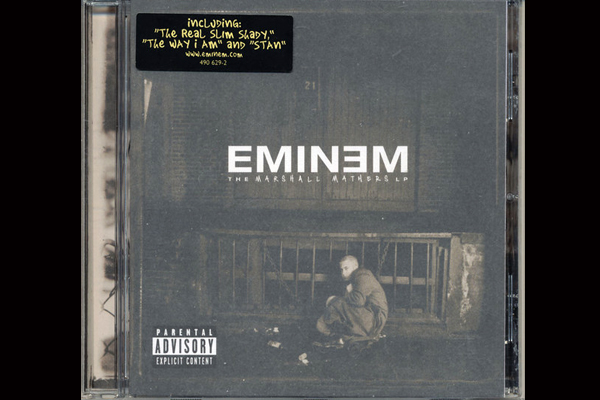 Producer: Bass Brothers, Eminem

Album: The Marshall Mathers LP

Label: Aftermath/Interscope

"Criminal" is the case for and against Slim Shady. On one side of the spectrum are the nasty gay-bashing and other shameless displays of explicit content that include but are not limited to gun violence, alcohol abuse, and rape and that cause critics to froth at the mouth. On the opposite end are the instances of stinging social criticism (his imitation of your typical televangelist is spot on: "Please Lord, this boy needs Jesus/Heal this child, help us destroy these demons/Oh, and please send me a brand new car/And a prostitute while my wife's sick in the hospital") and other moments of obvious merit (the cinematic interlude in which Slim holds up a bank and shoots an employee is straight out of a no-English-accent Jason Statham flick). Hate him or love him, the only real thing Slim Shady is guilty of is being dope as fuck.
#15. Eminem "So Far" (2013)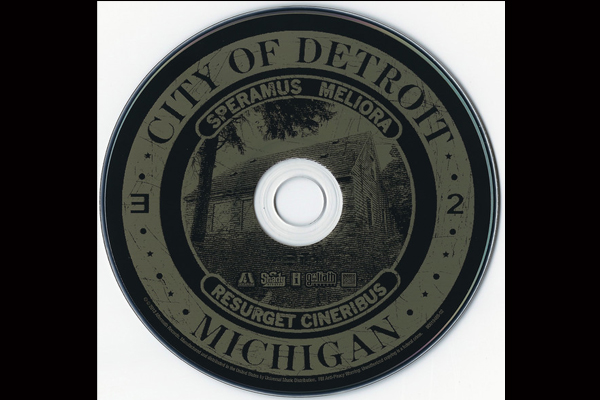 Producer: Rick Rubin

Album: The Marshall Mathers LP 2

Label: Aftermath, Shady, Interscope
One of the many things Complex's 2009 cover story with Eminem revealed was that Em was a hardcore luddite. You might think your mom is bad with her cell phone, but Em apparently doesn't even know how to use a computer. That hint of light hearted personality sometimes gets lost in Eminem's music, especially because he dealt with so many heavy issues later in his career. So it's amusing to hear him rap and sing on "So Far" about needing to be an expert on computers just to hear a Ludacris song right before singing about how he has millions of fans on Facebook. We wish we had a video of someone explaining what Facebook was to Eminem, we imagined it wouldn't be too different from this.
#14. Dr. Dre f/ Eminem "Forgot About Dre" (1999)
Producer: Dr. Dre, Mel-Man

Album: 2001

Label: Aftermath/Interscope

For those that forgot, in the mid-to-late '90s pretty much all major-label rap acts knew they had to have a radio single (love song), a club banger, a keep-it-real joint, and a Down South–styled barn burner. Dr. Dre and Eminem's contribution to below the Mason Dixon line fire was also their best collabo together. The second single from 2001 galloped along with intermittent laser effects and that strange slow-handed plucking, music for robotic cowboys-n-girls to get down to at the Intergalactic Friday Night Hoedown. (Kinda ill to discover that the dirty guitar during Em's verse is a replayed riff from "The Climb" by No Doubt.) There are no breathers, just wall-to-wall rapping your ass off. Eminem's hook and the lyrics he wrote for Dre serve dual purposes: Not only is it some world-class bragging, it's a history lesson that puts into perspective Andre Young's impact in the game. "Who you think brought you the OGs, Eazy-Es, Ice Cubes, and D.O.C.s, and Snoop D-O-double-Gs?" The same dude that brought us the Eminems, that's who. Shockingly, the song won a Grammy for Best Rap Performance by a Duo or Group. Shocking because we remember a time when the Grammys wanted to act like they forgot about rap.
#13. Eminem "'97 Bonnie & Clyde (Original)" (1997)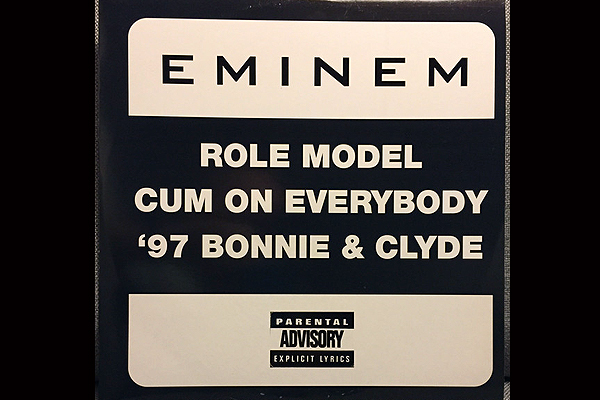 Producer: Bass Brothers, Eminem

Album: The Slim Shady LP

Label: Aftermath/Interscope

Eminem "'97 Bonnie & Clyde (Original)"

Eminem "'97 Bonnie & Clyde (Album Version)"

"Subversive" doesn't even begin to explain "'97 Bonnie & Clyde." Originally called "Just The Two Of Us" (named after the brilliant Grover Washington Jr. and Bill Withers song that it's based on musically), Eminem's version is actually a semi-parody of Will Smith's syrupy radio hit that spoke about the joys of fatherhood. "Semi-parody" because although "'97 Bonnie & Clyde" shits on Will's version in the Realness Dept., it is not totally unsentimental. Actually, it's a very sincere dedication to his infant daughter. Well, sentimental in his own way, since Mathers did rename the ballad in honor of real-life Depression-era gangsters Bonnie Parker and Clyde Barrow (we wonder if Em was also inspired by Ice Cube and Yo-Yo's "The Bonnie and Clyde Theme"). Now, regardless of how you feel about an artist who does a song about killing his baby mother and then brings his baby girl into the studio to record "googoo-gaga" vocals, there does exist a remarkable amount of artistry in this song. The clever way Eminem makes the whole song a conversation between him and Hailie is damn near-genius level. And the tender words for his child at the conclusion are so genuine that anyone mad at the rapper might even forgive him.
#12. 50 Cent f/ Eminem "Patiently Waiting" (2003)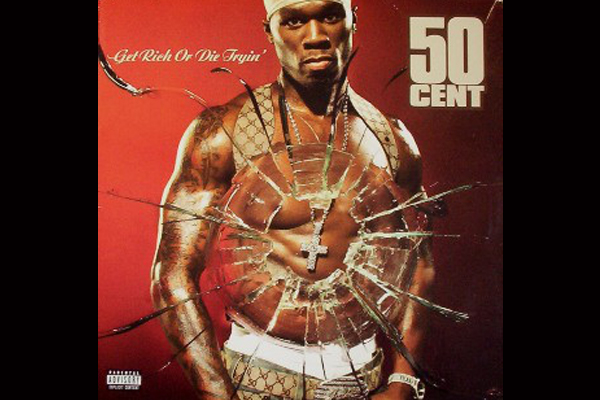 Producer: Eminem

Album: Get Rich Or Die Tryin'

Label: Aftermath/Shady/Interscope

Fif wasn't kidding. After getting shot and dropped (from the label) in 2000, he had been waiting to get put back on the major level again. (We wouldn't say he was patient; G-Unit had been busy revolutionizing the mixtape game.) It took two visionaries from outside the Empire State to sign him. So when he shouted out his "favorite white boy" at the start of this song and told him, "I owe you for this one," he meant the second opportunity, as well as the blazing track Em created. No longer necessary to be patient, 50 exploded: "If I get shot today, my phone will stop ringing again/These industry niggaz ain't friends/They know how to pretend." The sonic cue of the operating-room blip during Em's verse seemed to subliminally suggest that 50 had been reborn and the game wouldn't be the same. Curtis and Marshall would prove to be great allies. This was only the beginning.
#11. Eminem f/ Dr. Dre "Guilty Conscience" (1999)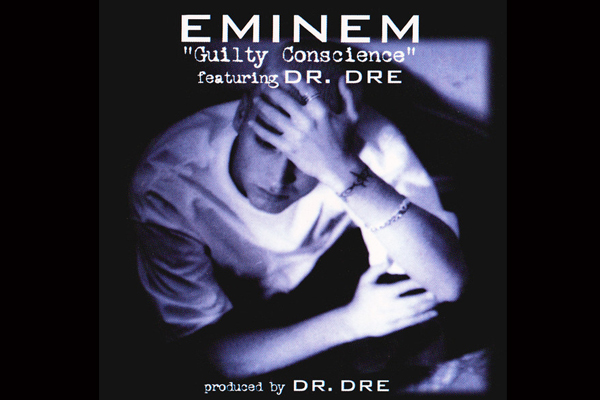 Producer: Dr. Dre, Eminem

Album: The Slim Shady LP

Label: Aftermath/Interscope

Do they even make hip-hop records like this anymore? Combining high concept with brilliant execution, "Guilty Conscience" blends an inventive script by Eminem with the same type of vivid skits Dr. Dre perfected with N.W.A to push the boundaries (again) of what could be said on a commercial record. Inspired by the famous scene in the movie Animal House—in which a horny frat dude contemplates taking advantage of a passed-out coed (who is turned into a 15-year-old girl at a rave party in the song) only to have a devil and an angel appear out of thin air to counsel him—Eminem penned a dangerous account of what happens when random men are about to do evil and Slim and Dr. Dre show up to talk to them (Slim, as you can guess, eggs people on to commit robbery and murder). But the most startling thing for longtime hip-hop fans is when Slim brings up the widely reported 1991 assault by Dre of video hostess Dee Barnes. That Em would have the balls to suggest to Dre to include that in the song (and, kudos, by the way, for the "Been there, done that" line) is crazier than Son Doobie making a porno.
#10. Eminem "White America" (2002)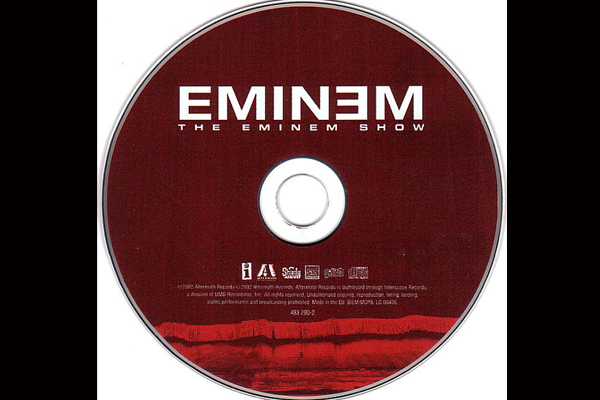 Producer: Eminem, Jeff Bass

Album: The Eminem Show

Label: Shady/Aftermath/Interscope

"White America" was Eminem's most political record at the time. It was a major statement, because now that he had the power to be heard by millions, he was trying to go beyond pure shock value. Right away in verse one, you can see him taking the concept he had started with "The Real Slim Shady" and envisioning his followers "as a fuckin' army marchin' in back of me." He then mentions the "anger" that "sprays and sprays" from "radio airwaves," a possible reference to militant right-wing radio. He ends the stanza by revealing that Congress has told him he's "in trouble with the government." In the second verse, he touches on race, which he hadn't done much of in the past. He readily admits that had his eyes been brown (i.e., if he wasn't white), he "sits on the shelf," and "if I was black I would have sold half." He closes out the song going ballistic against government figures like Dick Cheney's wife and Tipper Gore—not exactly Christina and Britney. These were solid steps for future protest.
#9. Eminem "Kim" (2000)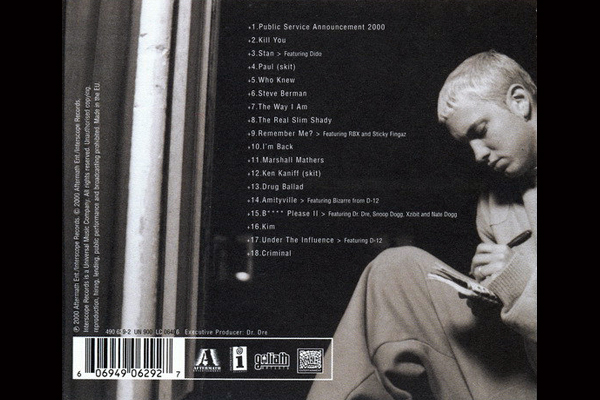 Producer: Bass Brothers

Album: The Marshall Mathers LP

Label: Aftermath/Interscope

Oh, man. Just as shocking today as it was when it was first released over a decade ago, "Kim" is a stunning work of horror that contains so much ugly truth it's difficult to listen to—but it's so powerfully performed that you have no choice but to be mesmerized by it. Slim Shady is supposed to be the insane alter ego of Eminem, yet how much of what he says and does in the prequel to "'97 Bonnie and Clyde" (which caused Kim to file a $10 million lawsuit for defamation against her ex-husband) is really raw human behavior magnified to disturbing degrees? "Kim" is performance art, shocking, cruel, and disgusting. But goddamn if Marshall Mathers (who excels at impersonating both the Slim and Kim characters) doesn't nail so many of the true-life moments couples in strained relationships go through—the extreme swings of emotions, the logical thought followed by irrational actions, the desperation, the hurt. An Oscar-worthy performance in a terrifying thrill ride (no one under 17 admitted).
#8. Eminem "The Real Slim Shady" (2000)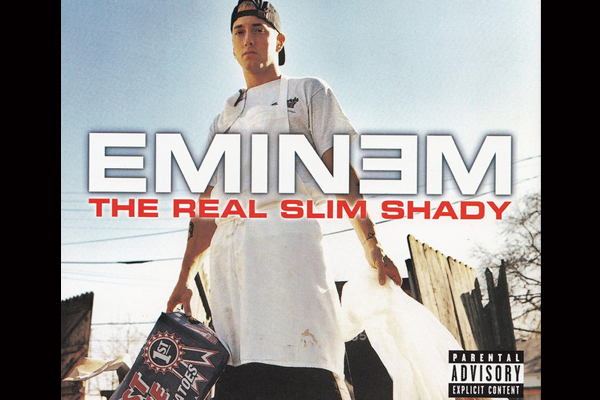 Producer: Dr. Dre, Mel-Man

Album: The Marshall Mathers LP

Label: Aftermath/Interscope

This hit single from The Marshall Mathers LP was important in terms of building Eminem's fanbase. It featured maniacal chamber music on some chronic-smoking Wolfgang Amadeus shit combined with below-the-belt disses of Pam Anderson, Will Smith, and Christina Aguilera (to name a few). His VMAs performance with a legion of fake blond imposters standing behind him drove home the concept of Slim Shady as a character across the globe.
#7. Jay-Z f/ Eminem "Renegade" (2001)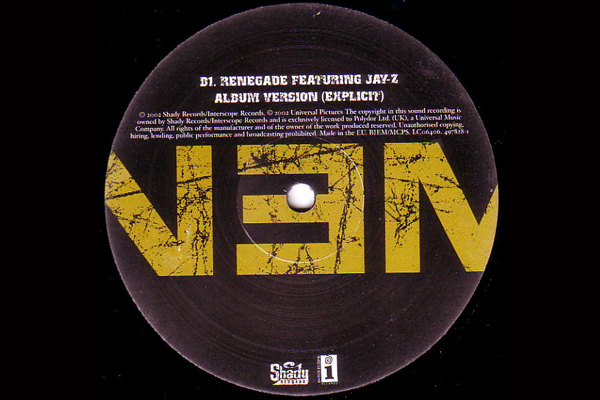 Producer: Eminem

Album: The Blueprint

Label: Roc-A-Fella/Def Jam

Ten years ago, Nas infamously remarked on "Ether" that Eminem had bodied Jay on his own shit. While that sentiment is surely debatable even now, there's no denying that Slim goes in with a fluid flow that's quite incredible on this celebrated collabo originally done by Em and Royce Da 5'9". For the remake, Jigga and Mr. Kiss My Ass let anybody within earshot know that they never been afraid to holler about anything. Anything? Anything. While they might not be scurred, the phantasmic production, which conjures up images of tortured ghosts floating in and out of your mind, sends chills down the spine. Em shocks with various religious barbs ("While I'm waving the pistol at 60 Christians against me/Go to war with the Mormons/Take a bath with Catholics in holy water/No wonder they try to hold me under longer"), it's Em's quip against uppity adults that stings the most ("I got nothing to do but make you look stupid as parents/You fuckin' do-gooders/Too bad you couldn't do good at marriage"). Ouch.
#6. Eminem "Kill You" (2000)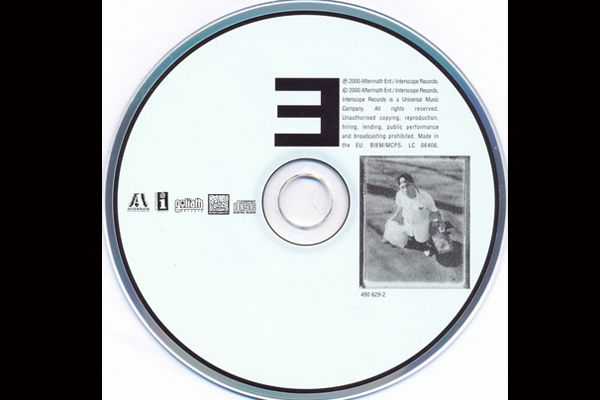 Producer: Dr. Dre, Mel-Man

Album: The Marshall Mathers LP

Label: Aftermath/Interscope

"Kill You" is, arguably, the quintessential Em song. Why? Well, mainly because it manages to contain most of the ill stuff that made him a household name, namely profane references to his mom, the shameless endorsement of drugs and alcohol (before rehab), eye-popping cartoon-y violence, and digs at his own fame. But with the sick humor comes even sicker skills over a you-wanna-keep-on-repeat stutter-step beat that sounds like a demented kiddie record for satanic Ritalin babies. Critics had a field day with the unabashed woman-bashing theme, but on an artistic level this joint was bubbling with creativity, even giving you three different hooks. And, of course, it ends with the memorable, smart-alecky "I'm just playin'" quote he later resurrected for the finale of "White America."
#5. Eminem f/ Nate Dogg "Till I Collapse" (2002)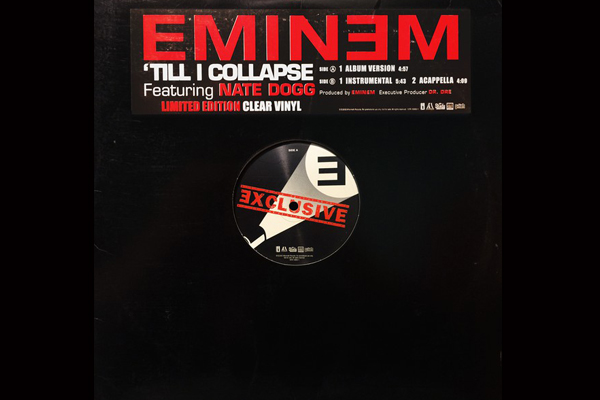 Producer: Eminem

Album: The Eminem Show

Label: Shady/Aftermath/Interscope

Music is like magic, there's a certain feelin' you get

When you're real and you spit and people are feelin' your shit
"Till I Collapse" is Eminem's Rap Manifesto—his uncut views, attitudes, and fire. It's not a coincidence he chose this powerful hymn graced by the celestial voice of Nate Dogg and reinforced by the merciless sonic stampede that echoes like a legion of warriors heading into combat. Eminem has and always will be a battle rapper. "'Cause I don't really think that the fact that I'm Slim matters/A plaque and platinum status is wack if I'm not the baddest," he spits for everybody to hear. Eminem keeps trying to say that he doesn't want to be called the best (see his list below), just one of the best, but listen closely to this song. Sounds like he'd be down to challenge for the No. 1 spot. 

EMINEM'S TOP 9 DEAD-OR-ALIVE LIST (2002)

Redman

Jay-Z

Tupac

Biggie

Andre 3000

Jadakiss

Kurupt

Nas

Eminem
#4. Eminem "Just Don't Give A Fuck" (1997)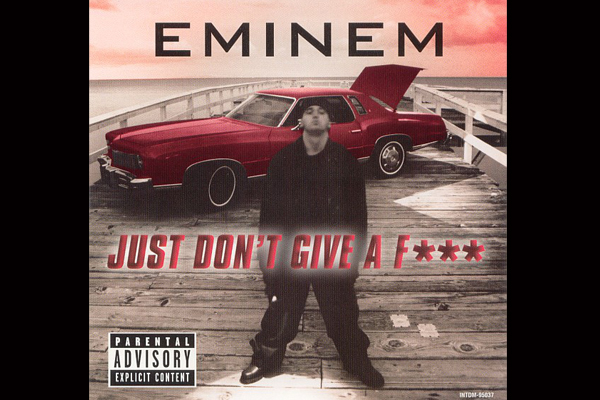 Producer: Bass Brothers, Eminem

Album: The Slim Shady LP

Label: Aftermath/Interscope

The creepy carnival music, the cocky vocals of a sharp-tongued juvenile delinquent, the similes and punchlines...yeah, Slim Shady fully realized his swag on "Just Don't Give a Fuck." Don't believe it? Well, it's one thing to say, "I'll diss your magazine and still won't get a weak review," but it's a whole other to start your song with "Slim Shady, brain dead like Jim Brady." Even today, decades after the presidential assassination attempt, that politically incorrect statement is jarring. But it wasn't just all shock and awe, this was hip-hop: "I'm Nicer than Pete, but I'm on a Serch to crush a Miilkbone/I'm Everlast-ing, I melt Vanilla Ice like silicone" let you know he was a white rapper who knew rap history...and was here to change it, even if it meant rufflin' a few feathers. Those that didn't like it? Refer to the song title and loud, obnoxious chorus for your answer.
#3. Eminem "The Way I Am" (2000)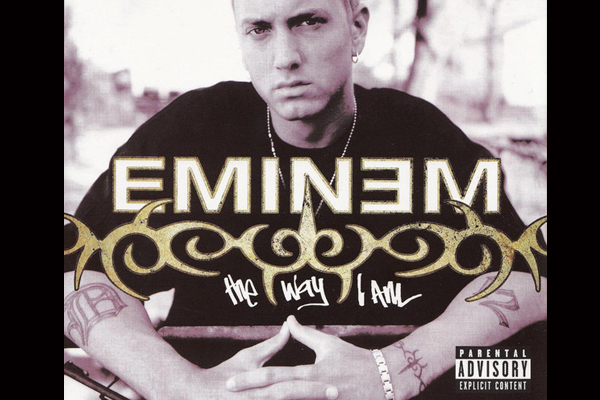 Producer: Eminem

Album: The Marshall Mathers LP

Label: Aftermath/Interscope

After accessible singles like "My Name Is" and "The Real Slim Shady," "The Way I Am" finally got the no-nonsense Eminem on the radio and TV. The mean, dirty-grooved protest was also the first song Eminem produced dolo, announcing that the world's most dangerous MC was now an even bigger threat. It was an impressive christening. "The Way I Am" finds a possessed Marshall Mathers having an out-of-body experience as he angrily baptizes the piano-laced track with pure lyrical fire, the churchly bells encouraging him to exorcise his demons ("I'm so sick and tired of being admired that I wish that I would just die or get fired") and deepest thoughts ("I'm not gonna be able to top 'My Name Is'"). The appropriated chorus, a respectful nod to Rakim, helps elevate this one to holy hip-hop levels, but it's also noteworthy for an early instance of social criticism from Em as he comments on the Columbine shootings ("Look where it's at/Middle America/Now it's a tragedy/Now it's so sad to see/An upper-class city havin' this happening"). Eminem would go on to give more fiery sermons, but this tight rhyme scheme might still be his most mesmerizing.
#2. Eminem f/ Dido "Stan" (2000)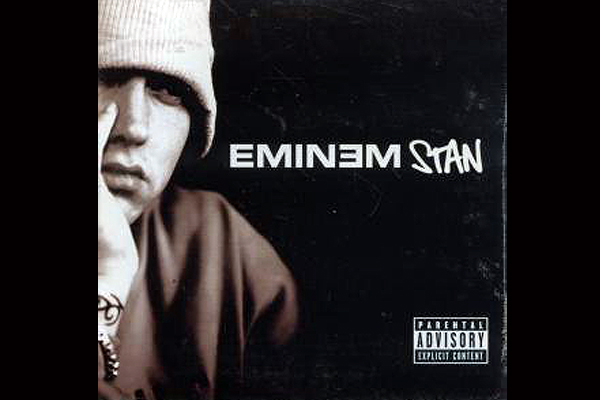 Producer: DJ Mark the 45 King

Album: The Marshall Mathers LP

Label: Aftermath/Interscope

One of Eminem's finest musical moments (probably the best rap-as-another-character performance since Biggie did it), this is, without a doubt, a classic. (So good even Elton John and the Grammy people co-signed...and they don't even like rap.) The Dido sample was out of left field yet went perfectly with the pen-on-paper scribbling SFX under the moody rainfall. (Who knew The 45 King still had that fire?) Em kept the emotional impact going through—surprise!—four verses by making Stan grow more agitated and angry at Eminem as the storyline progressed. There were nuances to the character, off-handed remarks like "I wrote the address perfect," that gave listeners a better sense of Stan's disturbed personality (just from that line you could imagine him spending hours writing the address on the envelope) and thus made him feel more three-dimensional. The deranged fan ("P.S. We should be together too") was portrayed so well, and Em ended up becoming so famous, that "Stan" became a part of popular lexicon.
#1. Eminem "Lose Yourself" (2002)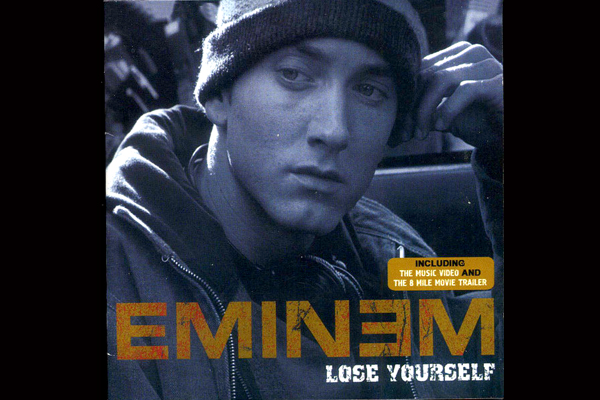 Producer: Eminem, Luis Resto, Jeff Bass

Album: Music from and Inspired by the Motion Picture 8 Mile

Label: Shady/InterscopeYou only get one shot, do not miss your chance to blow

This opportunity comes once in a lifetime, yo!
One doesn't have to be a rapper tryin' to get put on to feel those motivational words. The pressure to survive (and the pressure to be great) is captured in all its essence on "Lose Yourself," which won the Oscar for Best Original Song for the film 8 Mile and set a record for time spent sitting at the No. 1 position on Billboard's Hip-Hop Singles Charts. Eminem's cinematic debut was a breakthrough; some of the parents of kids who dragged them to theaters were exposed to his talents and some of that hate for him melted away.

The song itself benefited from the ability to connect emotionally with people (When he says, "Success is my only motherfuckin' option, failure's not," you can feel the urgency). The serene music at the start that gives way to the chunky guitar riff does for hip-hop fans what the "Theme from Rocky" does for boxing enthusiasts—gets them hyped the fuck up. "You can do anything you set your mind to," he tells us at song's end, and for that second you believe him.

Almost 10 years later, when the song was used for the high-profile Chrysler commercial, the second the instantly recognizable riffs start growling, the same emotional impact from the first time you heard the song kicks in. Eminem came up playing the underdog role and people love underdogs, probably because we're all underdogs at some time in our lives.