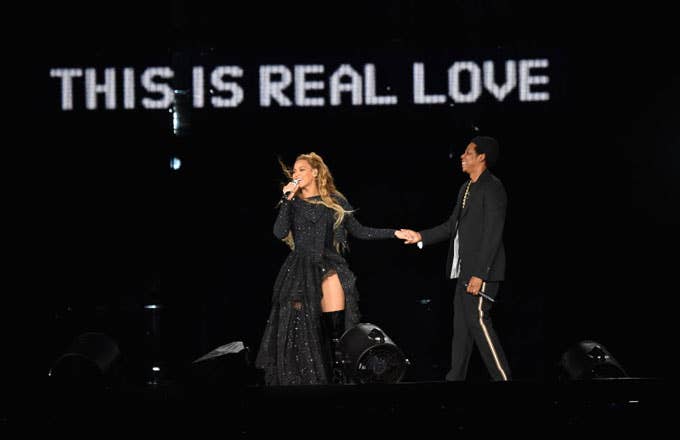 "Never underestimate the power of a happy ending."
That's Jay-Z in 2012, explaining to VIBE why True Romance, the 1993 rom-crime classic from Tony Scott and Quentin Tarantino, is his favorite film (second to Godfather II, of course). Audiences crave authenticity, Jay reasoned, but the appeal of a cathartic fairytale ending will always win out.
Tony and Quentin famously clashed over Tony's decision to overrule Quentin's original ending. For much of the movie, Clarence, a lovestruck loner, and his ride-or-die, Alabama, seem doomed. Their unlikely consummation sends them on a downward spiral. A series of rash decisions and reckless abandon, all excused by their union and a desire to protect it, sends them on the run from multiple enemies, leaving death and destruction in their wake. Tarantino's first pass made the consequences final: Clarence dies, Alabama runs off with their ill-gotten gains, with the earnestness of her love for him in question. Scott scrubbed that for a fairytale flash-forward that Quentin worried was just "Hollywood shit." He eventually came around when he realized Tony wasn't pivoting to fantasy for focus groups, but instead fashioned the entire film into a beautiful, dark, twisted love story. Clarence and Alabama survive, as does their relationship, in an idyllic coda that even doubles down with a cute kid.

Beyoncé and Jay have also managed to defy the odds—rising above the astronomical divorce rate that's usually exacerbated by fame. Their union has always had an air of Tony Scott's vision of Clarence and Alabama: Too good to possibly be true, but, nonetheless, still genuine. On the Run, their joint show currently enjoying its second run, features a background projection that reads  "THIS IS REAL LIFE." It highlights the very fine line that the Carters walk. They're able to seemingly maintain an authentic relationship while turning the public's incessant, intrusive interest in their love life into fortune. (The summer of Lemonade, Jay sneered on wax, "You know you made it when the fact your marriage made it is worth millions.") This may be real life, but if you really want a peek, it's gonna cost you.
By that token, Everything Is Love was inevitable. Once Jay rose to the challenge presented by Lemonade and addressed not only their marital affairs but the true interior of his own life with never-before-heard levels of vulnerability and candidness on 4:44, the opportunity to tie it all together in a tidy box set was too ripe to be ignored. The tour announcement back in March all but confirmed it. To paraphrase Hov, never underestimate the worth of a happy ending.
But Everything Is Love eschews retreading well-worn story beats. There will always be blanks to fill in—at one point on the album Jay describes the Dark Period by saying "we broke up," which lends credence to at least a few of those Page Six separation stories from 2014—but instead of assuming that attacking the narrative together would offer a different perspective, Jay and Bey smartly skip the exposition and instead bask bask in the picture-perfect denouement.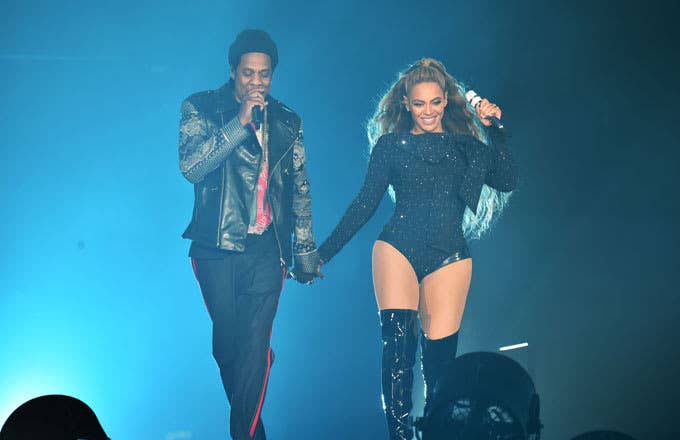 Basking is literally how we find The Carters on the balmy opener "SUMMER," a smooth table-setter that picks up where "All Night" left off; almost like a post-vow renewal spiritual sequel to BEYONCE's "Rocket." But the saccharine vibes mostly stop there. Love is interested in more than the harmony of its creators. Chief among them, Black Excellence.
Jay Stans and Beyhivers alike have always been dubious of a full collab project since the first fanfic forum was posted. The fear that the two would yield a bunch of schmaltzy tracks like "Young Forever" wasn't completely unfounded. After all, for every "Upgrade U," there is a "Hollywood." And, keeping in line with the belief that Bey whips up bangers featuring Hov, there was the fear that Beyoncé—undoubtedly in the midst of her imperial phase right now—would deliver, and Jay would fumble. Clearly, your concerns were heard and heeded.
Collaborators imply the album was being tweaked hours before its release and a bulk of it was only made three weeks ago. Any sense of cramming isn't evident in the final product, an embarrassment of sorts to Nas and Kanye, who delivered on similar timetables with mixed results. But, they're not Beyoncé. The Queen has a superhuman knack for coaxing elite contributions from all of her collaborators. Think Thandie Newton in Westworld coercing fellow robots to do her bidding, but with songwriters and producers. Pharrell delivers one of his hardest, least familiar beats in years with "Apeshit," where the Migos help craft verses that hit harder than all 35 songs on Culture II. Veteran hitmakers Cool & Dre somehow find a new gear in their 17th year, so much so that it landed them the most placements on the album. And her husband is no exception.
It's not recency bias to say that the technical skills Jay deploys here are arguably more impressive than 4:44. That album found Jay rapping better than he has in years, albeit in sonic territory that he helped popularize and already conquered. No I.D.'s beats were timeless gems, but the proficiency was familiar. Here, he's tackling Boi-1da, Vinylz and Nav(!) beats. The last time he borrowed a super contemporary flow (Future's "Karate Chop" on MCHG's "La Familia, RIP JAY Z) he lost control of the power steering. Here, he peels off with the patented Migos style and does 100mph on Mulholland with it. Love isn't just devoid of missteps, but blemishes all together—there isn't one bar, verse or line where Jigga stumbles.
Beyoncé is having the most fun though, maximizing the brash, dulcet no-fucks-given visage that got rave reviews on "Top Off," "Bow Down," "Formation" and "Diva." You wanted an album of Beyoncé in committed B mode, going full Third Ward Trill and snatching weaves with a Coke and smile? Here it is. From cooing "Fuck you" after giving Spotify half a bar, to harmonizing "If you don't know, now you know nigggaaaaa" it's hard to pick her best moment. And when she's rapping, she's arguably out-flowing her husband, the undisputed GOAT of this shit. Demo tracks may leak, but performance and delivery are just as key. Note the way the G5 on Migos demo became a G8 on the final product. Beysus collaborates, but she always has the final top edit.
The greatest sign that their relationship is doing well is evident in how well they work together. 
Musically, the album is full of culturally respectful nods to influences past and present. Offset and Quavo provide flavor, Chief Keef gets shouted out (again), Jay finally gets to rhyme like Common Sense; Mystikal's classic verse on "Make Em Say Uhh" is interpolated, so are Jeezy's equally classic bars from the "Dey Know" remix. Beyonce's "Still D.R.E." flip on "713" is doubly excellent upon remembering Jay wrote that song.
More important, though, is the continued maturation of their subject matter. In 2006, the two of them were all "fame is crazy! Amirite, Chris and Gwen?" Now, fame is an afterthought to B, and a boring, foregone conclusion to Jay. Instead, they pick up where Beyoncé left off with Beychella and Jay with "Story of O.J."  Songs like "Black Effect" explain that they see fame as simply another tool in their arsenal to help further their brand of Black Excellence and keep stories like the tragedies of Kalief Browder and Trayvon Martin in the forefront of public consciousness. "Boss" finds Jay-Z continuing to chide those who'd rather struggle in the long run just to be seen as his peer today—less diss, more disappointment, which sometimes cuts worse—while Beyoncé once again flexes the autonomy her hard work has afforded her and the generational wealth it's secured. The real disses are, tellingly, saved for the institutions—the NFL, the Grammys, Spotify, and the SEC all catch wince-worthy strays. And in a post Beyoncé-Bite Gate world, as their peers continue to wild out with no accountability in sight, it makes sense that they'd dedicate a song to their Day 1s who keep them tethered without the burden of an NDA...while rebuking anyone who can't reconcile that before any friendship their marriage will always come first.
But what about their union? The intro and outro address it most directly. "713," a nod to Bey's beloved H-Town, finds Jay using the most airtime he gets on the album to continue 4:44's emotional maturity with a touching ode to the nurturing resilience of black women, while also mythologizing his and Beyoncé's beginnings. But even that features an appreciable bit of subtlety and restraint—using a wingman to hedge bets on their first date was, as he admits, Jay's "first foolish mistake." We already know most of the others. And we don't need them to tell us that they've overcome them, because we can hear it. The greatest sign that their relationship is doing well is evident in how well they work together. Considering how this is among the best music they've produced, one could reasonably posit they're stronger than they were before. The chemistry is never more palpable than when they tag in and out, supplementing each other ("he good!") or how they beam proudly as the other shines. Jay goes to Swizz Beatz-levels of hype man after Bey obliterates her last verse on "Ape Shit", shouting "she went crazy!" Only to later one-up himself on "Heard About Us" with "Bitch know B, she don't even need a whole name" before running back to remind us that "it's Beyoncé, nigga." Oh my God, indeed.
A Beyoncé-Jay-Z album was just as inevitable as their joint tour. The fear was that it'd be a vanity project that fell short of validating itself. Instead, after years of rumors, what we got was the spiritual successor to Watch the Throne. That album was about equilibrium, with Jay the veteran GOAT and Kanye GOAT emergent being the only two people capable of processing, reckoning with, and stunting in rarefied air. No two other rappers could make "Otis," and no two other rappers could live their lines like "Niggas in Paris." On Everything Is Love, the City of Lights is revisited for a bigger and brasher sequel. On WTT Jay gushed of his wife, "Mona Lisa can't fade her." On Love, they pulled up on her to prove it. Who else, but The Carters, rebuilt and stronger than ever, could go half on renting the Louvre, brag about a $100 million house and mean it when they say their great-great grandchildren will be trust fund kids? Beyoncé encapsulates the awe best when she sings, "Can't believe we made it." A silver screen ride-off into the sunset to rival Clarence and Alabama's.