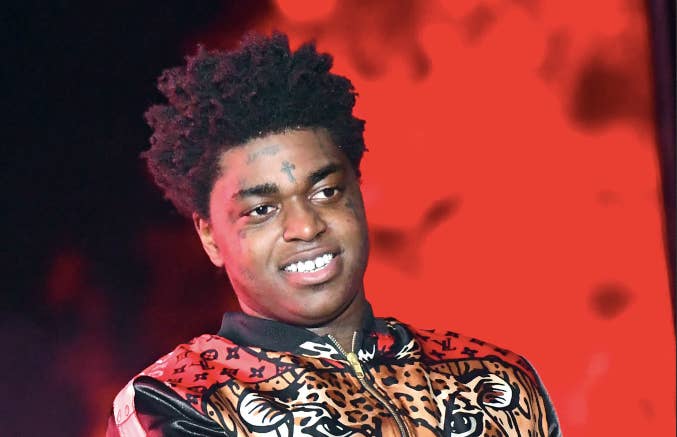 It seems like Kodak Black is using his time behind bars to be as productive as possible. 
On Monday, Black's lawyer, Bradford Cohen, took to Instagram after visiting his client in prison. In the post, Cohen claims that Kodak is in good spirits, and is using his time to work on projects and read. 
"Flew up for the day to Oklahoma to see @kodakblack he's doing well," Cohen wrote. "It was good to see him and he was in good spirits. He is working on new projects and reading. He wants to thank all of you for the support." 
Cohen's visit is the first time Kodak has been in contact with his lawyers in weeks. Last week, it was revealed that Black had been transferred from his home state of Florida to a federal prison in Oklahoma. His lawyers claim that authorities moved Black out of the state without informing his legal team or his family. They believe that this was done because Black has made legal filings regarding the alleged mistreatment he's experienced in Florida.
"Right before I was going to meet with him, he was put on a bus to Kentucky. Was he intentionally moved so he couldn't meet with his attorney?" one of the rapper's attorneys, Benjamin Crump, tweeted at the time.
His mother, Marcelene Simmons, held a press conference recently, to address her son's transfer. Simmons told the media that she fears for her son's safety. 
"My son is my heart," Simmons said per the Daily News. "I want to make sure my son [is] OK. I want to make sure they don't kill my son. If they kill my son, if my son dies, I'm gonna kill myself, too." 
In December, Black went public about the conditions he was subjected to in prison via an Instagram post.
"On October 29th I was laced with an unknown substance here in Miami, FDC. That substance gave me an out of body experience and had me feeling like I was possessed and dying slowly. Upon this experience i managed to go to the CO's office to seek medical
Attention (As shown on surveillance cameras). I was denied ! This left me in a state of paranoia," Kodak wrote. "I was beaten so brutally that I had to be taken to the Box in a wheelchair. I have been here for 45 days without commissary, hygiene stressed out and on psych meds. Having to mourn the loss of my brother Juice World behind the doors."
Although the rapper was sent to Oklahoma without any notice, Cohen said that this facility is treating Kodak well. 
"The FDC Oklahoma counselors and managers went out of their way to accommodate a visit on an off day and with short notice," Cohen wrote. "We will address the issues in FDC Miami in good time."