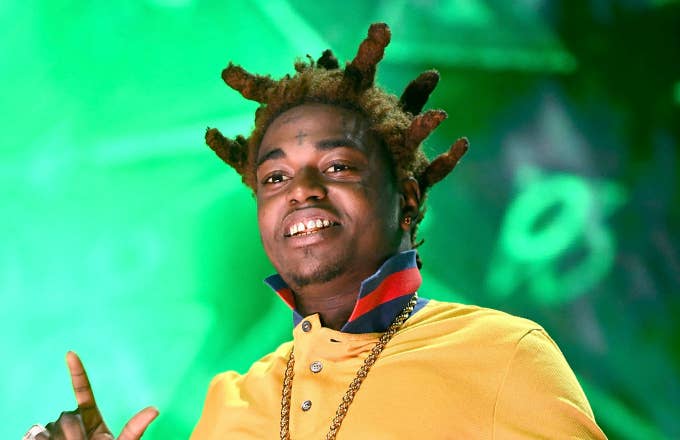 Kodak Black entered a not guilty plea for federal and state weapons charges, ABC News reports. 
The rapper was arrested last weekend during the Rolling Loud festival in Miami. To coincide with Kodak's plea on Wednesday, U.S. Magistrate Judge Edwin Torres has allowed the rapper to be released on a $500,000 bond, on the condition that he submits to house arrest for the duration of the trial. Although a bond has been issued, Kodak was out on bail for sexual assault charges filed against him in South Carolina at the time of his recent arrest. As a result, his South Carolina bond will likely be revoked leading to the rapper staying in Florida custody.
According to prosecutors, the potential of his bail being revoked speaks to Black's extensive criminal record. Assistant U.S. Attorney Bruce Brown explained that Kodak is a repeat offender who incites violence, despite being a successful recording artist. 
"Wherever he goes, your honor, there's going to be guns, drugs, and shootings," Brown explained to Torres before mentioning that his income makes him a flight risk. 
For the case in question, the indictment claims that Black falsified federal forms to purchase weapons at Lou's Police Distributors in Hialeah, Florida on two different occasions. The purchased firearms were a 9mm handgun, .380-caliber handgun, or the semi-automatic Mini Draco; Brown said one of those weapons was left at the scene of a recent shooting in Pompano Beach, Florida, according to the Sun Sentinel.
In response to the bond and threat of fleeing, Kodak's lawyer, Bradford Cohen, said Black will use his $600,000 house in Florida as collateral for his weapons charges. Cohen also explained that the behavior Kodak exhibited upon arrest negates the prosecution's claims that he will jump bail. 
"He showed up. He went into custody," Cohen said. "There was no problem."
In addition to his sexual assault case and weapons charges, Kodak was recently arrested in New York for allegedly crossing the US/Canada border with drugs and firearms. Like the aforementioned cases, he is still awaiting trial for thosecharges. Kodak faces up to 10 years in prison if convicted of his Florida charges. 
Kodak's recent arrests were deemed a violation of his bond conditions that stemmed from his sexual assault case in South Carolina. On Wednesday, 12th Circuit Solicitor Ed Clements filed a motion that revoked the rapper's bond in connection to the 2016 charges. According to WPDE, Clements said they will place a detainer hold on Kodak once he's released from jail in Florida.