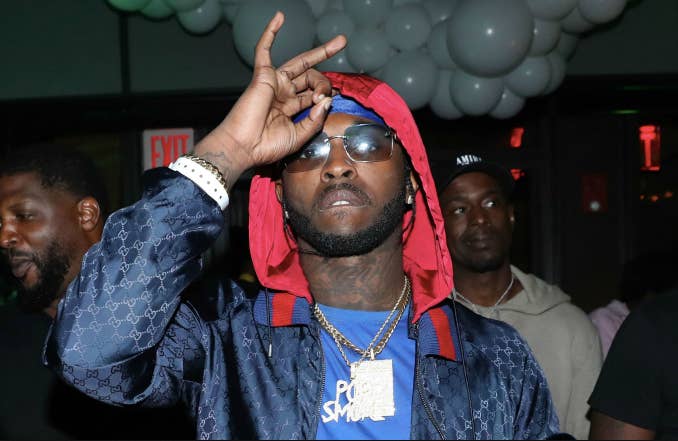 Pop Smoke appears to be taking aim at Casanova and some other Brooklyn rappers.
On Sunday, the rapper took to Instagram where he posted a snippet of a song, and took aim at fellow Brooklyn rappers Casanova and Smoove L, referring to the artists as "Trashanova" and "Scary L" in the clip's caption.
"YALL OLD NIGGAS BETTER PACK IT UP," Pop Smoke captioned the video. "THIS AINT NO TRASHANOVA SHIT NO SCARY L SHIT YALL KNOW THE WOOS RUN THE CITY YALL NIGGAS COULD NEVER BE ME." 
It appears Meek Mill had something to say about the apparent beef as well. 
In the snippet, Pop Smoke seems to be responding to Casanova's latest single, "Demons & Devils," which features Fivio Foreign and Smoove L. In the song's intro, Casanova says "They know we not playing, man. They know we outside for real, for real. We ain't taking no shorts..." Smoove L goes on to rap lines that could be aimed at Smoke.
"Shouldn't let 'em put a battery in your back/Because that'll get you clapped... I put the BKNY on my back," Smoove raps on the song's last verse.
In Smoke's snippet, he raps: "She love how I talk/She know that papi outside and she know I'm the king of New York... Niggas saying they outside/Send an addy we gonna slide/air out when we arrive." He followed this up by tweeting out his self-proclaimed title.
Smoove L and Pop Smoke's apparent issue could be rooted in Smoke's appearance on Travis Scott's JACKBOYS collaborative album. Smoke raps on the track, "Gatti," and the song's instrumental is very similar to the beat Smoove raps on the track, "New Apollos."
"I see what a lot of y'all niggas is doing," Smoke said on his Instagram Story after reposting several people listening to "Gatti." "You think I don't see it but I see y'all sucka niggas. Stop sucking dick and keep my fucking name out your mouth."
Complex has reached out to a rep for Pop Smoke for comment.