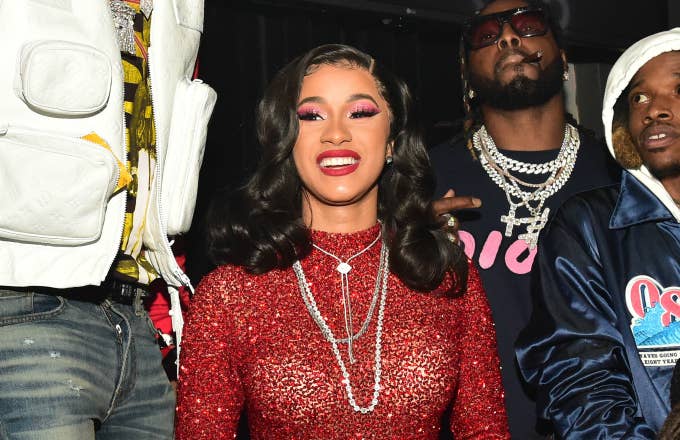 Cardi B seems to have returned to the energy that made her famous as the rapper took to social media with posts that not only reaffirmed her street ties but also addressed one of hip-hop's biggest double standards. 
On Sunday, the rapper hosted an Instagram live session where she addressed those that shame her for her upbringing. "Let me tell you something," Cardi said. "I am a rapper. I am a bitch that came from the streets that came to the industry. I wasn't a Disney channel star. I wasn't a nun. I wasn't a saint."
She then took this energy to Twitter with posts dissecting hip-hop's sexism when it comes to upholding a sense of respectability for its female artists.
"I never claim to be a angel I always been a street bitch," Cardi proclaimed. "Ya be glorifying this street rappers that talk and do that grimmey street shit but they can't stand a street bitch!"
It is unclear what sparked Cardi's comments. However, it appears her new-found super-stardom might have brought unwanted pressure from people trolling her comments. This is assumed because Cardi took the time to mention people "harassing" her while also alluding to her unprecedented rise to fame.
Although this social media scolding ended with Cardi claiming that she'll be off Twitter for a "few days," the biggest and most exciting news to come out of it is that Bardi is planning on writing a book. Before closing ending her Instagram Live, she revealed she will tell her own Bronx tales in hopes to dictate a narrative that is being skewed by the media.
"Y'all don't gotta worry about it, y'all don't gotta tell my story," Cardi said. "Want to know why y'all don't gotta tell my story? Because I'm going to write a book about my life."