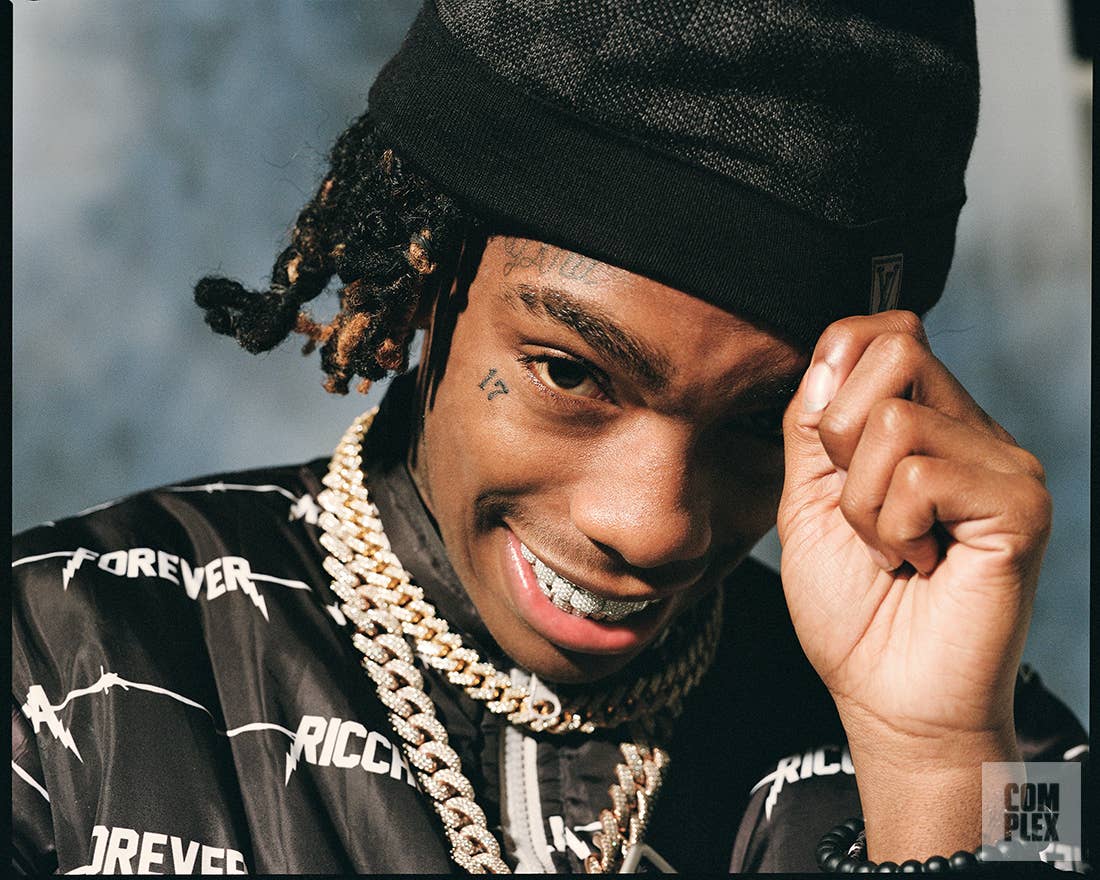 YNW Melly can't sit still. 
Shaking out restless energy before the opening night of his very first headlining tour, he makes his way through a crowded room of photographers backstage at S.O.B.'s in Manhattan. "I've got diamonds in my mouth and 30 bands in my pocket," he announces with an exaggerated smile, proudly revealing a new grill. "I had to come through icy." 
As showtime nears, Melly flips on his game face and disappears to a side room for shots of Hennessy. The room erupts in howls, and a friend notices the sudden arrival of Melly's second personality. 
"Oh, shit, Melvin's here!"  
Everyone laughs. Melvin laughs the hardest. 
Two days later, YNW Melly, born Jamell Maurice Demons, turns himself in to Florida law enforcement, charged with two counts of premeditated first-degree murder. Local police claim they have forensic evidence that suggests Melly and rapper YNW Bortlen staged the crime scene to resemble a drive-by shooting, covering up the murder of their close friends YNW Sakchaser and YNW Juvy.
"A couple months ago I lost my two brothers by violence and now the system want to find justice," Demons wrote on Instagram moments before the news broke, posting a photo of himself with Juvy, Sakchaser, and Bortlen. "Unfortunately a lot of rumors and lies are being said but no worries god is with me and my brother YNW Bortlen." He finishes the note by telling fans, "We want y'all to remember it's a YNW family I love you YNW Sakchaser and YNW Juvy #freeus."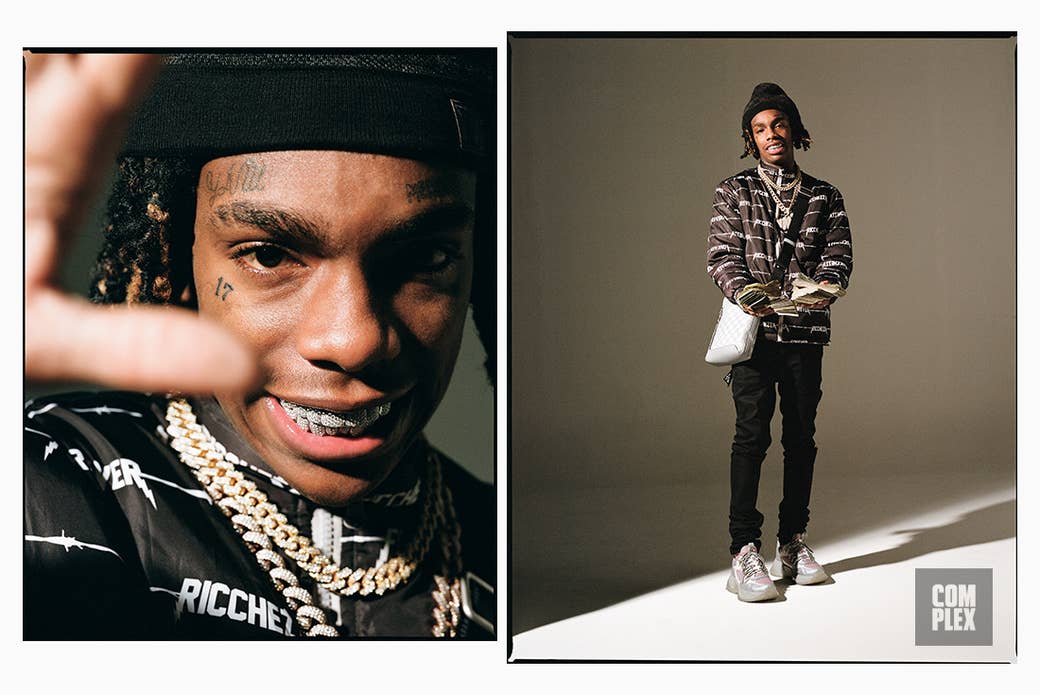 Prior to the murder charges, the 19-year-old Florida artist had established himself as one of rap's most successful newcomers. His gold single "Murder on My Mind" cracked the Billboard Hot 100 for the first time in early February, two weeks after a Kanye West-assisted music video for "Mixed Personalities" peaked at No. 2 on YouTube's trending chart. 
Critics and fans have flocked to Melly in recent months, praising his ability to weave brutally honest depictions of street life and incarceration into his music. Capturing the painful realities of a difficult upbringing in South Florida, Melly's melodic, soulful songs mark a shift from the blown-out sounds popularized by many of the region's rappers who immediately preceded him. During shows, Melly asks for his backing track to be turned all the way down so the audience can hear every nuance of his live vocals. "Fuck Usher," he shouts during a stripped-down performance of "Murder on My Mind" at S.O.B.'s. "I'm the king of R&B!" 
Melly spent his childhood studying pop artists like Adele and Ed Sheeran, who he says taught him "how to make music that touches the soul." He contrasts his style with the music of other young rappers like Lil Pump, explaining, "I need something that touches the soul. It ain't about the views and all that; it's about the soul. If that bitch touch anybody soul, you got them. It could be a billionaire listening, but if you made that song out of your soul, it's gonna grip ears. It's gonna be stuck. It hits your soul before it hits your ears."
Melly makes it clear his ambitions extend beyond rap. "I made a country chorus for Miley Cyrus and Noah Cyrus," he reveals. "I can be in any category. I'm finna do a country song." Convinced his music will bring him "at least 400 million" dollars within the next decade, Melly says he has already plotted the next year of his career, and he's sitting on over 300 unreleased songs—some of which include guest appearances from the biggest names in music.
"Melly is a joker. He's just the one that everybody loves, and he loves everybody. Melvin is the one that protect Melly from the wrong people."
At Complex's New York City office a week before his arrest, Melly carries himself with a childlike manner. While he waits for his publicist to sign paperwork, a grin takes over his face as he slinks away from his managers. A few minutes later, I find him prowling through a nearby kitchen. Every door of every cabinet is swung wide open, and he has helped himself to a heaping bowl of Rice Krispies, only to discover the office is out of sugar. Refusing to eat unsweetened cereal, Melly gives up on his side mission and heads back to the photo studio—but not before ribbing staff members about the unacceptable pantry. "I'm never coming back to Complex after this," he jokes. Moments later, discussing what he's most excited for on his first tour, Melly gives everyone in the room a wide-eyed look and says, "Boobs!" 
His playful side is what initially drew the attention of Kanye West. "He was turned up to my music, and he was happy," Melly emphasizes, describing the "Mixed Personalities" recording sessions. "Even his friends said, 'I ain't seen Kanye that happy in a long time.' You know how a motherfucker be so happy that you think, 'Damn, that n***a must always be like that?' He's just always so happy when he sees me."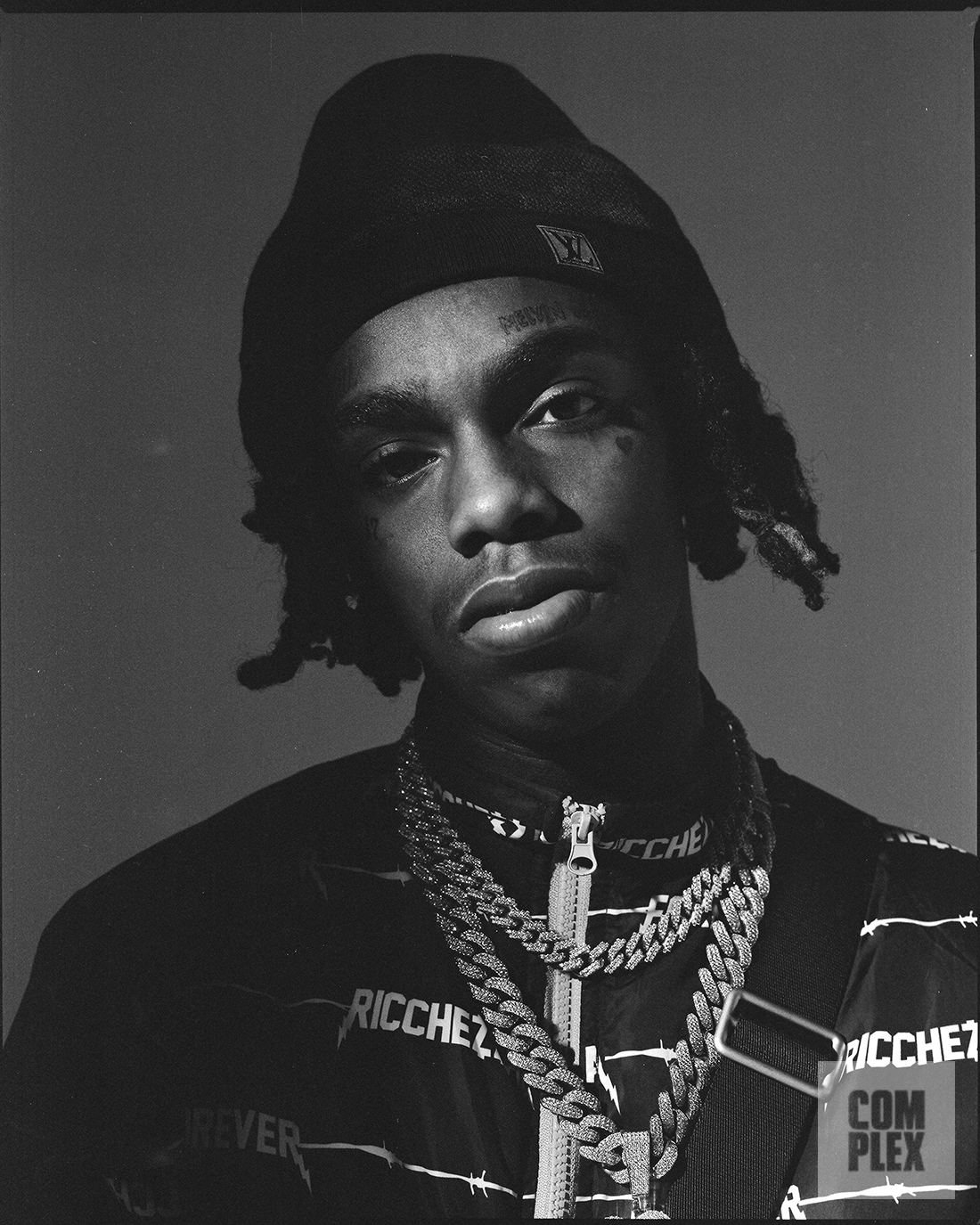 Melly's in-person demeanor comes as a striking contrast to the violent imagery that defines his music. As he alludes to on his song with Kanye, Demons' personality is split into very different sides. More specifically, he has what he calls "mixed personalities." Demons possesses six different personalities in total, he says, but he's waiting to reveal them all. For now, the world has been introduced to Melly and his alter ego, Melvin.
"Melvin's not an alter ego; it's a person," he clarifies, looking me dead in the eyes. "I got mixed personalities. It's another person." Days later, during an interview with Bootleg Kev and DJ Hed on Real 92.3, Melly will reveal that he has been diagnosed with bipolar disorder and attention-deficit/hyperactivity disorder (ADHD).
Pointing out the difference between his two personalities, he tells me, "Melly is a joker. He's just the one that everybody loves, and he loves everybody." After a long pause, he makes it clear: "Melvin is the one that protect Melly from the wrong people."  
Demons emphasizes that "Melly is the rapper," but he says Melvin recently started collaborating on music, too. "Melly and Melvin, they made a mixtape," he reveals. "Well, an album, actually. It's going to be released, but I feel like I might make the world wait. I'll probably wait till next year to put that out."
Both of the evenings I spend with Demons appear to be evenings spent with Melly. Fatigued from travel and long press days, he remains upbeat, and a smile rarely leaves his face. But his other side, Melvin, seems to reflect Demons' difficult upbringing. Raised by a single mother in the small town of Gifford, Florida, about two and a half hours north of Miami, Melly remembers being a quiet kid who wasn't concerned with following trends.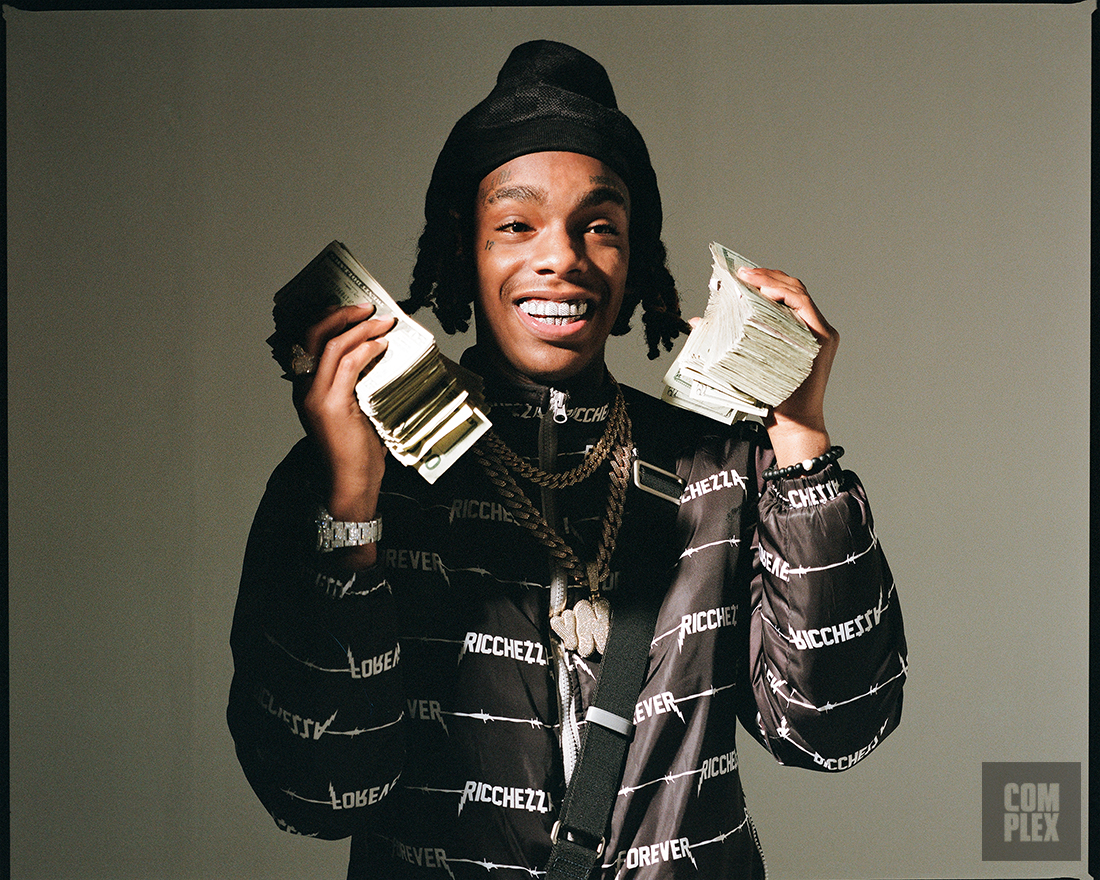 "I always had my own style," he says, although a lack of money forced him to be creative with his wardrobe. "I had to make stuff work. In middle school, I only had three outfits for, like, six months. I had to switch them bitches up, though, so I had something for a whole week of school." 
Melly's unique personal style attracted praise later in life, but when he was a child, it drew ridicule from peers. He remembers keeping to himself in elementary school. In the fourth grade, he found a gun at his uncle's house and immediately became enamored of it. "It was cool," he recalls. "It was metal and shit. I like it; I can see my face in it." He says he became "addicted" to the gun and took it with him everywhere.
"I ain't really have too much friends," he remembers. "When I went outside, I just be doing shit—just me and my gun."
In October 2015, Demons fired a semi-automatic weapon at a group of teenagers near Vero Beach High School. The reason for the shooting was never publicly disclosed, but Demons was charged with three counts of aggravated assault with a deadly weapon and one count of discharging a firearm in public.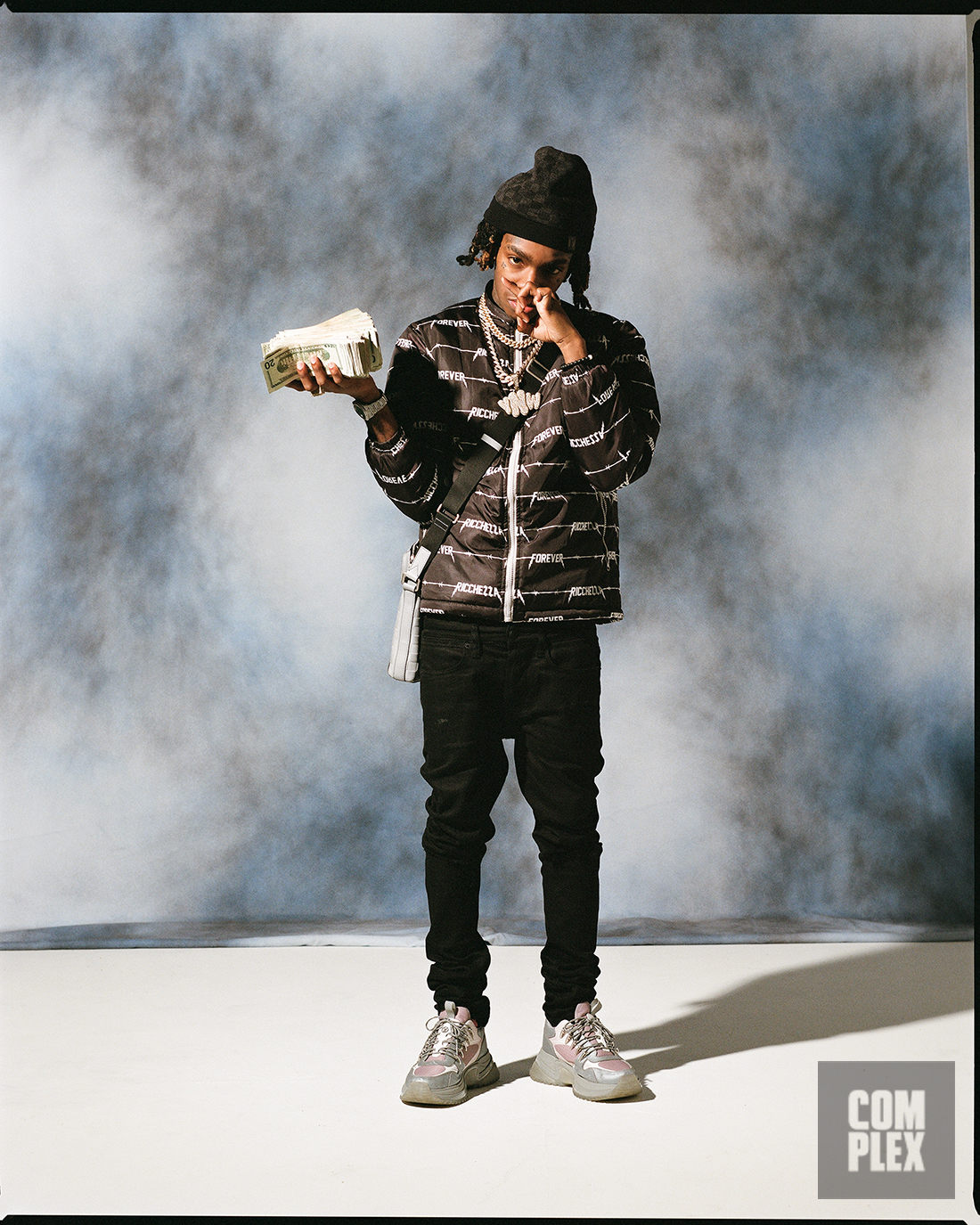 Serving a one-year jail sentence, he woke up one morning with the lyrics to "Murder on My Mind" running through his head. Melly beat his fist against his chest to tap out a beat as he sang, and wrote the full song in his cell. "I just remembered it in jail," he says. "I remembered it, kept going over it in my head. I sang it every day." As the months passed, "Murder on My Mind" became a minor hit among his cellmates—some even gave him Rice Krispy Treats in exchange for live performances of the song. "That's how I knew, damn, if I can make a motherfucker love this song, and love me for making this song from scratch, without no beat… Damn."
Melly finally recorded "Murder on My Mind" and uploaded it to SoundCloud and YouTube shortly after returning home from jail in March 2017. The song's violent subject matter was noticed by a state attorney, who read the second verse aloud in court, in an attempt to prove the rapper had violated probation. In and out of jail over the next two years for "little shit" like marijuana possession, Melly stayed focused on music, writing hundreds of songs behind bars and preparing for all aspects of his career. "When I was locked up in my cell recently, I was exercising my legs, so I'm gonna be more jumpy," he says, explaining that he put himself through a workout regimen to prepare for tour.
Upset with what he calls unfair and racist treatment from local police in his hometown, Melly relocated to Miami in early 2018, but the violence followed: On October 26, 2018, YNW Sakchaser and YNW Juvy were shot near a waste management plant on a quiet road in Miramar, Florida. According to local news reports, YNW Bortlen drove Sakchaser and Juvy to Memorial Hospital Miramar before sunrise, where doctors declared them dead. The incident was believed to be a drive-by shooting. Police say Melly was not present that morning.
"I ain't really have too much friends. When I went outside, I just be doing shit—just me and my gun."
A day after the shooting, Melly uploaded a photo of himself next to Sakchaser and Juvy on Instagram. "They took my brothers from me over jealousy. I know y'all watching over me," the caption reads. "They wanna see me break down and stop or in jail or a box but my niggas still need me, they parents need me, they family need me. Till we meet again my twins my slimes."
Melly, Sakchaser, and Juvy were close. Representing themselves publicly as "YNW," which stands for Young N***a World, the three of them had been friends since childhood. Before their deaths, Melly tattooed each of their names on his face and immortalized them in his songs. "I'm with Sak and Juvy, so you gotta bring about three friends," he sings on the 2018 single "Butter Pecan." A vlog uploaded to Melly's YouTube page shows him playfully wrestling with his two friends on the night the song was recorded. Speaking on their relationship in a self-released documentary, Melly says, "We ain't never had no fear. You can't hang around us if you got fear. Because we know what we doing, you know what I'm saying? And that's why we so tight."
The sentiment was mutual. The final photo that Sakchaser posted to his Instagram page, five days before his death, is an image of Melly. The caption reads, "Extra super proud of you."
The three friends attended school at St. Peter's Academy in Vero Beach and later moved to Miami, where they lived together until the time of the shooting. Spending most of their time with one another in recent years, Sakchaser and Melly made countless songs with each other, the majority of which remain unreleased.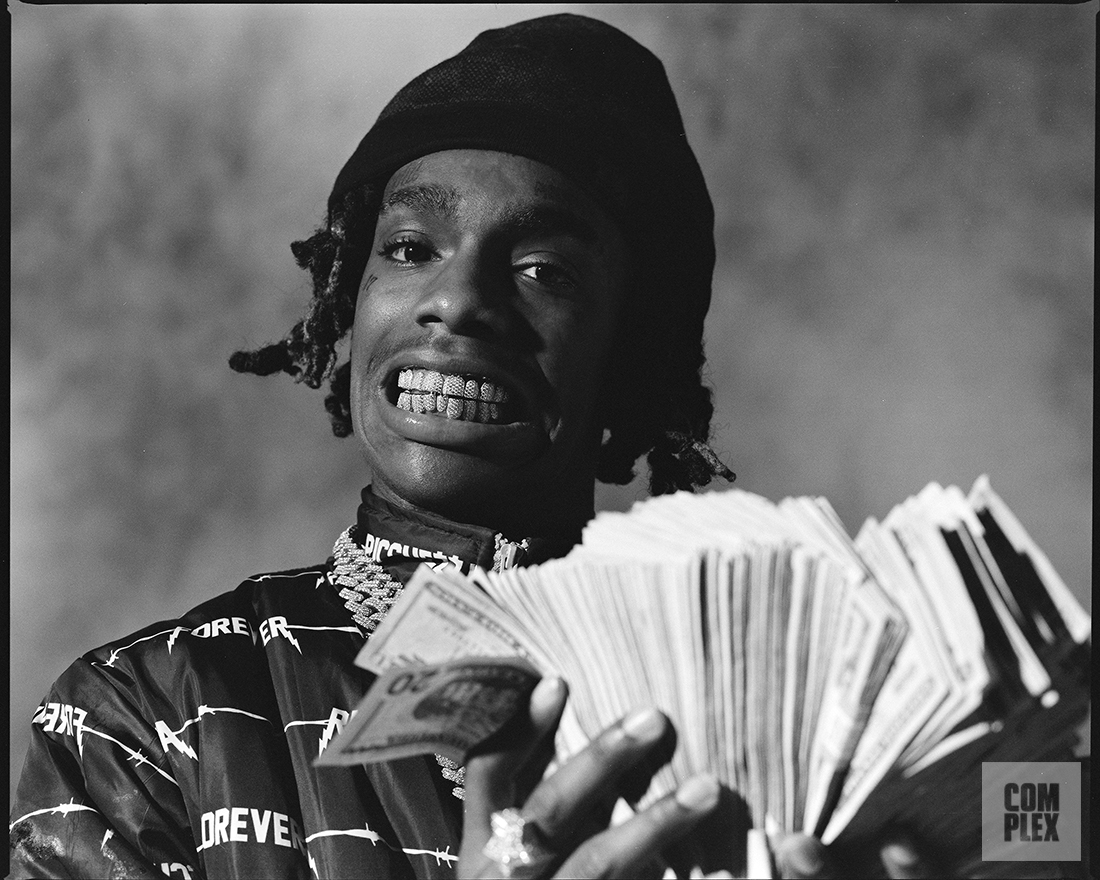 "They grew up together and they were like brothers," a close friend of the three, who asked to remain anonymous, tells Complex. "Melly is a very humble and caring guy, and I don't think he would ever do that to people he called his brothers." Pausing for a moment, the friend adds, "On the other side, Melvin be gettin' into Melly... but I don't think it was him."
Much of Melly's appeal comes from the fact that his songs often mirror events from his life. So when the news of the double murder charges hit, fans at home start reading into the lyrics of "Murder on My Mind," as well as the haunting sequel, "Mind on My Murder." In the days following the news of Melly's arrest, the extra attention pushes "Murder on My Mind" to the top of Apple Music's songs chart, and the song rises 59 places on the Billboard Hot 100 to reach No. 14.  
Some fans have interpreted the lyrics of "Murder on My Mind" as a confessional, but it was recorded nearly two years before the shooting of Sakchaser and Juvy. The confusion is understandable, considering just how blurry the line between reality and art is for Demons. Two days after his first court hearing for the double-murder case, an emotional video for "Mama Cry" is uploaded to his YouTube channel. The Kajal Patel-directed clip features scenes of Melly dressed in an orange prison jumpsuit as his mother tearfully reacts to her son's incarceration. On the evening of the video's release, his mother, Jamie King, writes on Instagram, "'Mama Cry' out now, but this is not a video or a movie. I'm crying real tears. Free my son."
Days later, on February 21, local Florida news outlets report that Melly and Bortlen are also suspects in the 2017 death of Indian River County Sheriff's deputy Gary Chambliss.
"It's just sad because we all grew up together," Melly, Sakchaser, and Juvy's childhood friend says, reflecting on the news of the past two weeks. "I'm just as lost as y'all, but if this shit really did go down the way people are saying, then I don't even know what to think, because those were his best friends." 
On February 11, YNW Melly stands backstage at S.O.B.'s after a successful first night of tour, as a line of photographers compete to capture the moment. Pulling a bright green leather jacket over his shoulders, he turns toward a full-length mirror and proudly tells me the garment is just like something his hero Michael Jackson would have worn. Pleased with his own reflection, he loses track of the surrounding commotion and gives himself a long look. Flashbulbs illuminate the room as he holds his stare. 
"It's time to go!" his manager shouts, attempting to break him from his gaze. Without saying a word, Melly finally steps toward the exit and heads to the second stop of his tour in Washington, D.C.
The show never takes place.
Jamell Maurice Demons is currently awaiting trial without bond at Broward County jail in Fort Lauderdale.