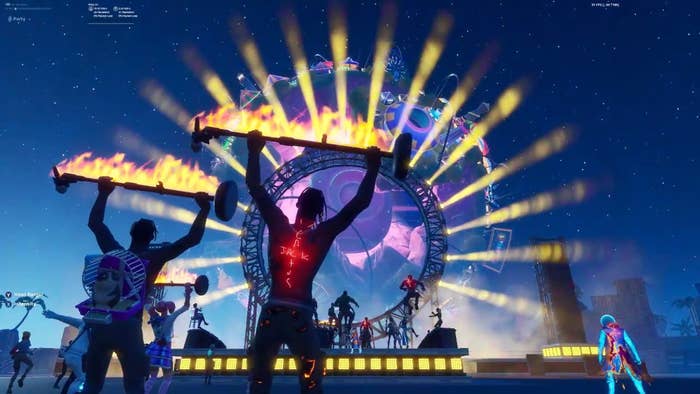 We've all been in coronavirus lockdown for over a month, and everyone's bored. How else can you explain a full day of people debating whether or not French Montana has more hits than Kendrick Lamar?
In the early days of quarantine, some Instagram Live performances were interesting, but after watching dozens of them (and struggling through technical difficulties in each), most of us were ready for something new.
Then, on Monday, Epic Games made the announcement that they would be hosting a series of in-game Fortnite concerts with Travis Scott. The pairing made sense. Travis has spent years perfecting the most over-the-top live performances in rap, and the logistics of a video game would let him indulge in the kind of theatrics and special effects that wouldn't be possible in a basic Instagram Live stream. If it worked for Marshmello a year ago, it could work for Travis, right? As a bonus, Epic Games also dangled a carrot over everyone by promising that Travis Scott would debut a new song during the performance.
I hadn't been to a real concert for over two months, and I definitely didn't have anything better to do tonight, so I downloaded Fortnite on my Nintendo Switch and attended my first video game concert. Here's how my night went.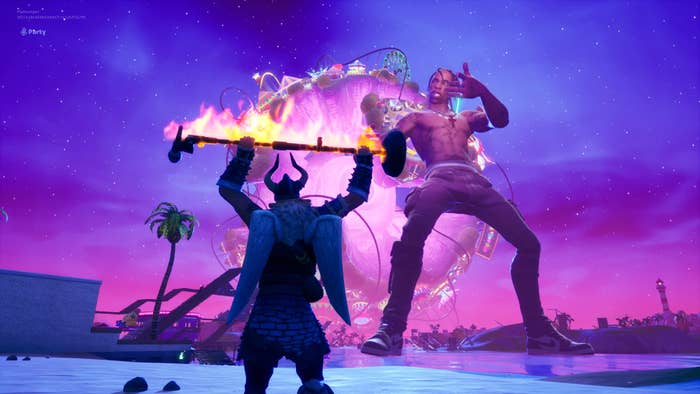 At around 6:30 p.m., I show up to the show 30 minutes early, which I realize is more than a little embarrassing. After cycling through loading screens, I drop into the middle of the map and fly to something called Sweaty Sands, where a stage has been constructed over a body of water.
As I wander around the edge of the shore, killing time, I notice similarities to a real Travis Scott concert experience. Finding a spot close to the stage, I turn to my left and find out I'm sitting next to a teenage boy named "Yo Bro Micah." I can tell he's a teenage boy because of the high-pitched voice coming through his headset. We stand there for a while, awkwardly looking at each other. Then he tells me to go fuck myself and shoots me in the head with a shotgun.
Great start.
When I respawn, I walk along the beach and come across a group of players who are all wearing custom Travis Scott skins. They're working together to build some kind of structure to get a better viewing angle of the show. Looks like I've found the Travis stans. 
I tilt my head up and see a large countdown timer over the stage. It's less than two minutes until showtime, so I swim to the front of the arena. Somewhere in the distance, I hear Micah complain about getting killed by someone right as the show is about to start. Justice. Fuck Micah.
As I climb onto the stage, an in-game setting changes, and everyone's weapons disappear. Now, we've been given the ability to raise flaming microphone stands over our heads, recreating Travis' most memorable (and most meme'd) concert moment.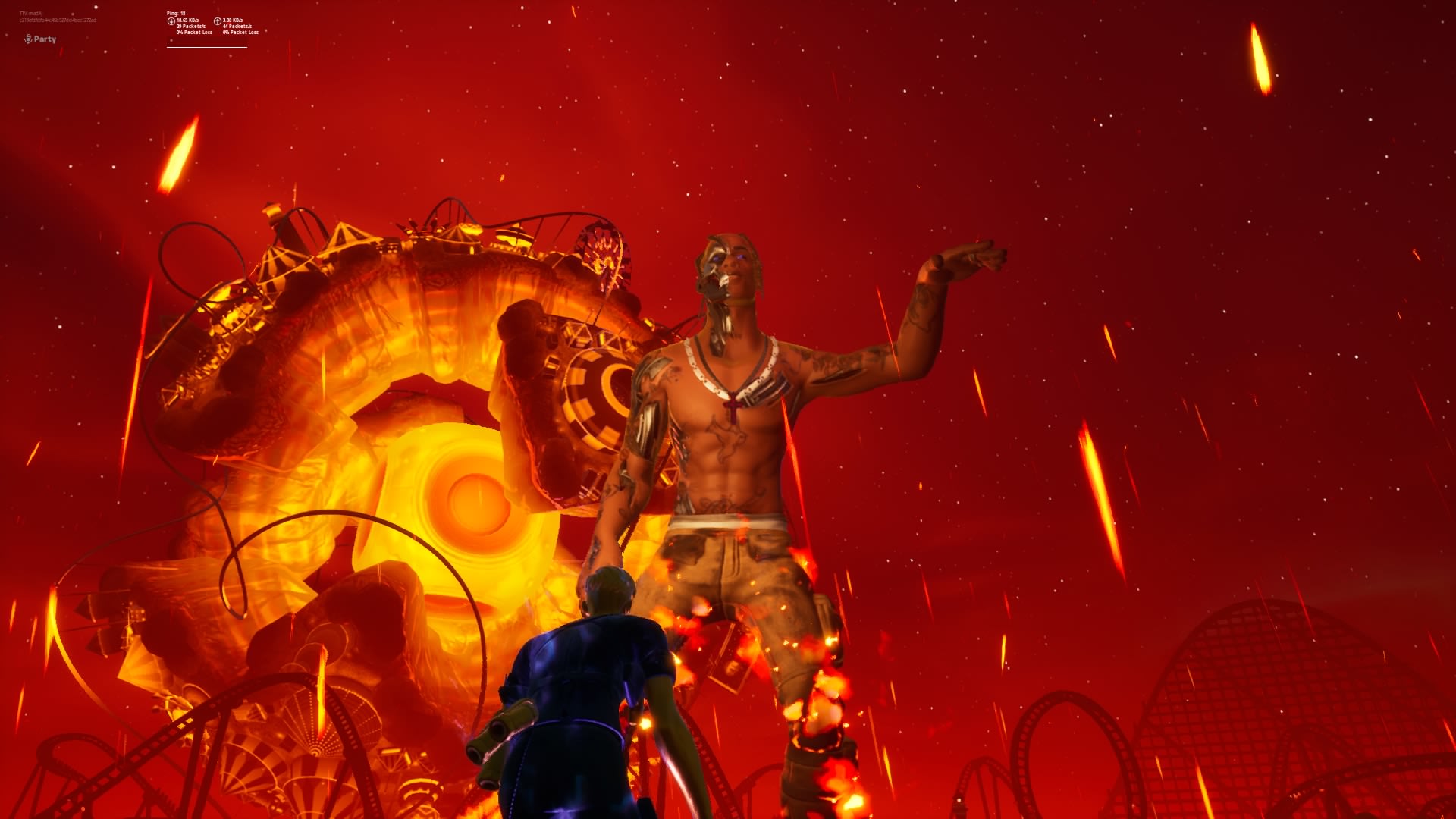 Then something starts to happen. The clock vanishes and the roller coaster loop at the edge of the stage beguns changing colors and pulsating, like it's the Eye of Sauron or some shit. Travis Scott is nowhere in sight, but the synths from "Highest in the Room" are blaring over the speakers. Something is coming. Micah is into it. He can't stop headbanging. Then the song transitions, and Drake's voice booms over the Fortnite islands. "Sicko Mode" is playing. Millions of teenage gamers rejoice.
There's an explosion. Something hit the stage. It looked like an asteroid or something. No, it's Travis Scott. A giant, King Kong-sized Travis Scott. We're all hurled back hundreds of feet into the air, far away from the stage. Travis' massive avatar is stomping around the island, rapping and dancing along to "Sicko Mode." At the end of his verse, he stops and summons the electric energy of the universe in his palms, before smashing it together, rocketing us all into the air again. 
The sky is blood red. The stars are blurring. Travis starts rapping a verse from "Stargazing." Everything gets dark. Travis turns into some fucked-up version of the Terminator, with electronic sprockets falling out of his face. This is already weirder (and better) than I expected.
The lights cut out. As Travis performs "Goosebumps," everything turns black, except for wispy strands of colorful light that take the shape of Travis Scott's body. Energy fields orbit around him. I don't remember taking acid tonight, but it kinda feels like it. This is cool.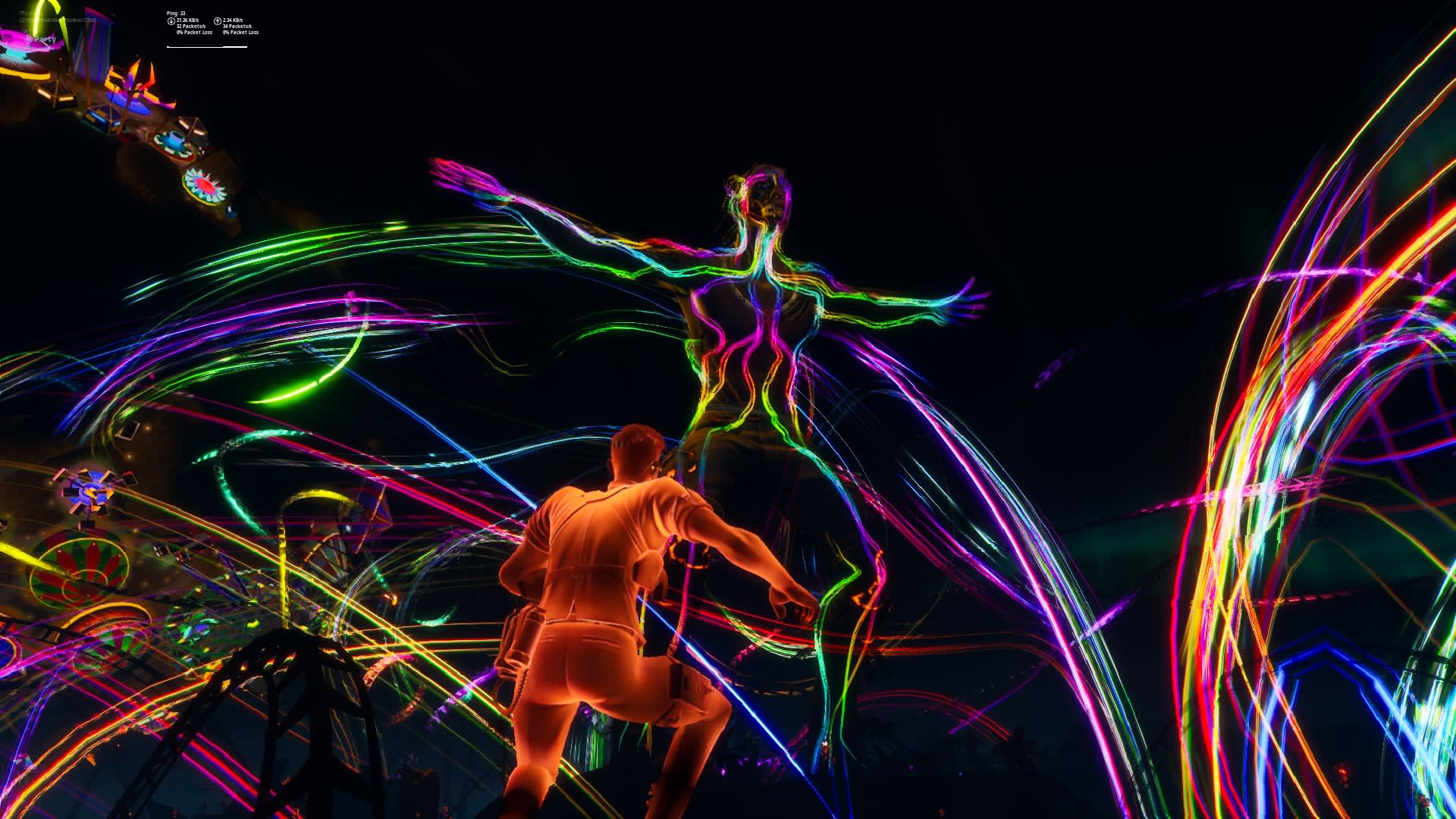 As I'm settling into my trip, the floor falls out from under me, and I'm submerged in water. "Highest in the Room" is reverberating through the ocean, and I watch a giant jellyfish suck the soul out of Travis, who is now wearing a helmet that covers his face. I look around. Everyone else is gone. I'm alone. Where the hell is Micah? As I'm taking in my surroundings, I get blown into outer space. Drake's voice is back, reminding us all about that "half a Xan" he took that one time. 
"Sicko Mode" ends, and we're all flying through space again. A new song starts. I don't recognize it. It must be the new one. Travis makes his way through a previously unheard verse, then another voice comes in. Kid Cudi! I try paying close attention to the music, but a giant orb in front of me is exploding and making weird sounds. This is fun, though. I've never experienced a new song quite like this before. Is this the new release party? Travis yells, "Let's go!" and the orb explodes. Synths play. An eagle screams. I'm hurtling towards a bright white light. Someone says "It's lit!" faintly in the background. The universe falls away into nothing.
Are we dead? I'm on the ground again. Micah's back. There's no more music. The stage is gone.
Micah shoots me in the face.
The show's over, 10 minutes after it started.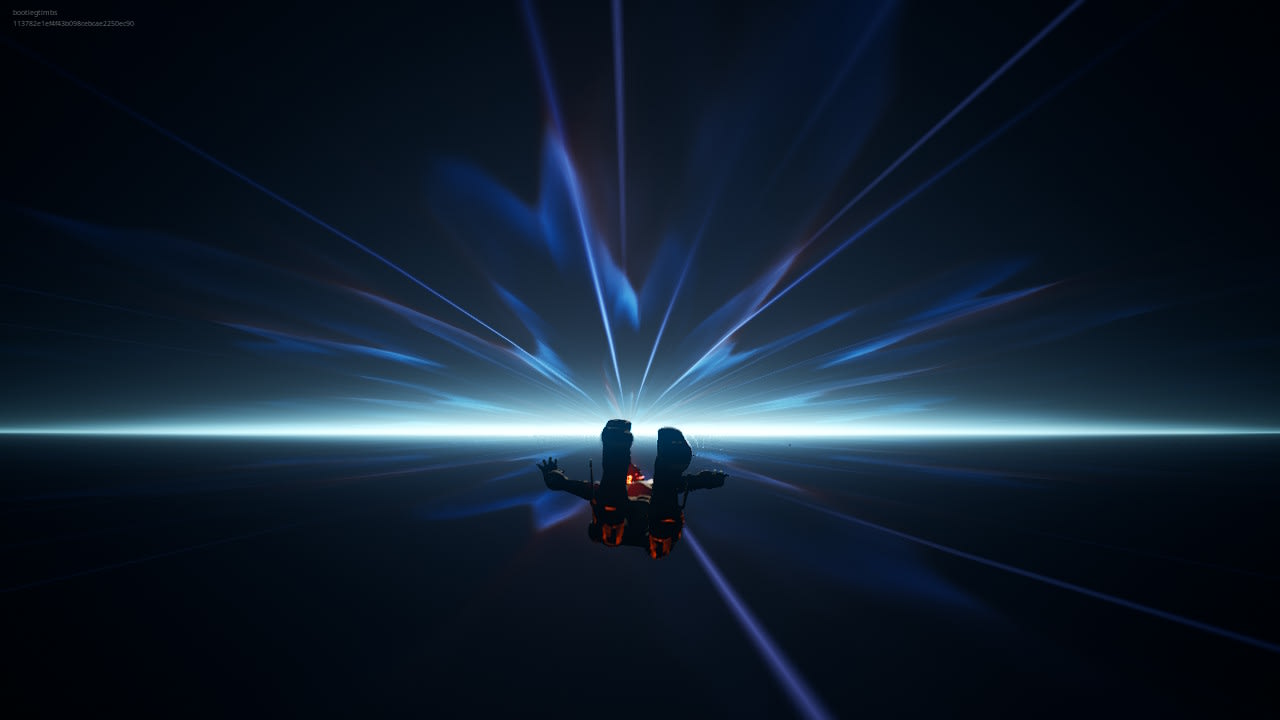 Honestly, this whole thing was a lot better than I expected it to be. I had seen clips of the Marshmello show, which took place at a stage that more faithfully replicated an actual festival setting. But this was much more surreal. It was more trippy. Travis and Epic Games took advantage of the endless creative possibilities of the video game format, disregarded the rules of physics, and made something unique.
Travis Scott definitely wasn't performing any of this shit live, which he hinted at in a pre-show interview, but that didn't really matter. This was the coolest interactive music video I've ever seen. Of course, nothing will ever replace the real feeling of a live concert experience, but we're in a time when in-person concerts aren't a possibility. So something like this is a better alternative than anything else I've seen during the pandemic.
This was much more fun than an Instagram Live stream. 
Wisely, Travis Scott and Epic Games didn't try to replicate the feeling of being at an actual concert. They knew there was no way they could replace the real thing. Instead, by diving into something much more surreal, they created a new kind of experience that might be able to actually complement the real thing in the future (whenever we're allowed outside again and concerts are back).
I tapped in tonight because I'm stuck inside with nothing better to do, but I'm surprised with how much fun this was. I could see myself going to one of these again when all of this is over.