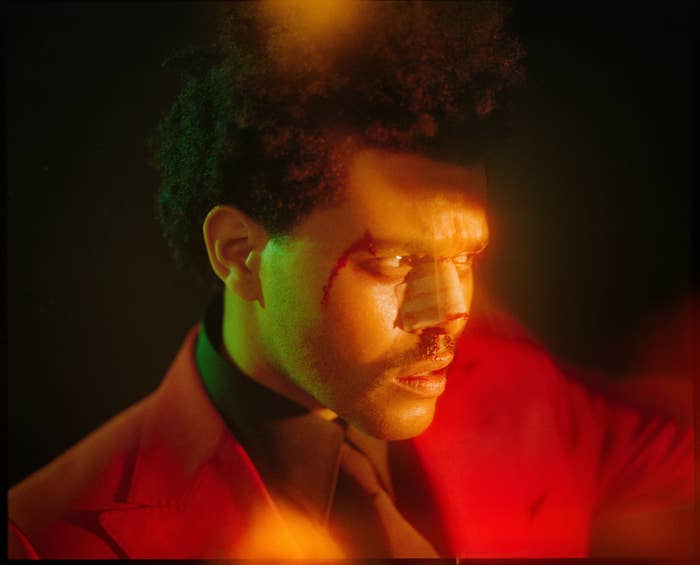 It's finally time to see what that the Weeknd's mysterious, crimson suit-wearing, bloodied character has been up to. After months of late-night TV appearances, single releases, and other promo, his fourth studio album, After Hours, has arrived.
The 14-song project finds Abel Tesfaye alone, with no guest features. Limiting outside distractions, he invites us deeper into the world he's been building for the past decade. And, much like the reality we currently find ourselves in, it's a dark and somewhat paranoid universe. In what shouldn't come as a big surprise to longtime Weeknd fans, this is full of debauchery and drugs, but there are also hints at an increasingly self-reflective and mature Abel.
Let's get into it. Quarantined inside our New York City apartments, the Complex Music staff had plenty of time to run this thing back a few times since it dropped at midnight. After some initial spins (and a few frenzied Slack messages), we've put together a list of our early takeaways. Here are our first impressions of the Weeknd's new album, After Hours.
Flow!
This is a very well-sequenced album. Before After Hours dropped, I wrote about my hopes that this would be a big concept album that closely adhered to a storyline. While that didn't ultimately come to fruition, Abel does pull off a cohesive project that flows together extremely well. Of course, it helps that there are no skips on this thing. None! Delivering all the vocals himself, he guides us through an album that starts out submerged and synth-heavy, before soaring to a danceable, energetic pop ceiling, then settling back down to a mellow finish. The whole thing follows an easy curve that keeps us engaged without any jarring surprises or glaring missteps. You can feel confident pressing play and letting this ride all the way to the finish. —Eric Skelton
He departs from his 'Starboy' era
If you were expecting to get an album very similar to Starboy, think again. While there are certain things that overlap, namely the music's themes, After Hours is a sonic departure from his 2016 era. This consists of moody records with retro and electronic-inspired beats, whereas Starboy was much more pop-centric and mainstream, full of uptempo dance tracks like "Starboy," "Party Monster," and "False Alarm." After Hours ditches some of that chaos and slows things down with ballads like "Scared to Live." His pop ambitions are still felt throughout the project (mainly the singles) so he doesn't pull back all the way, but this is a more balanced effort than Starboy in those respects. —Jessica McKinney
He's split in half, production-wise
With one Tame Impala-sized outlier (the "Repeat After Me" interlude), the production on After Hours is roughly divided into two camps. Pop prince Max Martin helms five of the songs, working alongside frequent collaborator Oscar Holter. The rest of the tracks, minus album ender "Until I Bleed Out," feature Abel's day one guy Illangelo. Illangelo notably vanished from the Weeknd's last two pop-aiming releases, Starboy and My Dear Melancholy. But now he's back, often alongside Metro Boomin. So is this the Weeknd's pop play with the guy who produced "I Want It That Way"? A return to form with his original music-maker? A move for mainstream hip-hop acceptance alongside Metro? Yes, yes, and yes. —Shawn Setaro
The album cuts are very strong
The pre-release singles represented certain aspects of the Weeknd that we all love. "Heartless" highlighted his ruthless side, while ballads like "Blinding Lights" showed a softer Abel. And they were all big records that served the necessary purpose of nabbing radio play and late-night TV placements. But he excels most on the album's deep cuts. On records like "Snowchild" and "Faith," we get to hear Abel do what he's really good at, creating a distorted reality with muffled vocals and intoxicating lyrics ("Light a blunt up with the flame/Put that cocaine on a plate/Molly with the purple rain/Cause I lost faith"). They may not get relentless spins on your local radio station, but album cuts like these are easily the strongest songs on After Hours. —Jessica McKinney
He throws some bones to early-era fans
The Weeknd is never going to make his House of Balloons stans fully satisfied. He's developed as an artist and his profile has grown exponentially, so it won't ever make sense for him to recreate that sound. That doesn't mean fans won't stop asking for it, though. Fortunately for them, Abel throws 'em a few bones on After Hours. Specifically, there's a two-song stretch midway through the album that should make Old Weeknd fans very happy. The "Snowchild" to "Escape From LA" run is perfect (personally, it's my favorite two-song run of 2020 so far). Both songs feature production from Illangelo, who lays down atmospheric soundscapes, inviting Abel to fall back to his early-2010s aesthetics. These aren't stale rehashings of his early work, though. Here, more than ever before, it's clear that he's improved dramatically as a singer, and can pull off vocal maneuvers that he never would have been able to back then. —Eric Skelton
He's been thinking about his past
Last month, Abel Tesfaye turned 30 years old. He's famous for his dirtbag ways (and he hasn't completely shed them) but he gives us some clues that he's been reconsidering some of his old ways. On "Faith," he confesses some of his own mistakes, singing, "Thought I'd be a better man but I lied to me and you." Then, on "Snowchild," he flips his famously self-serving phrase, "Never need a bitch, I'm what a bitch," to admit: "She never need a man, she what a man need." Of course, this is the Weeknd we're talking about, so even when he's being sweet and switching up his ways, he does it in his own sinister way. Case in point, this impossibly dark (but oddly romantic) line from "Faith": "But if I OD, I want you to OD right beside me/I want you to follow right behind me/I want you to hold me while I'm smiling/While I'm dying." He's clearly been thinking about his catalog, too. On "Snowchild," he throws things back to two old songs—2011's "The Morning" and 2015's "Tell Your Friends"—where he used the line, "Cali is the mission." Here, he flips it to, "Cali was the mission but now a nigga leaving." A nice hat tip to longtime fans. —Eric Skelton
'80s everywhere
We all know that Abel loves the '80s. That's shown, if nothing else, by his Michael Jackson fascination—covering "Dirty Diana," aping the "Billie Jean" video, and the like. But on After Hours, the scope expands from the King of Pop to all of late '80s pop. Every aspect of "Scared to Live," for example, is straight out of the Phil Collins playbook, from the echoey snare to the go-ahead-and-change-your-life-girl lyric to the dramatic pause right before the anthemic chorus hits. The rest of the record continues in a similar vein. Synth-pop sounds, Phillip K. Dick references, Dizzy Gillespie punchlines... Minus the references to Coachella and JAY-Z, it's entirely possible to imagine a number of songs on After Hours (including, yes, the one called "In Your Eyes") coming straight out of Lloyd Dobler's boombox. —Shawn Setaro
It arrives at a perfect time
I can't stress enough how refreshing it has been to spend all day thinking about a new pop album. For the first time all week, the group chat briefly paused talk about the pandemic to excitedly share favorite lyrics and debate where this fits in the Weeknd's discography. This feeling will likely be short-lived as new waves of horrifying news continue to hit—the state of New York announced a lockdown of all non-essential activity while I was typing this—but the brief escape from our new reality has been valuable. We've all leaned on music to get us through particularly difficult times in our own lives, and right now we're all going through a challenging time together (some admittedly more than others). I can't think of a better time for a great pop album to arrive. Thank you, Abel. —Eric Skelton
Overall thoughts
He did it. The Weeknd has made it to a point in his career where he's expected to deliver smash records and critically-acclaimed bodies of work that satisfy fans who hold on dearly to each of his stylistic eras. On After Hours, he accomplishes this exceedingly difficult task. He already has the smash hits (if you've set foot in an Uber this year, you've heard "Blinding Lights.") And fans of his pop-leaning efforts are happy. But he also gives more than a few nods to the Trilogy diehards, in a way that still feels fresh and re-molded to the current era he finds himself in. Confidently trusting his vocal chops, which are as strong as they've ever been, he sidesteps guest artists and shows us just how much range he's capable of on his own. All these years, Abel trusted in the process. Now, he's delivered a thoroughly enjoyable album at a time when we needed it most. —Eric Skelton