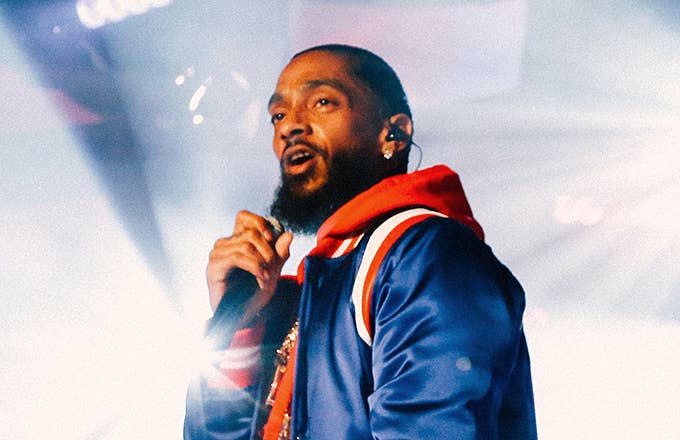 After releasing music for over a decade, Nipsey Hussle's major label debut studio album Victory Lap finally arrived last week.
Featuring Kendrick Lamar, YG, Puff Daddy, CeeLo Green, and more, the album debuted at No. 4 on the Billboard 200 albums chart this week, earning 53,000 units.  That total was made up of 30,000 traditional album sales, plus 21,000 SEA streaming equivalent albums and 2,000 track equivalent albums.
While Victory Lap is technically Nipsey's debut album, he has landed two mixtapes on the Top R&B/Hip-Hop Albums chart. Crenshaw peaked at No. 61 in 2013 and Mailbox Money hit No. 18 in 2015.
Nipsey excitedly shared the news on Twitter Sunday afternoon and promised that more videos and a tour are coming soon.
Before the album dropped, Nipsey told UPROXX that he felt the timing was finally right to release his official debut album after signing a multi-album deal with Atlantic Records that included a partnership for his All Money In imprint. "I always felt like when I get the album out, [a label deal] would be the next move, so I spent a while making this album," he explained. "It always feels like the stars line up when you put music out. Sometime's it's bigger than others but when I say, 'I'm done,' I think my track record has been quality, so people like, 'If he ready to present it, it's gone be some fire on there, because he ain't gone present it if it ain't fire.'"
Elsewhere on the charts, Kendrick Lamar and TDE's Black Panther: The Albumsits at No. 1 for the second consecutive week with 131,000 equivalent album units. Migos' Culture II rose two spots from last week's No. 4 position to take the No. 2 spot with 64,000 units.
If you haven't already, you can listen to Victory Lap on Spotify below.