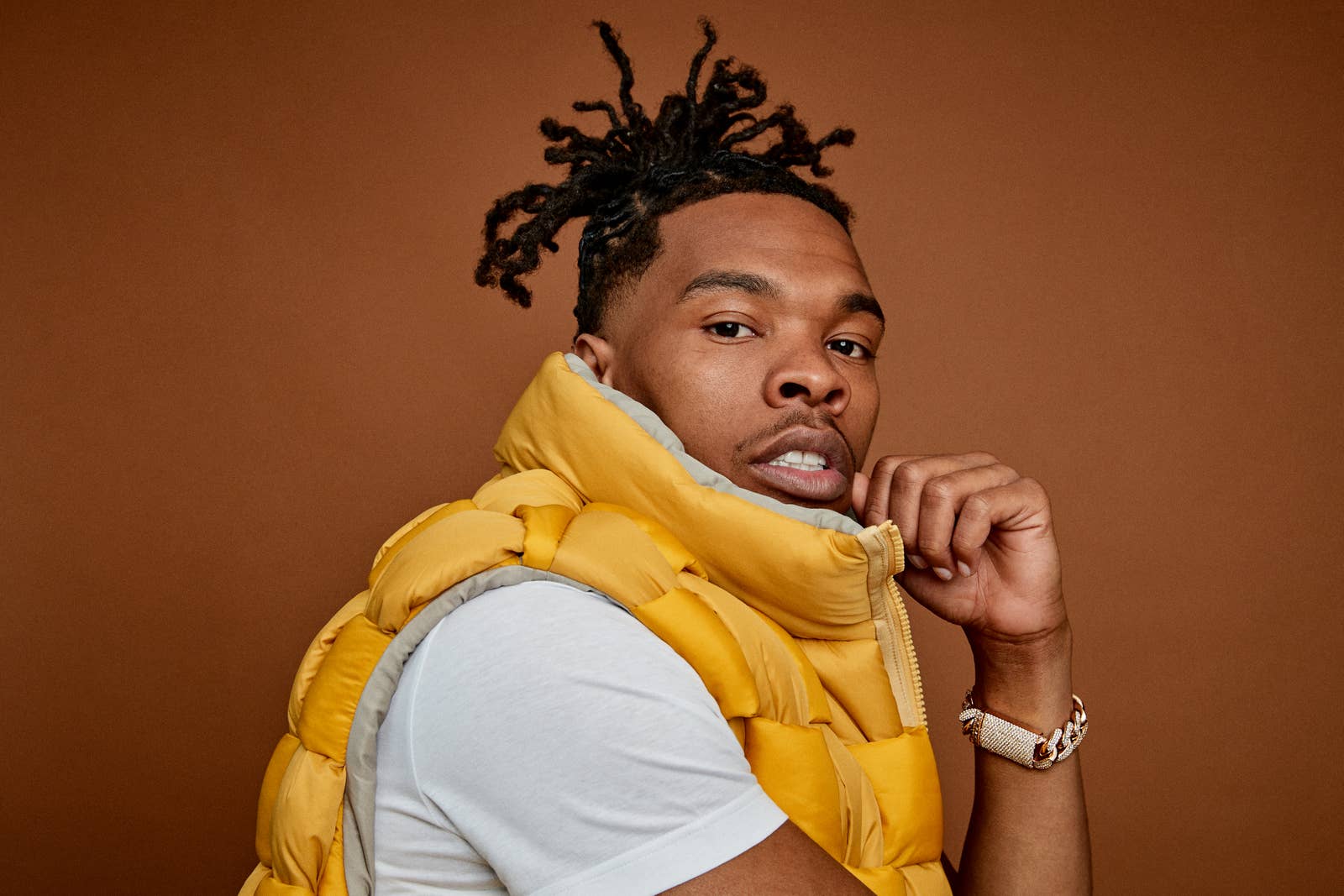 Lil Baby is back. Nearly three years after the release of My Turn, the Atlanta rapper has delivered It's Only Me—a lengthy project with lots of tidbits for listeners to dissect. From a slew of features that include Future, Jeremih and EST Gee to a further stretching of his lyrical abilities, Lil Baby hits to score, even if he sometimes misses.
Before we all continue to process the project over the weekend, here are our first impressions:
Best song?
Jessica McKinney: It was pretty difficult to identify my favorite track. Nothing was a huge standout. But I settled on a three way tie. The opening track, "Real Spill" is that triumphant song with a soulful beat that shows Lil Baby flexing his lyrical skills; "Forever" is just a great vibe where Fridayy steals the show; And "Never Hating" is another great union between Lil Baby and Young Thug. 
Eric Skelton: "Real Spill" is a hell of an intro. Baby throws us straight into a vivid scene from his present reality: driving though his old neighborhood in a Bentley with tinted windows, he's wrestling with the idea of staying in touch with his past, but he's wary of getting caught up in it. It's an age-old dilemma, but Baby's take on it is fresh, and it sets the tone for the rest of the album. ("California Breeze" and "Not Finished" are great, too.)

Jordan Rose: "Russian Roulette" sounds like the rawest song on the album. Baby thrives when he dives into his backstory and gives a snapshot of what his life looks like now, and this track does exactly that. The smooth acoustic guitar instrumental and sobering lyrics feel like the perfect way to close out an album centered around where Baby is at in his career today.
Biggest skip?
Jessica: I'm not a fan of "Heyy." When I heard it, I was shocked that it was the track Lil Baby was teasing ahead of the album. There's very little substance to the record and seems like something more suitable for TikTok. At this point, I was expecting a little more from Lil Baby. 
Eric: The singles did this album a disservice. I hope people dig into the rest of the project, because it gets a lot better than "Heyy." ("Top Priority" probably isn't necessary, either.)
Jordan: Ironically, I think "Heyy," one of the singles, is the biggest skip on the album. The beat sounds out of place relative to the tracks that the song falls between, and it feels like a cheap grab for a TikTok-accessible record.
Best thing about the album?
Jessica: I can tell that Lil Baby is growing and approaching each new project with a certain hunger. Sometimes that's hard when an artist has already reached a certain level. I think Lil Baby is at his best on this album when he is reflective and vulnerable in his storytelling.
Eric: He's figured out an interesting way to rap about fame. Artists often get bored by the isolation of success, so they keep rehashing the same stories from their come-up (or they get caught up in the same old boring clichés about fame that we've heard for decades). But on It's Only Me, Lil Baby is rapping about his life right now, in an honest and compelling way. He's disgusted with himself for buying so many houses when he's never home, but he's proud of becoming a role model (and he's not complaining about the flight attendants he gets to spend time with on his travels). His life is full of paranoias and contradictions, and they're spilling out into his songs in a fascinating way.

Jordan: Despite the subject matter staying largely the same, It's Only Me is special in terms of production choices made. "Real Spill" might be one of the album's most gentle beats. It's interesting to hear the Atlanta rapper testing himself by spitting over beats that have alternative strings fused with trap snares. The DJ Akademiks jabs littered throughout the project are also great.
Worst thing about the album?
Jessica: This is an ongoing issue but, had this project just been six to eight songs shorter, I'd have a different perspective on the album as a whole. Even though Lil Baby is the artist of the moment and fans have been waiting for this project for a while, the album could have benefited from some cutting down. 
Eric: It could use some editing. He says he went through 80 songs before settling on the final 23 tracks, but he could have cut a few more. Long albums have been great for business for Lil Baby (his 26-song My Turn deluxe has been on the charts since it dropped) but it leads to some repetitiveness and fatigue on the back half of It's Only Me. The highlights would hit harder if the fat was trimmed. He could have accomplished the same thing on this album in 16 to 18 songs.
Jordan:It's Only Me's pacing is all over the place. Baby thrives when he maintains a high tempo on tracks. He experiments with slower, more melodic flows on this album and it doesn't work when a calm song is followed by a track with a completely different pace. The transition from "Forever" to the uptempo "Not Finished" and then right back to the relaxed "In a Minute" is an example of that.
Best feature?
Jessica: Fridayy is an artist I wasn't too familiar with, but "Forever" is a great introduction to him. His soft vocals turn the track into a vibe. Dare I say that he made the song? 
Eric: It's so great to hear Young Thug on "Never Hating." With Thug, it's the little flourishes that make his verses so special, like the part where he chirps "whoooowoo!" at the end. That'll be in my head for days. No one does it like him. 
Jordan: Young Thug's presence can still be felt. The smooth verse he delivers on "Never Hating" makes you realize how large of a space his absence leaves in rap. EST Gee has been on a ridiculous run as well, and his verse on "Back and Forth" is a strong honorable mention. 
Biggest takeaway?
Jessica: I need to be honest: I'm not the biggest Lil Baby fan. Sure, I can see some of his appeal and understand how he's gotten to this point in his career, but I would hardly consider myself one his biggest fans. With the being said, I do see glimpses of greatness on this album. Lil Baby is unbeatable when he jumps into his lyrical bag. On songs like "Real Spill" and "Double Down" Lil Baby provides an experience that feels authentic and vulnerable. I can also appreciate the soulful rap/sung records like "Forever" that provide another vibe for listeners. Is "It's Only Me" better than "My Turn?" No. Even so, Lil Baby's still the it-guy in rap right now, and I don't see that changing soon. 
Eric: After the lackluster singles, there was chatter about a potential Lil Baby fall-off, but I don't think that's what's happening here. Yes, the album is a little long and could use some trimming, but there are some great songs on this thing and Baby is writing from a fresh new perspective. It might not quite match the commercial success of My Turn (the best-selling album of the year is a high bar) but it'll keep him just as relevant as he was before. On his next album, Baby faces a new challenge: Can he make a concise project (under 18 songs) that goes down as a bonafide classic with no skips? I think he has it in him.

Jordan: A few months ago, Untrapped: The Lil Baby Story chronicled how the Atlanta rapper went from being disinterested in music to becoming one of the biggest artists in the world to come out of his city. It's Only Me finds Baby projecting similar sentiments he had early in his career: a distaste for fame and relentless hunger for fortune. The album title almost reads regretfully, as the cover art depicts Baby sitting alone below his visage. This album finds Baby experimenting with different beats and flows that reflect how he's committed to expanding his craft. Unfortunately, that comes at the cost of good pacing and the continuity of the overall album. What It's Only Me does demonstrate, though, is that the attributes that helped make him successful—his devotion towards his family, willingness to be emotional, and talent to speak for the streets—are still present, even if they weren't presented in the most coherent way.