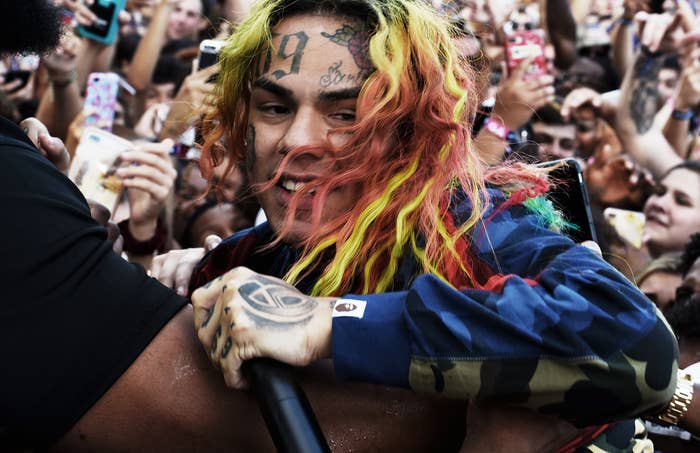 The first episode of Infamous: The Tekashi 6ix9ine Story has arrived.
The Angie Martinez-narrated podcast, released in collaboration with Complex and Spotify, will explore the rise and fall of 6ix9ine, throughout eight episodes. Detailing Daniel Hernandez's life in Brooklyn before he transformed into the controversial rapper we all know today, the first episode, titled "We Scums, We Not Slimes," includes interviews with those who knew him before the fame.
There's a lot to unpack in the 40-minute episode, so the Complex Music staff put together a list of the five biggest takeaways from the interviews that appear throughout "We Scums, We Not Slimes." From collaborators speaking candidly about the fact that 6ix9ine didn't write his own songs, to revelations about the rapper attempting to align himself with Crips before ultimately joining Bloods, these are some of the things we learned. For the full experience, follow Infamous on Spotify and hear the first episode here (or below).
Collaborators speak about 6ix9ine not writing his own songs
During 6ix9ine's final day on the witness stand at his racketeering trial last September, he acknowledged what many had expected: "Sometimes I don't even write the songs." Now, in the first episode of Infamous, we hear his collaborators confirm the fact that other people (including ZillaKami) often wrote his songs for him.
"I felt Scum Gang was like a band, and 6ix9ine was the frontman," says Jordan Granados, who produced early 6ix9ine songs like "ScumLife" and "Shinigami." He continues, "A lot of frontmen in bands, they don't always write all of the songs [...] The worst kept secret in his career is that 6ix9ine doesn't write. I don't think it's any secret or revelation that we need to bring that up now, but it was either Righteous P or ZillaKami, they did the writing. That's a fact." —Eric Skelton
'He's not the image they all portray him to be'
6ix9ine wasn't always the outrageous and arrogant character he presented to the world at the height of his career. In fact, those who knew him before fame say that he was the complete opposite. Bizz-E BlazE, a member of Scum Gang revealed that Daniel Hernandez was actually quiet and and reserved. "He was normal," Bizzy explains on the podcast. "See, Danny's personality, he's not the image that they all portray him to be. He's very timid. He's very calm. He wants to learn. He's not boasting and bragging about nothing. Or acting like the character he created of 6ix9ine." It wouldn't be until later that 6ix9ine transformed into the famously brash rapper we know today. —Jessica McKinney
6ix9ine's tattoo artist tried to talk him out of first 69 tattoos
Before 6ix9ine covered himself in his signature 69 tattoos, he was urged to reconsider his plan. "He wanted 6ix9ine tattoos on his arm, like on the bottom part of his forearm," says David Percy, remembering the day 6ix9ine first came to his tattoo shop in Bushwick. "I was like, 'Listen, you don't want to do that. That's too close to your hands. That's something visible.' I think it was like 45 minutes of me trying to convince him not to do it. But he was just set, like, 'No, this is what I'm doing.' I said, 'Okay,' and we winded up doing the first couple of 69s that went on his arm."
The first episode of Infamous also includes an interview with the hair stylist who was responsible for giving 6ix9ine his rainbow locks. Rebecca Faye of Hello Beautiful Salon recalls, "He had just the little 69 tattoos on his forearms, and nothing else. He had some gold fangs. And he wanted his hair light purple to light green, like a mint green." With a laugh, she adds, "He said to me, 'Becca, one day I'm going to be a really famous rapper.' And I said, 'Well, you better be with all those 69s all over your arm.'" —Eric Skelton
He tried aligning with Crips before joining Bloods
6ix9ine famously joined the Nine Trey Gangsta Bloods after aligning himself with members of the gang while shooting the music video for "GUMMO." But before all of this went down, he actually tried to align himself with the Crips. According to Infamous, Scum Gang members remember 6ix9ine showing up to a music video shoot with a bag of blue bandannas. Scum Gang founder Scumlord D!zzy recalls shutting this plan down: "I'm like, 'Yo, bro. Listen, you're not Crip. So I'm not about to have a bunch of Crips in your video." Instead, 6ix9ine executed the same plan—but with Blood imagery this time—in another music video.
"I think he's fascinated by gangs, just in general," points out Scum Gang member Bizz-E BlazE. "The order of gangs, how it rolls, status, all that shit. I just feel like he's fascinated by that. And for him to be fascinated by that, it means that he ain't see enough of that shit growing up because if you seen enough of that growing up, you don't get fascinated by that as you get older." —Eric Skelton
He was doing things for clout long before he became a successful rapper
The first episode of Infamous makes it clear that 6ix9ine was always in pursuit of fame and clout, even before he decided to become a rapper. In his early days, he would walk around Brooklyn wearing graphic t-shirts that were solely designed for shock value. Jordan Granados, a music producer who worked with 6ix9ine on some of his early records recalls several instances in which the artist wore clothing with the words "HIV/AIDS" or "PUSSY EATER" written on them. "His clothes were fucking different," Granados says. "I mean, he had shirts that said HIV/AIDs. He had the HIV/AIDS shirts. He'd wear it on the train stations. It just looked so corny." 
This was just the beginning of his rebranding scheme. The aspiring rapper also used social media to create a viral buzz. Granados noted that a pre-fame 6ix9ine quickly became "the king of getting his Instagram deleted… because he'd always put out content that was pushing it, and people would be like, 'That's too much.'" 
One of his pre-fame Vine videos depicted him performing a wrestling move on a girl who was twerking in her underwear. The video quickly went viral and caught the attention of Snoop Dogg, Sean Kingston, and Odd Future's Taco, who each reposted the clip. That was his "first taste of fame," Granados says. 6ix9ine then attempted to top himself with other salacious videos, including one that showed him receiving oral sex while people were shooting up heroin in the background. —Jessica McKinney