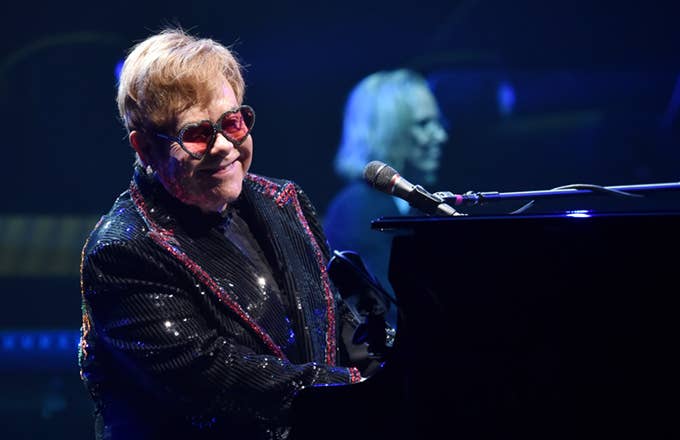 During the opening show of his Farewell Yellow Brick Road tour in Pennsylvania on Saturday night, Elton John took a moment to remember the life of Mac Miller and dedicated a performance of "Don't Let The Sun Go Down On Me" to the recently deceased rapper.
"I'd like to dedicate this song to Mac Miller," John told the crowd. "Unbelievably, 26 years of age, and passed away yesterday. It's inconceivable that someone so young, and with so much talent, could do that. And I just would like to pass all of our love and best wishes to his loved ones, his family, his friends. And, Mac, wherever you are, I hope you're happy now."
Elton John then performed his 1974 single to a sold-out crowd at the PPL Center in Allentown, Pennsylvania.
According to Billboard, John also paid tribute to Aretha Franklin with a performance of "Border Song," which was covered by the late singer. Telling the crowd about Franklin's cover, John said it was "incredible to have this woman sing this song." John also carved out a few moments during the final tour of his career to pay respects to public figures like John Lennon, Martin Luther King Jr, Princess Diana, Elizabeth Taylor, Rosa Parks, and Elvis Presley.
Mac Miller, who died of an apparent overdose on Friday at the age of 26, was also remembered by artists like Drake and Childish Gambino, who dedicated performances to the late rapper over the weekend.
"This Mac Miller shit got me fucked up," Gambino said during a performance in Chicago. "He was so nice. He was the sweetest guy, he was so nice. And we were both internet music kids, and a lot of critics were like, 'This corny-ass white dude, this corny-ass black dude,' and we used to talk. And this kid, he just loved music."