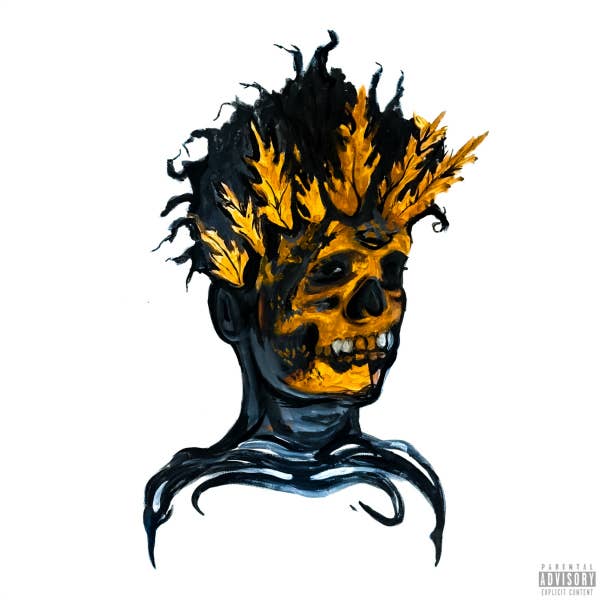 ZelooperZ shares an early stream of his Bothic album after spending the last few weeks building up anticipation for his follow-up to HELP with songs like "I Should Be Dead" and "Heart" featuring Wiki. It was certainly worth the wait as ZelooperZ showcases his unique brand of rap while also delivering dark anthems to turn up to on a Friday. Wiki stands as the lone feature on Bothic, while production comes courtesy of Bulletproof Dolphin, Black Noi$e, and Skywlkr.
The project also features a dope cover, which ZelooperZ painted himself. We asked the Detroit rapper about creating it, and also got some more details on Bothic, which you can check out below along with the album stream. The project officially drops tomorrow (March 4) on Bruiser Brigade Records.
You painted the cover, and it's an intense, yet beautifully crafted portrait. Was there anything that specifically inspired it?
The portrait for the original composition was a photo taken about four years ago that I vectored a submerged kings skull on top of it and painted it. Also DM me the day of the album dropping to buy a painting. I take PayPal.
How much does painting influence your writing, and vice versa?
Day to day I trap these paintings out and it's been influencing my music so much because that's part of my life. The way I eat music inspires my art. When I want to paint my favorite musical genius' or icons they always come out good in black in white.
Wiki is the only featured guest on the project. Was that something you planned or did it just work out that way?
I didn't want to do too much, didn't want to reach too much to keep the feel of my album so I already knew Wiki would be the off the wall balance I needed, and after his verse was added I didn't want anymore.
"Automatic" takes a slight detour from your usual style, but it's still very layered. Is that a sound you want to continue to pursue?
"Automatic" is the new flow and yes. Black Noise made that beat. Everybody look out for Zgetoboyz with me and Shigeto's sounds of ambience.