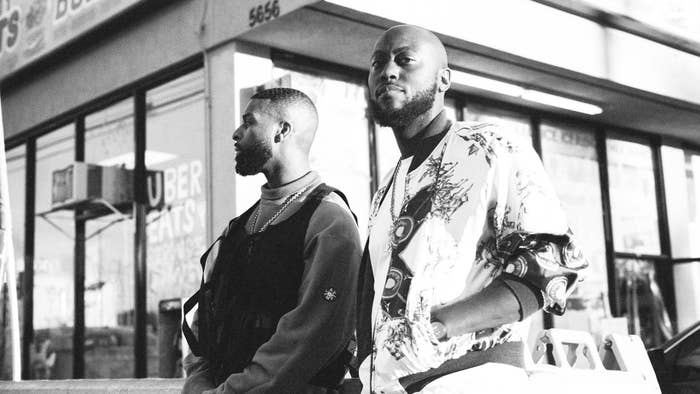 Dvsn are unbothered by life in the quarantine era. While other acts have carefully considered whether to drop albums in the current social distancing climate, the OVO Sound duo have forged ahead with releasing their third album amid what seems to be a low-key Toronto R&B season with high-profile artists like The Weeknd, PARTYNEXTDOOR, and Jessie Reyez also dropping records since things ground to a halt.
The uncertain times have many people navigating a radically different present by yearning for familiarity in the forms of nostalgia and seeking comfort and deeper meaning in close relationships. Unwittingly, on A Muse In Her Feelings, Dvsn have delivered a soundtrack aligning with those themes. While singer Daniel Daley and producer Paul 'Nineteen85' Jeffries' latest project, the follow-up to 2017's Morning After, is clearly the summation of a meticulous and painstaking three-year process, it just so happened to be delivered right on time.
As a case in point, de facto title track "A Muse" banks on the fact we'll remember the cascading Lonnie Liston Smith piano sample from its use on Jay-Z's "Dead Presidents." Similarly, the comfort zone is extended on the current Snoh Aalegra-assisted single "Between Us," which rides a riff of Usher's 1998 slow jam classic "Nice & Slow."
The "Between Us" video itself harkens back to the '80s via its nod to Sharon Stone's infamous Basic Instinct interrogation scene, and Dvsn's avowed penchant for cinematic and narrative tropes play out over the entirety of A Muse In Her Feelings. But while a familiar relationship cycle of breakup, denial, resolution, devotion, and eventual heartbreak unfurls over the album's 16 tracks, Dvsn have added some wrinkles into their characteristically smooth veneer.
In many ways, the foundation of what Dvsn have always done remains intact. Daley's octave-climbing falsetto and candid songwriting still undergirds the proceedings and Nineteen85's aforementioned shrewd recontextualization of the past holds true to the last track, replete with allusive Prince LinnDrum knocks on showstopping album closer "...Again."
However, A Muse In Her Feelings finds Daley sharing the stage with a host of collaborators, which was simply not the case on the group's first two albums. Aside from Aalegra, Daley duets with a number of female singers in Jessie Reyez ("Courtside"), Summer Walker ('Flawless' Do It Well Pt. 3)" and showcases emerging Toronto singer Shantel May ("Again…"). Additionally, PARTYNEXTDOOR, Future, Ty Dolla $ign, Popcaan, and dancehall legend Buju Banton also add to the crowded guest list, and it's a testament to Daley's inimitable vocal presence that he is never in danger of being dislodged from the centre of the proceedings.
Sonically, Nineteen85 brings the diasporic sensibilities he's successfully created for the likes of Drake and PARTYNEXTDOOR, adding dancehall and Jersey club to Dvsn's aural palette, seamlessly sequencing the tracks comprising the album midpoint's exhilarating four-song 'Get Over It' suite. Yet in the album's impressive homestretch we're reminded of why we first paid attention to those mysterious head-turning OVO Sound Radio drops of "With Me" and the SoundCloud link of gospel-dipped "Too Deep" that preceded their Sept. 5 debut back in 2015—which in these days and times suddenly feels like a long time ago.
We talked to Dvsn about why they widened their creative circle, how Toronto informs their approach, and why nostalgia figures so prominently in their music.
The album is called A Muse In Her Feelings, but the subtitle is "Narrated by Dvsn." Can you just talk a little bit about what stories it is that you're trying to tell here?
Nineteen85: The story that we're playing throughout this is finding different ways through the music. And through the actual moving the music and the things with the lyrics, the stories are kind of interpreting what you've been feeling. You, as the muse, and the different ways that you will relate to things. We do kind of take you on a roller coaster—it goes up and down a few times, it starts off pretty sad and then it gets happier, and then you get started again. But then it feels like, you know, even by the end, it might be a bit of a triumphant ending, it might be working, and then [it goes] back out again. And this time around, we really want to make a point to show the different sides, the different emotions. The last couple of albums were a little bit more consistent in whatever that feeling was being the majority of the album. This one has so many different feelings.
I saw you perform at Nathan Phillips Square in Toronto when you headlined that outdoor Canada Day show, and you brought out Roy Woods and Majid Jordan from OVO, and Drake came out at the end in front of a huge [50,000-strong] hometown crowd and it felt like there was a real family affair to that. And you guys also performed a concert with the Toronto Symphony Orchestra, which happened since Morning After came out. Can you talk about how big events like these have informed this record, if at all?
Daley: I think in all of our experiences in terms of when we perform, we get to kind of see which records do what to people, and how they take them and interact with them; when people want to just close their eyes and listen, versus when people want to sing along at a lot of different concerts. We love that about our crowd connections. But I think that, you know, at each venue, we learn something different and experience something different. From orchestrating, to just seeing which lyrics hit where, to how the bass or the top end of a record rings out in certain places—it all comes together in our learning experiences that we put together for this album and in all of our music.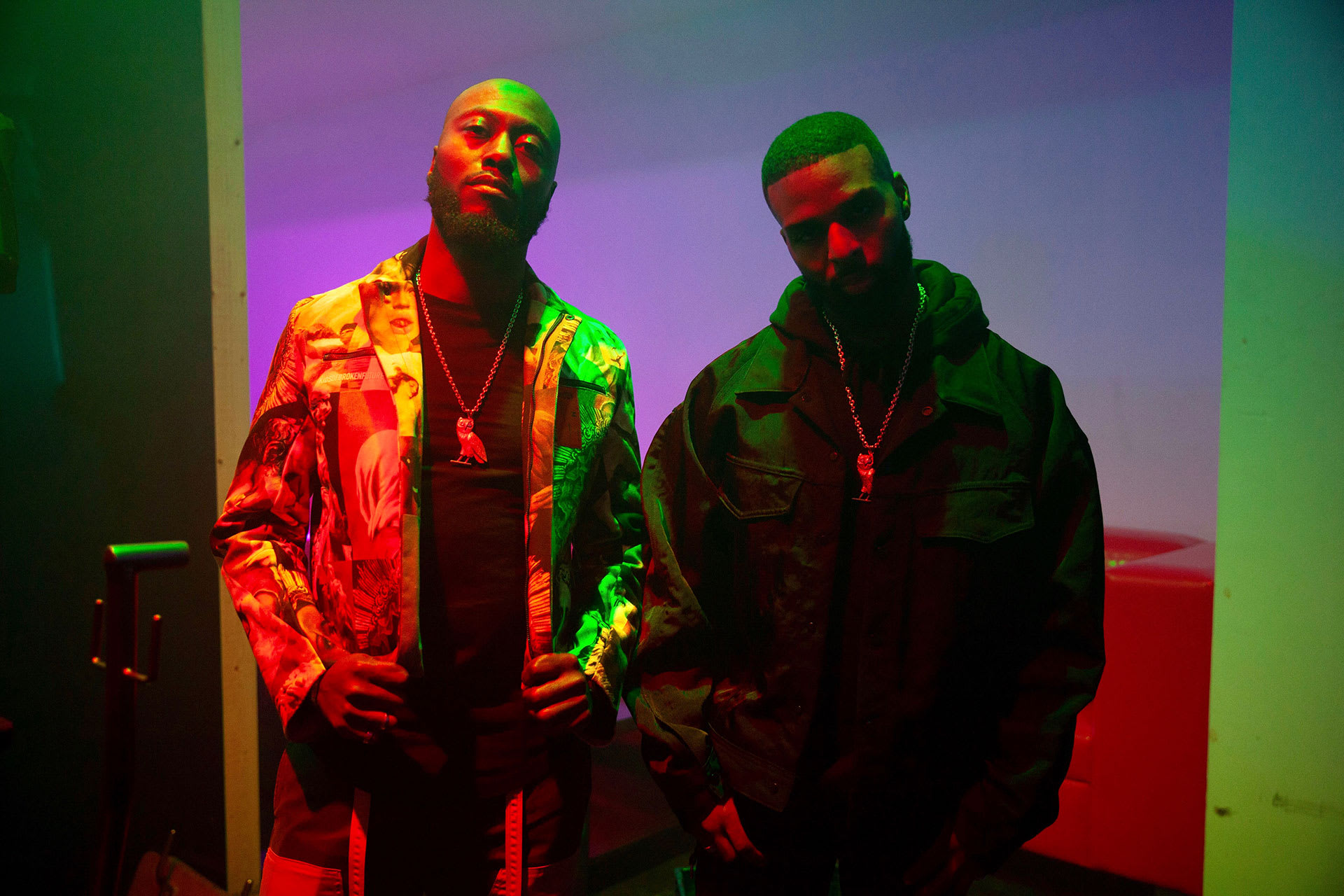 Talking about Toronto specifically, I do want to say that tracks like "Dangerous City," and the track with Popcaan ("So What"), obviously these songs feature dancehall artists from Jamaica, but it feels like there's only R&B groups from a certain amount of places that could probably pull that off convincingly. And I think Toronto is one of those places. What you were trying to achieve with those songs?
Nineteen85: Yeah, I think maybe about two years ago, there was a real wave for, like, reggae and island influence kind of everywhere. And at the time, you know, Daniel and I really, obviously, love R&B and love reggae. We always felt like if we were to do it, we would do it more based on the music we grew up with, as opposed to the way that everybody else was doing it. So for us to do it for this time around, to have Popcaan, for one, that was incredible; but to then actually have Buju [Banton], who is a legend of all legends in reggae, to be able to join us on the track and it felt authentic to him and us, which is really a testament to Toronto, I just think that was one of the biggest moments we were able to pull together for the album.
I don't think people, based on the first two albums, would really expect that from Dvsn. I mean, did you have any kind of qualms about going there, incorporating that into Dvsn?
Daley: The one thing that I'll say about that, it makes a lot more sense on paper than it does for people just judging off of what they see. Because we made a point when we came out of kind of being the guys that, you know, we didn't really listen to the rules. We went against the grain with everything. That's the whole idea behind Dvsn. We're going to be separate from the past, we're going to be unexpected. We're going to hit you with something you wouldn't expect. When everyone was doing trap music, we came through with the R&B slow jams and choirs, you know. We've made a point of that. And 85, if people look into his catalogue, it's like, that is the guy that did [Drake's] "One Dance." And hey, you know, this is the guy that did "Too Good" with Rihanna and Drake and this is the guy that, you know, has done "Hotline Bling," and turned around and done a lot of R&B jams that you love. So it's only natural that there are things in this repertoire that are there. It's just that we were taking our time in showing people how deep this room is. That door that you've opened is not just the one room that you think we have. We're just two second-generation Jamaican kids. This is in us, we live this, we're from the city, we live and breathe and walk it, even talk it. It makes a lot more sense when you think about it like that.
"We're just two kids from Toronto that are big music lovers, huge hip-hop heads, that just happen to be a producer and a singer. So, if we love something from the '90s, we're cool with it."
Daniel, looking at the credits of this record, one of the other things that is very Toronto about this is the Remix Project involvement. I know that you used to run the Recording Arts program there. People like Jessie Reyez and Raahiem who have come through Remix have contributed to this album. How much does it mean to you to have people who you may have mentored or worked with in that capacity and to see them work on this record?
Daley: Yeah, Remix is one of the most incredible things at every turn, not only to witness but, you know, have a chance to be part of for a couple of years. A lot of our team has come through, passed through, or has a connection to that place. It's a great program in the city for people that aren't doing the conventional 9-to-5, the people that are creative, that have these talents, that have these aspirations but don't have a place to propagate them and take them seriously, because, I mean, at the end of the day, these are serious career paths. We've never gotten the chance to have that helping hand and Remix has kind of been that for the whole city. So when I got there, you know, my role was to kind of pass on any knowledge I might have, because at the time I was just trying to be a songwriter. The whole idea there is about your peers; you don't want to be taught by someone who is 50 years old and you are 20 years old. You want to be around people that you think are out there doing it right now. And that's what makes me look forward and be effective, because you're not learning from someone you don't relate to, you're learning from someone just like you. When I was there I had the pleasure of meeting talents like Jessie Reyez, like Raahiem, like Miss Shantel May, who completely bodied our [A Muse In Her Feelings] outro, our final song "...Again." Being in that space, it only made sense to go to some of the most talented people I knew, which just happened to be people that have gone through there.
There are also a lot of other collaborations on the record. And I found that, you know, a lot of the first two Dvsn albums didn't really have any features. Here, you have Snoh Aalegra, you have Jessie Reyez, and then you have Summer Walker as well. So you have like four duets in a lot of ways on the record, and that doesn't even count PARTYNEXTDOOR or Future showing up. What was the decision made behind bringing so many people in on this one?
Daley: On the first two we didn't really notice. I'm in the studio making records with my favourite producer, that's kind of how I thought. So we kind of just made the first two doing what we always do. And this time around we had that gap of just touring and touring and shows and moving around. We had relationships and when it came to this project, we didn't really reach further beyond anybody that we had a great relationship with. These are literally our friends and family on this record. Everything with Dvsn, we try to keep it natural and real as possible. We didn't reach out for people that we have no knowledge or no connection to. It was all people that we normally love. The only person we didn't know personally before was Buju and who is not going to take a Buju Banton feature? [Laughs.] Our favourite reggae legend at this point. So that was an honor. But aside from that, everybody else we were really just picking through our Rolodex of friends.
There's a section where there's three or four songs that blend totally into each other. And it feels like it's like, at that moment the characters in the story are out in the club. I think in an age when people are kind of listening to tracks separately, having that there was really an interesting kind of approach. Can you talk a little bit about why you decided to basically stitch three or four songs closely together like that?
Nineteen85: A lot of it was to keep people on that rollercoaster and even the songs that were released prior to the album were also a part of that sequence. You know, it's that time of the night where people are going up to the club and maybe just got off the phone with your ex or your current situation and you're not in the best of moods. So now you try to forget about it and go to the club and think about whatever is going to take your mind off that at the moment. So when we're releasing songs like "No Cryin'" or even "Miss You," we have to think of how that's going to affect other songs in that section and, like, at what time of the night would certain songs be playing, you know? You can slowly feel the energy pick up right in the middle section of the album. I know a lot of people at first were like, "You went with no features to your first feature being with Future." Super unexpected. But I think when you hear it within the context of the album, it makes way more sense.
One of the other things that I really wanted to talk about was the fact that the samples you guys use—and also for you, Daniel, in terms of the artists that you are drawing on—you are interested in '90s R&B, or the spirit of it. Why is it important for you to draw on those influences and not really to hide them that much?
Daley: We embrace what we are. We are not scared to be who we are and what we are. We're just two kids from Toronto that are big music lovers, huge hip-hop heads, that just happen to be a producer and a singer. So, if we love something from the '90s, we're cool with it. If we love something from yesterday, we're cool with it. If it's something from an island or a different country, we love it. It's who we are. We prepare to take what we are and go in front of the people in the best way that we can and sit back and hope that you guys love it like we do.
Nineteen85: We've also found ways to use the samples to mirror the people in the story. On a song like "Between Us" we have Snoh Aalegra and in the background we have Usher giving you one of the nicest slow jams of the last 30 years, you know, just to kind of keep that going on even more. On a Friday night, with "No Cryin'" it's the same, there should be no crying in the club, but then we also have that [PTAF] sample saying, "I'm a boss ass bitch." So, it's like we're using these things to further these things in your head without us having to actually say it.
Daniel, when you're singing over something that might remind people of Usher, or remind people of Maxwell, is that intimidating for you as a vocalist?
Daley: [Laughs.] I mean, I don't know who wouldn't be intimidated by those two guys vocally. But, you know, I have enough knowledge of what I am, what I'm capable of and, you know, I appreciate all the comparisons, I'm honoured. And just at the same time, I'm just focused on what I'm doing. I'm trying to learn from those guys and take it to different levels and different spaces that they won't.