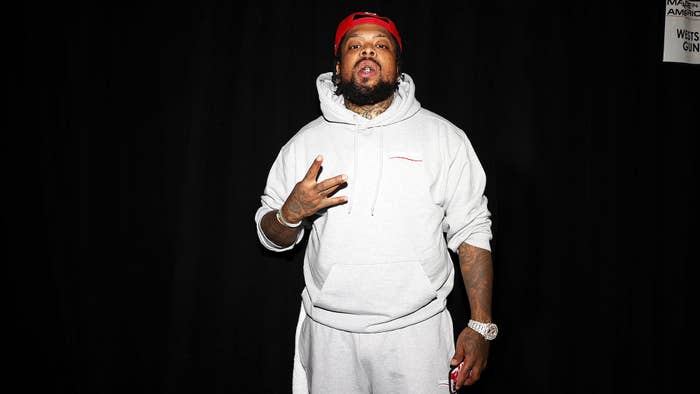 Westside Gunn and Tyler, the Creator have grown to be both collaborators and friends.
The Griselda Records founder recently shouted out Tyler in an interview with HipHopDX. "Shout out to Tyler because he was one of the people who, even after winning a Grammy, he hopped on Pray For Paris," Gunn said. "Even with this new album [CALL ME IF YOU GET LOST], he said I made him want to rap again.
Gunn explained that he respects Tyler publicly admitting where his inspiration comes from. "A lot of people, even though they're saying that behind the scenes, they're not saying it publicly," he said. That's why I respect Tyler and consider him a good friend because he made it known publicly during his whole rollout. He didn't have to do that."
Gunn was referring to comments Tyler made in June during an IG Live session, when he listed a number of rappers who inspire him, including Lil Wayne, Clipse, Lupe Fiasco, Jay-Z, Andre 3000, and Gunn, saying that Gunn makes him "wanna just rap again."
"From all the Waynes, all the Dedications, from P the In My Mind Prequel mixtape, to Clipse for the We Got It For Cheaps, from Lupe mixtape run all the Farenheits, the Revenge of the Nerds, to JAY-Z, to Andre (3000) … to Westside Gunn for making me wanna just rap again. I love it. I love rap. It changed n-ggas lives," he said.
"That was dope to me because I get my flowers every day but through text or DM, like people don't want to say it in public because some people more popular, some people sell more records and sometimes, they don't want to actually push me over," Gunn added. "If they push me over, then it's like, 'Wait a minute, people going to love them more than me.'"
Tyler also appeared on Gunn's most recent offering, HWH8: Sincerely Adolf, on the song, "The Fly Who Couldn't Fly Straight."
In June, Gunn also revealed that The Alchemist has been the glue between Gunn and Tyler. "There's always been a mutual respect and shit," Gunn said at the 2021 BET Awards. "We meet up at Alchemist's house and discuss things. I play shit for him, he send me shit. He play shit for me. He the homie. We got more coming. This is Griselda finally like crossing over a little bit. We crossing over, but we're still keeping it Griselda."