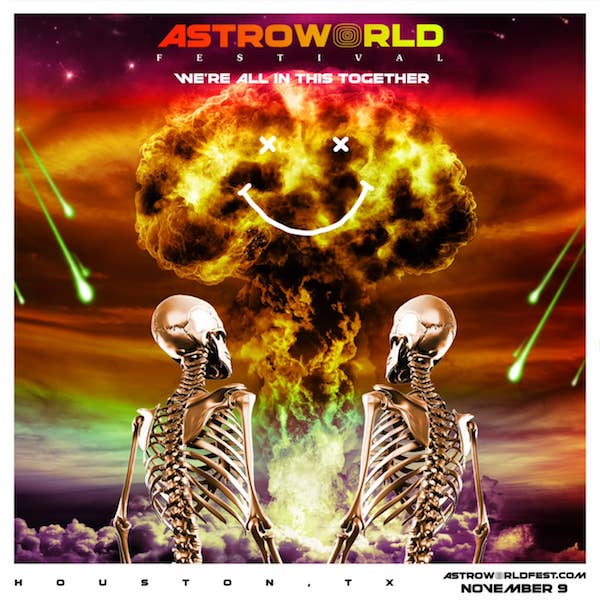 UPDATED 10/22/19, 6:10 p.m E.T.: Travis Scott's second annual ASTROWORLD Festival has sold out less than a month after it was announced. "Man this is amazing," he wrote on Instagram. "Can't wait to see u guy's gonna be something so special. Bring the rage. Let's goooo!!!!!!"
It's a pretty impressive feat for Travis to sell more than 50,000 tickets given he has yet to announce the music lineup. ASTROWORLD Festival will take place Nov. 9.
See original story below.
Travis Scott's ASTROWORLD Festival was so successful last year that he's doing it all over again. The rapper has officially announced that the festival is returning to his hometown of Houston on Nov. 9.
Like last year, the second annual festival will be curated by Scott and will return to NRG Park. Even the location of the event is special for Scott: the venue is across the street from the former home of AstroWorld, an amusement park that opened in downtown Houston in 1968 and closed its doors when he was a teenager.
While the full lineup for ASTROWORLD Festival has yet to be revealed, Scott has been confirmed as the headlining performer. The festival returns to Houston just after Scott wrapped his wildly successful Wish You Were Here Tour in North America this spring. ASTROWORLD is the rapper's only North American performance currently announced for the second half of 2019.
Scott also recently released his Netflix documentary, Look Mom I Can Fly, which included footage from the first festival last year. The film also chronicled the two-years where Scott created and released his Grammy-nominated album ASTROWORLD, traveled the world on two headlining tours, performed at the Super Bowl and the 2019 Grammy Awards, and more.
GA and VIP Tickets are now on sale at astroworldfest.com.