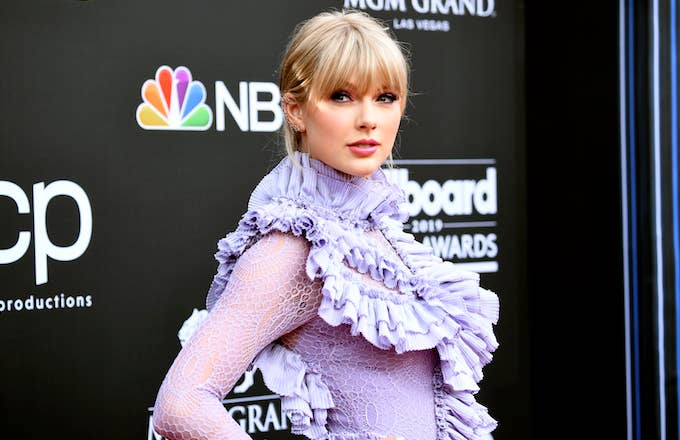 Taylor Swift has responded to Scooter Braun's acquisition of Swift's former label Big Machine Label Group and Swift's catalog.
The singer penned an open letter on Tumblr after the news emerged on Sunday. "I learned about Scooter Braun's purchase of my masters as it was announced to the world," she wrote. In the letter, Swift blasted Braun, who previously managed Kanye West, Justin Bieber, and Ariana Grande, among others. "All I could think about was the incessant, manipulative bullying I've received at his hands for years," she wrote, adding, "This is my worst case scenario."
Billboardreports a source as saying Swift's team was aware of the move since earlier this week, when a shareholders meeting took place. The publication also reports that Swift's dad, Scott Swift, had a lawyer from Swift's management company call in. Scott Swift owned a stake worth around 4% of Big Machine.
"Scott Swift is not on the board of directors and has never been,"a spokesperson for Taylor toldPeople. "On June 25, there was a shareholder phone call that Scott Swift did not participate in due to a very strict NDA that bound all shareholders and prohibited any discussion at all without risk of severe penalty."
The spokesperson continued: "Her dad did not join that call because he did not want to be required to withhold any information from his own daughter. Taylor found out from the news articles when she woke up before seeing any text from Scott Borchetta and he did not call her in advance."
In her post, Swift said Braun "stripped [her] of [her] life's work" and "tried to dismantle" her "musical legacy." She also specifically mentioned the controversy surrounding Kanye's 2016 song "Famous" and its music video, calling the video "a revenge porn music video which strips [her] body naked."
Months after the hit song was released, Kim Kardashian alleged that Swift had approved the track, which included Kanye rapping, "I feel like me and Taylor might still have sex/I made that bitch famous." Kim leaked snippets of a phone conversation where it sounded like Swift had ok'd "Famous." In her letter, Swift said the audio clip was "illegally recorded" and claims "Scooter got his two clients [Justin Bieber and Kanye West] to bully [her] online about it."
Swift also criticized Big Machine founder Scott Borchetta, writing:
According to the Twitter account @swiftsupdates, since Swift penned the open letter, Nicki Minaj, Miley Cyrus, Rihanna, Camilla Cabello, and Jesse Rutherford have unfollowed Scooter Braun on Instagram.
Shortly after Swift made the post, Justin Bieber took to IG to respond and to defend Braun.
Yael Cohen Braun, Scooter Braun's wife, also responded to Taylor. "'I'm here to talk privately anytime," she wrote.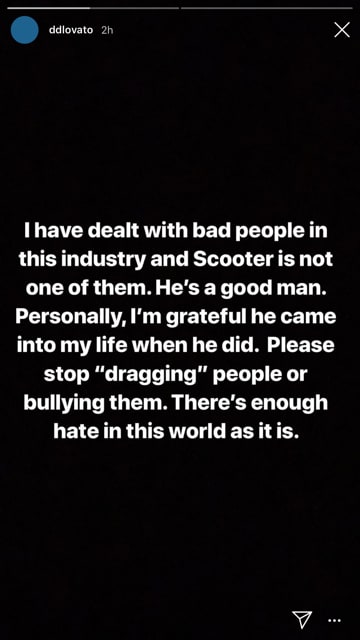 But that wasn't it. Demi Lovato also took to social media to defend Braun. "I have dealt with bad people in this industry and Scooter is not one of them," Lovato wrote on IG.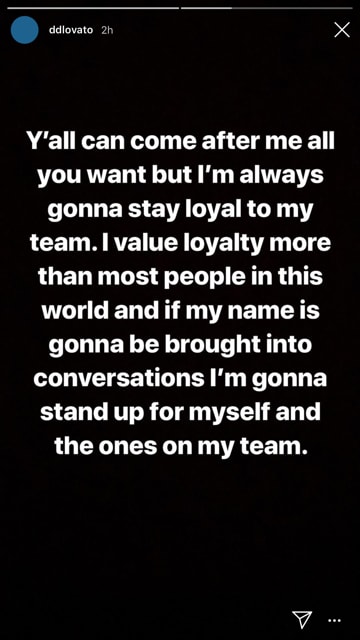 Earlier on Sunday, Billboard reported that Braun's company Ithaca Holdings LLC bought Big Machine for over $300 million. Swift released her first six albums during her 12-year contract with the label.
Last year, she signed with Universal Music Group and Republic Records. In her letter, she wrote, "Thankfully, I am now signed to a label that believes I should own anything I create." Her forthcoming album Lover is due August 23 via Republic.