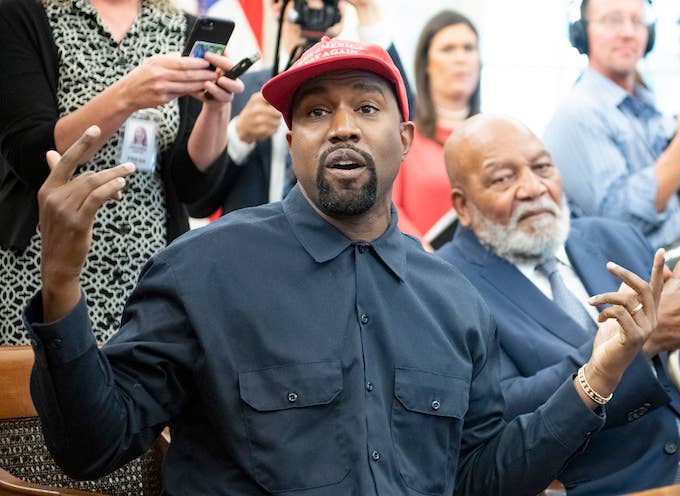 Some people still think it's okay to wear blackface during Halloween, including a white South Carolina bank executive who was recently celebrated for being an innovator in his field, The Root reports.
Bryan Lenertz attended a Halloween party where he and his wife dressed as Kanye West and Kim Kardashian. Lenertz cluelessly paired a MAGA hat with shutter shades, then lazily threw on a camouflage jacket and tiny chain; his wife wore a black top, skirt, and sunglasses. An anonymous source came to The Root and revealed Lenertz's racist costume, which was a favorite with his friends. Evidenced in a screenshot of Facebook comments left by the banker's friends, many of them thought the couple "killed it," calling it "bootylicious" and "perfection."
The source asked The Root how "these people keep/get jobs," adding, "I wonder if [Lenertz] ever denied a loan to a person of color." Lenertz is an executive of Anderson Brothers Bank, which prides itself in having over $740 million in assets. People have begun blasting the bank for hiring someone so blatantly insensitive and racist.
It's clear Lenertz didn't learn from Megyn Kelly's actions last week, after she was removed from her NBC show following horrible comments she made about blackface. "But what is racist?" Kelly mused on Oct. 23, during a panel comprised of white people on her talk show. "You truly do get in trouble if you are a white person who puts on blackface at Halloween or a black person who puts on whiteface for Halloween."
In 2015, an Alabama elementary school teacher and his wife also dressed as Kanye and Kim for Halloween. Though the teacher later apologized, saying his actions "were not malicious or directed toward any certain group of people," the damage was still done.