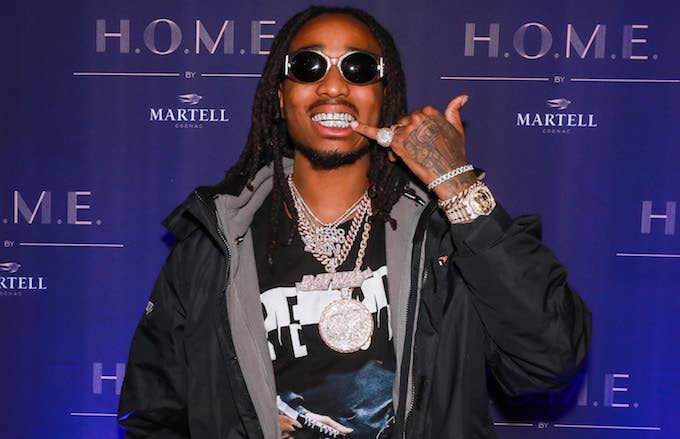 Things got a bit heated after the Grammy Awards on Sunday for Quavo. TMZ reports that the Migos rapper has been accused of attacking a pretty well-known jeweler, Eric the Jeweler, at a Grammys afterparty at 1Oak in New York.
Eric went to the police on Tuesday to report the incident. According to Eric, he and Quavo were at 1Oak at 4:30 a.m. on Monday morning, when a verbal dispute over money Quavo purportedly owed Eric turned into a fight.
Eric reported to the cops that Quavo and a second man—neither Offset nor Takeoff—jumped him. And when he left the club, his $30,000 chain was gone. Eric filed a robbery report with the police.
"A complaint report for Robbery was filed for a Robbery that occurred on January 29, 2018 at approximately 0430 hours at the address you provided. The 25-year-old male complainant reported he was assaulted by a member of a musical group (Quavious Marshall) and suffered a swollen right eye. He also stated that his necklace was taken during the incident. There are no arrests at this time and remains an active investigation," Detective Sophia Mason told Complex in a statement.
Eric is well-known in the music industry and has made pieces for Snoop Dogg, 50 Cent, French Montana, and others.
This week was pretty eventful for Migos. Though the Atlanta group didn't walk away with any Grammys, their newest album Culture II is set to debut at No. 1 on the Billboard 200 chart.