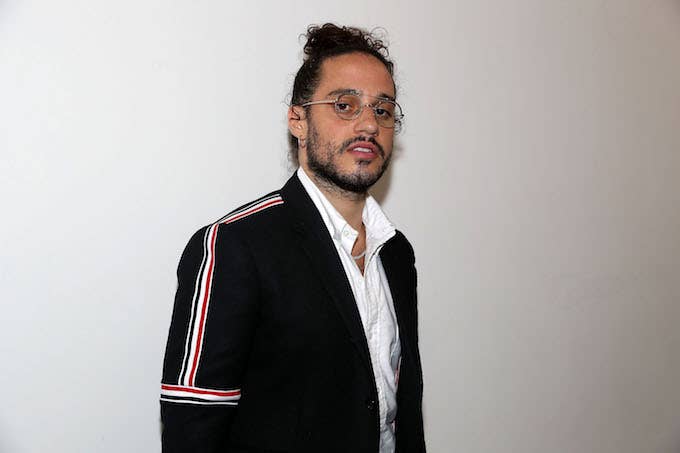 It looks like rappers and producers aren't the only ones lobbying against Russ. Friday night, Adam22 of the No Jumper podcast took to Twitter to divulge that Russ sent people to jump him.
Adam wrote, "Russ sent 3 big ass dudes to my store to jump me like 6 months ago. They waited around all day til I went to get a manicure and I was alone. Dude punched me once and ran. I didn't even know who it was from until Russ bragged about it on AK's stream. That ain't tough @russdiemon."
He claimed that Russ sent his goons because he tweeted a poll asking followers what would they rather their child get into, Russ or Xanax. "Like bro wtf is wrong with you," Adam said. "I'm a member of the press! I would beat your 5'5" ass and I'm not even on that tough guy shit. Congrats you got 2 people beat up and threw 0 punches yourself."
Russ responded to Adam's claims, saying, "Nahh it was cuz ALL your tweets aka a grown ass almost 40 year old man constantly talkin shit to someone who he's never met or talked to, till now lol."
Russ more or less admitted that he had sent men to beat Adam up during their Twitter back-and-forth. The Zoo artist would also get into it with rapper Fat Nick and jeweler Ben Baller.
You exploit drug addiction for money. You made merchandise with lean on the shirts. You smile next to lean everyday on your IG. You're the epitome of "do as I say, not as I do"

If you know anything about kids THATS not how it works. You are part of the problem NOT the solution

https://t.co/vNVj2ZvSAy
"Hey kids learn from my addiction but at the same time buy shirts with lean on them because that's my way of teaching you substance abuse is wrong" LMAO you're delusional. Any logical human knows that you are EXPLOITING addiction. Wake up.

https://t.co/QXe7fFdR5Z
"No one knows what's in my cup" every video you do is you tellin people what's your in cup. Once again, you're delusional. Accept the fact that you use your addiction to exploit the youths addiction and flip it in a monetary way and try and come off like you care. Actions >

https://t.co/n6YAzVKgTm
You just admitted to a "grown man hating" ...you should have more of an issue with a grown man hating on someone he's never met or talked to rather than the repercussions that come with that.

https://t.co/AXBlMYBI6V
Dudes been talkin for 2 years. You got any grown men you never talkin shit bout you for 2 years where there aren't consequences? I snapped once over the course of 2 years. Big deal. We're all human.

https://t.co/08JN9E4YGC
Using your platform on social media to create and promote group thinking negativity to an audience that dictates their taste off of popular internet opinion IS blocking bags. You're showing your age and your lack of bein in touch with how shit goes nowadays.

https://t.co/hCrAp9CkXu
Russ, who's been promoting his new album, Zoo, has gotten into it with his fair share of rappers, specifically Smokepurpp and Yung Bans. He mentioned that he fought one of them when he caught them at a festival. After initially refusing to reveal exactly who, video surfaced of an altercation between Russ and Smokepurpp's crews, which happened earlier this year during the Splash Festival in Germany.
On Thursday, it also seemed like Russ and Bans had squashed their beef: Bans took to Twitter to say he had a newfound respect for Russ after the two spoke on the phone: "Just got off the phone with @russdiemon and it's all love... Sometimes you gotta put yourself in the other persons shoes as a real nigga, it's quiet for the fuck Russ shit he hit me as a real person and lmk his view on the shit and I respect it so it's dead."
However, on Friday, Bans claimed that his manager hacked his social media accounts as a way to sort out the feud between Bans and Russ. Bans took to Instagram to write, "yall not gon believe what happened yesterday my manager hacked me changed my passwords and tweeted out saying its not fuck russ anymore cause he felt I should squash the beef," He wrote on Instagram, "smh my true 1of1 fans know i aint scared of no nigga I ain't lil purpp so if it's smoke @russ better come with it frfr kid.. FUCK RUSS 4L I would never betray my fans we stand on 10 & my niggas gon die bout dis 1OF1 shit ongod!"
Yet, Russ had responded to Bans' initial tweet by quote tweeting it with four prayer hand emojis.