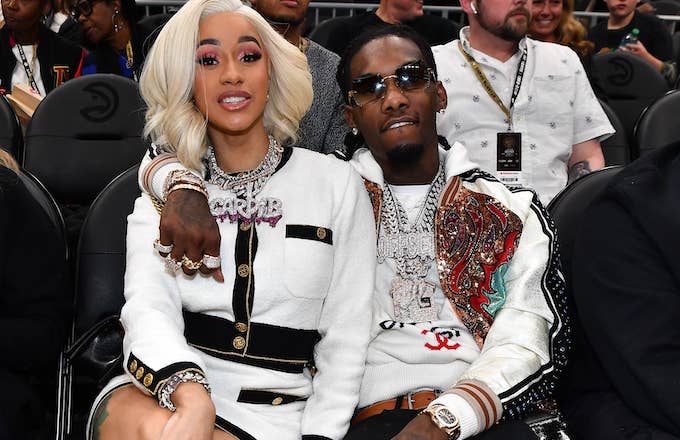 Offset has opened up about his feelings on his split with Cardi B. "Fuck Yall I Miss Cardi," the Migos third bluntly said on Twitter.
The tweet comes after Cardi alluded to their break-up during New York City's Jingle Ball. The Bronx native performed the Migos song "Motorsport," but chose to swap out one crucial lyric for another: "I get up set off, I turn Offset on/I told him the other day, yeah, we gon' get a divorce."
The original line is, "I get up set off, I turn Offset on/I told him the other day, man we should sell that porn."
Cardi initially shared the news on Instagram that the couple had broken up, just before more cheating rumors made rounds. TMZ pointed to text messages—which surfaced on Wednesday—in which Offset purportedly requested a threesome with Cuban Doll and a woman who goes by Summer Bunni.
Doll has denied the allegations multiple times now, and reportedly talked about the incident with Cardi, saying Cardi "knows I have nothing to do with that." Doll also claims Bunni is milking the entire situation for attention. "It's all based off her trying to get clout. It's a bunch of clout chasing stuff," she said. "Me and her have been fell out. We're no longer friends."
Meanwhile, Bunni went on IG to post an apology, and later cried in a video interview about the affair. She also released a heavily Auto-Tuned song about the cheating scandal, where she opens up about her feelings following her relationship with Offset.
Cardi B and Offset have a child together, Kulture Kiari Cephus. Nearly five months after giving birth to her daughter—and the day after announcing her split with Offset—Cardi shared the first photo of Kulture online. She captioned the post, "My heart."