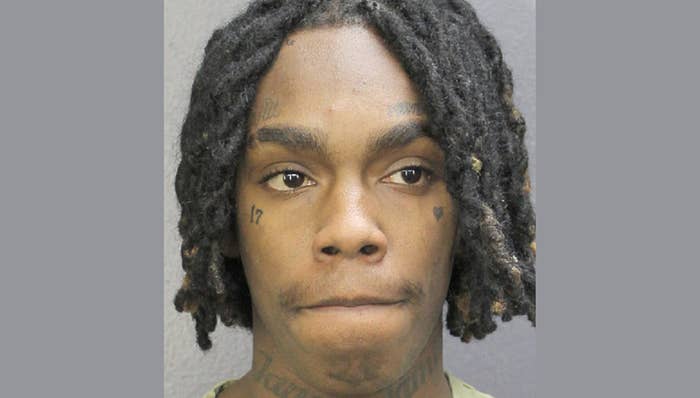 YNW Melly's fans, friends, and family can breathe a sigh of relief. 
A Florida judge has removed the death penalty as a possible sentence for the 23-year-old rapper, who remains behind bars on double homicide charges. The outlet reports Melly—legal name Jamell Maurice Demons—received the news Wednesday during a preliminary hearing in Broward County. His attorney confirmed the info to XXL, while his mother celebrated the decision via Instagram. 
"I'm literally crying real tears 🙏🏾," Jamie Demons-King wrote. "You coming home son."
The new order signed by Judge Andrew L. Siegel, viewed by Complex, notes, "Defendant argues that the State is precluded from seeking the death penalty at trial because the State failed to file a Notice of Intent to Seek the Death Penalty within 45 days of his arraignment on the superseding indictment. … The Notice of Intent to Seek the Death Penalty pertaining to the original indictment is not sufficient to meet the State's notice requirement as it pertains to the superseding indictment."
In February 2019, Melly and his associate Cortlen "YNW Bortlen" Henry were arrested and each charged with two counts of first-degree murder. Authorities say the two men fatally shot their friends, 20-year-old Chris "YNW Juvy" and 21-year-old Anthony "YNW Sakchaser" Williams, in October 2018. Melly and Bortlen are accused of killing the victims inside a vehicle and then trying to stage the crime to resemble a drive-by shooting. 
Melly pleaded not guilty to the first-degree murder charges in March 2019. He addressed his arrest in a since-deleted Instagram post in 2019.
"To all my fans and supporters, no I did not get locked up in Washington, but I am turning myself in today," he wrote. "I want you guys to know I love you and appreciate every single one of y'all, a couple months ago I lost my two brothers by violence and now the system want to find justice. Unfortunately a lot of rumors and lies are being said, but no worries. God is with me and my brother @ynw.bortlen and we want y'all to remember it's a ynw Family I love you @ynwsakchaser1 and @ynwjuvy #freeus."
Last month, prosecutors claimed they've obtained evidence that shows Melly commissioned a series of crimes; these included "narcotics trafficking, firearms violations, and authorizing the killing of his mother." The rapper and his mom seemingly dismissed the claims on social media. A story on Melly's official Instagram account referenced "lies" and a "false agenda," while Demons-King shared a story that simply read: "This is pure desperation 😂🧢."
Melly's murder trial is expected to begin later this year.