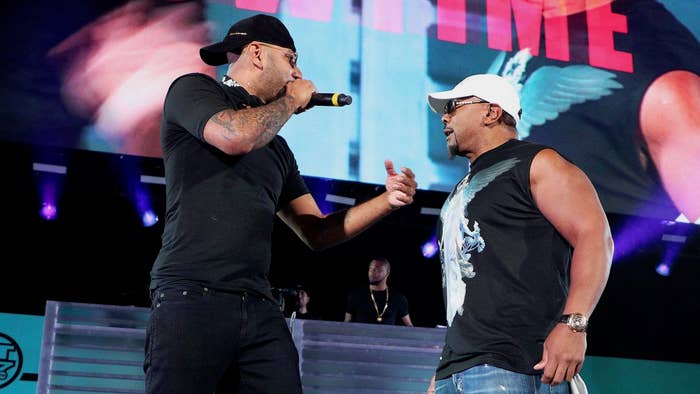 Your night just got a whole lot better: Timbaland and Swizz Beatz are facing off in another beat battle. But, in the interest of social distancing, are streaming the battle from the comfort of thier respective studios.
"Attention. Attention. Attention ... It's official. We doing this for the culture," Timbaland announced in a video Tuesday night. "Me and Swizzy gon' go at it 10 o'clock, baby. IG Live. I done have the red blood in me. It's gonna be a good one."
Swizz insisted he was prepared hours ago:
Before the battle commenced, Swizz hopped on IG Live to give a quick breakdown of what fans could expect. He explained the first round would be back-to-back classic beats and round 2 would be "certified joints you never heard. Just zones you never heard ... the zones, zones, zones."
In the first round, Timbo revisited his greatest hits including JAY-Z's "Picasso Baby" and Aaliyah's "Try Again," while Swizz came with cuts like "Fuck You" by the Lox and "All For the Love" by Jadakiss. 
The battle was put on pause for several minutes, as Swizz relocated to his car for a better WiFi connection. Once things resumed, the two went heavy on the Hov joints, playing everything from "Come and Get Me" to "Ultra" to "It's Hot (Some Like It Hot)."
Diddy, Fat Joe, Ben Baller, Hitmaka, Don Cannon, Boi-1da, Joey Badass, and Young Guru are among the 20,000-plus viewers.
Check out the battle now on Swizz's Instagram page.