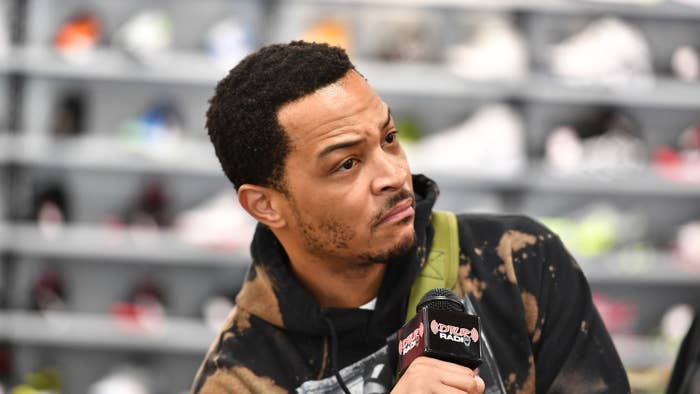 T.I. won't give up.
While performing at the premiere event for Black Family Mafia, Tip took a moment to issue another challenge to 50 Cent. 
"Hey 50, we got to do this Verzuz, man," he said as the DJ began playing "Whatever You Like." He continued, "Give them what the people want to see, man!" 
T.I. has previously expressed interest in going head-to-head with Fif on the Verzuz stage, insisting he has a much "doper" catalog than the G-Unit boss. During a July 2020 appearance on Ebro in the Morning, T.I. told the hosts he and 50 would be a solid match-up, as 50's ego was "big enough to withstand my bravado."
"I don't think he'd be intimidated by how I pop my shit …" T.I. explained. "You got to get a gorilla for a gorilla. And regardless of how you see me, inside me there's a 900 pound gorilla … We really are similarly stacked. I don't have a diamond album (like 50), but he don't have five classic albums."
Though many fans have called on 50 to participate in Verzuz, the hip-hop mogul says he has lost interest in doing so. He explained his position earlier this year during an appearance on The Morning Hustle show.
"I thought Verzuz was something we did when we was stuck in the house," said Fif, who was previously open to battling The Game. "As soon as we got out of the house to come back outside, Verzuz didn't make sense to me. Verzuz to me, that showed up and was the hottest thing. I was paying attention to it, watching it like everybody else. As soon as we could go back outside, I don't know why we still doing it."