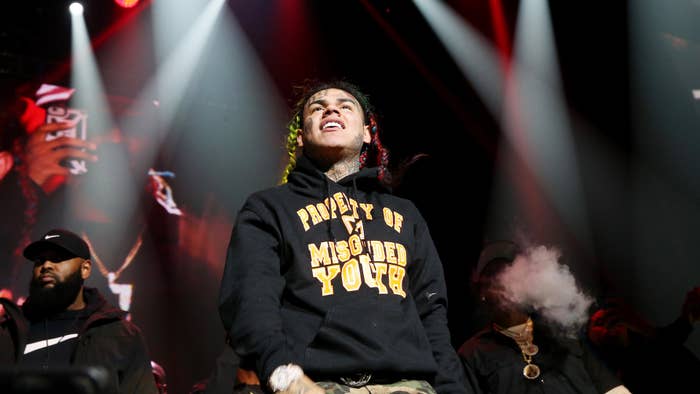 It's clear 6ix9ine hasn't abandoned his trolling ways.
About a week after his early prison release, the controversial rapper updated his Instagram bio to include a couple of questions: "Why everybody callin me a snitch? I'm missing something ...?" 

During his highly publicized federal trial, 6ix9ine testified against members of the Nine Trey Gangsta Bloods and provided detailed information about the sect's inner workings. Months before the trial, the rapper had inked a cooperation agreement in the hopes of a receiving a reduced sentence for racketeering charges. The move, of course, prompted many to call 6ix9ine a "snitch" and a "rat."
Though some have questioned whether 6ix9ine is legitimately confused about the disparaging labels, his recent social media activity suggests he's just trolling. Shortly after his release, the 23-year-old commented on a Shade Room post about the crack down on violators of stay-at-home orders. 
"Los Angeles' Mayor Is Offering 'Rewards' For Snitching On Businesses Violating The City's Stay-At-Home Order," the post read.
6ix9ine took to the comment section with, "Coming to the rescue," which suggests the man is very self-aware.
Another clue that suggests he's hyper aware is the photo on 6ix9ine's IG account. It appears to show him sitting on a rat trap while eating cheese. 
6ix9ine's attorney Lance Lazzaro told TMZ that his client does not have any restrictions when it comes to social media, but insisted 6ix9ine will refrain from posting inflammatory content and "will use his discretion and common sense."