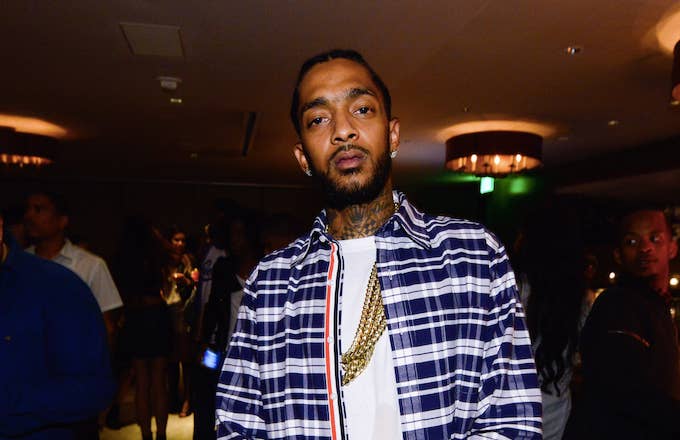 UPDATED 04/03/19 10:10 a.m. ET: Authorities have already placed Nipsey Hussle's alleged murderer Eric Holder in solitary confinement, citing fears for his safety. TMZ reports that police were looking to arrested Holder as quickly as possible, as they believe it was likely multiple people were already looking to murder him following Nip's murder.
Once he's been transferred to L.A. County Jail to await his trial, he'll remain in solitary confinement until his safety is no longer a concern. His bond has been set at $7,040,000. Meanwhile, the unidentified woman who drove the getaway vehicle for Holder went to the LAPD on Tuesday (April 2), and she was free to leave after they interviewed her. She could, however, still be charged in the future.
See original story from 04/02/2019 below.
Authorities have captured Nipsey Hussle's suspected killer.
According to CBS Los Angeles, 29-year-old Eric Holder was taken into custody Tuesday afternoon, just days after Nipsey was fatally shot outside his clothing store in south L.A.
The LAPD has confirmed the arrest.
Law enforcement say the alleged gunman opened fire on Nipsey and two other men at around 3:20 p.m. in front of Marathon Clothing. Nipsey sustained fatal gunshot wounds to his head and torso. The other two men survived the attack; one was taken to the hospital and is said to be in stable condition, while the other refused medical treatment because he believed his injuries were minor.
"Mr. Holder walked up on multiple occasions and engaged in a conversation with Nipsey and the others that were there," LAPD Chief Michel Moore told reporters Tuesday. "He left and subsequently came back armed with a handgun, and purposefully and repeatedly fired, striking and killing Nipsey Hussle."
Officers said Holder, a suspected gang member, fled to a nearby alley immediately after the shooting. The 29-year-old reportedly got into a getaway car driven by an unidentified woman who has since turned herself in, according to TMZ.
TMZ reports they had contacted an autoshop where the alleged getaway vehicle was repaired last June. The site confirmed the shop had worked on a car with the same license plate numbers listed in the police report. TMZ managed to obtain an invoice with Holder's name as well as a contact information. The outlet reports they called the listed phone number and spoke to a woman who claimed she knew Holder. She also said she was in the vehicle waiting for the suspected gunman as he went to Marathon Clothing, but was unaware of his intentions. The woman also told the outlet that Holder "didn't say anything when he came back to the car."
This story is being updated.